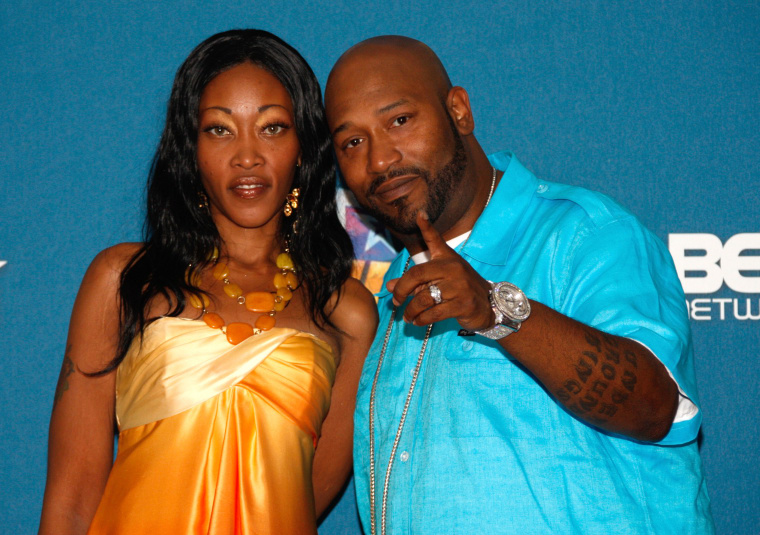 Today marks eight years to the day since the Underground King Pimp C passed, and his widow Chinara Butler is celebrating. "We don't have pity parties, we don't believe in that—we want to celebrate Chad," Butler explained during a recent conversation with The FADER.
This year, Mrs. Bulter is fêting her late husband with Long Live The Pimp, a posthumous album featuring previously unheard music and a number of new features from artists Mrs. Butler deemed worthy. "It was very much therapeutic to have people around me who genuinely love Chad as a friend and really cared about keeping his legacy alive," she said. "I'm honored we had so many artists, and producers who just wanted to embrace and keep Chad's legacy alive."
(Between the time of this conversation and its publication, Pimp C's son Chad Butler Jr. released a statement alerting fans that he and his brother Corey "had no part in the creation of this 'new' Pimp C album." In a follow-up conversation with The FADER, he explained that although he is happy to see his father's music shared, he believes it should be made clear that he and his brother, both of whom were from a previous relationship, will not be seeing any of the profits. "I'm not going on a crusade against the album, I'm just informing people of the facts," he said. Mrs. Butler did not immediately return request for comment on the situation.)
Below, Mrs. Butler speaks on her nearly-lifelong relationship with Pimp C, preserving his legacy, and rappers these days.
How did you meet Mr. Butler?
We've known each other our whole lives. We're from Port Arthur[, Texas] and we actually went to elementary school together. We rekindled our [relationship later] at one our friends' house. I can still visualize their house: they had vendor machines outside their house—that was like kid heaven! I can remember this visual of Chaz, he had flipped over his go-kart and was working on it. [He] always liked the technical end, and was a little bit on the mischievous side.
In a past interview with The FADER, he said he picked up music from his father—who was a musician himself—at a very young age. At what point did it become clear he might make it big?
If you're from where we're from, UGK has been larger than life since we were like, in middle school. I'm not going to say how old I am, so let's just say, like, in the '80s they're jamming to us. [laughs] We knew they were going to make it. The cool thing about our little area, we have Janis Joplin, right now so many footballers, basketball players—we might be a little small town, but we dream big. You can't tell anybody from Port Arthur that they can't do something.
At what point did your friendship turn into something more serious?
I was maybe 20. I was a studio rat as well, so we were around each other every day. [Eventually] it dawned on me, and it went from "oh, here's the guy on my nerves" to "this could be tight." Just imagine being around somebody every day. We would actually get up to go home when we hear the school buses—studios they don't have windows, so whenever we heard the school bus we'd be like, "Oh my god, it's morning again." That was like a routine for, like, eight months.
What role did you play when you were hanging out in the studio?
The truth. A lot of people respect my opinion. I never was a groupie, that's not what I was there for. Chad always involved me into a lot of things that he was thinking about doing. Up to five, six months before he passed, pretty much all the songs and features was emailed to me. I listened to it, and if I was like, "Hey, you got this verse to do," he'll do the verse.
How did this project come to be?
The whole process started when [Juicy J] hit me after "Bandz Made Her Dance" came out [in 2013]. He was like, "Chinara, I'm hot. It's time for some Pimp." So me and him got together and we did the "Show Out" remix and "Smoking and Rollin." Then I'm like, "Let's just do a project." We did four or five songs and put them together, then I went off on my own adventure and was finishing the project. This is when Mr. Lee comes in play.
How did Mr. Lee fit into your process?
[Mr. Lee and I] start putting the other pieces together and adding the Southern twist. I just wanted that energy. I had a foolproof plan not to lose, with producers. So basically me and Juicy started it, but he has his own project, his shows, so I don't feel like I should have totally depended on him to finish the whole thing. And I wanted to give other producers and artists who really had the same love [for my husband], the chance to be a part of it. It was a blessing to have Mr Lee and Juicy on my side when I'm doing this and actually respecting my opinion when I'm like, "I think we should do this." And then I respect [their opinions] too.
They were the truth for you, just as you once were for Mr. Butler.
Exactly. There were certain things I fought or was like, "Oh, this might need to be changed," and when I look at the big picture I'm glad I listened to them for certain things.
The guests on Long Live the Pimp come from lots of different regions and generations. How did you go about picking contributors?
There are certain people that I could see had been influenced Chad. Like A$AP Rocky: just when I talk with him you can tell he so admires him. And Yams, that was one of my great friends of all time. He really knew our culture—not just Geto Boys, he knew Big Mike, he went in. I understood he really loved what we were doing in the south. I'm protective, and I'm not going to name any names, but a lot of young artists I would never give a verse to. But you have to embrace the youth, this is how I'm gonna keep Chad's legacy alive
Was protecting Chad's legacy a part of your objective with this project?
It was me not being satisfied with how Chad's legacy was going—I'm still not complacent about it. I want it to get bigger and bigger every year, I want it to grow, want it to evolve.
In what way are you not satisfied?
Music-wise. Chad was a musician, you know? And he was a producer, a rapper. In that sense, I felt like the music before this came out was not up to par in terms of production, how it was put together. In terms of being protective, everybody in this office even now knows I would sever somebody's head off if they're not killing. I know where Mr. Lee lives, I know his kids, his wife; I know where Juicy is, I know his brother; I know everything! I'm very productive, but I trust these men that I've involved in this project. They protect my late husband's music like it was theirs.
So you feel safe putting this out into the world because you feel like you've very carefully curated it.
Its undeniable. The world deserves it. It needs it.
What would you most like to see new listeners or younger fans get out of Long Live the Pimp?
I want them to get real music. I think my husband also was the master of the sample and stuff like that. But its amazing, and it doesn't feel like 10 years [since his passing] because there still has been dribbles of music and his influence is still so large.
What comes next?
I'm already working on another project. I have more than anybody thinks. I'll never tell, just keep it coming.