Maybe social media is to thank, but 2015 more than any year prior felt like one rich with co-signs. It seemed everyone was putting on for their friends and faves, bringing them into the studio or out on stage; tagging them on Instagram, or better yet, dancing to their songs on Instagram; playing them on their radio shows and featuring them on their albums. A lot of love and music was shared. Below, nine co-signs that changed the game in 2015.
2. Kanye West x Grime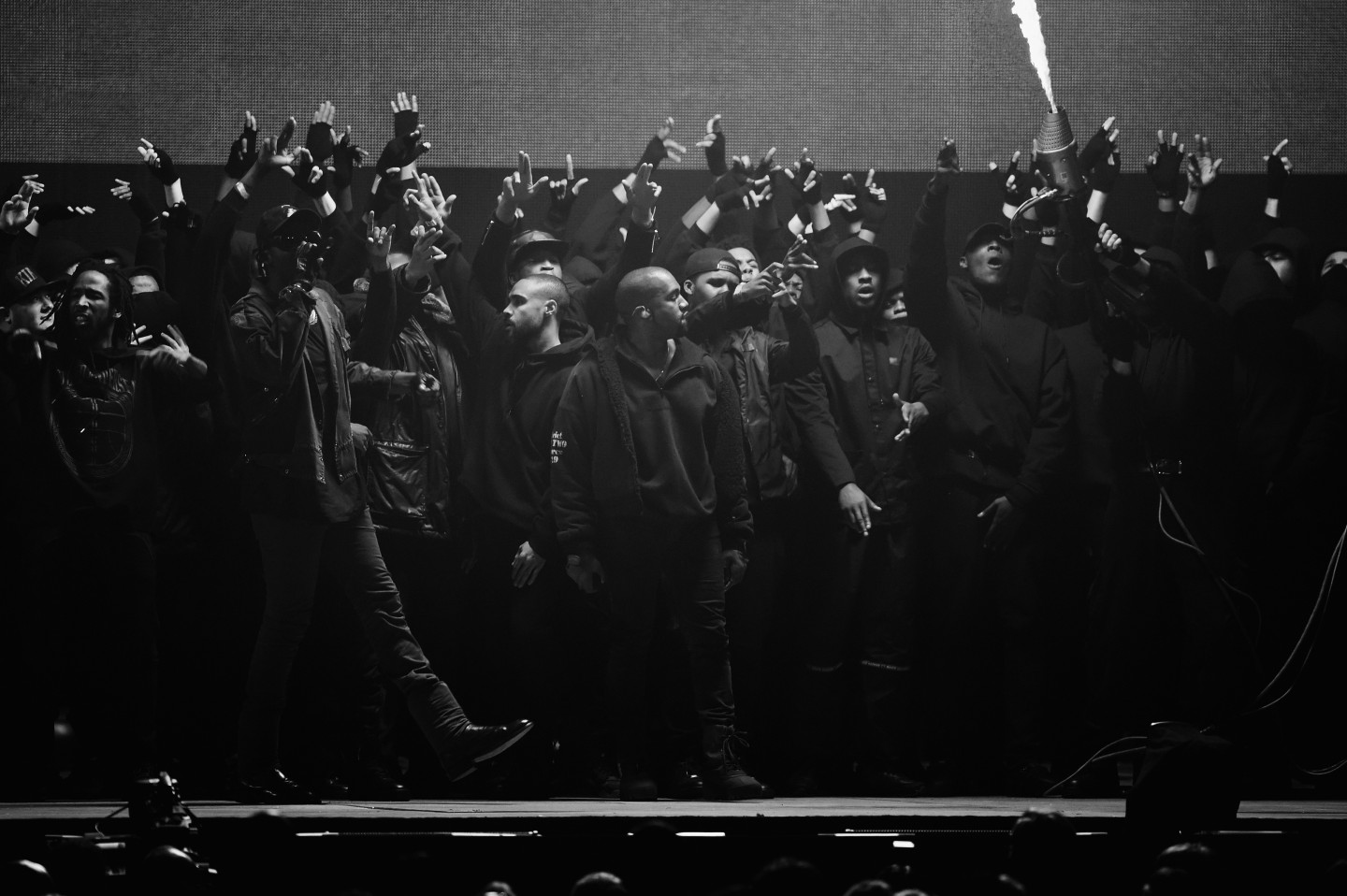 There was a moment in early in 2015 when Kanye West was everywhere and it seemed his much-anticipated Yeezus follow-up was, at last, neigh. And although we're still waiting on that album, due credit should be given to 'Ye for giving us a gift of knowledge he gave the world when he invited grime—like, pretty much the whole scene—to back him up onstage at The BRITS. If you weren't familiar with to London-based genre or those mandem in black then, chances are good that now know what you'd been missing out on. From there, Drake's fast friendship with Skepta (and his FADER cover) finished the job. Thanks, guys!
3. Grimes x Nicole Dollanganger
Last August Grimes launch her new artists collective, Eerie Organization, with the good news that their debut release would be Nicole Dollanganger's Natural Born Losers LP. "It blew up my brain so hard that I literally started Eerie to fucking put it out," she wrote in a release that day. "It's a crime against humanity for this music not to be heard." Amen. For more on spellbinding songwriter from Ontario, revisit her GEN F.
4. Wilco x Girlpool
In July indie rock stalwart Wilco a surprised fans with a free album, Star Wars. This being the group's eleventh album, they realized that they were in a privileged position to be able to give away their music like that. So, everybody that downloaded the project was sent a list of other artists they might also consider supporting. On that list? A FADER fave, Girl Pool. For more on rock's teen queens, revisit their GEN F.
5. Dr. Dre x Anderson .Paak
Dynamic L.A. singer, rapper, and producer Anderson .Paak has been making music for a long minute now, but everything changed for him in 2015 when Dr. Dre tapped him for his Compton soundtrack. .Paak featured on six of sixteen songs on that album, and ever since he has been releasing music at a quick clip. "Prior to [Compton], all I had been doing was just recording music," he explained to The FADER recently. "I had all my tunes, like, in my sack and it was perfect timing. I felt like I was prepared." Anderson .Paak has a new album, titled Malibu, due at the top of 2016.
6. Björk x Arca
Björk's new album Vernacular, and the radio shows and remixes that followed in its wake, gave rise to a number of acts, but perhaps none so much as Arca. The Venezuelan producer co-produced six songs with Björk, and shares writing credits on two songs. "If I hadn't spent time with her and learned from how she worked—gained courage from our mutual appreciation for each other's work—I wouldn't have had the courage to go the path I did [with 2014's Xen], to just not compromise," he told The FADER. And that's to say nothing of Mutant, the visionary project he shared this November. Read Ruth Saxelby's review of Mutant here.
7. Grimes x Aristophanes
Aristophanes, a creative writing instructor and fierce MC from Taiwan, got a major signal boost in North America when Grimes commissioned a feature from her for the Art Angels album cut "SCREAM." While reporting her Grimes cover story for The FADER, Emilie Friedlander looked on while the women spoke face-to-face via the internet for the first time. Grimes asked what it's like being a girl rapper in Taipei. "I think being a female is sometimes so weird," Aristophanes said. "Sometimes at my gigs, the male MCs and producers will say, 'That's not rap; that's not hip-hop.' Maybe because they're judging my skill. I can't feel very comfortable hanging out with them, so I just stay in my home and spend more time on music." Hear five Aristophanes tracks that blew our mind here.
8. Kanye West x Allan Kingdom
Despite his towering status, it would appear that Kanye West still makes time to scope new acts on SoundCloud between North's ballet class and fashion shows. This year, he pulled Allan Kingdom, a young rapper from Minnesota who was then most closely affiliated with Corbin neé Spooky Black's the Stand4rd crew, off the internet and gave him a supporting role on his new single, "All Day." For more on how that moment has affected Kingdom, revisit The FADER's documentary True North.
9. Drake x Basically Everyone
More famous than ever before and fully conscious of his ability to make (or break) up-and-coming artists, Drake lent countless artists a hand up this year. He helped nudge Fetty Wap out of one-hit-wonder status when he reached out over Instagram DM and offered to do a "My Way" remix. Louisville singer/rapper Bryson Tiller has a similar story, except that fateful DM came through Twitter. Ramriddlz's big break came when Drake dropped a slip of the Toronto youngin's "Sweeterman" on OVO Sound's Beats1 Radio show. Kodak Black of "SKRT" fame also benefited from spins on OVO Sound's Beats1 Radio Show—as did any number of other artists that we Googled while we listened.