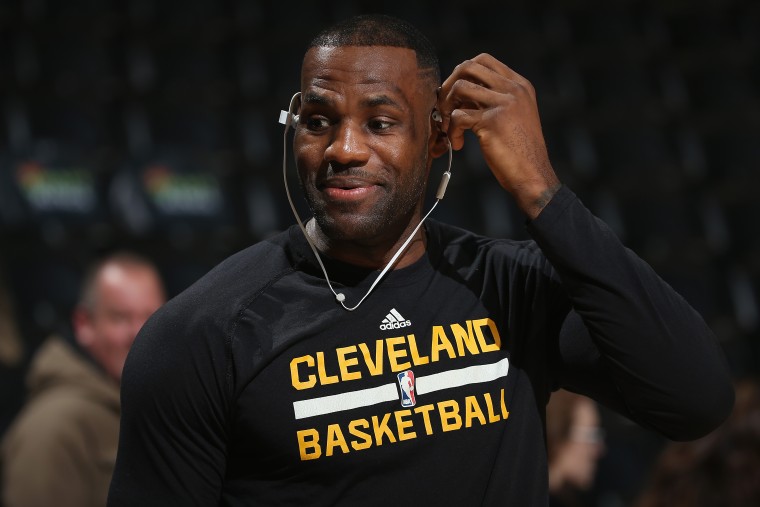 Kanye West piled his last track of 2015 "FACTS" with loads of salvos at Nike and those in its orbit, including LeBron James, who just signed a $600 million dollar lifetime endorsement deal with the fashion company.
The offending bar went: Nike, Nike treat employees just like slaves / Gave LeBron a billi' not to run away. Ye tempered his other mentions of Nike affiliates Drake and designer Don C—But I'm all for the family, tell 'em, 'Get your money' - so his LeBron line seemed like a shot. But the Cleveland Cavaliers star doesn't seem that bothered, even though he hasn't heard it, according to an interview with Cleveland.com:

"'We don't look upon nobody on our side, we just try to put the best athletes that we can out on the floor every night...And Phil Knight's greatest saying is 'always listen to the heart of the athlete listen to the words of the athlete,'" James continued. "And that's all it's about, nothing else.'"
So, an obvious dodge. But James made it clear that he's in Nike's corner until he dies, or suffers a career ending scandal, whichever comes first: "Obviously I'm going to side with Nike no matter who it is...It's just, it's family when you talk about Nike, and I'm always on their side no matter what the situation is."
Update, 1/8/16, 6:00 a.m.
Kanye West has clarified his intentions with the LeBron reference on "FACTS":
The media tried to make it seem like I was downplaying LeBron on my song FACTS which I would never do, Lebron is fam bottom line.

— KANYE WEST (@kanyewest) January 8, 2016
Revisit Kanye's "FACTS" below.