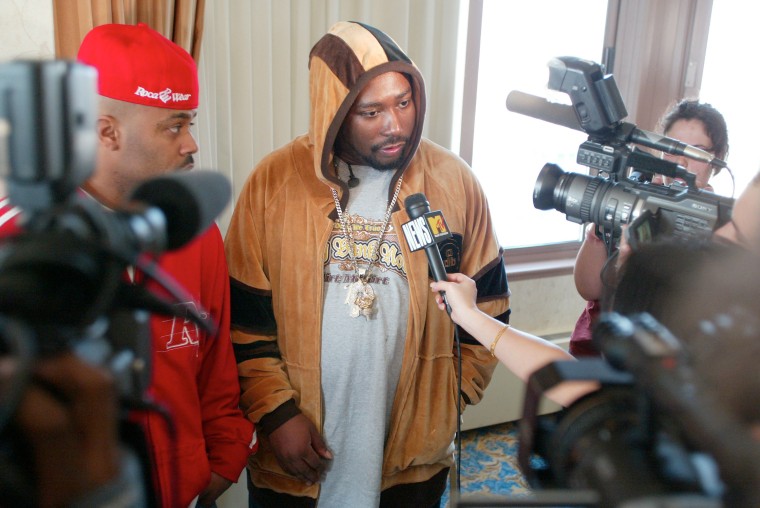 He expressed his enthusiasm for the project, and said that a family member is working on a draft of the screenplay:
"'I think it's a great idea, and there has been talk about it. There are a few wheels in motion with one done by our first cousin Rayshawn; he was the young guy there watching everything that happened,' RZA tells Rolling Stone. 'Him and ODB's wife have been talking and he has a pretty interesting script. I just saw a 12-minute teaser that he shot about a year ago and it felt pretty fucking cool. I watched it and was like, 'Wow, you may have something here.' He has the best thing that I've seen so far."
But will he direct or not? RZA knows that it's not up to him, but he's going to be involved somehow:
"'I wouldn't mind not doing it and I wouldn't mind doing it,' he admits. "From the age of six, me and [ODB] used to push shopping carts around grocery stores and try to get nickels. There are very few people who know the real him as much as me. So it would be something that I would be honored to do, but there's a lot of moving parts to it. If those moving parts don't go in sync with me, I'll still be on it just to see it happen, talk to whoever's doing it and give them my interviews or whatever they need to help make this story as great as possible."
And if you're wondering why the production is picking up now, you can thank the success of a different pioneering rap group biopic:
"Straight Outta Compton showed that hip-hop is a marketplace in cinema...It showed that with the proper team and marketing, many of us out here who grew up on this music would love to see the inside makings of those stories."
He's right, so long as he doesn't expect to win any Oscars!
Details like casting - Eddie Griffin, Tracy Morgan, and Michael K. Williams were all attached to play ODB - were not discussed. Finally, if you're not excited yet, watch Raekwon discuss an angel-dust fueled push-up competition with ODB below.