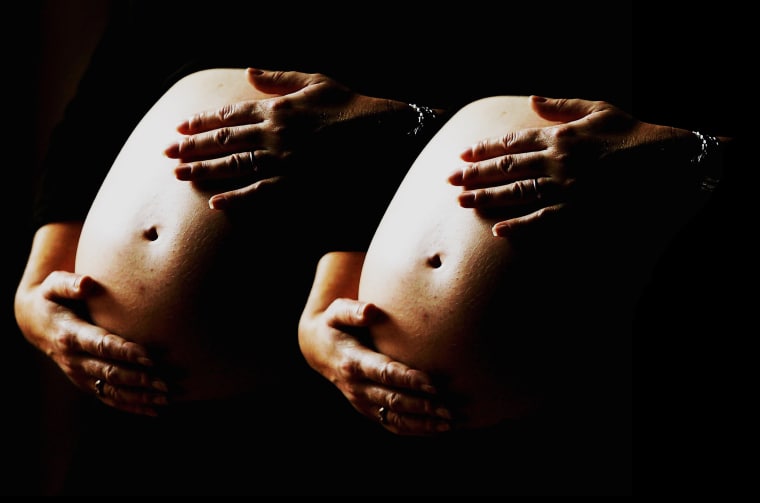 As told to Alexa Tsoulis-Reay, New York
Kate Elazegui and Emily Kehe just gave birth to two baby boys, four days apart. Two mothers and one donor. "Selecting the donor was fun but it's a weird process, like online shopping or dating," Kehe explains. "You pick the color, you pick the size, you pick what they majored in in college. Our donor was a poet, so he wrote a poem. We probably know more about this guy than we know about each other." Read the rest of The Cut's cover story, it's fascinating as hell, and the photos are stunning.
Johanna Hedva, Mask
"The most anti-capitalist protest is to care for another and to care for yourself," Joanna Hedva writes in this inspiring piece, which is essentially a manifesto for what she calls Sick Woman Theory. It's similar to artist Audrey Wollen's Sad Girl Theory, only it focuses on the empowerment of those who are unable to publicly protest, as well as those who are seen as "ill" by a society in which wellness (i.e., not sick) is the norm. It's pretty long, but worth it. Here's a lil' snippet:
"Sick Woman Theory is for those who are faced with their vulnerability and unbearable fragility, every day, and so have to fight for their experience to be not only honored, but first made visible. For those who, in Audre Lorde's words, were never meant to survive: because this world was built against their survival. It's for my fellow spoonies. You know who you are, even if you've not been attached to a diagnosis: one of the aims of Sick Woman Theory is to resist the notion that one needs to be legitimated by an institution, so that they can try to fix you. You don't need to be fixed, my queens – it's the world that needs the fixing."
Stephen Rodrick, Rolling Stone
In which a journalist returns to his hometown of Flint, Michigan to find out why the devastating water pollution occurred. "Lead poisoning stunts IQs in children, many of whom in Flint are already traumatized by poverty, arson and rampant gunfire outside their doors," Rodrick writes. "Flint doesn't make me laugh anymore. It makes me want to punch someone in the face."
Amos Barshad, The FADER
After Grantland shuttered, Amos Barshad took a trip Reykjavik for the Iceland Airwaves music festival. Read about the really weird time he had there (which includes a late-night singalong to Aerosmith's "I Don't Want To Fall Asleep" with a bunch of fellow festival-goers).
Richard Brody, The New Yorker
The Oscars are whitewashed again this year, and it's (still) a problem. Though it's tempting to dismiss the Academy Awards as a silly show, the implications of these nominations go much deeper than just Hollywood, because the actors and filmmakers who are acknowledged typically get a career boost. As Brody writes, "The underlying issue of the Academy's failure to recognize black artists is the presumption that baseline experience is white experience and that black life is a niche phenomenon, life with an asterisk." Critics gotta get on board, too! I know I'm not alone in being tired as hell of seeing movies about straight white dudes made by straight white dudes.
Ruth Saxelby, The FADER
The X-Files will return soon for a brief 10th season, to the delight of the cult classic's many fans. In advance of the new season, Ruth Saxelby spoke with X-Files creator Chris Carter about how "Over the course of the nine seasons, The X-Files asked us to look at faith—and its sister, trust—from every angle," and the show's new, internet-informed context: "Where Mulder and Scully fought tooth-and-nail for scraps of information, the modern world is drowning in it. But which information is good information—what should be trusted?"
Jessica Contrera, The Washington Post
And last, but definitely not least, is this incredibly heartwarming profile of Roland John "Ron" Lehker, who is probably the world's oldest Redditer. And probably the world's coolest Redditor for that matter. He answers questions as the owner of a "Unique Experience"—"I Am 90 Years Old—An officer during WWII, a retired educator, and more engaged with society today than I've ever been before. AMA!" He plans to answer as many questions as he can, because it brings him joy.