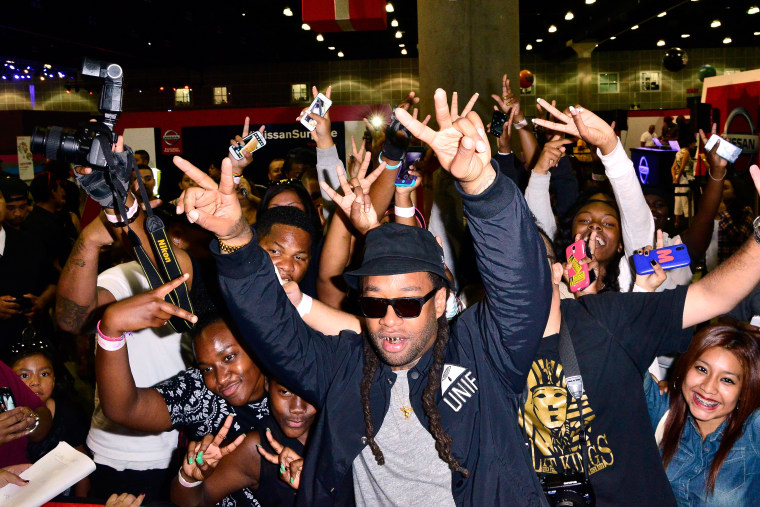 Recently, The FADER happened to notice something odd. Travi$ Scott, wildman rapper, had become, simply—Travis Scott. Without a word of official notice, the '$' had vanished from his social media accounts and official websites. And we couldn't help but wonder: what does it mean?!
For those bold men and women that choose to swap the 's' out of their stage names in favor of the '$,' the message is clear. When your name stamps that you're about your money, there's no need for exclamations or question marks. It's an aspirational flex: for the artist that carries the haughty symbol, it's mandatory to boss up—to stay on a forever mission to collect coins.
But what happens when the dollar sign goes away? Have the once-money-loving artists fallen out of favor with their bank accounts? Have they reconsidered their relationship to the material world? Have they—God forbid—grown up? Through an analysis of a few $-laden acts, FADER considers the question.
The "All Gold Everything" rapper made his debut to the world while riding through Atlanta flashing his gold grill and toting ropes of gold chains around his bare chest. Since that glorious burst of microfame, the heat has cooled off considerably. And yet—up or down—Trinidad stays the same.
"The $," he tells FADER via email, "represents getting money."
Jame$ was born—28 years ago in Port of Spain, Trinidad—as Nicholas Williams. He coined his stage name while running the Atlanta men's boutique Ginza in addition to, he says, "hustling and a lot of other side activities." The dollar sign is signature for him; it "just reminds me of hustlin at all times."
That said: according to FADER's original research, there are times when the "Trinidad Jame$" moniker has not been spelled with the $. So was it dropped?! Then picked back up???
Never, says Jame$. "I didn't drop it. Probably just me being human and forgetting. Not dropped though."
Fiery princess Kesha popped up in the summer of 2009 shouting of dirty parties and whiskey tooth-brushings. The smudged mascara, the shredded Def Leppard T-shirts, the yelps, the obnoxiously catchy choruses: it was all a part of a calculated package meant to convey pop with a hint of 80s hair-metal style debauchery. And under the steady guidance of the svengali Dr. Luke, it worked: Ke$ha—born Kesha Rose Sebert, with that added dollar sign a groan-inducing inevitability—became the guiltiest of the guilty pleasures.
In 2014 their union crashed in tragic fashion: Kesha brought a lawsuit against Dr. Luke alleging he "sexually assaulted and emotionally abused her for the better part of a decade." It's a dramatic charge that calls to question the practices of our most prolific contemporary hit maker. It also halts, and possibly ends, Kesha's career: seeing as she's contractually obligated for three more albums under Luke's Kemosabe Records, she can't release new music until the legal dispute is settled. The next hearing in the case is scheduled for February 19th.
In 2014, Kesha also received treatment in a rehabilitation center for an eating related issues. Shortly after, she dropped the dollar sign. She has, it seems, scaled back the persona, changing her Twitter handle from @Ke$haSuxx to @KeshaRose. "I can't put out new music," she explained in a recent video (seen above), shot on an iPhone as she lays in bed, makeup-free. "But I can sing a little something of someone else's songs."
The Houstonian's real name is—wait for it—Jacques Webster. Now why would someone with a stage-ready government name go with the golf-pro sounding Travis Scott?! The ex-Webster has said he was inspired by a cool and swaggy uncle named Travis. And, clearly, it worked out: before he hit 21, the kid was supposedly eating Taco Bell served to him on a lavish platter by Kanye West while the legend listened to his music. Early boss moves like that, you might think, would warrant two dollar signs. But as he was coming up, Scott just opted for the one at the end of this first name.
In an interview with Forbes, he explained that he was inspired by erstwhile Bad Boy superstar Ma$e to use the dollar sign in his name; he says it looked "fresh."
Now, following the release of his proper debut Rodeo, the $ has silently disappeared. Does it feel, perhaps, like a relic of a younger man? Or has he, like Trinidad before him, maybe just forgotten it? Perhaps enough coins have been collected for it to now be irrelevant—perhaps what's understood does not need to be explained.
For now, it must stand as something of a mystery: as of press time, Scott was off carousing in Paris and could not be reached for comment.
$kinny, an L.A. by way of Saudi Arabia rapper, chose to start his name off with the symbol for reasons of Google-ability. "When I was up and coming, it was so tough just having the name 'skinny' and battling with other weird things with the same name online," he told FADER. Now, like Trinidad before him, $kinny says it's "a reminder to keep hustling." And as of now, he's pretty attached. Asked if he'd ever let it go, he says, "I don't know. We've been in bed for a while now. I kind of like it."
While other artists have a tenuous relationship with the symbol, rap's crooning mastermind Ty Dolla $ign plans on being a dollar sign forever. As Ty explains, for him, the $ is way more than just flair.
"I don't know about other artists and why they started using the dollar sign. I guess it does look kind of a cool. But, I'm the real dolla sign. My homie Ace just started calling me 'Dolla Sign' every time he saw me so I named myself Ty Dolla $ign because you know, I'm young and I'm rich. For legal purposes they had to spell it out. If it was up to me, it would just be Ty with the dollar sign—like my logo.
I'm the original. I'm the real dollar sign. Everybody else…I don't know what y'all are gonna do once there's a million dollar signs, just like there's a million 'lil's' and a million 'baby's' and 'dogg's.' But there's only one Snoop Dogg, there's only one Ty Dolla $ign, there's only one YG. Let's get it.
I want to be Ty Dolla $ign forever. The superstar—until I die."