Section Boyz Are Bridging Rap And Grime With Solidarity And Spliffs
The South London collective counts Drake and Skepta as fans, but they know good vibes are more important than any co-sign.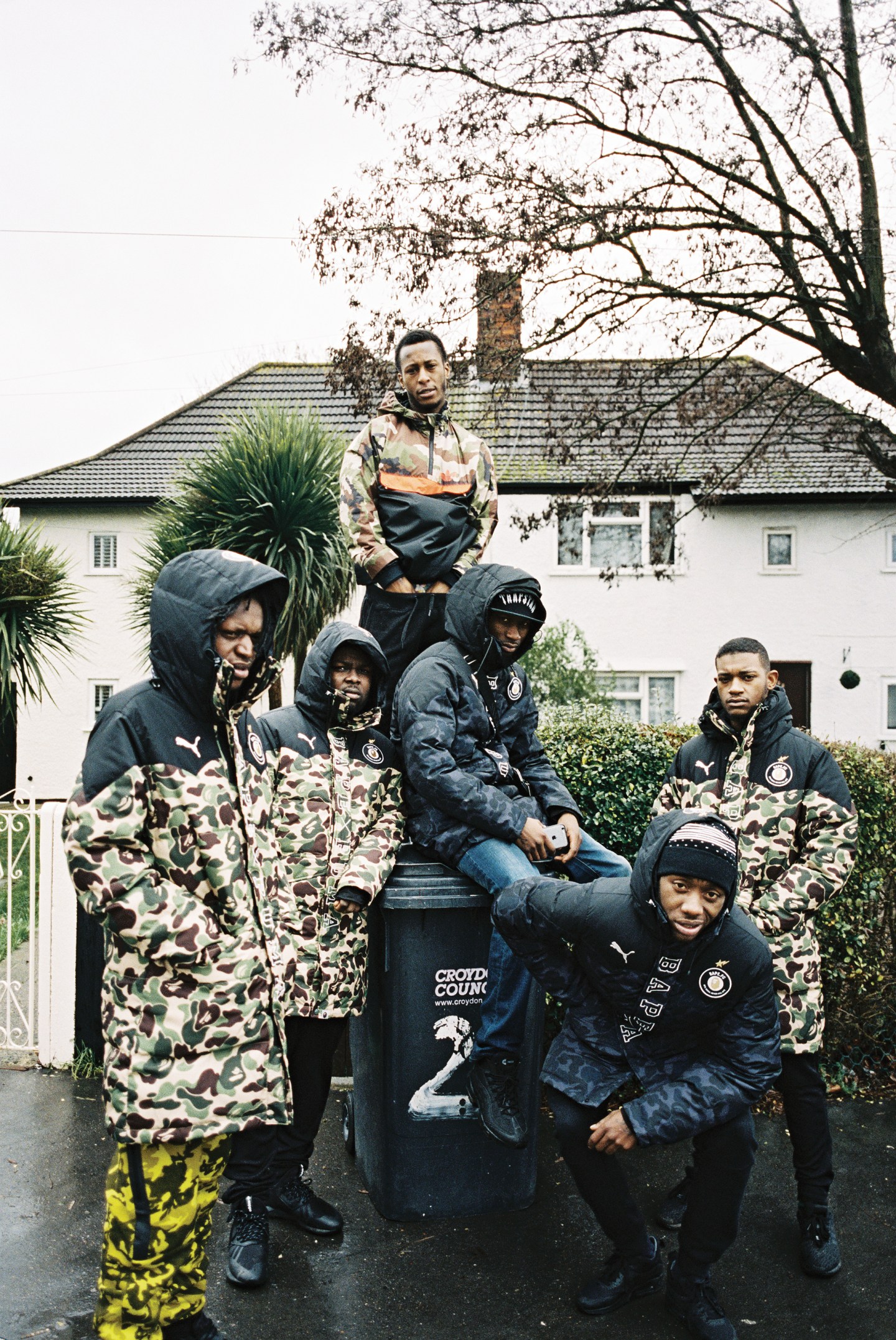 In Thornton Heath, South London, the hush after sunset is interrupted only by the occasional muffled sounds of a passing car or the clatter of steel gates swinging in the winter wind. It's a throwaway Monday evening when Section Boyz are gathered here, in the front room of a modest house on a tree-lined street. Melting on worn-out sofas, the group is a flock of tracksuits and hoodies, grinders, and blunts, as they riff through highlights of the past year.
"Boiler Room. All the little headlines," says Knine, one of Section Boyz's six members. "Bare stuff. It's kind of crazy still."
"MOBOs, the mixtape charting, sold out our own London show," Deepee mumbles, puffs of velvety weed smoke tumbling from his lips.
Inch laughs as he explains the secret behind their success: "Vibes, energy, and tree o'clock."
More precisely, Section Boyz excel by mining the gray area between grime, with its catchy hooks, and road rap, an offshoot of UK hip-hop that's more rooted in gritty street tales. They call their hybrid "section sound," and it's an approach that affords their music a lot of freedom. On "Trapping Ain't Dead" and "Mad Man Ting," they glide over pulverizing 808s with playful, nifty melodies—a stark contrast to their breakout effort "Lock Arff,"  a gloomy and subdued number that's anchored by Inch's drawl, repeatedly chanting the song title.
"Some days we're rock stars, some days we're grime artists," says Swift. "Littlez even likes to sing."
"You can't categorize it," adds Deepee. "We're conscious of that 24/7. We don't follow, we set. We know the worth of our sound."
Before they were Section Boyz, the guys were neighborhood friends sharing West Indian roots and a passion for music. In the early aughts, when grime and road rap were largely unknown outside the U.K., they soaked up what they could from underground DVDs, like Lord of the Mics and Streetz Selected, before assembling basic recording equipment. "We used to record on them mics from Poundland [a British retail chain where items are £1], or video ourselves on our phones," Swift remembers. "If Deepee wanted to spit, then we'd park him up somewhere and I'd record him, then when it was my turn we'd swap the phone over."
In 2014, they independently released their first mixtape, Sectionly, a satisfying, shifting listen with 20 songs and no features. They followed up in 2015 with Don't Panic, another entirely Section Boyz affair. Their sense of solidarity is endearing. At the MOBO Awards, while many of their industry peers opted for rented tuxedos and clip-on bow ties, Section Boyz walked the red carpet in tracksuits. In doing so, they stood together outside industry norms, but given the recent shift in the U.K. toward movements centered on authenticity, they aren't swimming totally upstream. Whereas the hallmarks of Section Boyz' aesthetic—tracksuits and slang, grime and rap—once stood at odds with the mainstream quarters of British society, they're now increasingly representative of youth culture across the island.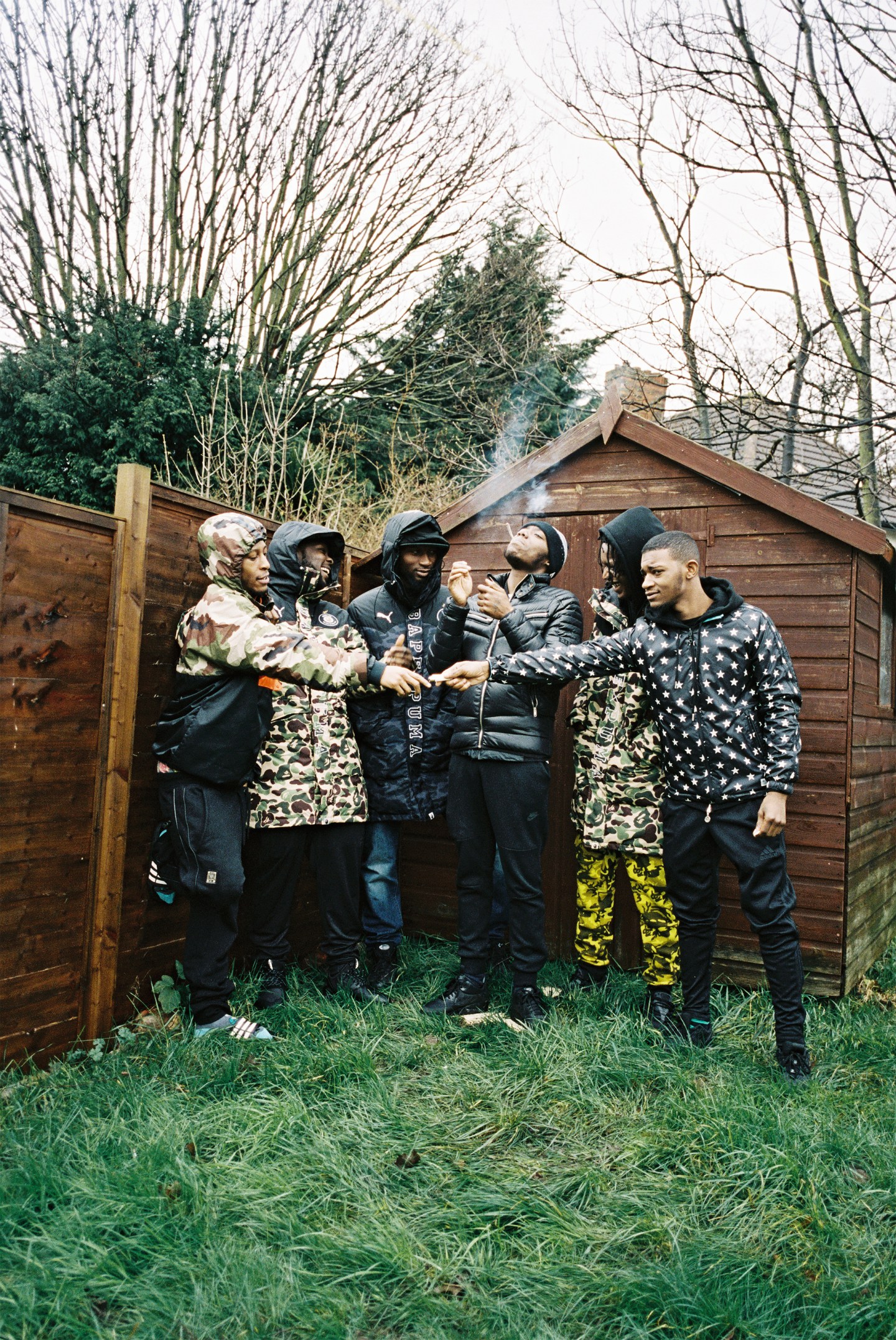 Section Boyz, though, have fixed their hopes beyond national success and say they intend on branching out into America. Having Drake plug their mixtape to his 12 million Instagram followers, as he did in September, will surely help, but perhaps more instructive will be the recent success of another key supporter, Skepta. The grime veteran praised their originality on a press run in New York last year, telling Peter Rosenberg of Hot 97 he thinks "they've got something strong," and premiering a remix of "Lock Arff" during a guest set on Beats 1's OVO Sound Radio. "It's sick to know that the ends is spreading out there," says Littlez. "We've grown up listening to Skepta, now he's listening to us."
There's a natural connection between the lucid, singalong hooks that Skepta has brought to the States and the snappy, laconic melodies that have built the Section Boyz brand in Britain. But given the relentless decade of recording and releasing music that Skepta put in before gaining any kind of foothold overseas, the crew knows it must prepare to play the long game.
"Every buzz starts off local." says Sleeks. "So we're planting seeds in every city right now. When we were in school, Littlez use to say that U.K. music was going to buss in America and all these places, and now it's happening. We're just one little state so we have to scream a bit louder, but it looks like our screams have been heard."
From The Collection:
GEN F