The Merry Adventures Of Peewee Longway
Sneaking and geeking around Atlanta with a prolific rapper who just wants to have fun.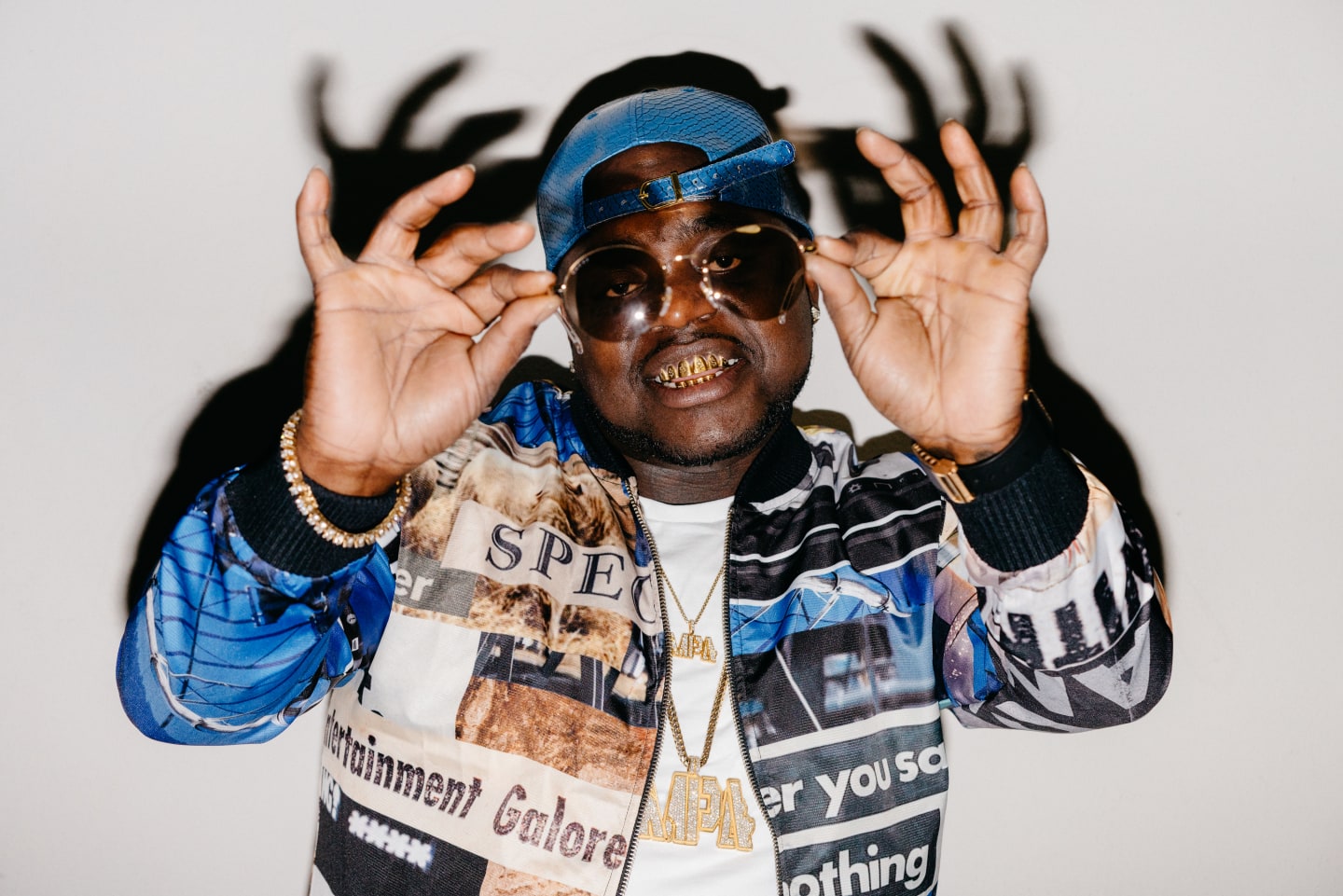 Peewee Longway is never alone. Beside him today, at all times, are some of his closest co-workers and oldest friends. Most of them bear the "MPA" prefix in their names. "Money, Pounds, Ammunition" reads the acronym for the crew, which currently stands at over a dozen members strong. At Peewee's apartment inside a downtown Atlanta gated community, the few present members have brought home some food to grill. One of Peewee's managers is busy going through beats, DM'ing producers, and making calls.
According to his manager, there are multiple hard drives completely filled with recordings made by Peewee, who was born Quincy Lamont William. Hundreds of songs go unreleased, but what we end up receiving, about once a year, is a handful of the 31-year-old's best. Before Mr. Blue Benjamin, as far as solo efforts, we got Blue M&M in 2014, then Blue M&M Vol. 2: King Size in 2015. The blue theme derives, naturally, from his crip affiliation. He has a massive blue M&M tattoo on his back, and when I ask if he's familiar with the marketing campaigns behind the candy—specifically the 1995 contest in which it had been selected to be the newest color variety—he instead refers me to the "Came In" video. The song and clip, a 2014 collaboration with Migos, finds them rapping in a fairly standard outside-of-the-trap-house scene, but there is this brief moment when a blue M&M cartoon character emerges behind Peewee. "On God, I didn't even know what the fuck Mars was," he says of the global candy corporation. "But they reached out to lil' bitty Longway!"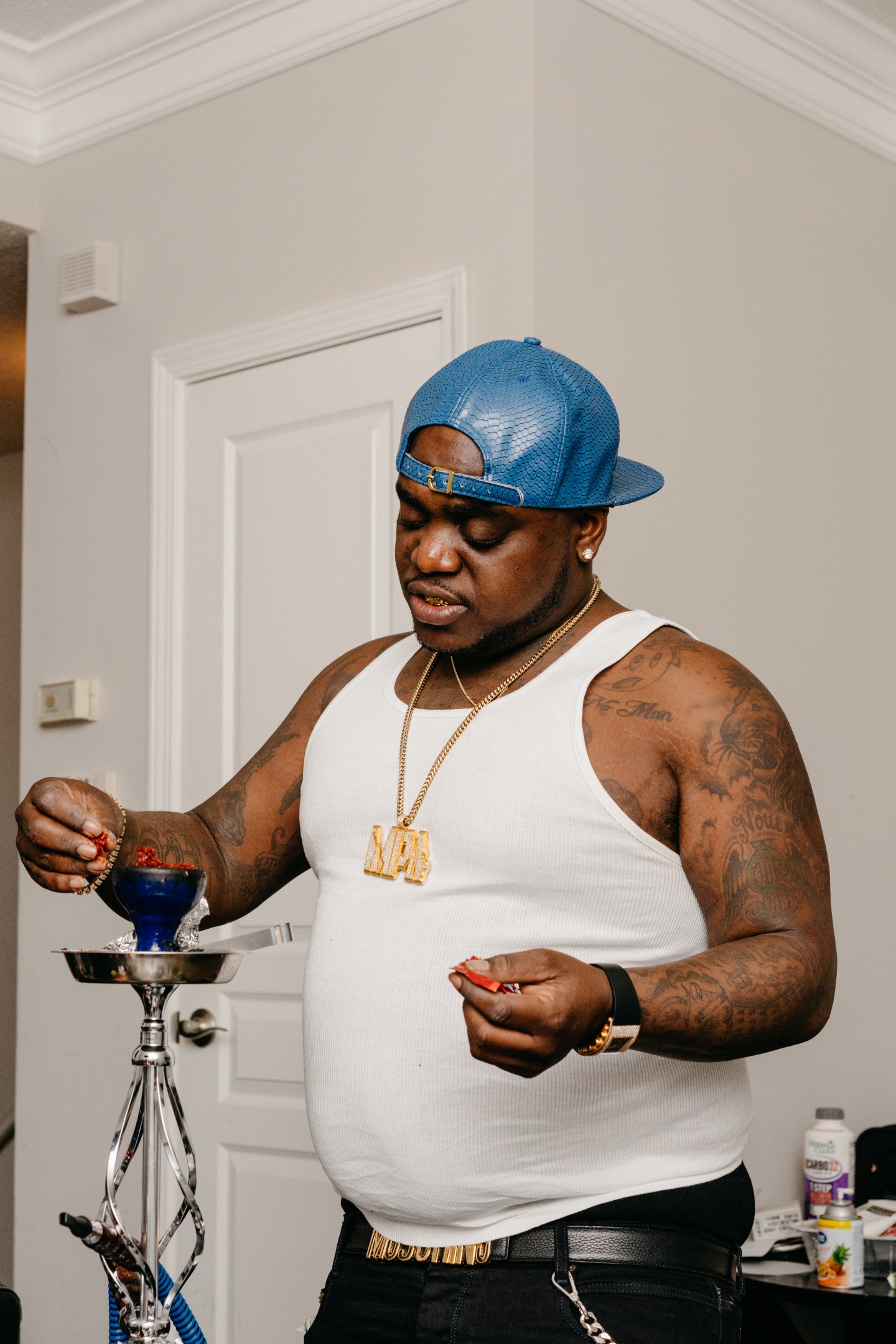 Longway has since graduated from blue chocolate to blue hundreds—when we first sit down to talk, he immediately begins counting a thick stack of bills. But his content strategy has remained largely the same. On any of his three tapes, all of which are sprawling at a minimum of 18 songs, you'll find the bulk to be high-velocity stutter-rapped street anthems. But you'll also almost always find a sprinkling of romantic, Auto-Tuned crooning, too, which often manifests as his most compelling and unique work—see "Situation" from his first tape, or "Jugg 4 Me" from his second. If anything, his third and most recent project is a refinement of the street anthem side, the backdrop provided by an all-star team of Atlanta producers credited for shaping the city's sound: TM88, Cassius Jay, and Will-A-Fool, among others.
You can gauge Peewee's willingness to rap on a given beat based on his facial expression. Peewee's manager has flipped through several beats in front of us, and after several non-reactions, he may twist his smile into a snarl, as though in disgust. This is when we know he likes it.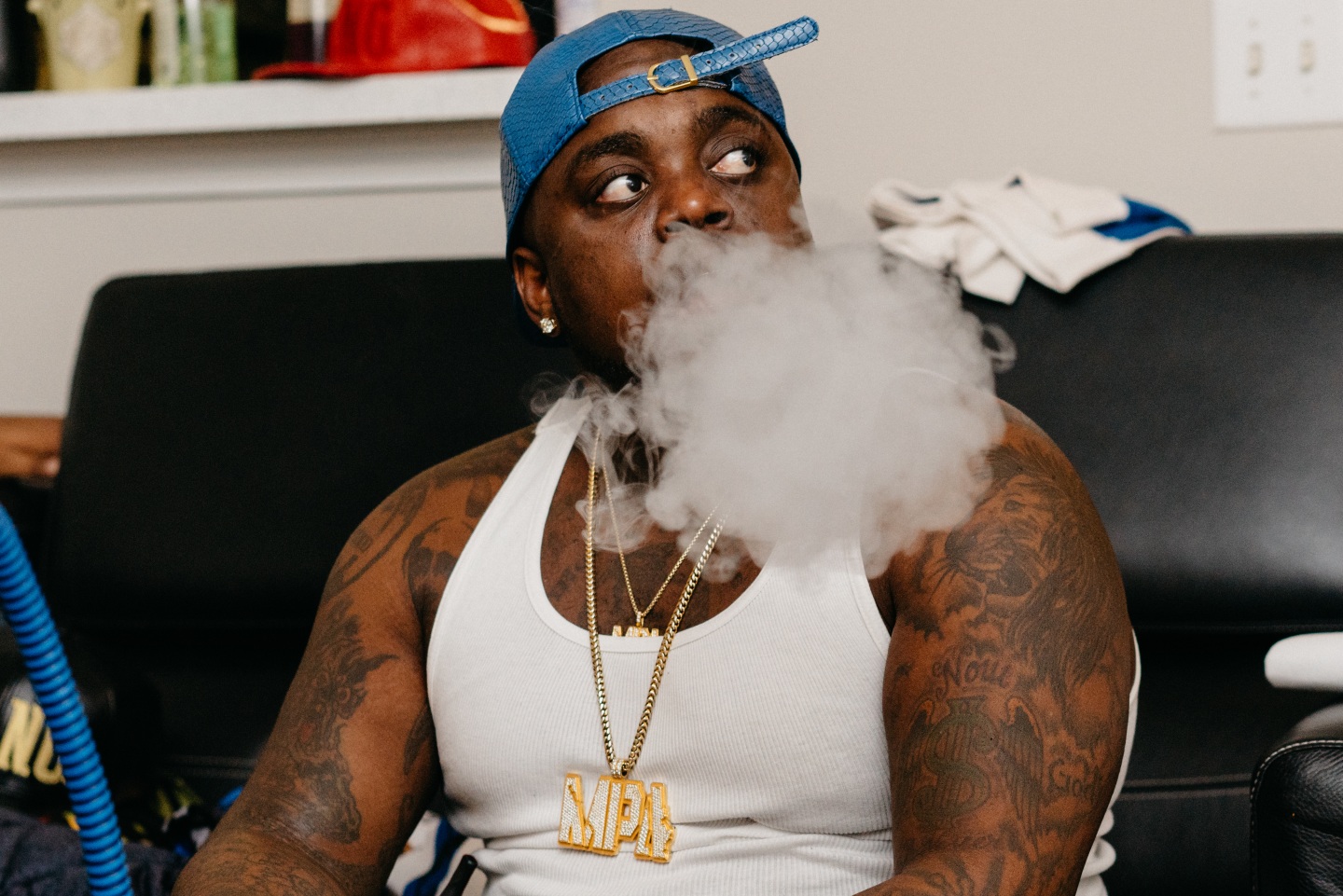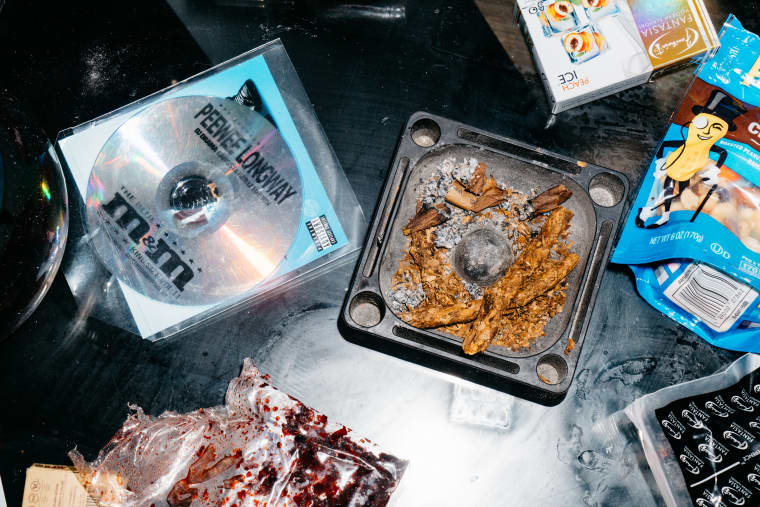 Since I entered his apartment, Peewee has been nursing an oversized Smartwater bottle, filled to the top with a combination of Codeine syrup and about five or six cans of Fanta. Multiple of these concoctions will be consumed throughout the night, perhaps a key factor in the development of his gut, which he sports shirtless and proud.

"Where yo' cup at, gangsta?" he offers, noting my fascination with his potion. He fills a Styrofoam for me. "Cheers," I respond, before downing the contents almost immediately. Within minutes I feel slightly more at ease, and infinitely more prepared to fall asleep—which I do.

When I wake up from what may have been the best nap of my life, Peewee is on his feet. He's already changed outfits, and now he's applying cologne. It is roughly 4:00 a.m. and the crew is getting ready to go out. Sleep itself is unregulated for Peewee. It's never planned; he may nod off for an hour during light or darkness, then take up whatever activity he left off prior to the nap. "I treat every hour of the day the same," he admits.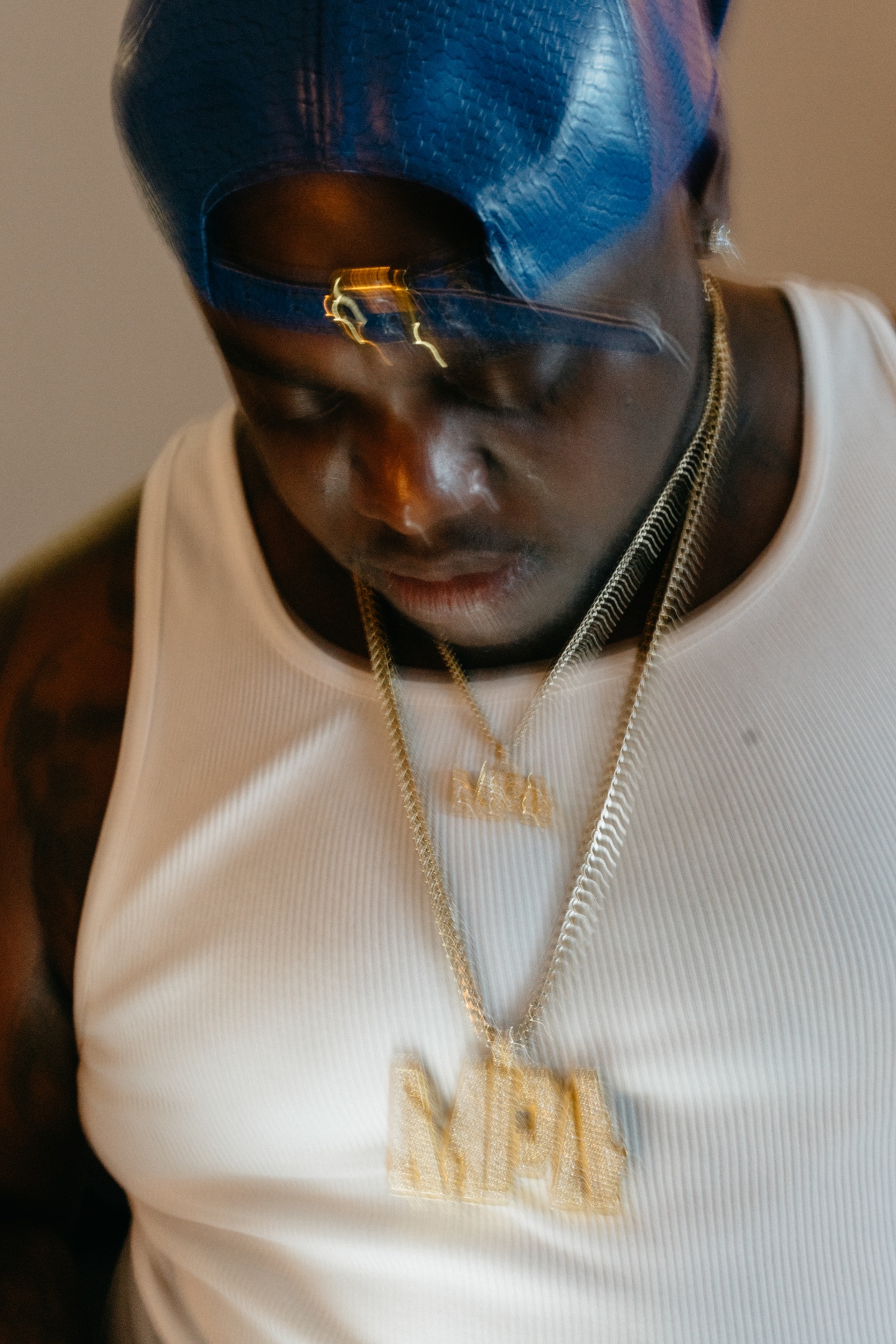 One might find Peewee up at dawn cleaning up the kitchen, notes MPA Tay, a childhood friend and collaborator. The apartment is kept quite clean, Tay explains, because both his and Peewee's mothers raised them to do so when they were growing up. Tonight, the mood is a domestic calm. There is a couch facing a television. The movie Dope is playing. This all appears much more toned down with respect to his old house—the original "Lobby." Peewee often refers to himself and his companions as "lobby runners," but the lobby, as a term, is non-restrictive. "The lobby is what you make of it," he declares. The origin of this concept may be derived from his hotel shenanigans; one night, when we drove a Sprinter up four hours from Atlanta for at a club appearance in Charlotte, there were a few hotel rooms reserved for him. Though the plan was to drive back immediately after the appearance, Peewee, in a leather, dual-brimmed hat, was further occupied until about 11:00 a.m. When I ask him exactly what he was up to all night, he responds with a smirk: "Running around the lobby."

The original Lobby is immortalized in the 2013 music video for "Loaded," which features a lanky Young Thug towering over the older Peewee, their opposing body types reminiscent of Danny DeVito and Arnold Schwarzenegger in Twins. The pair trades verses with a close-friend synergy. Thug leads, hyping up his buddy: Do not think I'm tripping when I say Longway be the real-iest! Their collaborations are often structured this way; there's also "Juice" from Blue M&M, and what's maybe their best duet: "Dead Fo Real."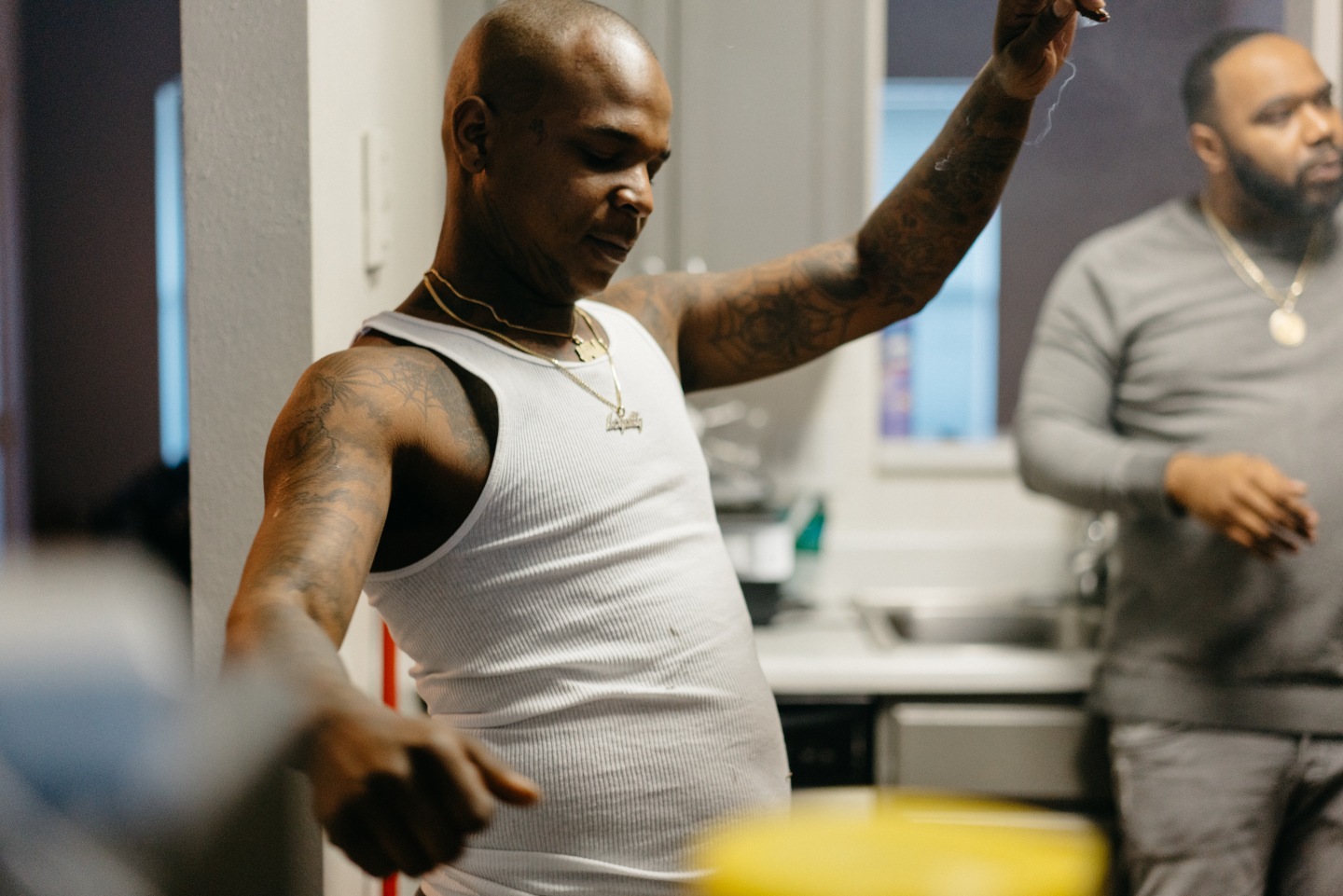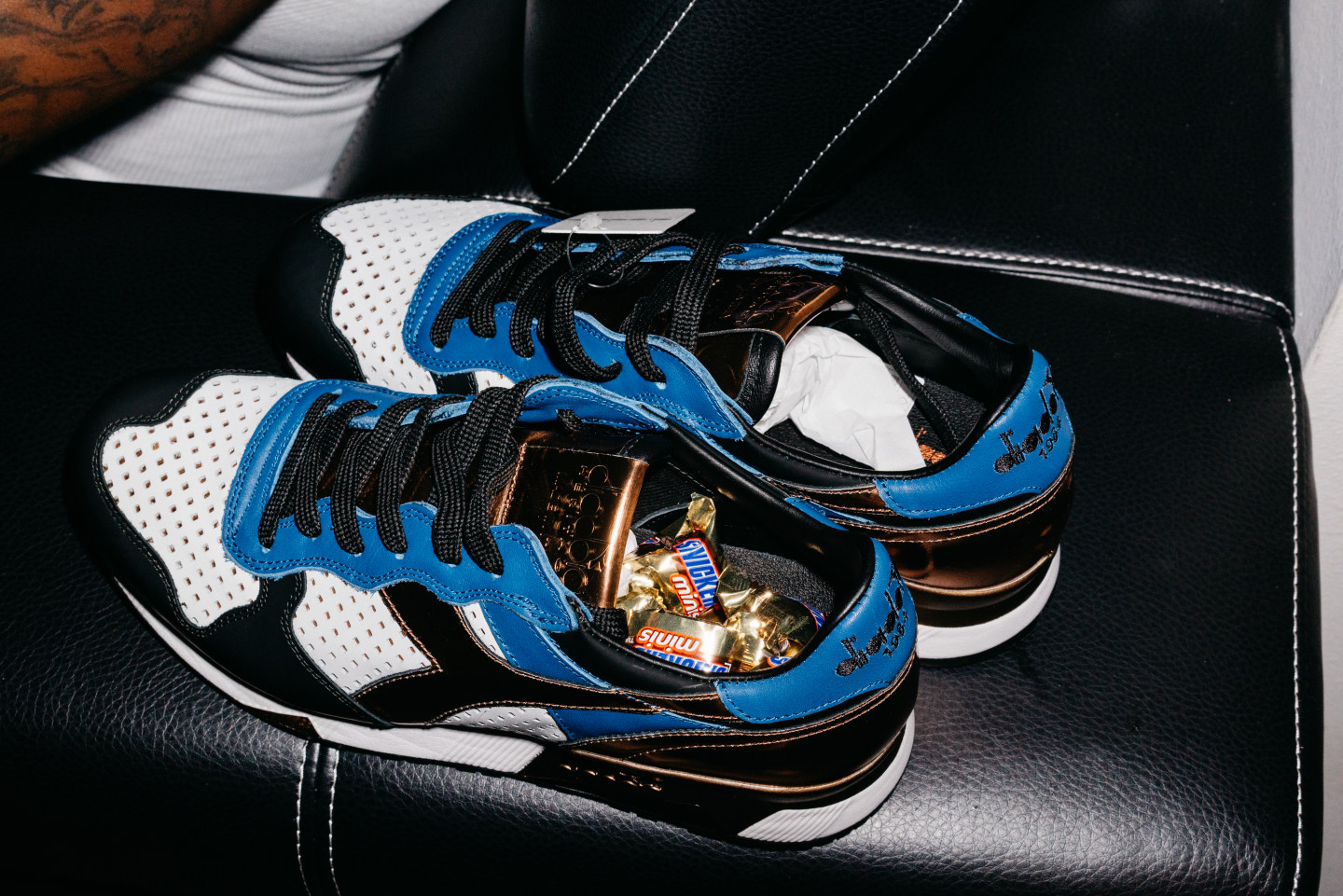 Within the last couple years, many of Peewee's lobby-running mates have branched off into their own next steps. Thug's an international superstar, and Peewee couldn't be more proud. They grew up together, says Peewee, who remembers when everyone thought Thug's most noteworthy talent was his football-throwing arm. "He the same," Peewee says. "He still act the same way—silly as hell. He'll come out of nowhere, and just point at you and joan. He's always just been that silly-ass cool-ass little cousin." When I ask Peewee how he feels when people are put off by Thug's particular sort of flamboyance, he brings up Prince, pointing out a similarity between the two icons. "He got a style of his own and he don't give a fuck," Peewee says.
Peewee was an integral part in Thug's ascent, thanks to his own relationship with the beloved Atlanta rapper Gucci Mane. A longtime friend, Gucci signed Peewee to his label in 2013. "I been knowing Gucci before 'So Icy,'" he says. "I knew Gucci from the streets. We did the same thing. We came up doing the same thing."
In 2013, Peewee introduced Thug to Gucci. "I'm finna take you over here, all you gotta do is go in there and do you bro," Peewee encouraged the younger rapper. "I took him over to Guwop, and Guwop put the stamp on lil cousin," he says. "And that's all he really needed. He finally got that chance to show the world what he can do. He finally got what people in the world ain't know he had in him."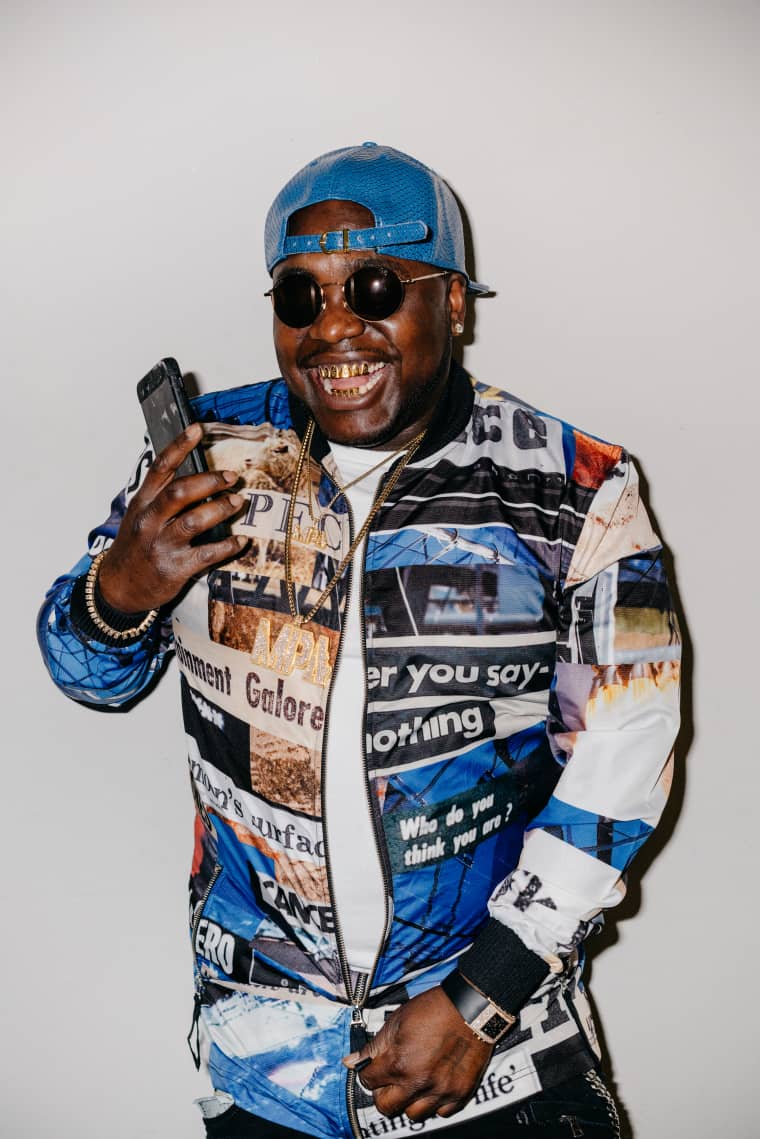 As for himself, Peewee takes pride in Gucci's acceptance. You hear the Gucci Mane in me, he raps on his 2016 version of the now-classic Gucci song, "Street Nigga." According to Peewee, the most valuable wisdom Gucci gave him also stems from their pre-rap lives: "Take the rap business, and treat it like the street business." With that strategy in mind, it's easy to contextualize how Peewee structures the people around him, particularly the MPA crew. The same way 1017 functioned as an incubator for Gucci's handpicked acts, MPA is Peewee's personal extension. For that club appearance in Charlotte, Peewee brought along a few MPA members to open for him. One of them is a long-haired white teenager named Mitch. He and Peewee have a song together called "White Man Can't Jump." Apparently, Peewee was at his regular barber shop when one of Mitch's friends walked up to him and started playing Mitch's music. Without hesitation, Peewee got Mitch on the line and told him to come to the shop. "I walked in, he was getting his hair cut, and he smiled at me," Mitch remembers. "I saw his gold teeth and was just like 'Damn.'" Since then, he's been a part of the family.

That decision to take a random kid under his wing is emblematic of Peewee's character, which becomes clear within minutes of meeting him: he's exceedingly humble, and even seems surprised by his own fame. "I love the people that love what I got going on," he says during our final conversation on the porch outside his apartment. "I never act like I'm above them." The recent, seemingly out-of-the-blue cosign from LL Cool J continues to shock him—he says he can't wait to do a song together, if presented with the opportunity. At a truck stop between Atlanta and Charlotte, truly in the middle of nowhere, every customer stopped and asked for pictures. Peewee doesn't take any of it too seriously, though. None of that matters, he explains. "Me? I just be laughing at the shit."