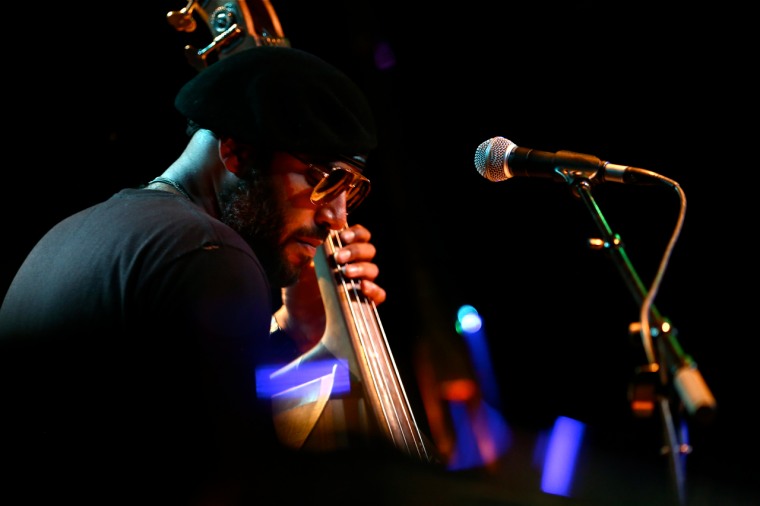 Miles Mosley, an upright bassist, composer, producer, and co-founder of music collective The West Coast Get Down, celebrates his sense of self on his new single "Abraham." With help from his band mates and To Pimp A Butterfly's saxophonist Kamasi Washington, the L.A. jazz musician brings the song to life with personality, presence, and conviction.
"Having been born and raised in Los Angeles to mixed race parents, it meant that I was often, depending on circumstances, expected to be more like one stereotype than the other," Mosley said in an email to The FADER. "'Abraham' is a coming-of-age sermon to myself. A reminder of the fact that I alone control my image, and needn't modify or conform it for the comfort of others. It is that very belief in diversity that allows me to take unprecedented chances on my instrument, and also what helped me to be a co-founder of a collective as musically untethered as the West Coast Get Down. My mother always reminded me that there is a little voice inside us all that can guide us with purity of light, if we are quiet enough to listen. I have met my voice; you can call him 'Abraham.'"
"I met Miles when I was 13 years old," Kamasi Washington told The FADER over email. "Even back then he was a virtuoso, pushing the boundaries of what was possible on his instrument. Over the years I've watched him become a true innovator on the upright bass. With my music we try and mix the raw with the unattainable, where as Miles, through a song like 'Abraham,' delivers what we do musically in the West Coast Get Down directly to the people. I hear 'Abraham,' in its roots, as an exhibition of self-pride. It's like Miles took the vibe, feel, and swagger of his African-American side, combined it with the pride he has of his Jewish side and in a really cool way shows just how connected they are within him. I don't think anyone has ever heard lyrics of this subject matter performed with that kind of energy behind it."
World Galaxy / Alpha Pup Records will release "Abraham" on April 15. Listen below, and catch Miles Mosley on tour with Kamasi Washington this summer (dates here).