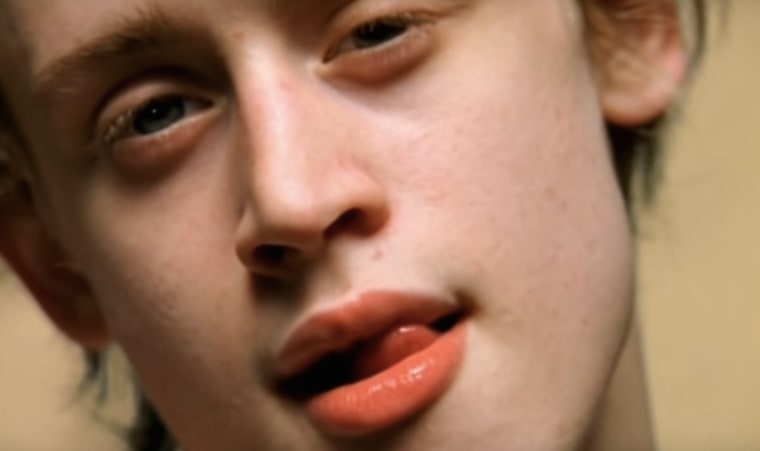 Harmony Korine—director of bleak, zeitgeist-defining movies like Gummo and Spring Breakers—has always been mixed up with the music world. He's co-written lyrics for Björk and Lana Del Rey, enlisted Skrillex and Spiritualized's Jason Pierce to score his films, and even recorded an experimental CD with Gang Gang Dance's Brian DeGraw. Most recently, he directed the hyper-stylized music video for Rihanna's ANTI highlight "Needed You." It's a good clip too, even if it mostly recycles Korine's neon-lit Spring Breakers aesthetic. It's not the first music video the 43-year-old has made, though. Here's a rundown of the rest, which range from slick and hip to totally batshit.
1995: Daniel Johnston's "Casper"
According to folklore, Korine made a documentary-style video for Johnston's lonely anti-folk song, which appears on the soundtrack for Kids, and inspired the name of one of its primary characters. The long-lost clip allegedly features footage of a kid having an epileptic fit on his mother's floor. According to an interview with Korine's friend Thurston Moore, MTV said they "wouldn't show this in a million years." Maybe it'll turn up one day.
1998: Sonic Youth's "Sunday"
Korine's first music video to actually make it to MTV stars teenage Macaulay Culkin, who kisses Rachel Miner, jams with Thurston, wears leather cuffs, and seductively licks his lips while staring into the camera. It's pretty and aimless and, compared to a lot of Korine's earliest work, surprisingly hi-def.
2004: Bonnie Prince Billy's "No More Workhorse Blues"
Six years later, Korine made a jittery clip for a string-laden song by Will Oldham, aka Bonnie Prince Billy. The "No More Workhorse Blues" video puts Spring Breakers actress Rachel Simon—who Korine later married in 2007—in a wedding dress and blackface.
2006: Cat Power's "Living Proof"
Korine also directed this high school-set, MTV2-premiered clip for a track from Cat Power's The Greatest. Chan Marshall appears in an "Oops I Did It Again"-style bodysuit with a wooden cross strapped to her back.
2012: The Black Keys's "Gold On The Ceiling"
The Black Keys's "Gold On The Ceiling" video, released in 2012, reminds me a lot of Korine's film The Trash Humpers. It's got VHS squiggles, a swampy setting, and a freaky non-narrative that involves Dan Auerbach and Patrick Carney, both in PJs, cradling baby-sized versions of themselves.