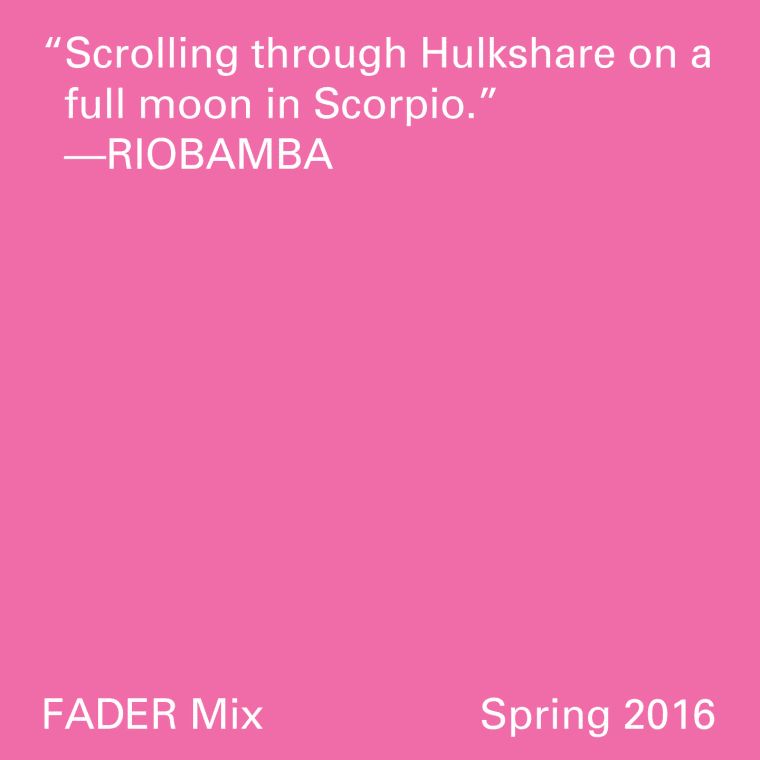 Riobamba has a special knack for making the dancefloor feel exactly like where you're meant to be. The Ecuadorian-Lithuanian DJ, producer, and all around club mastermind aims to create a musically free and fully accepting environment for everyone. I can attest to this. A few months ago I happened upon one of her DJ sets and was left mind-blown, with the inexplicable feeling that I was at just the right place at just the right time. Before it was over, I was already fiending for the next set.
Thankfully, for this week's edition of the FADER Mix, Riobamba has blessed us with the perfect segue into a warmer New York with a literally blazing mix of reggaetón, dembow, rap en español, and more. Get to know her below ahead of the launch party for APOCALIPSIS, her new booking and event production agency, next month at Trans-Pecos (grab your tickets here).
Where are you right now? Describe your surroundings.
It's pretty late and I'm in my apartment in Bed-Stuy trying not to keep the neighbors up while playing screwed Daddy Yankee samples.

What's the most recent musical experience that had a big impact on you? And why?
This year has been big for me in manifesting things I've been working for awhile now; I'm launching my booking/event production agency APOCALIPSIS, which is my way of building out infrastructure for myself and other artists that identify with the "ni de aquí ni de allá" ("from neither here nor there") perspective. Through this project I'm repping for artists that embody many things at once and am amplifying the richness that comes from that, as opposed to what I've seen in the past which is artists being left off rosters because we don't fit neatly enough into one box or another.
Also having the opportunity to spend some time outside of N.Y.C. on tour in Mexico, Colombia, Puerto Rico, and the south of the U.S. reset my perspective. It's been affirming of some bigger shift I think is happening around Latinx diaspora music right now. I'm seeing and feeling a repositioning of the narrative around Spanish-language and diaspora music that isn't centered around the perceived majority, and it's cool to see reggaetón in many ways as the medium for that autonomy. I'm grateful to experience that first-hand and to hopefully play some part in pushing it forward.
Tell us a bit about this mix— what was the vibe while making it?
This mix is me playing full HD with the concept of "perreo apocalíptico"; the sample packs, deconstructions, the noisiness that's a nod to the car stereo origins, the scenes that are currently disconnected but hopefully merging closer. (When is a Messiah and Tomasa del Real track gonna happen?)

What do you imagine people doing while listening to it?
Scrolling through Hulkshare on a full moon in Scorpio.
And finally, what's your favorite thing to cook and how do you make it?
I swear that drinking hot water with fresh ginger and lemon throughout the day has reset my brain. That's cooking, no?
Tracklist

Yan Keen – Last Perreo Redux X Riobamba Vieja Escuela Respire Hondo
Rizzla – Perreo Apocalíptico
Imaabs Ft Lia Nadja & Felicia Morales – Extravío
Jamez Manuel Aka Manuel 5000 – Amor X King Doudou
Akim – No Sabes Del Amor
Messiah – Malianteo
Pusho Ft. Jory Boy & Cosculluela – Pa Tras Y Pal Frente
Jamez Manuel X Tomasa Del Real – Perra Satira
Quimico Ultra Mega Ft Ceky Viciny - Baje Rastrillando
Resla – Seol
El Alfa El Jefe Ft. Bulova Vs. Musicologo & El Ken – Recojan Los Cartuchos
Florentino – Llamada
Àttøøxxá - Imoral Feat Vic Santana & Knalha & Santuh
Santa Muerte – Blanco Pa'l Piso
Ducky – Work (Lsdxoxo Guerra Edit)
Debit – Engatuza