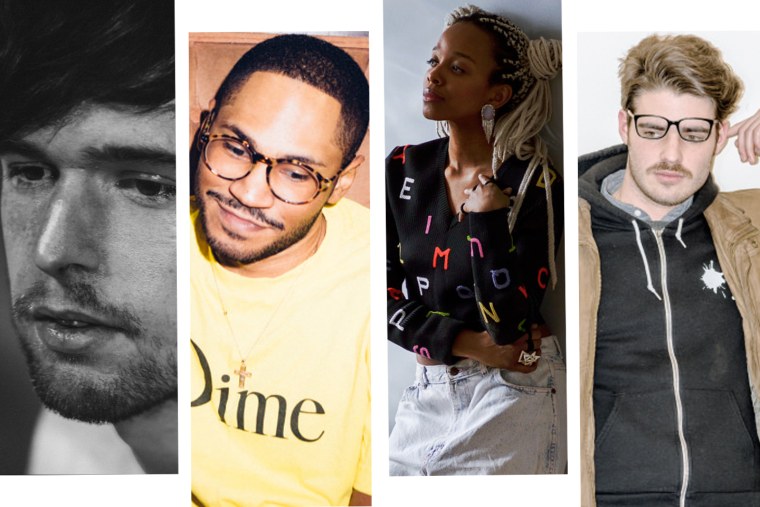 1. "True Love Waits," a sad song that Radiohead has been playing for decades, turned up as the surprise closer on their new LP. This version is different, trading naked chords for tumbling keys, but it's still haunting.
2. The last line of "Meet You In The Maze," the final song on James Blake's mellow new full-length, is Music can't be everything. As Aimee Cliff said in her review, it's brutal and beautifully direct.
3. The video for Kaytranda's "Lite Spots," a song off his long-awaited debut album, features a little dancing B-boy robot. It's fitting, cause it's the exact type of song that's impossible to not dance to, whether you're human or animal or a man-made machine.
4. Alicia Keys's "In Common" is catchy and truthful: If you could love somebody like me, you must be messed up too, she sings over a skittering beat. It's a little too real.
5. Modern Baseball's great new full-length, Holy Ghost is totally stuffed with hooks. "Mass"—a brisk, upbeat love song about life on the road—might contain its stickiest.
6. The Cure just started their sprawling American tour, and Chance The Rapper's trusted collaborator Jamila Woods interpolated part of all-time jam "Just Like Heaven" for her dreamy solo single, "Heavn."
7. Enrique Iglesias's half-acoustic, Spanish-language "Duele El Corazon" doesn't break the mold, but its chorus is indelible enough to earn him another global hit.
8. Palmistry's skeletal dancehall songs are perfect for this in-between warm weather, when it's not too hot, not too cold, and you start to fall in love with every single person you see on the street. His Zane Lowe-premiered "Lifted" is no exception.
9. Jacquees and Birdman teamed up again, this time for "Lost At Sea." Jacquees sounds great, per usual: I swear to God that we ain't losing, he sing-raps. Me and Stunna going stupid.
10. "Cocoon," a song from Migos's upcoming No Label 3 mixtape, features romantic production courtesy of Cheese Beats and a well-executed Sonic the Hedgehog reference.