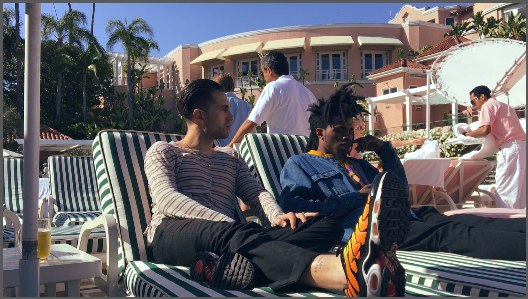 "I'm sure there are two ways people are going to listen to this song. The first being, 'Wow, he really wants to be famous'; or two, 'This guy is woke as fuck. Wow, what a heart-crushing critique of the entertainment industry.'"
That's how Jordan Raf—an L.A.-based singer with a cantankerous croon and a debut album in the works—set the scene for his latest release, "Hollywood," featuring Chester Watson, and an email to The FADER.
In actuality, it's a winking critique of the entertainment industry that he loves and hates and especially loves to hate. "Sometimes I'm disgusted by Hollywood; I mean i would't be surprised if they cast Taylor Swift as Rosa Parks and it won an Oscar," he explained. "But for the same reason I love the place god damn it. The blind confidence these people have in being so shallow and deceitful is astounding; and don't get me wrong, I want to be so insanely famous, it sounds fun. Like my own fragrance famous, but I don't know what expensive depression smells like."
And so he sings, Take me to Hollywood, I want to be a star. It's only my looks that have gotten me this far.
Listen to "Hollywood" below. Jordan Raf's debut full-length Double Negative is out later this spring via POW Recordings.