You might know 23-year-old Dorchester native Cousin Stizz as the rapper behind "Shoutout," a buzzy song off of his standout 2015 tape Suffolk County. The track features a catchy, memorable hook that earned attention from Drake, who gave it an unexpected cosign by playing it at his 28th birthday party in the fall of 2014. But Stizz, who rolls with a group of creatives he calls his friends — rappers (Michael Christmas, OG Swaggerdick), producers (Obeatz, DumDrumz), and videographer Goodwin, among others — wants more than a viral single.
Today, he's back with the video for "Gain Green" (the aspirational track premiered on OVO Sound Radio this past weekend) and is ready to put on for Boston. "This is just a joint you can ride around to, mack to, to smoke to, and to chill to. It's everything, it's the lifestyle," he told The FADER of the song, which was produced by the Dumdrumz and will feature on mixtape due out sometime this summer. Watch the clip above, and find out more about Stizz below.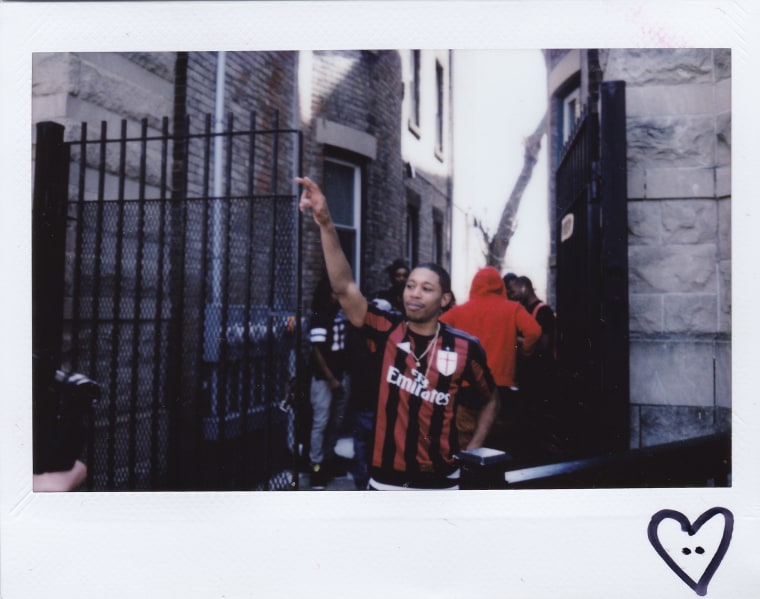 How much of your success do you owe to the internet?
Nah. I owe my success so far to music. And my work ethic and my team. I mean, the internet definitely plays a part, but there's only so much that the internet can do for you. You gotta fall back on your music. I think it's the hard work and the effort we put in over the past two years that's really helped out.
I'm sure that Drake shit helped out. It definitely helped. [Laughs] Makonnen was telling us that they were playing the shit for a little bit. Makonnen was the homie way before all that shit, so he was telling us like, 'Yo, they playing your shit here. They playing your shit there.' When you hear that like Drake is playing your music, you're just like, Yeah. But then I saw the video [of Drake playing "Shoutout"]. And I watched that shit like 80 times with my mom at 3 a.m. It was nuts
What have you been doing to become a better rapper since Suffolk County dropped last June?
Shit, busting my ass. Going harder every day, trying to be the best. Before, it wasn't about being the best to me. It's still not about being the best, but I just want to be the best me now. Before it was, like, trying to find my path and trying to find my way. Now it's about like, Now, I know I can do this shit so let me be the best me at it. That's pretty much it —trying to experience different things and go different places.
How would you describe your style, compared to like other Boston guys like OG Swaggerdick, Dutch ReBelle, or Michael Christmas?
Those are all my homies. I don't really like to compare myself to anybody. I've never been the type to compare myself to anybody cause that's how you fuck yourself up in the first [place]. Those are just my dogs. We came up doing cyphers in fucking basements together. Like bullshit cyphers. We play MF Doom beats and just go back and forth type shit. Little fun shit like that. So, like, it was never really a type of comparison or anything. We all really had our styles. We just having fun.
So you started out rapping for fun?
Yeah, it was fun as fuck. My friends was doing it. It was a dope. It was like a real dope love vibe with the rap shit at the time. And then when [Michael] Christmas started kicking off, it was like, Maybe we can switch gears and take it more seriously. I didn't really pay attention to music at all until three years ago. Music wasn't in my path at all until about three years ago. I wasn't really looking into anything like that, digging into the archives.
Do you think the Boston rap scene deserves more recognition?
Yo, Boston is going to do whatever the fuck it do regardless if people want to give us recognition or not. Right now, with the young guys that are coming up, I have no doubt in my mind that Boston is going to be heard. Like, for real. Eyes is on Boston right now and I'm a firm believer in that. And I'm a firm believer in my friends and the people around me. There's a lot of hot shit going on in Boston. Boston is going to boom.
How does your mom feel about your career?
She's happy, man. She's really proud of me. My dad is really proud of me. [He] finally has a reason to be proud of me, so it's really dope. It's really dope. I never really gave them some shit that they could really be proud of. I was being a boy, you feel me? It's good to give them something.
My dad told me to get a real job. I think my dad is still telling me to get a job sometimes. That's what parents do. They supposed to be on your ass about everything. But my parents was on my ass when I was hella young. But then after a while, my mom told me like, "I know you're not going to do anything that you don't want to do." I guess that's just who I am.
My dad doesn't turn off my tape still. He plays it on YouTube too, on his TV. It's funny. It's real funny. He go to sleep to that shit. Like, he get drunk, smoke his cigar, and go to sleep to that motherfucker.