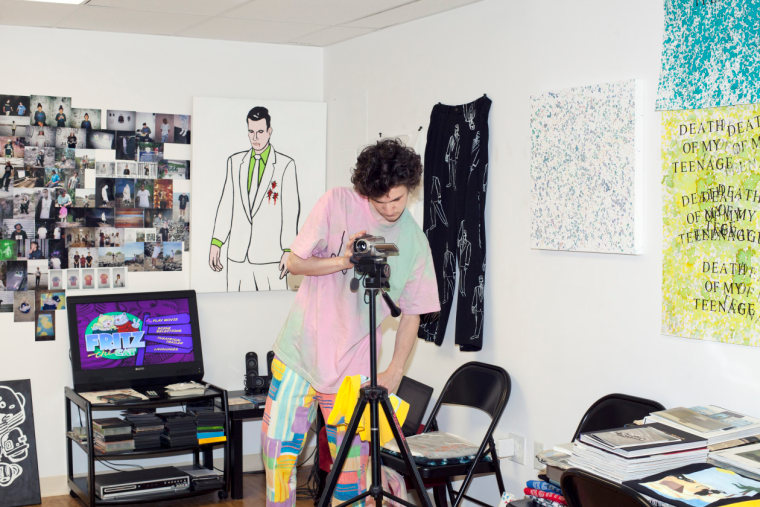 Dertbag, the streetwear line created by 21-year-old Philip Post, consistently pushes simplistically cool, yet slightly off-beat, graphic and hand-printed apparel that you'll want in your style arsenal. You may have peeped the photos of Kanye West sporting one of the Connecticut-based brand's hoodies over the weekend or seen them featured in The FADER but in case you didn't, this is what you need to know about this staple streetwear line.

1. The young brand already has some covetable cosigns under its belt
Just a few days ago, Kanye West was spotted shopping in London with the wifey, wearing the "Dertbag Academy" hoodie, originally released in January. This heather gray Champion sweatshirt, featuring a 3-peat print of what appears to be the Virgin Mary, is available again for preorder on the online shop, so get it while it's hot. Tyler, The Creator has also previously been spotted wearing Dertbag apparel. A$AP Rocky follows the Dertbag Twitter and Travi$ Scott keeps up with Post's personal account, so it will be no surprise to find other trendsetters showing the brand some love in the near future.

2. Dertbag has a brick-and-mortar home (and it's in Connecticut)
The "Atelier" is situated in Bridgeport, Connecticut at 1001 Main Street, not far from where Post grew up. Dertbag's cozy shop, with walls covered in doodles of robots and obscure, humanoid faces, is open Tuesday-Saturday. Last August Post told The FADER, "I wanted Dertbag to sort of play with the expectation of Connecticut versus its reality."

3. It's a family affair
Post's father is visual artist and musician Frank Foster Post, so it was quite natural to for Philip to dabble in creative pursuits. Frank creates vibrant illustrations and paintings that work to mimic the human condition, as well as select apparel that features his work. The father-son duo collaborated on a piece for Dertbag's most recent release: the T-shirt stars a scribbly character with a top hat, called "MR. HAPPY DEATH."
4. Dertbag has already notched some pretty great collaborations
Aside from working with his dad, Post has linked up with other small-scale and niche streetwear brands, like the Good Company and Freed Minds. Dertbag's "Shades of Blue" capsule with D'emploi Brooklyn was super dope, consisting of a hand-crafted, patched and dyed snapback, baseball jersey, raglan, and camera case. It also doesn't hurt that Dover Street Market and Japan's Min-Nano are two of Dertbag's retailers.

5. Post puts mysterious YouTube links in the descriptions of his clothes online
His e-shop is low-key a trove of tracks both obscure and popular, and we have no idea why. Whether the songs are a source of inspiration or simply the shit he likes, we just don't know. But we like it.