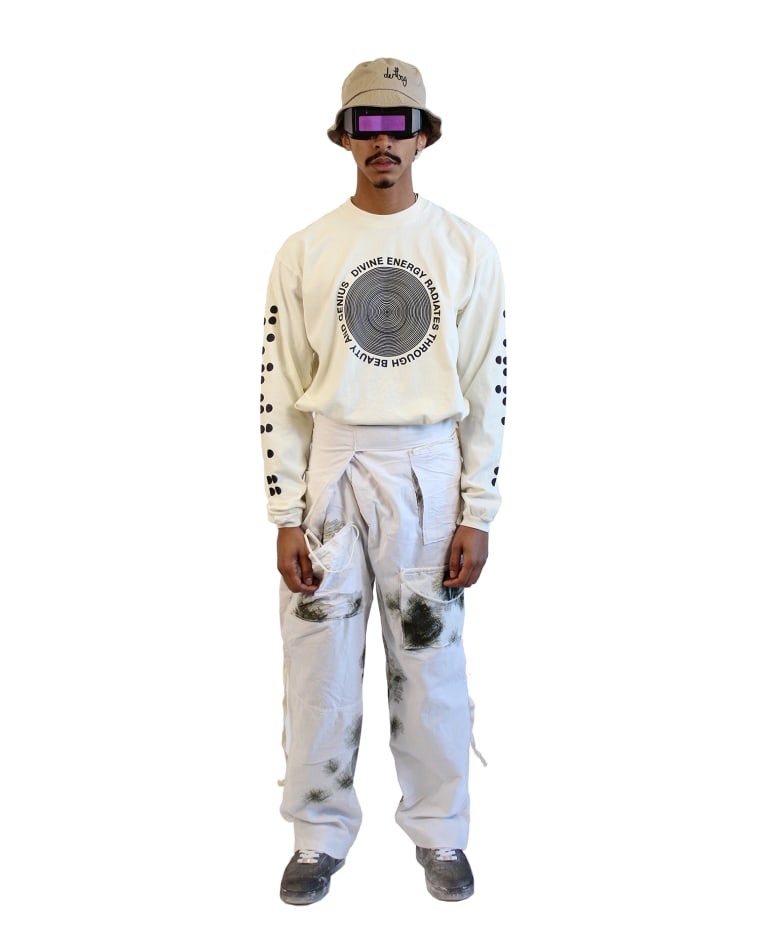 With Black Friday upon us, don't storm the Apple store for the new iPhone or RZA's online store for a vegan winter jacket. Instead enjoy leftovers from Thanksgiving and consider checking out dertbag's next collection.
The new drop features most of the layers you need for a brutal winter: full zip hoodie, long sleeves with puff print, graphic tees, hoodies, an anorak, caps, and more.
Found Philip Post explained via email the inspiration for the collection: "Divine Energy Radiates Through Beauty And Genius is an acronym for dertbag that depicts how I'm feeling currently. I've tried to explore, experiment, and execute a collection that represents myself at this point in my life. I love how all the pieces could be worn together and when they do it makes sense. It's the dertbag uniform without it being a uniform. The knit pieces are all custom dyed, washed. The black mocknecks are made of recycled cotton, and the white long sleeves feature a single stitch hem. I've always wanted to creative a clear cohesive collection and I feel like I've done that. It's more of a small art show with cotton being the medium, and myself flexing pantones, graphics, and new concepts. All I want to do is elevate and depict how I would like to see and interact with my universe. The clothing I create is the same as the music I make or the paintings I paint, everything is coming from me and lives in my world."
Post launched dertbag when he was 13 in 2007. Tyler, The Creator and Kanye West have sported his brand before.
The collection will be available at the Bridgeport store November 30 and online December 3.
On December 7 from noon to 7 p.m. dertbag will also be hosting a soft opening of its first NYC storefront at 516 E 6th Street, New York, NY 10009 to celebrate the new collection. It's the brand's second brick and mortar location following it's Bridgeport, CT atelier.