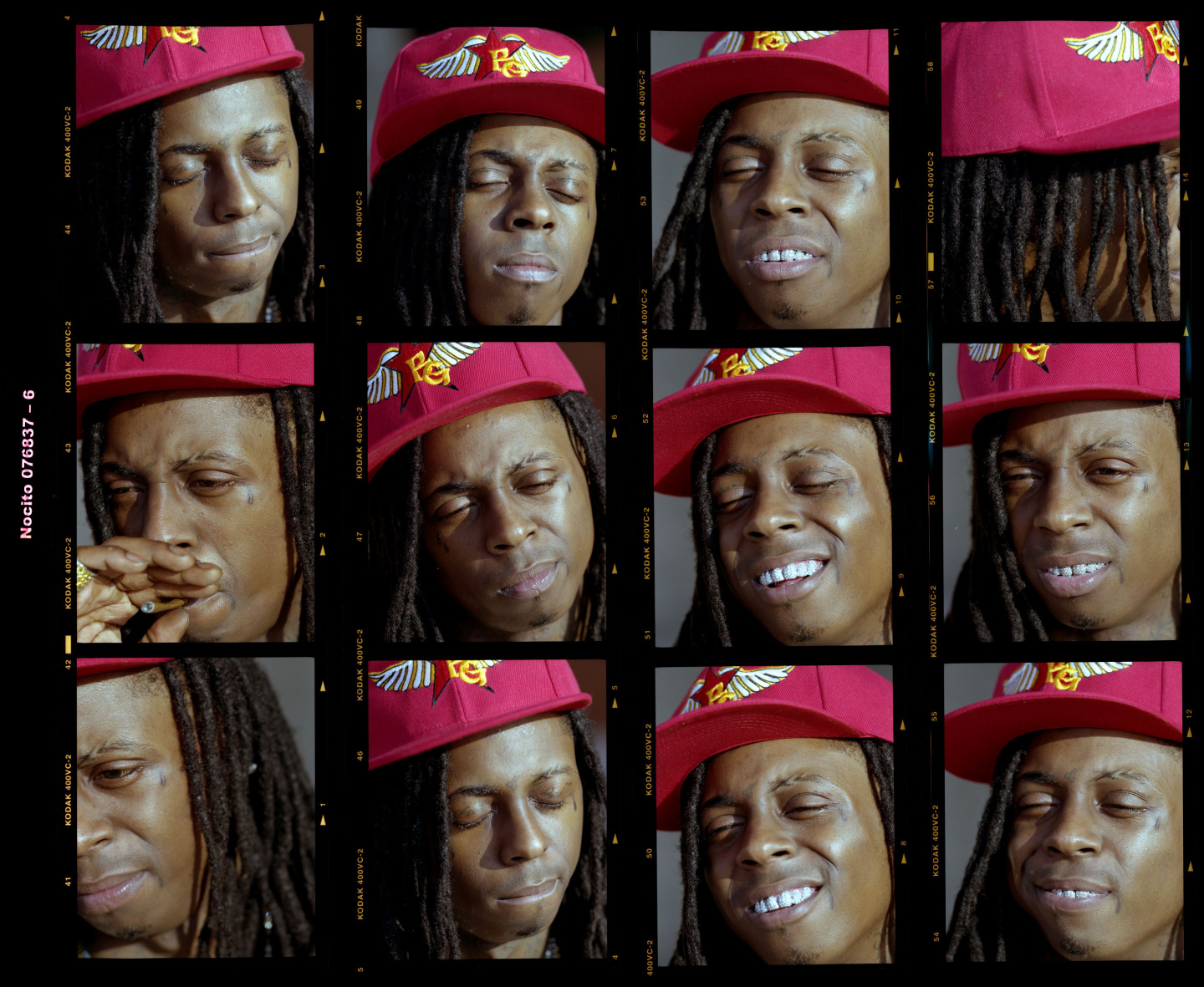 Ten years ago this week, Lil Wayne released Dedication 2. It would turn out to be not only a special moment in the history of the mixtape format itself, but an untouchable moment in Wayne's long, powerful, and checkered career. For some of us, Dedication 2 — with all its stops and starts, its left-field asides, its general free-jazz aesthetic — is the truest representation Weezy F. Baby, the Best Rapper Alive.
To celebrate the tape's tin anniversary, The FADER called up two of the men behind it: Rob Petrozzo, the graphics artist who created that memorable cover art, and DJ Drama, the once and future mixtape king. Here's what they remember about Dedication 2.
Rob Petrozzo, Dedication and Dedication 2 cover designer
Every music-related design or treatment back then was so bright and glossy, but all the music they were playing for me that was going to be on [the first] Dedication was this whole other, really stripped-down Wayne. It the start of that whole "I am the beast" type of mixtape Wayne. I just wanted to do something that was unpolished and the opposite of everything that was out.
Once the first [Dedication] came out, every phone call I got was to make a version of Dedication. Literally every artist out at the point wanted something that either looked like it, or they used that as the example and would say, "But do you." As soon as the first Dedication came out, Drama asked me not to do that design for anyone else because he knew they were going to do a full series.
[The first cover showed] Drama in the background as the machine pushing Southern artists. 2 was a little more detail, with Wayne on his own. Because at that point Dedication was basically his album for '05 and '06. We pulled all the details and tattoos off except the "Fear God" as kind of a nod to his spot, which at that point was starting to solidify as him alone, looking down at everyone else.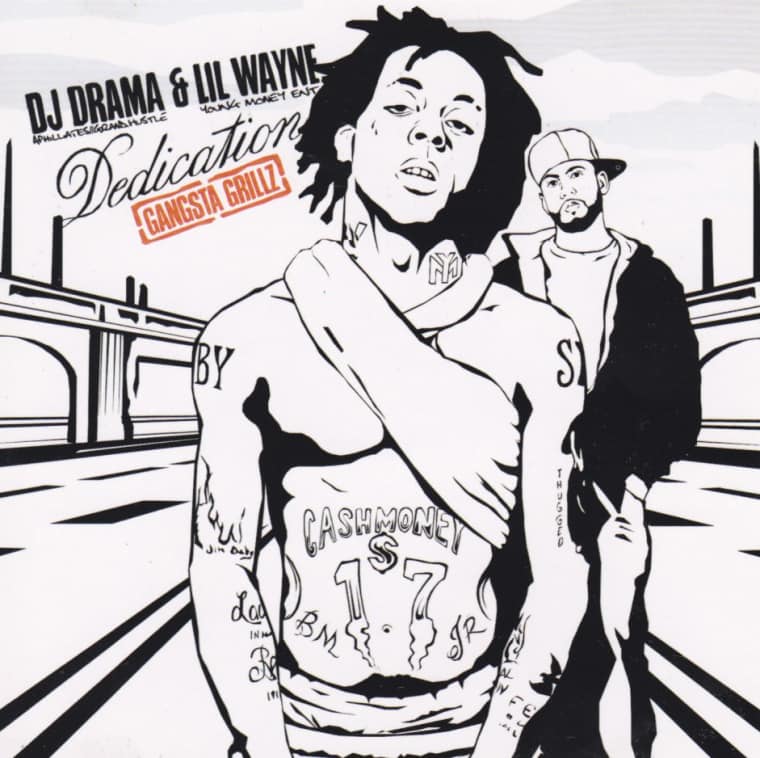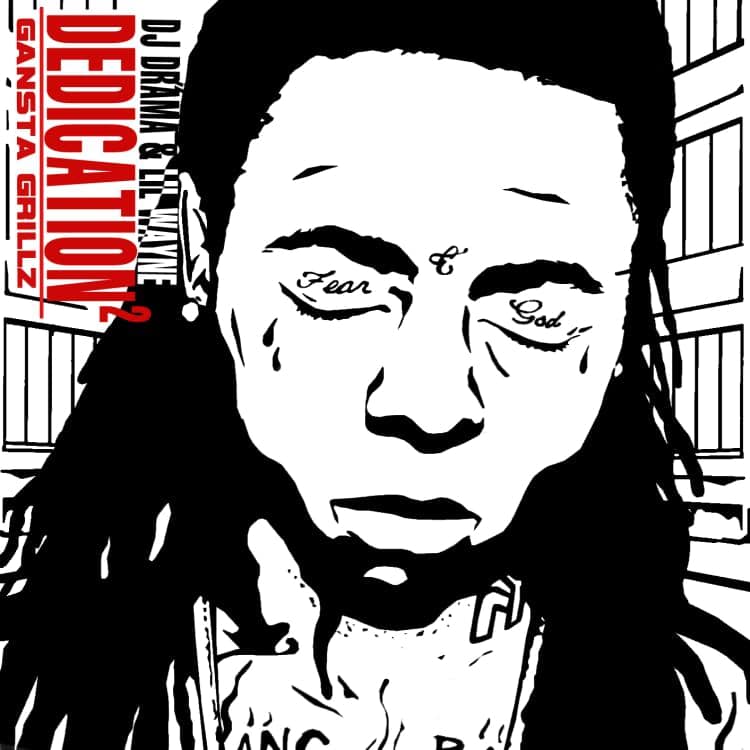 The second time around, we went through four or five versions before landing on the final artwork. There weren't emojis back then. I think either Mack or Wayne responded back to the email with "!!!!!!!" when we landed on the final version.
Anything that gets any praise gets broken down and recreated. Sometimes it's just a corny recreation. Sometimes, something great comes out of it. The only [copycat art] that I look at now and still get a little tight about is Thank Me Later. I did Drake's first mixtape right around the same time Dedication 2 came out, and he was open to going that left-field route too. He always had really unique designs and wasn't really afraid to take chances with the artwork. When Thank Me Later came out, it just jumped off the page and I got a bunch of texts from people about it. I don't know how much input he had on the album artwork, but that one looked similar enough [to my work] that I got emails from complete strangers pointing it out.
---
DJ Drama, Dedication series compiler
After Dedication one, I was DJing for T.I. on the road. Tha Carter II had just dropped. Tip and Wayne had a show in, if I'm not mistaken, Detroit. We crossed paths. Wayne was walking out, I was walking in. We chopped it up for a minute, like, "What's up? You ready? You wanna go again?" And he's like, "Yeah, let's do it. It's time!"
I spent a lot of time in the next month or so just gathering beats and sending him ideas. It was interesting, the contrast to me between Dedication and Dedication 2: Wayne went in a lot of ways that people might not have expected. I remember how people had reacted to him rapping on the Little Brother beat [for "This Is What I Call Her"].
It was so much shit on there. "Where The Cash At" originated on that tape, and later went on to be the single for Swizz Beats. Wayne rapped on "What You Know About That," Tip's biggest record.
I recorded Dedication 2 at 147 Walker Street — my old studio, the one that got raided. Wayne did [his verses] mostly in Miami. It was fun. He sent his stuff to me as a big chunk of music and I pieced it together the way I saw shit best. That was a time when I was pretty much writing scripts out for the tapes. That was one of my jewels to my early mixtape formulas. I can pretty much give it away now: when I would do a tape, I would almost write out a script as if I was doing an interview with an artist.
I'd ask questions. As a fan of the culture, it was like, What do people wanna hear? Wayne has so many fans — wouldn't they be interested to know what his favorite TV show was?
When I asked Wayne, he went, "Sports sports sports. All I do is watch sports. ESPN, SportsCenter. All I do is watch sports." Hence, the title "Sportscenter." I think Green Lantern made that beat, that tennis court beat. [Note: Correct. The beat was originally from a Jay Z B-side called "The Game Is Mine."]
This was the time when Wayne really was in the bag as far as "best rapper alive." And that was around the time where Jay Z had quote unquote "retired." Seeing that Wayne was next in line when it came to top MCs, I asked him: "Do you ever plan on retiring?" And he answered like, "I'll retire when I'm dead. This is what I do."
Around that time, I was working on the Gangsta Grillz album. And Khaled was doing the video for "Holla At Me" in Miami at the time. So pretty much everybody in the rap world came to Miami for that video. Wayne was working at Circle House [Studios] there, and I went and played him the beat for "Cannon," which at the time had T.I. and Busta on the record. That was probably one of the last records he did for Dedication 2. I was like, "This is probably gonna be my next single, tell me if you fuck with it." He bodied it in a night.
Before we dropped the first one, Wayne asked me, "What you wanna call the tape?" And, being creative, I came with Dedication. I can say that I didn't even know how important the title would be to the series. It was a time after Katrina had struck, and so the name Dedication took on an even stronger meaning. As for as for myself, having been on the road with Tip around the same time — there was the incident in Cincinnati, where T.I.'s right hand man Philant had got killed. When you listen to the tape I say, "Rest in peace Philant."
[Wayne's] pretty specific a lot of time what he likes to rap to. I would send him a batch of stuff, and he had his own batch of shit. I definitely credit him 100 percent with "Georgia Bush." That song was a definite moment within the culture. Those lyrics meant something to the city.
It's kind of wild to watch how influential that project was. Everywhere I went, I heard it. There was no place I wouldn't hear it. I think the highlight for me was sitting on my mom's front step back where I grew up [in Philadelphia] and having a car drive by and hearing Dedication 2. I was just like, "Whoa."
It starts off, "You are watching a master at work." And it is just that.