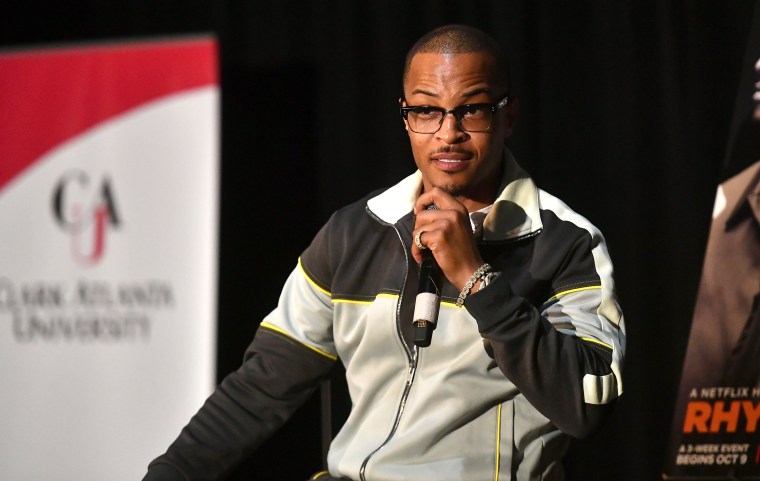 T.I. argued with comedian Lauren Knight at an Atlanta open mic night Monday after she brought up the sexual assault allegations leveled against the rapper and his wife Tamika "Tiny" Harris during her set. "There was no fucking crime, there is nothing to charge me for," he can be seen shouting at the Knight in a video of the event posted to the Baller Alert Instagram channel. Later in the clip, he climbs onstage and grabs her in an awkward embrace, ultimately pulling the microphone from her hands.
The following day, Knight posted a video on Instagram to give her side of the incident. According to her, T.I. had attended the open mic night, which she was hosting, talked onstage for about half an hour, and then heckled her while she was wrapping up the show. "He keeps cutting me off, telling me to shut the fuck up, calling me all kind of bitches," she said. "He then starts yelling about how I need to take my wig off multiple times."
In response, she said "I'll take my wig off when you speak on the allegations." In the end, she claims, "Nobody was tight except for him. Nobody ever called him a rapist. I responded to him telling me, in a room full of people, to rip my wig off, and made a joke just like he did."
T.I. posted a video from later in the night in which he sits with his arm around Knight, seemingly making amends. Later, he gave a much longer explanation of the event in an Instagram Live broadcast, bringing Knight on to apologize publicly.
"The power of the comedy community @sheslaurenk pulled up ready to slide... l respect that," he wrote in a caption to the clip after uploading it permanently. "Understanding can overcome anything. We Good."
The FADER has reached out to representatives of T.I. for further comment.