Why Some Pop Stars Get A Pass To Be Political And Others Don't
We want our most prolific artists to be beyond capitalism, but what does that say about us?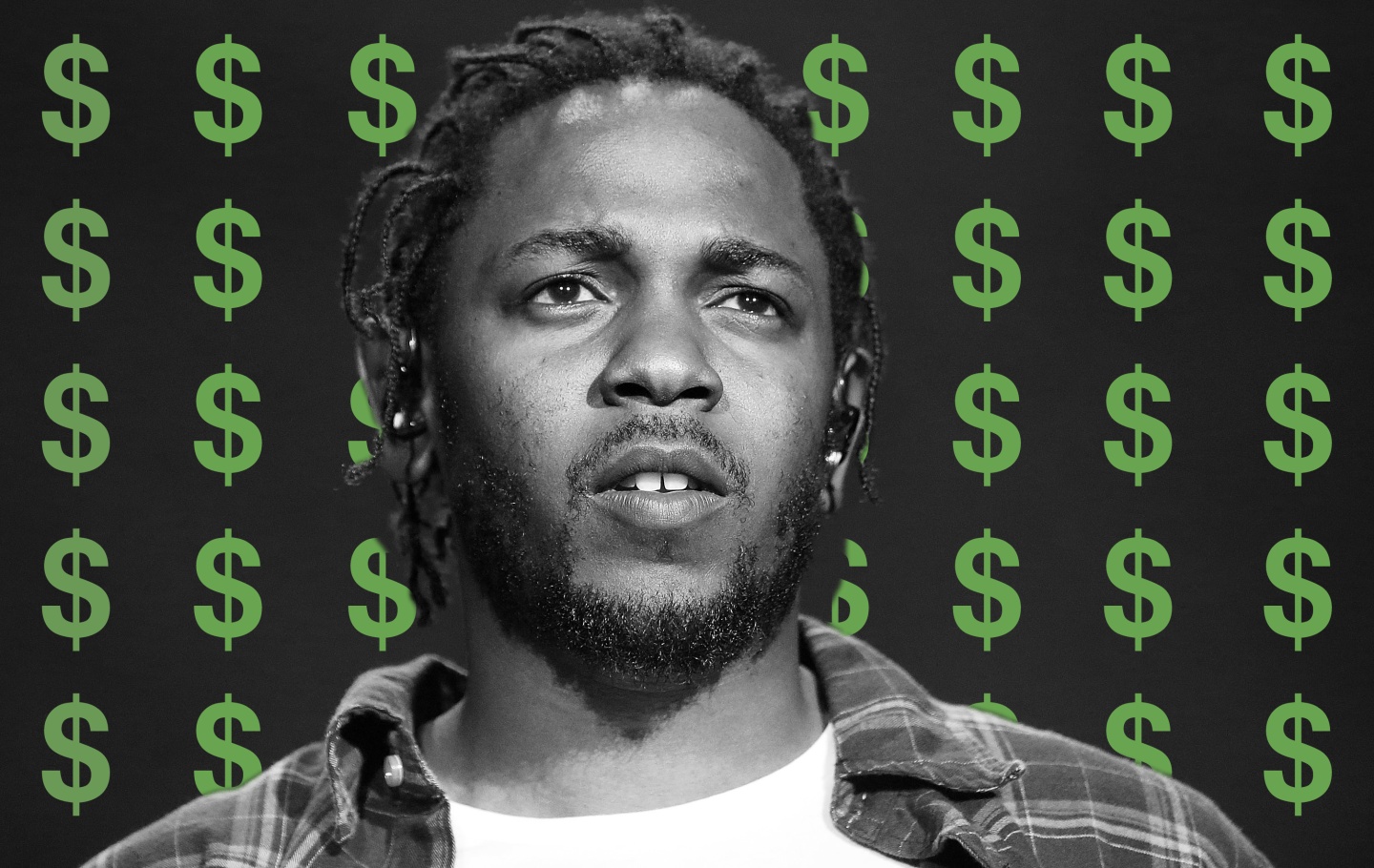 Last year Reebok tapped Kendrick Lamar for a major partnership hoping that the Compton rapper would become a glorified brand ambassador. Instead, the deal bore a political treatise doubling as a low-cut sneaker, a neighborhood gang entente in suede calling for unity between Bloods and Crips. The Lamar-designed Reebok Ventilators featured alternating blue and red stitchings and the word neutral superimposed on the tongue tags. The sneakers are a sartorial mirroring of Lamar's messianic messages of peace amidst gang warfare, familial discord intensified by addiction, and sociopolitical antagonisms.
"Hip-hop and fashion are the same thing," Lamar said in a March interview. Reebok sure thinks so. In a TV spot for the Ventilators, Lamar played a remixed Thomas Jefferson reciting a Revolutionary Era altar-call. "When in the course of human events, it becomes necessary for we, the people, to do things a little different," he begins. "We can no longer sit idly by while the powers that be tell us how to live, how to think, how to act." The live jazz licks and spoken-word diatribe sound more like an untitled, unmastered throwaway — insurgency wrapped in deft lyricism — until the effect wears off and it becomes clear: We're still talking about shoes.
The campaign shrouded a fundamentally consumerist business decision in socially conscious, well-meaning language. The plan worked because we, the viewing audience, have ordained Lamar as a politically "conscious" witness; we've entrusted him to testify to the realities of black folk (black men and boys, more specifically) as they happen. Reebok capitalized on this narrative, connecting media, music, and politics, through the rhetoric we expect from Lamar. And the campaign proceeded mostly unscathed across hypercritical media platforms.
Lamar's rap identity is steeped in the traumatic residuals of violent capitalism; his lyricism, too, is an enchantingly honest negotiation of the inner tension he wrestles with as a result of sudden wealth. "Get that new money, and it's breaking me down honey," he gasps on "untitled 09 | 09.06.2014," a spastic groove from his latest work. untitled unmastered is, as The Atlantic put it, "Lamar's starkest statement yet about the struggle for purity in the face of capitalist pressures to compromise." The anxiety born out of that struggle is made palpable on the disjointed Reebok ad. But the number of major news media posts decrying Lamar's sneaker partnership were modest at best; the most vocal of these claimed that the ad proved Reebok was willing to "pimp anything, including Kendrick's influence." The reaction to the campaign revealed a hesitance to interrogate the artist's public character and the uncomfortable contradiction his creative role in the partnership might suggest.
The leniency offered to Lamar is a far cry from the pushback Beyoncé received just days after announcing the activewear line, Ivy Park, her first joint fashion venture with Topshop owner Sir Phillip Green. Allegations of questionable labor practices by MAS Holdings — the factory in Sri Lanka where Ivy Park is produced — drew national ire. Her association with underpaid women in Sri Lanka served as just one of many indicators that she was, according to detractors, moonlighting as pop music's capitalist overlord. Beyonce is no stranger to the criticisms. Unlike her "Freedom" collaborator, though, she hasn't always been so public with her politics and philanthropy. So, when she calls herself a feminist, while also promoting a new album or clothing line, some critics have been more inclined to call her an inventive, if shrewd, businesswoman rather than an enlightened, reflective artist.
The lopsided commentary does a disservice to both critics and musicians, exposing biases couched in misogyny and pop music's presumed shallowness. The relative quiet surrounding Lamar's partnership with Reebok — a company that has faced its fair share of human rights abuses and bad press — casts an interesting light on the ways in which we critique artists. The reactions to Lemonade ranged from questioning the veracity of her personal struggle as a convoluted marketing plotline to dismissing the impact of her artistic labor because she didn't dissolve the patriarchal state within the album's runtime. While Beyonce may just be powerful enough to do so, it wasn't happening in sixty minutes on HBO. Meanwhile, Lamar received minimal criticism, mostly from black women, with regards to his noticeable lack of engagement with their realities in his music and a seemingly archaic perspective on black-on-black crime. But these criticisms hardly ever go so far as to tie the artist to greed — a testament to the unspoken authority given to male artists that is not granted to female artists.
This year, demonstrably conscious female artists like M.I.A. and Erykah Badu came under heavy fire. M.I.A.'s collaboration with H&M's "World Recycling Day" garnered ample indignation across the internet. Working with a company repeatedly accused of unlawful labor practices for a week belied M.I.A's entrenched political insurgency. She diverted from explaining the hypocrisy, and claimed the odd pairing would heighten discourse for fairer treatment of workers in factories. A similar line of diversion came out of Badu's brief controversy. On Twitter, the singer sided with a New Zealand middle school dress code, which required girls to wear knee-high skirts so as to not distract male students and teachers. Critics lambasted the artist for oddly respectable views from a woman who roamed the streets as nude as a newborn shooting her video for "Window Seat." It almost felt like a betrayal. Badu, like M.I.A, maintained moral high ground, averting our attention to the fact that the discourse was a necessary one and that we were better for it. That kind of patronizing tone underscores how an older generation could risk alienating a younger fan base, without releasing a single song. The risk of heightened access to an artist's personal beliefs — genuine or otherwise — is that the depth of their awareness is put on full display.
It's more appealing to revere the selfless savior of hip-hop than to question his corporate association or more socially acceptable to question a black woman's monetary motives than to respect her for her labor.
Consider how a pop artist's patent social apathy usually goes unmarked, but discourse often erupts when they are decisively ignorant. Taylor Swift's video for "Wildest Dreams" is a good example of this. Shot in Africa, the music video showed nary a black or brown body on screen — electing for a much more fantastical portrayal of the continent with sweeping landscapes and stereotypical allusions to Africa's vast animal kingdom. Otherwise unbothered, pundits and Twitteratti lit Swift ablaze. "Here are some facts for Swift and her team: Colonialism was neither romantic nor beautiful," NPR noted. "It was exploitative and brutal. The legacy of colonialism still lives quite loudly to this day." At Wondering Sound, Jessica Hopper claimed that the video, like its problematic prequel, "Shake It Off," was "even worse than a similar moment in Miley Cyrus's 'We Can't Stop.'"
And then there are pop artists who rarely associate their work with social justice surprising with nuance. Rihanna astonished fans with her remarkably subversive music video for her #1 hit, "Work," which according to RiRi, challenged patriarchal imaginings of lust by focusing on the female gaze. Following the Kill Bill-esque flower power of "Bitch Better Have My Money" (and even "Pour It Up's" female-centric sensuality two years prior), Rihanna has built a script-flipping portfolio that's mostly gone unnoticed because of the way in which her pop stardom is packaged. But when criticisms and accolades are based solely on the porous and flimsy characterization of "conscious" or "politically aware," laziness trumps fairness.
Today, everyone owns a persona. Facebook, Twitter, Snapchat et al are all micro platforms through which fans can showcase their varying levels of awareness at any given minute. But this is even more true for artists who must maintain their public persona across multiple channels. Given the heightened accessibility we have to artists and the abundance of makeshift editorial platforms, fandom — and criticism — has become even more dynamic. We've become commentators of not just the music, but the performance of celebrity outside the music. When those spheres align, narratives are much easier to craft and uphold. It's more appealing to revere the selfless savior of hip-hop than to question his corporate association or more socially acceptable to question a black woman's monetary motives than to respect her for her labor.
When social and political awareness become even more tethered to the notion of consciousness, it's easy to forget that mainstream artists represent a much larger machine. In a way, accepting the fact that artists are, indeed, brands allows us to judge them more fairly, helping us to appreciate the singularity in their music even more.