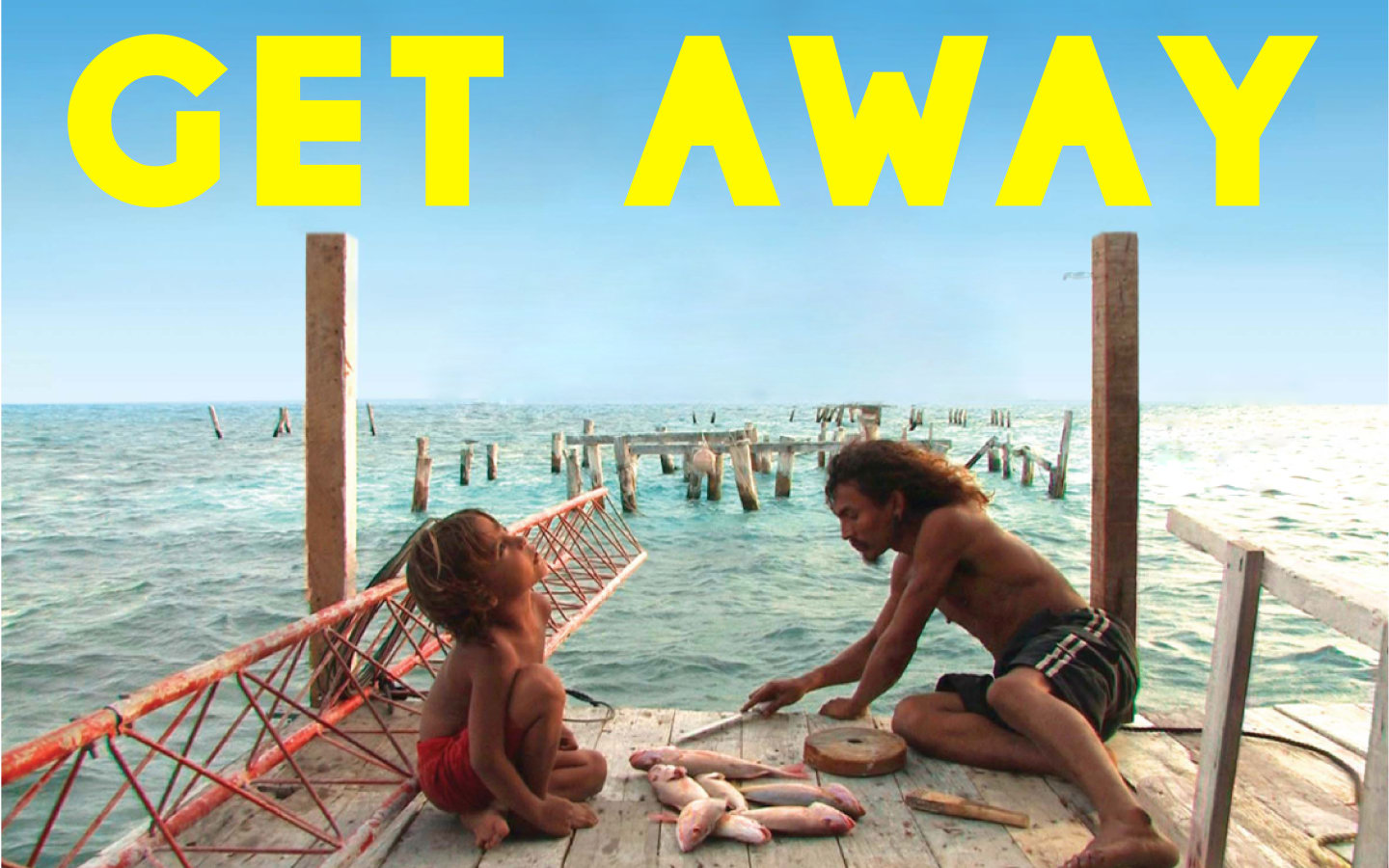 Memorial Day weekend signaled the unofficial start to the summer. Soon enough your timeline will be dominated by sandy beaches, long balmy evenings, and tanlines — but in the meantime you might need something to bide the time and inspire your summer retreat. Here are nine films which will transport you across the globe, offering up tales of escapism and romance as well as adventure and new experiences. We're not saying stay indoors and miss the actual summer, but we wouldn't blame you if you did.
Alamar (2009)
Transports you to: Mexico.
This documentary style film is set in Mexico and sees a distant father-son relationship grow stronger as young Natan visits his estranged father, Jorge, in the fishing community he now lives. Filmed amid a backdrop of the beautiful coral reef of Banco Chinchorro, Alamar looks at the way a fractured family situation can be healed through nature and maintains a languid, breezy tone throughout.
---
My Summer Of Love (2004)
Transports you to: Yorkshire, U.K.
"Come over if you're bored, I'm here all summer." That's Mona's teasing invite to Tamsin (Emily Blunt in her breakout role) when they chance upon one another in the English county of Yorkshire. Coming different worlds, working class Mona and private school girl Tamsin are both bored with life and My Summer Of Love explores the relationship that builds between the pair. They bond over idyllic afternoons spent drinking and smoking together, but the extent to which they're being honest with one another is in doubt. Summer flings are rarely this knotty.
Victoria (2015)
Transports you to: Berlin, Germany.
Having just moved to Berlin from Spain, Victoria is keen to explore the city's nightlife and finds herself leaving a club in the early hours of the morning. Here she runs into a group of guys and follows them on an adventure. What starts as a rambling, Before Sunrise-style, film soon snaps into shape when the men reveal their criminal intentions. Shot entirely in one-shot, Victoria is technically impressive and emotionally engaging throughout.
Sweet Dreams (2013)

Transports you to: Rwanda.
A documentary film that looks at Ingoma Nshya, Rwanda's first and only all female drumming troupe. Formed by women from both sides of the 1994 Rwandan genocide, the group support one another as they come through a transformative period in their country's history. Their success is picked up on by U.S. entrepreneurs who approach them with the plan of opening the country's first ice-cream parlor. Capturing a sense of independence and healing among the stunning African country landscapes, Sweet Dreams focuses less on the violence of the past and instead on the joyous music these once-divided women make together as they push for a better future.
101 Rekjavik (2000)
Transports you to: Rekjavik, Iceland.
Hlnyur is not doing great. He's 28 and still living at home with his mum in Iceland's capital (the film's title is a reference to his postcode). He can't hold on to a job and the only thing looking up are his Nintendo high scores. Rekjavik's beautiful scenery — think ornate city architecture set against huge mountain ranges in the distance — are the backdrop to this slacker story. However, Hlnyur's lack of direction is soon fixed when playful flamenco dancer Lola comes into his life. The comedy comes with offbeat humour and plot twists as well as a score from Blur's Damon Albarn and Einar Örn Benediktsson of The Sugarcubes.
---
Adieu Philippine (1962)
Transports you to: 1960s France.
TV technician Michel finds himself conscripted to join the French army at war in Algeria in Jacques Rozier's '60s movie. He aims to make the most of his time left in Paris and begins separately dating two teenage girls. When they find out what he's been doing, he flees on holiday to Corsica for a coastal retreat, but they both pack their bags and follow him. A commercial flop upon its original release, Adieu Philippine is now regarded as crucial to the French New Wave movement.
---
Paradise: Love (2013)
Transports you to: Kenya.
The opener in a trilogy of films looking at three women from the same family who all take separate vacations, Paradise: Love focuses on 50 year-old Teresa as she visits Kenya as a sex tourist. The men she encounters don't class themselves as escorts, but ask for money to support their families in exchange for their time. Unapologetically explicit, this is a film that shows women discussing their desires and vulnerability but holds its characters up to criticism too.
---
Plan B (2009)
Transports you to: Buenos Aires, Argentina.
If summer isn't the time for getting into a messy romantic situation then when is? 2009 movie Plan B hands us an intriguing scenario when Bruno's plan to come between his ex-girlfriend Laura and her new boyfriend lead him to start questioning his own sexuality. What starts out as a cold revenge movie quickly changes into something warmer and more interesting as Bruno's decision to seduce Laura's new partner pushes him to new places sexually. Argentine director Marco Berger smartly pokes at the thin line between male friendship and something deeper in a film that sneaks up on you.
---
The Lunchbox (2013)
Transports you to: Mumbai, India.
In a move to spark romance back into her relationship with husband, lonely housewife Ila prepares him a special lunchbox and has it sent to his office. However, it accidentally gets sent to his colleague Saajan and kickstarts a touching and unusual relationship between the two strangers. They begin communicating through notes sent in the daily lunchbox and open up to another about their respective feelings of isolation in the bustling and bright city of Mumbai. They're both escaping their mundane lives through something that is not quite real, but feels to all intents and purposes as if it is.
---