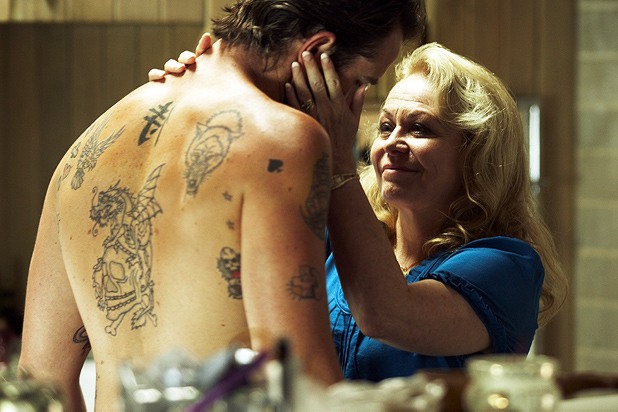 In a couple of weeks, TNT's new family crime-drama Animal Kingdom premieres. Maybe you've seen posters on your subway platforms, or ads in between your televised NBA action. It's got guns, and dysfunctional siblings, and sunshine, and surfing, and Southern California, and physically fit men and women not wearing shirts. It looks like it could actually be good! Which — at least if it wants to properly respect its own source material — it damn well better be.
The TNT series is an adaptation of a 2010 Australian movie of the same name, which kicks off with the death by OD of a young mother. Her son, Joshua, or J, is played by then-first-time actor James Frecheville, and J is a cipher: as the paramedics tend to his mother's limp body in his cruddy living room, he seems lost in the glow of the TV. Quickly, though, we learn this isn't creepy impassiveness, but resignation. This is a kid who's known for a long time that he has had bad things coming.
With no other choice J moves in with his grandmother, Smurf, the matriarch of a scumbag crime-family empire. Smurf has three boys. The youngest boy, Darren, is big and mean. The middle boy, Sullivan, is tattooed, handsome, and brash, in the proud tradition of cool movie criminals everywhere.
The oldest, Pope — in his goofy lumber and short-sleeve dress shirts — does not look, at first, to be much of a threat. But, as rendered by my man Ben Mendelsohn, he becomes deeply, deeply disturbing.
In the years after Animal Kingdom, Mendelsohn would come to America, and rip off a remarkable run of unignorable, oft-sweaty low-lifes, from The Place Beyond The Pines, to Killing Them Softly, to Mississippi Grind. The once-promising Netflix series Bloodline ultimately squandered his talents, but there's more auspiciousness coming. Why: just check him out, all regal in his Imperial garments, in the Rogue One trailer.
But Animal Kingdom is still his definitive role. If you've ever caught Mendelsohn doing his genius slack-jawed thing and thought, just where the hell did this guy come from? — the answer is here.
From its lovely little set-up, Animal Kingdom never lets up: there are murders, and betrayals, and revenge, and then all of that over again. With crucial supporting roles from overqualified Down Under boys Guy Pearce and Joel Edgerton, it becomes that perfect kind of gangster flick: the one that just keeps on and keeps on constricting the pressure around your neck.
David Michôd, Animal Kingdom's writer and director, has said the movie was inspired by the infamous criminal gangs that ran wild in Melbourne in the '80s. Smurf, specifically, it is widely assumed, was drawn on a woman named Kath Pettingill, who had a real-life brood of fuck-up hoodlum sons, and a startling reputation of her own.
"Kathleen Pettingill," says the Daily Mail, "was dubbed 'Granny Evil,'" "ran a number of brothels," and "had a glass eye after she was shot through the door of a housing commission flat." In 2002, after her son Victor was murdered by assailants that Pettingill believed to be rival criminals, she went on the radio to say "If I had a gun at this moment, first of all I would get even."
I bring this up to point out that real life is gnarly, and that Animal Kingdom did a wonderful job of lifting some of that gnarliness into fiction. That TNT is now attempting to lift it again — out of Melbourne, and into basic cable — isn't, on its face, all that promising. The cast is cool: Ellen Barkin is a force; Scott Speedman still looks like he just walked out of Felicity's dorm room; Shawn Hatosy has some latent crackling insanity in him.
That said: the trailer already suggests a bit of neutering. In this new iteration, a scene in which Smurf fusses with J's formal wear as he's getting dressed ends with Smurf delivering a licked-hand cowlick-pat. In the original, it's a discomfiting, queasy peck on the lips.
But let's not worry too much about how, or whether, TNT is bastardizing Animal Kingdom. The original — a small, strong classic of its genre — is still right here.