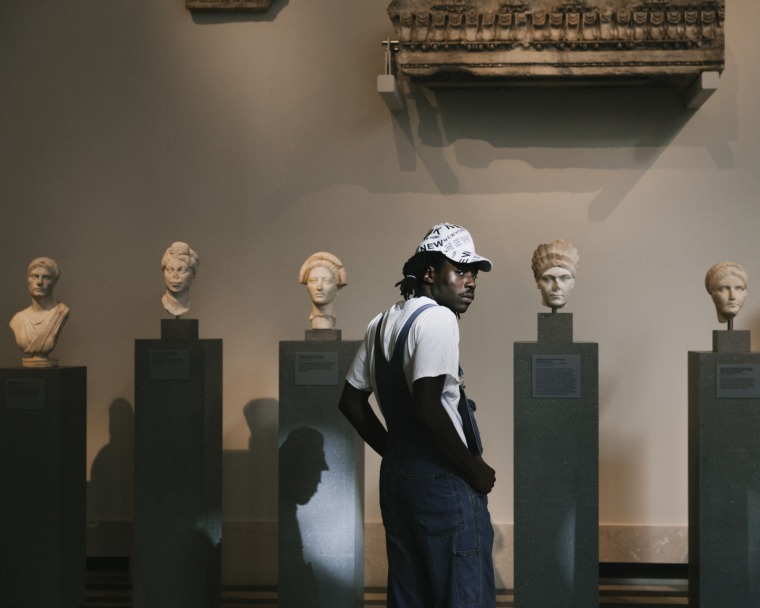 Dev Hynes joined good friend and collaborator Adam Bainbridge of Kindness on his Red Bull Music Academy Radio show to discuss the upcoming Blood Orange album Freetown Sound, out July 1.
Hynes talked about why he doesn't play live Blood Orange shows often. "The only times in my life where I think about the idea of expectations is playing live," Hynes said. "And that's part of my issue with why I don't play live Blood Orange performances that often. I'm aware that in a live setting that people really want to be entertained... I don't hate that idea. I like it actually, the idea that a live thing is a separate entity. But it just means more work for me, and I try to make that live experience something that works for people that come to see it. I'm never gonna be the kind of person who you come to see me and I'm playing, like, 10 ambient drone songs I wrote the day before. Why would I?"
He also shared a story of receiving a cryptic Twitter DM purporting to be from Prince's manager inviting him to see the Purple One live in a London casino. "She had like 30 followers or something... I was Googling her, like 'What? Is this a real thing?" But it was legit, and he and then-girlfriend Samantha Urbani saw Prince perform for over two hours. "I recorded a voice memo of the entirety of 'Purple Rain' and 'Nothing Compares 2 U' on my phone."
Hynes also revealed that he'll also take part in one of Bonnaroo 2016's Superjams, led by Kamasi Washington.
Listen to the whole conversation here. Check out The FADER's cover stories with Blood Orange and Kindness here and here.
Tracklist
1. Blood Orange, "Uncle Ace"
2. Gwen Guthrie, "Hopscotch (Instrumental Remix)"
3. Blood Orange, "One the Line (Instrumental)"
4. Kendrick Lamar, "How Much A Dollar Cost"
5. Captain Sky, "Station Brake (Innermission)"
6. Azra Jehan & DJ Chino, "Das Kithan Guzari Raat (Instrumental)"
7. Devonté Hynes, "05:11:15"
8. Blood Orange, "Do You See My Skin Through The Flames"
9. Carly Simon, "Why (Instrumental)"
10. Morris Day, "Fishnet"
11. Patrick Simmons, "So Wrong (Instrumental)"
12. Eddy Grant, "Time Warp"
13. Ol' Dirty Bastard, "Shimmy Shimmy Ya (Instrumental)"
14. Beastie Boys, "B-Boy Bouillabaisse 59 Chrystie Street"
15. Duniya, "Dum Maro Dum"
16. Blood Orange, "Sandra's Smile (Rough Mix)"