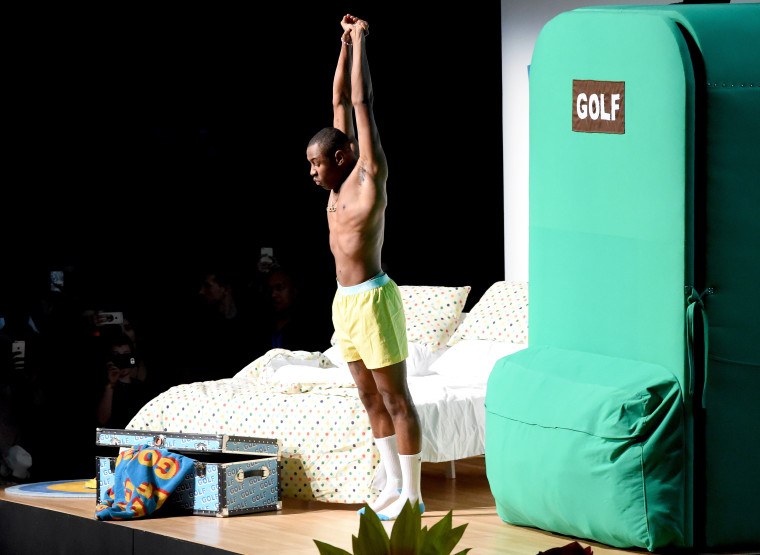 New York Fashion Week is unforgiving. There's a whole lot of breathless running around, a lot of being told "no," a ton of neck-craning, following schedules that don't abide by the rules of time and space, and then, as soon as you blink, it's all over. I don't love fashion week, but I fucking loved Tyler, The Creator's MADE LA show. Los Angeles's first proper fashion event, MADE LA was bolstered by presentations by Moschino and Hood By Air, with Golf Wang as its centerpiece. I wished I was there. Hiding in a bedroom at a house party in New York this past weekend, squinting through virtual reality glasses broadcasting the show, I nearly felt like I was.
Tyler has always had an incredible knack for fascinating people. His flair for the dramatic features heavily in his music videos, his Odd Future TV show Loiter Squad, at the annual festival Camp Flog Gnaw, and in the fashion brand he's run since 2011, Golf Wang. Luckily for Tyler, an unstoppable fount of creativity is exactly what fuels the very best runway shows. Think of Viktor & Rolf's Fall 2015 showing, opened by Lily Cole, her red hair splayed out across the pillow built into the back of her coat, backed by Tori Amos on the piano. It was utterly absurd, more than a little goofy, and completely intoxicating. A world like that is where Tyler thrives.
His MADE LA show opened, appropriately, on Tyler. He pretended to wake up, and slipped into his Golf Wang slippers and robe in a room dominated by a closet shaped like a Blues Clue's-esque jumbo backpack. The set rotated 180-degrees, and Tyler brushed his teeth, with a close-up of his signature tooth-gap amplified on a giant screen above the stage. The set rotated back; he got dressed. Down to manually spun set-piece, it was a bit of old school theatricality, slapstick without the jokes. His runway show was a way for Tyler to let the audience see the world the way he does: as a colorful, absurdist dreamscape.
Streetwear does not inherently command (or, honestly, deserve) the same attention span as couture. VFiles has learned this, interspersing its runway shows with dance crews, Tyga performances, dogs, and scooters. Tyler knows it, too. As his models came out, dressed in colorful and quintessentially California short-sleeve button-downs, basketball singlets, overalls, and T-shirts, Tyler danced about the set, interacting with them, throwing a ball around, generally goofing off. The antics escalated into a staged interlude featuring a pre-taped appearance from Tyler's old man character, Thurnis Hanley, followed by a live performance of a new song, "Ego." These weren't distraction tactics — the clothes are colorful, play with familiar streetwear tropes in inventive ways, and generally look like they belong to young people living their absolute best life — but an acknowledgement of how flawed, how boring a traditional runway show is: how unrewarding it is for the fans.
Tyler's bright separates have a solid piece of humor, but that's not the foundation of a couture collection. He is not a high fashion designer, versed in the kind of hand-sewn, folded and pleated, meticulously dyed garments that Viktor & Rolf, or even Hood By Air, are so famous for. But perhaps Viktor & Rolf is not the best comparison for what Typer was actually doing with his MADE LA show. In his irreverence — and the palpable excitement his show generated — he has a different peer, on the relative outside of fashion proper: Kanye West (in attendance at the Golf Wang show with sister-in-law Kendall Jenner), who sold out Madison Square Garden to showcase frayed leisurewear and DJ with his friends.
The majority of designers peek out at the end of the runway shows, take a small bow, modestly bask in the applause and then swiftly disappear. After the Golf Wang models took their final walk, I watched through virtual reality glasses as a shirtless Tyler returned to the stage. "It's hot as fuck on this stage," he said, "and I'm sweating so wet right now." Then he did something you very rarely see designers do — he thanked the audience. "I really appreciate y'all coming," he continued, "Growing up as an inner city black kid, I wasn't the most masculine … liking pinks and colors and patterns and all that shit. But luckily I had people around me who trusted me and didn't judge me and motherfuckers like y'all who fuck with me to allow me to keep pushing that shit." It was an emotional speech that culminated in the climax of the evening, Tyler's Oprah moment. "Everybody that purchased a ticket gets a free pair of shoes … You get a shoe! You get a shoe!"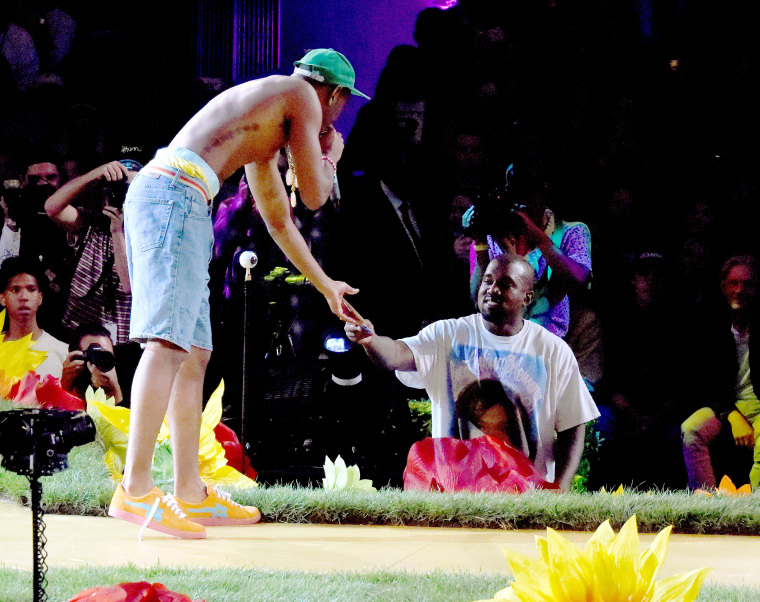 The idea that clothing — that the spectacle of fashion — can still generate something joyful and pure is important. Tyler's show at MADE LA, like Kanye's, was an exercise in mutual respect for customers and curious fans alike. Maybe it's even the start of a new movement of runway shows, ones outside the purview of the traditional NYFW, shows that are more egalitarian, generous, loving. Because fashion doesn't happen in a vacuum, and luckily, we have Tyler, The Creator to remind us of that.