5 Messages From Dance Music Fans About Rave Culture
Here's what brought Torontonians out to the middle of nowhere for a festival.
Unsound Toronto descended on Toronto this weekend, taking over an abandoned electrical generating station for a two night celebration of avant-garde music. For the attendees at the festival on Friday night, it wasn't just about the artists (Sunn 0))), Kara-Lis Coverdale, Lotic, Jlin, The Bug, and many more rounded out the sharply executed line-up). It was the entire package: the trek out to the Hearn — a 20 minute walk from the nearest bus stop — before being swallowed up by the titanic, ghostly structure.
The steel beams and cables lining the interior of the Hearn makes the massive industrial mausoleum seem like its on the edge of collapse. But in reality, the station and Unsound Toronto, presented by the Luminato Festival, has provided a new and exciting function. We asked five people what the strange curation and even stranger venue might mean for rave culture.
Nicole, 23, and Caroline, 24.
Caroline: A small event isn't a bad thing. In mainstream festivals, organizers try to cram as much as they can into two days and three days. But with something like this, they don't have every single DJ, they don't have every single musician, and I like that. I can actually focus on having the experience. Otherwise it's too manic and I'm just getting stressed.
Nicole: The curation follows a theme that's really admirable. Putting Sunn O))) and all these experimental acts next to R.P. Boo, and Jlin and Lotic, who play a lot of clubs is a great way of putting all these pieces together. It also seems to be functioning outside of an institutional frame, which is great. Good people will come out to good events [when] there's no obligation for any sort of exchange, just your visceral response to what's happening.
James, 28.
James: There's a demand for events that aren't just your typical outdoor, let's be half-naked, DJ's aren't really doing anything sort of event. The people are doing their thing but the musicians aren't. It can get old. Unsound is at night, it's at a generating station that hasn't been used in 30 years, a Toronto landmark. There's an issue in that it's kind of inaccessible, but people are making their way here because they're so excited. This building provides good resonance. I'm a speech therapist, and I just like the sounds that come out of buildings like this. Areas like this can provide good vibrations.
Tom, 31, and Courtney, 33.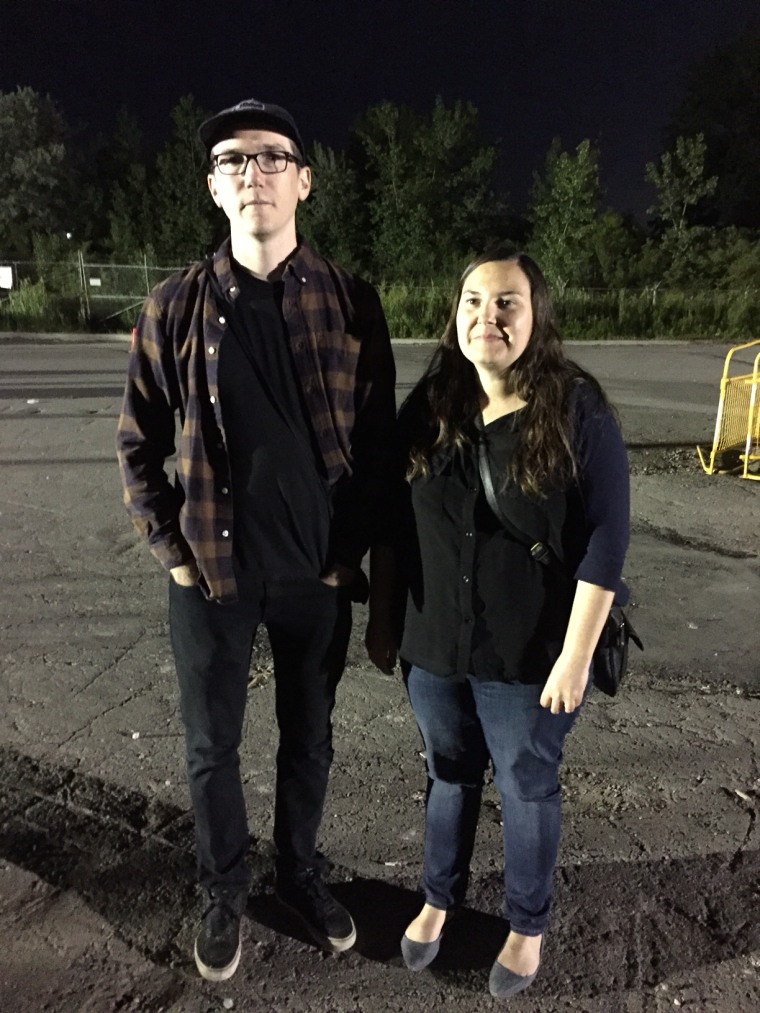 Tom: Not everything's EDM. Electronic music isn't solely composed of dance music. There's more in terms of textures and sort of how you can experience it. And at events like Unsound, there's this great cross-pollination of stuff.
Courtney: And that [mixture] brings people out that wouldn't normally come to stuff like this. We both have more of a punk rock background, but we get excited for stuff like this.
Tom: We met working at a record store ten years ago, and we're both music nerds. We like anything that's a little bit more challenging. If it's something you can totally take in over five minutes, it's probably not going to be that interesting long term.