FADER Mix: Nite Jewel
In the drop-top, screaming out, "bass is the place."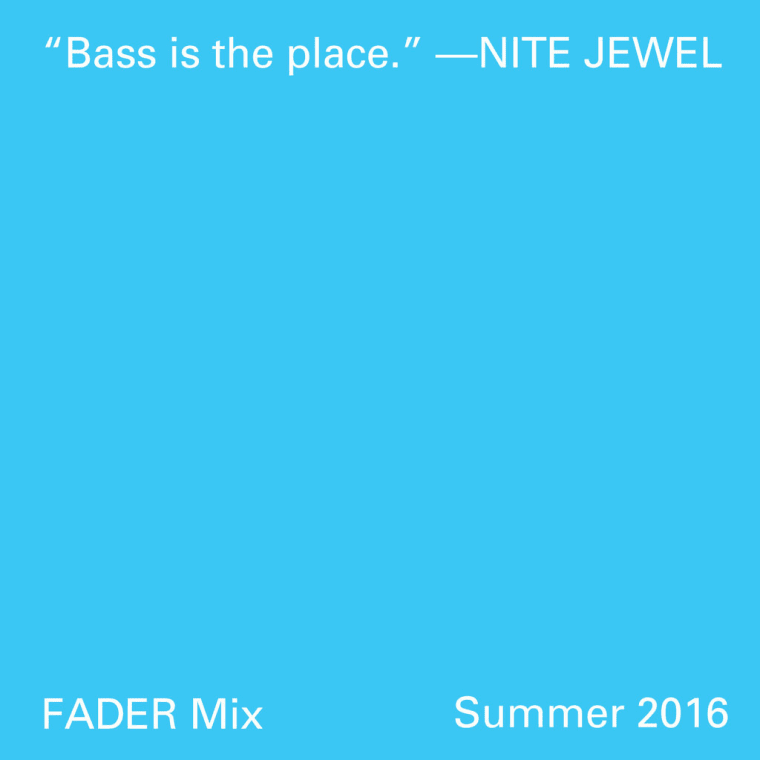 It might always be summer in Los Angles, but for many of us yesterday's solstice signaled the official start to the season. For this FADER mix, L.A. musician Nite Jewel (Ramona Gonzalez) channels sunny skies and hazy air for something that approximates the feeling you get cruising down the road in an open-top vehicle. This freestyle-heavy mix is the link between Gonzalez's last album, 2012's One Second Of Love, with her latest Liquid Cool. The latter was an independent affair; she dictated her own recording terms, and put it out on her own imprint, Gloriette Records. You can't contain the jubilance that self-reliance brings; and, thankfully, Nite Jewel's captured it on this mix.
Where are you right now? Describe your surroundings.
Sitting in my apartment, brewing tea. Just as I was writing this I found an enormous salamander, like one foot long, in my kitchen and had to get it out using a broom. It was really pretty but so big that it scared the shit out of me.
Tell us a bit about this mix.
I put together a collection of songs that emphasize the importance of bass — licks, slaps, or nice low end in general. Bass is the place. You could do a lot to this mix; dance, smoke, work on an art project, or go on a solo late night drive.
Why was it important for you to put out music on your own label?
I had released my debut album on Gloriette and it had gone so well, but I think I desired the legitimacy of something more. Now that I've grown up a little I realize that my label rules and being independently successful is a very empowering thing. There is no one to answer to, creatively speaking, so you can truly be yourself.
Your new album, Liquid Cool, is all about feeling lonely in a crowded world. What makes you feel less alone?
Not lonely, necessarily, but simply alone. Like noticing that we interact so much online that when you close the laptop no one is around. It's just a weird thing to feel simultaneously so over-stimulated by others' psychology yet physically by oneself. I like to kick it a lot, maybe too much, ha. Whenever I get sick of being alone I know my friends are there to get out and go crazy.

What's the last book you read that had a big impact on you? And why?
The Art of Cruelty by Maggie Nelson. She talks about the ways in which transgressive art can be either groundbreaking or rather trite/cliche. It's simply genius.
And finally, what's your favorite dish to cook and how do you make it?
I'm so boring, all I ever cook these days is lentils and brown rice. I use dal lentils and add tons of turmeric and other spices, along with some vinegar. I just set it on the stove and go back to whatever i'm doing. Likely in my closet, making tunes...
Tracklist
Pyramid Vritra - Sea

The Samps - Frail Life

Lauren & Gabe - Rain (SWV cover) (snippet)

Stroer - Don't Stay Till Breakfast

Jessy Lanza - Never Enough

Fingers Inc. - Shadows

Nite Jewel - He Can't Replace U (demo)

Madonna - Don't You Know (demo)

Chris & Cosy - October Love Song (Dance Mix)

A.R. Kane - Love From Outer Space (Remix)

Kyle Hall - Create Your Own Existence

Abra - Fruit

Art Of Noise - Crusoe