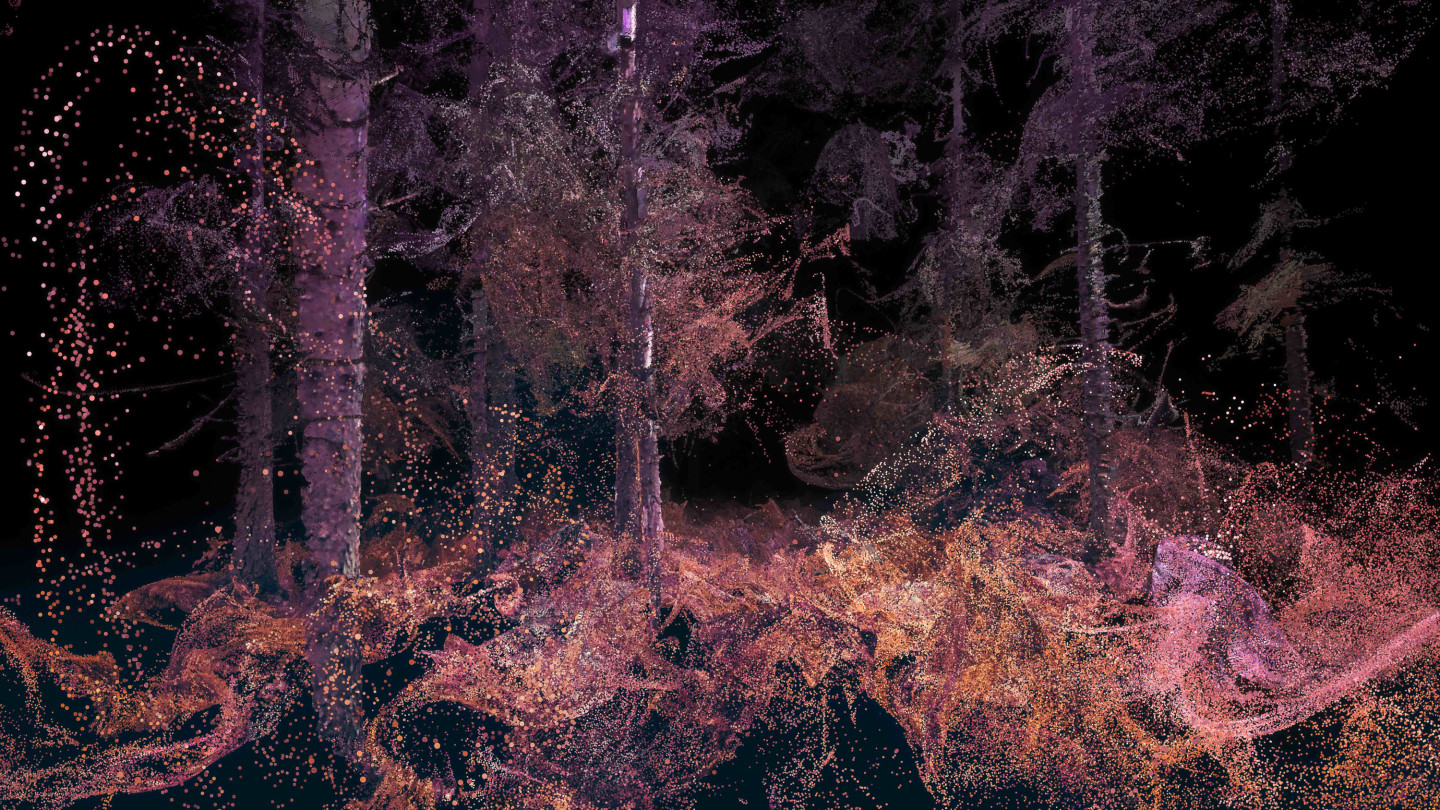 The first step in experiencing Marshmallow Laser Feast's In The Eyes Of The Animals is tunneling your head into a large, bean-shaped headset that is covered with pieces of bark and moss on the front. Like a thick forest, it feels a bit claustrophobic in there, but then the screen lights up and you're taken on a brief, artistic journey through a British forest—from the perspective of a variety of animals and insects.
This piece, commissioned in part by the AND Festival, is part of the Toronto International Film Festivals's POP series on VR works, created in collaboration with The FADER. It'll screen this weekend in Toronto. Last week, Animals was at Barcelona's Sonar festival. We spoke with Ersin Han Ersin, one of the creative directors of Marshmallow Laser Feast, a London design studio, about how data-mapping nature became the coolest new thing in digital art.
ERSIN HAN ERSIN: We built this as a site-specific installation in Grizedale Forest in northern England. Grizedale is known as being a sculpture park; you can explore pieces as you walk through the forest. We mostly come from an immersive environment background—projection mapping, that kind of thing—but we decided to do a VR piece when we went there for a visit. The question was, what can we do that fits in the forest but goes another step? Even if you're looking at a realistic thing in front of you, you can only focus so much: humans have physiological limitations. But in VR you can go up close, inside...it gives us an opportunity to see beyond our senses.
I don't agree with the whole idea of trying to simulate another place in VR as if you're there—that's not enough, why limit yourself? It can be neat, but we are more interested in making the invisible, visible to the human eye. So we looked at the inhabitants of this forest: for a barn owl, or a mosquito, or a dragonfly, it's very different. We picked six different animals and insects and started talking to the National Museum, and biologists, about the most interesting features in their perceptions. So a mosquito can sense and navigate based on CO2; as they get close they sense heat, and as they get even closer they see it. It became magical, like, wow it's all based on CO2. A dragonfly sees 300 frames/second so everything looks slow mo. Frogs sense horizontal movement; they echolocate through ribbiting. Owls have conical eyeballs and have terrible peripheral vision. I mean, when you think of the representation of a bee's vision in Hollywood, it's a hexagonal multi-layered lens, which is completely wrong! We interpreted scientific data with some artistic license and created this world.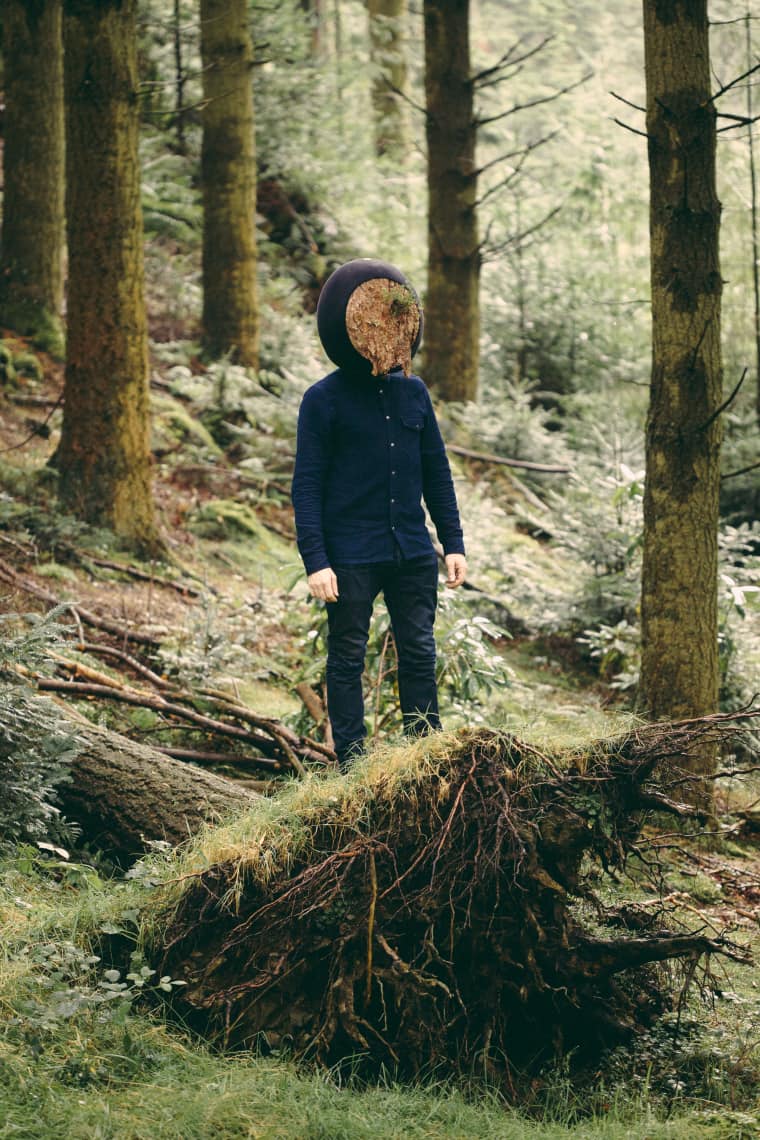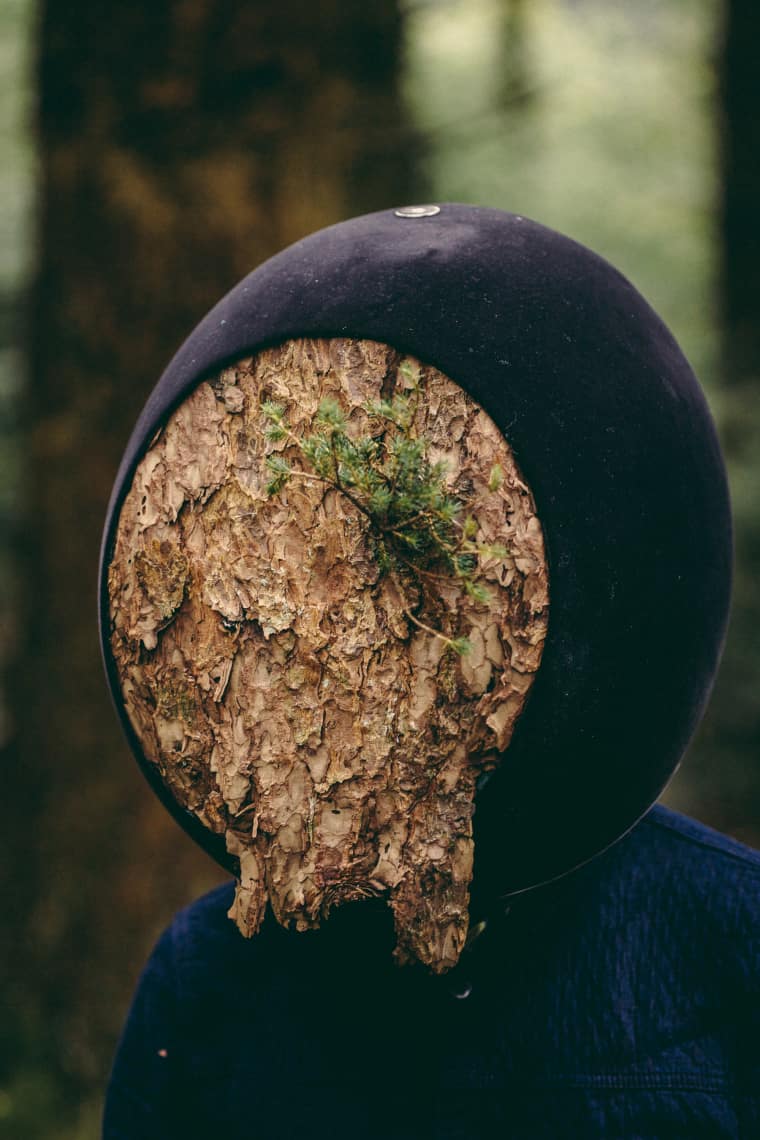 Of course the forest is beautiful when you look at it, but if you can see neurons firing in the trees, or if you learn dragonflies are the most accomplished flyers in the world, it does something else. It enhances our perception of nature.
We went to the forest and used a LIDAR scanner, which is what architects use, to capture the 3D data of the forest. We were looking at which part of the forest is suitable for our installation, and also which part can accommodate all the inhabitants we were thinking about: so, like, we needed a puddle and a big tree, because a frog lives in the puddle, an owl lives in the tree, mosquitos live in the roots of fallen trees.
The storybuilding took about six months, from talking to scientists and researchers and building a methodology, but the actual making of the piece was six weeks. The headset incorporates real pieces of the forest—the bark, and the moss—because we wanted to distinguish it from other VR experiences.
What you'll see is very organic. We're using a pointillist aesthetic because the data we get is points. We're embracing that technology. So you'll see a tree that you can easily identify, but it's made out of dots, and we're manipulating them based on the environment—so if there's a breeze, or if it's night and there is photosynthesis happening. The story is the food chain. The fun in it is that people have to guess or think about what is happening to them based on the sensory experience.
We've had 70-year-old ladies say, like, 'That's the best thing I've ever seen since I took an acid trip in the '70s' and little children jumping around with excitement. We never intended for it to be an educational tool or experience, but if you build a narrative that's abstract enough people will grab onto it. Of course the forest is beautiful when you look at it, but if you can see the neurons firing in the tree, or if you learn dragonflies are the most accomplished flyers in the world, it does something else. It enhances our perception of nature. The average human can name 300 logos or brands, but I realized I couldn't name five species of trees. We are living in this weird detached and if we can better that through VR then why not tell the story.