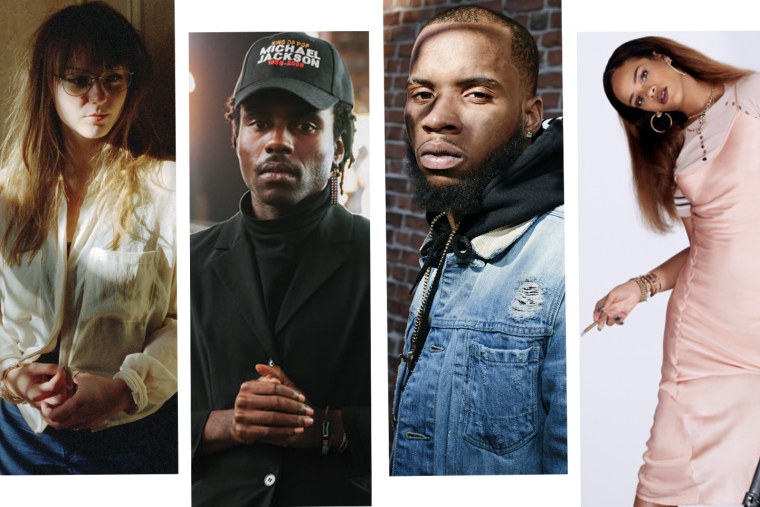 1. There's a lot to love about Blood Orange's 17-song Freetown Sound. We can't stop listening to "Best To You," its fourth track, which sounds like a literal vacation and features a ridiculously pretty vocal from the great Empress Of.
2. "Stole Your LUV" pits Lil Uzi Vert's hazy-sounding bars against an addictive Lyle LeDuff beat that's somehow both sluggish and chaotic. These girls chase me like I'm Lil' Bow Wow, goes Uzi.
3. Tory Lanez's "LUV" feels familiar straight away, probably because it interpolates a '90s classic: "Everyone Falls In Love" by dancehall duo Tanto Metro and Devonte. It was all stitched together by dream-team production duo Cashmere Cat and Benny Blanco, which explains why it sounds so goddamn huge.

4. If "Shut Up Kiss Me," Angel Olsen's excellent new single, doesn't make you want to sing into a hairbrush while dancing wildly in front of your bedroom mirror, I'm not sure that we can ever really be friends.
5. G.L.O.S.S. frontwoman Switchblade Sadie also makes music as Dyke Drama, and her new full-length includes an earnest, mostly straightforward cover of "I Just Want To See You So Bad" by Lucinda Williams. In the opening seconds of Sadie's version, some keys jangle and an engine revs. The car sounds old, like a real clunker, which makes sense for some reason.
6. Rihanna's Star Trek soundtrack contribution is, appropriately, blockbuster-sized. Is it better to be a "Sledgehammer" or a wrecking ball? Jury's still out.
7. Shelf Life, the lo-fi rock project of Scotty Leitch, has a new full-length called Alright, Okayyy. Highlight "Ready Or Not" is deceivingly gentle. It's laced with queasy digital blips, as if the song might unzip its skin and reveal that it's actually been an alien this whole time.
8. Another week, another brain-rattling Chino Amobi edit. This one stars Desiigner's polarizing XXL freestyle and some polyrhythmic turbulence. Make sure to watch Danish producer Why Be mix the edit live during his Roskilde Festival set.