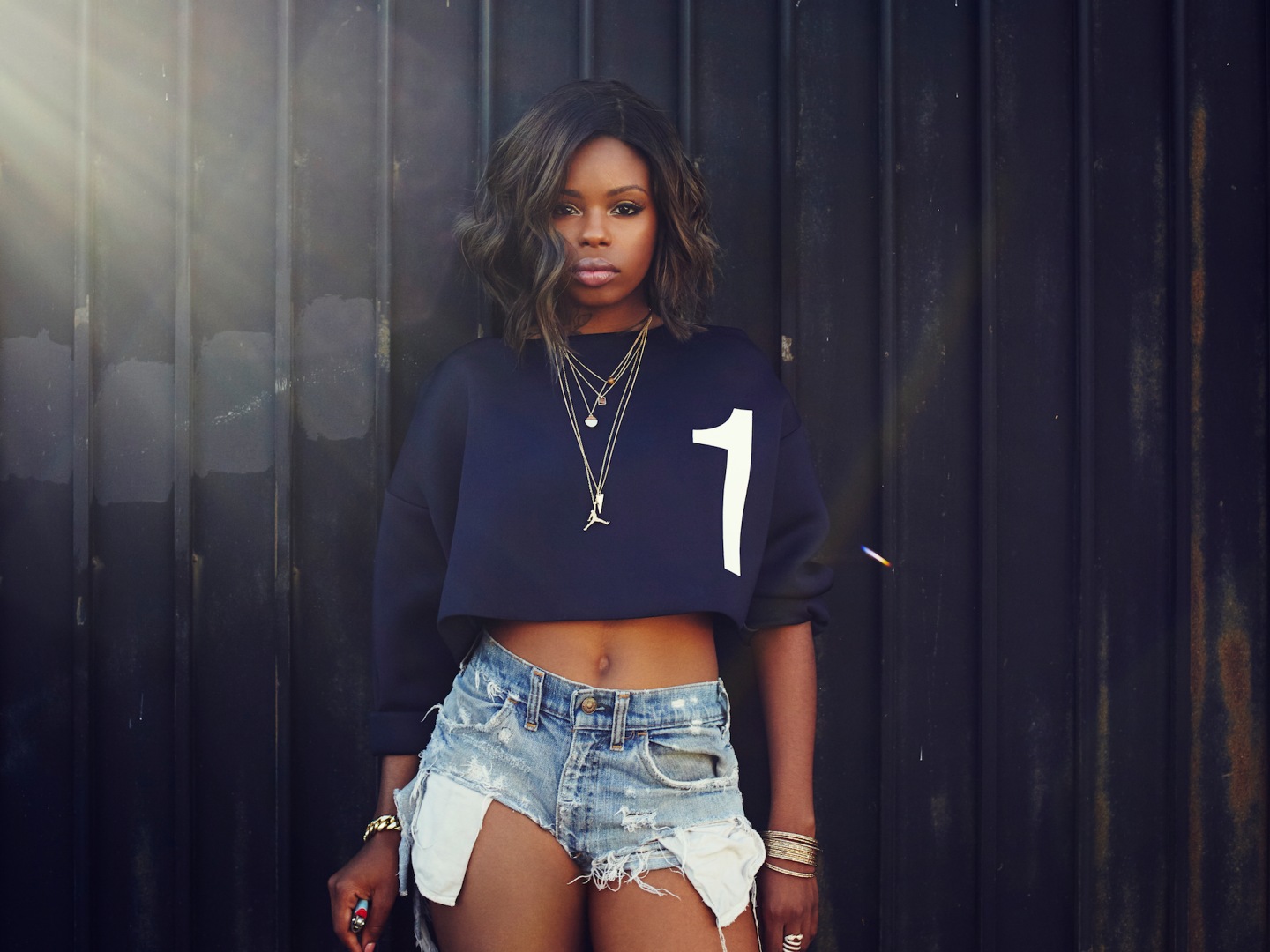 On Friday, Dreezy dropped her debut major label album, No Hard Feelings. Dreezy emerged in 2014, with a winning remix of "Chiraq" and excellent mixtape, Schizo. Since, she's gone through the growing pains of a breakup and a big move to Los Angeles. Now 22, she's shedding old relationships and focused on writing, about the woes of love and the escapades of early womanhood. On her new album, she sings in a clear tone, her vocals just as strong as her rap verses.
On a visit to The FADER's New York office in June, she talked about the growth of her sound, what it's like to work for a label, and how she's learned to live on her own.
---
Do you still feel there's no gender in rap?
When I say ain't no gender in rap I mean like, if we're having a freestyle battle right now, it ain't about what I'm wearing or what I look like. It's about bars. As far as the message I'm trying to get across, I do feel that we don't have a lot of women to look up to in music period. Or just in life. Like there's not a lot of female role models. There are, but we could always use more. I'm starting to pay more attention to the female rappers who have come up and lasted and what they're doing. They're speaking for us. All the guys have somebody to speak for them so I just need to add onto that. Plus, I feel like I have a different perspective than the females that are out.
What your perspective?
Value, self worth. Just being the boss of everything you're doing. Just being myself. Like me, I feel like I learned a lot at an early age. My maturity, and the stuff that I'm learning through life, females ain't hearing it on the radio. That doesn't have to be the only thing you listen to, but we just need more of it.
How has your music changed as you've matured?
If you listen to Schizo, I was vulnerable on Schizo. I kind of feel like I'm moving away from it a little bit, because I'm going based off of what I'm going through in life. When I did Schizo I was in a relationship. I felt like I was crazy. I felt like I was in love one day, then the next day I wanted to kill this nigga. Right now, where I'm at in life, I moved to another state, I don't have a boyfriend. I'm in these rooms with different industry people and stuff. I have to go in boss mode. I have to put my feelings to the side. But at the same time I still have feelings. I'm going to talk about it. I had to make a lot of sacrifices. I'm by myself a lot more now. I learned how to love myself and just value myself. So my music changed, but it's still vulnerable in a way. It's just honest.
It can be hard to be alone, or to commit to loving yourself, and having that be enough.
I kind of feel like I was forced in a way to do it. I had to move to L.A. My relationship, as much as I tried to keep it together, it didn't work. And then I had to realize, niggas ain't gonna be here forever. Like the same thing that he was doing, "Man I ain't got time, I gotta do this to get some money" — I have to think that same way. You ain't got time for me because you trying to do that, and I need to be on that same shit.
When I moved to L.A., I was just isolated. It was really just me and my work. I have to prove to these labels that I'm serious and I can't be caught up in my feelings. But I still have feelings, adnt that's what the music shows. With Schizo, I didn't know where I was at and in my mind I felt like I was crazy, but I'm really not. I feel like every female goes through that it just doesn't get talked about. Especially with this generation now. Feelings! It's like you have to play hard to get for the motherfucker to think you like them or whatever. Everybody has their guards up. All the niggas are trying to finesse.
"I'm in these rooms with different industry people and stuff. I have to go in boss mode. I have to put my feelings to the side."
Why is your album called No Hard Feelings?
We had a long process just trying to come up with the right name. I wanted songs that came across with a certain feel, and I think that "No Hard Feelings" fit perfectly. In any situation, you have value, even when people don't see the value in you. I just feel like some people get mad about it or whatever the case may be, but there's really no hard feelings. Whether it's in a relationship and I got a nigga that laughs at me, or in my career where somebody didn't believe in me. I'm at the point now where I'm good. I always knew that I had it. So it's no hard feelings. I don't hold grudges. I'm doing good with my life and I know what I'm worth. I wanted it to be an album for females to know their worth, but at the same time it's something that everybody can relate to. When you move on from a situation, it's not always bad. Sometimes you come out better. So it shouldn't be no hard feelings. And then I was thinking the other way, like, not even having hard feelings for someone's shit and not even getting too emotionally involved in stuff. I was just thinking different ways. So, the music touches on it too.
What things did you try, musically, to established the sound you have now?
I worked with the different producers. I just put that song "Close To You" out with T-Pain. When I started doing music, I had started out singing. Like as a kid I actually was a singer, and when I went to school on the South Side of Chicago where I grew up, I had a music teacher that did a lot of jazz and stuff like that. On "Close To You," I got back to that a little bit. I freestyled the melodies and then I just put the words to it. And T-Pain just did his thing. He turned it up.
You've done quite a few collaborations, with artists like Dej Loaf, 21 Savage and Lil Durk. What's the appeal of working with other people?
I feel like I do my best on other people's songs because on my own songs, I'm so hard on myself. When I'm on other people's songs I can just do me. It definitely lets me switch it up. When I heard T-Pain on "Close To You," it was like, "Wow, he took it to the next level." Like Gucci on "We Gon Ride"? Man, that's one of his hardest verses since he been out, to me. So I like it when people bring their sound to my sound.

How did you link with Gucci Mane?
[My team] sent him the song and he went crazy on it. I ain't believe it at first. Like, "Y'all lying!"
Is that something you wanted or was it a complete surprise?
Hell yeah. Of course I want Gucci on it. I didn't ever think it would happen. But now we're going to shoot a video for it and everything. It's his hardest verse to me and I ain't even saying that because it's my song. He went crazy.
How did "Body" with Jeremih happen?
That song was done before we had Jeremih, and I had felt like, "Man I need Jeremih on this song." So I requested that. I'm cool with Jeremih. We worked on another song before that we just never finished it. So he came through that week. Jeremih always has good vibes.
You write a lot of your music. What influences you when you're writing? What are you thinking about?
I'm still experimenting. In music, I started off singing, then I started doing poetry, then I started rapping. Right before I started rapping I was doing the poetry thing and I was just writing like stuff with a good flow that had a tempo to it. Then I ended up meeting this producer and he knew how to build beats around that, so my stuff — like "I Love that Bitch" and "Up and Down," some of my older records on Schizo — a lot of that was just poems. It sounds like street poetry. My producer would add pianos and violins and the bass and make it go crazy. Now, I think about old school songs I liked; I never knew what they were talking about, but I always knew how to sing it. So now I feel like melody is really important. I just like to go in there now and go off the feeling. Then I add words that say how I feel.
Are you gonna be singing more on the album?
There's not one song that's all R&B. It's a lot more singing, but there's rapping on every song.
What's your favorite track from the record?
I have a song called "Invincible" on there. It's one of the rap songs where I was like really getting off. It just makes me feel like I can do anything. It's one of those songs that came out perfect. We did it without second guessing and it sounds big. There's another song called "Wasted," that has a dope sound. Also, a song called "Spazz." That's my favorite.