When Diesel's Advertising Is On Point, It's Everything
Why we love the Italian clothing line's aesthetic.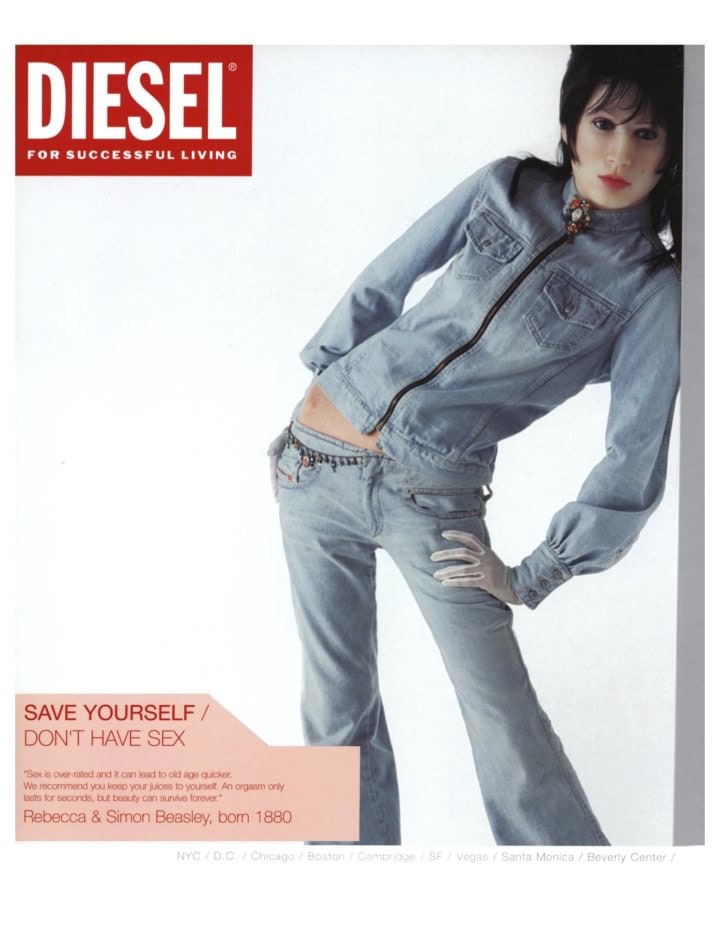 I have to admit, I don't know a ton about the clothing brand Diesel. I don't wear a lot of distressed denim or "going out looks" so I've never really had occasion to shop there, and our paths just haven't crossed much anywhere else. Except for when it comes to their advertisements, which I fucking love. The first Diesel advertisement I ever saw has stuck with me for the decade since — waxy figures with milky skin extolling the virtues of eating algae and abstaining from sex — and was delighted to come across them again in a 2001 issue of The FADER.
In the early 2000s, everything was about idolization: it was peak Britney, peak Paris. The idea of using these fake characters — one figure read "Henry Inchbald, born 1884" — instead of the regular coterie of of-the-moment models felt almost subversive, or at the very least, exotic. Since then, I've developed a fascination with the Italian company's peculiar branding, which ranges from the utterly tasteless (their more recent "Be Stupid" campaign, which features a man biting the butt of an unseen woman with the slogan "Eat Better") to the wonderfully surreal. In a world where fashion magazines are increasingly becoming little booklets composed almost entirely of identical advertisements — images of louche-looking models in repose on a chaise longue, with a $10,000 bag just out of arm's reach — Diesel still manages to make me look and sometimes to even shock. Either way, it's fun. Here's some of my faves.