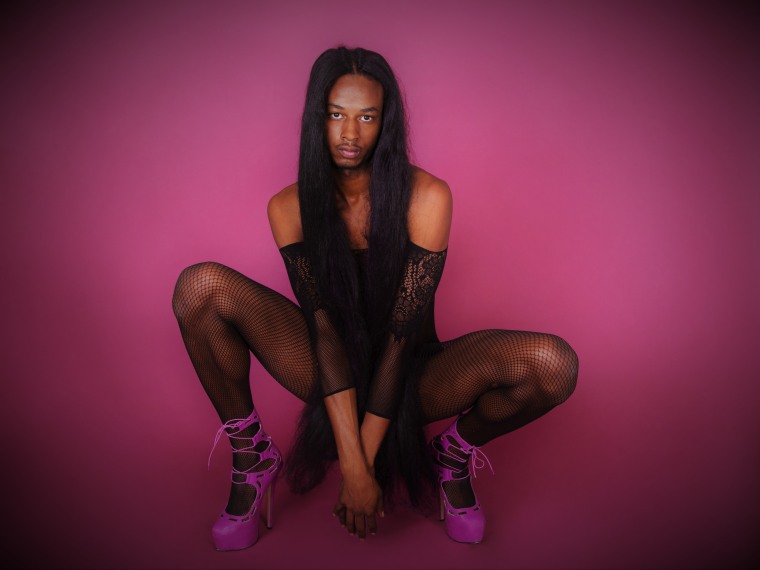 Hot on the heels of Mister Wallace's breakout "It Girl" video comes PUSSY OUT, a remix EP on their label FUTUREHOOD. It features seven charged-up flips of tracks from their debut EP, FAGGOT, by a host of artists. Boston's Seraah turns in a caffeinated twist on "PPLAY," and Berlin's Rui Ho delivers elastic 3 a.m. takes of "WHOREMOAN" and "It Girl."
"Being a DJ it was important to me that dynamic mixes of these special songs were made and that queer pioneers were able to craft their sonic visions with a sense of freedom," Mister Wallace told The FADER over email.
"I remember distinctly when Khia's 'My Neck My Back' reached the radio in Chicago," they continued. "My mother was bopping along to it in the car and her energy awoke a part of me I had not yet discovered. The level of liberation in Khia's song is something I strive for in my everyday life. PUSSY OUT is my offering to those who worship on the dance floor because in 2016 it's O.K. to feel free."
Listen below, and scroll down to find out more about each remix and remixer.
Seraah on "Venta Pussy" remix: "For me 'Venta Pussy' is about simultaneously dismantling and liberating perceived black maleness. It's about embracing and engaging with the powerful femme in all of us, and using that anima and animus infusion to activate our dreams."
Rui Ho on "Whoremoan Sushi Cunt" remix: "I love the original, cunty, sexy and 'all in your face' direct feeling towards sex, sexuality and love, so I've decided to do something similar but combining my own experience and understanding towards this topic, that's why I added the Asian string sample and pushing the energy even higher."
Sikh Knowledge on "FAGGOT" remix: "Sikh Knowledge's remix evokes scenes from the height of a QPOC jam as queens find respite from the work week by shablams in the faces of their haters. As a producer/DJ, Sikh would most likely spin this."
Hijo Prodigo on "FAGGOT OG" remix: "The remix to me is the pulse of our vibrant community, nurtured underground, breaking through the surface. The faggots are coming through hard and relentless and upending the rules of the old world. Blending genres and genders and responding to a world that moves too slow for prophets and dreamers."
Jeremiah Meece on "IT GIRL" remix: "BITCHES BETTA BACK UP. IM ABOUT TO ACT UP!"
Rui Ho on "IT GIRL" remix: "I wanted to make something more U.K. bass with classic synth pads and FM bassline and then adding my own vision of being 'IT,' because for me I want the remix to be super danceable and at the same time showcasing where this come from and where it's possibly going to be."
davOmakesbeats on "IT GIRL" remix: "I wanted to give 'IT GIRL' a tribal feel while sticking to the original blueprint of Wallace's vocal genius. This dancefloor-ready version is chockfull of club moments and bass, staying true to my Bmore club and percussive influences."