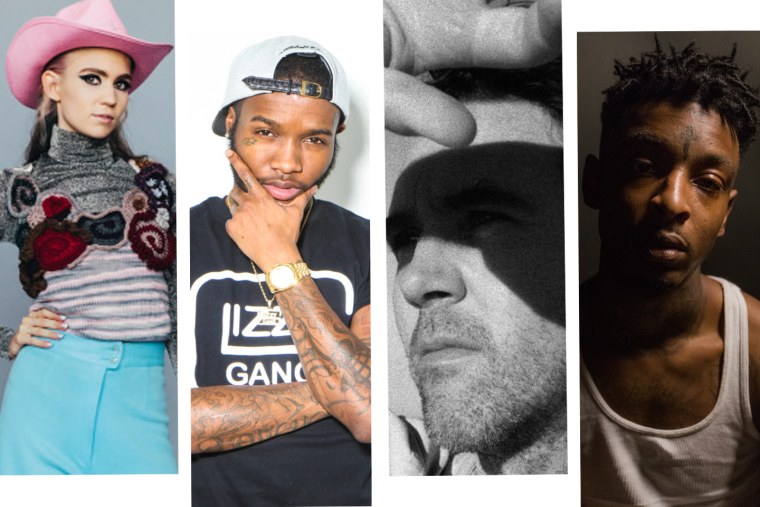 1. We've been playing and replaying 21 Savage and Metro Boomin's new tape since it dropped, and the song "Ocean Drive" is pure summer melancholy — as heavy as a humid-ass August afternoon.
2. Shy Glizzy's new project rules, and the Zaytoven-produced "Think About It" is an early standout: Who the realest when you think about it?, Glizzy goes on the hook. He also brings up the Olsen twins and Birkin bags.
3. Grimes said getting asked to contribute a song to the Suicide Squad soundtrack was a "dream come true." "Medieval Warfare" wouldn't have been out of place alongside Art Angel's more explosive moments.
4. Sean Paul's remix of Tory Lanez's Benny Blanco and Cashmere Cat-produced summery hit "LUV" is an essential listen. Words of wisdom: live every week like it's Sean Paul Week.
5. We're still listening to Show Me The Body's BODY WAR quite a bit, and now, thankfully, spastic highlight "New Language" has an official video. It's half grainy footage of NYC, half Harmony Korine slow motion shots of mosh pits.
6. Please put on London singer Chris Carter's "For The Gram" — a song about a social media-obsessed love interest that interpolates Wayne Wonder — at your day party this weekend. Just trust us.
7. Cass Mccombs has always been on another wave, and his weirdo brooding on "Medusa's Outhouse" is a gorgeous example of that. Sorry but — he's got the range.
8. Noname's tape is further proof that something special is happening in Chicago. Her wordplay on the rascally "Reality Check" feels notable: Seventeen moments and cloudy days on my snap/ Mysterious aberration, illuminated the trap.