Brazilian Rap Trio Diamond, FKA Pearls Negras, Return With "Bad Girls"
The teenage MCs put a fierce twist on favela funk.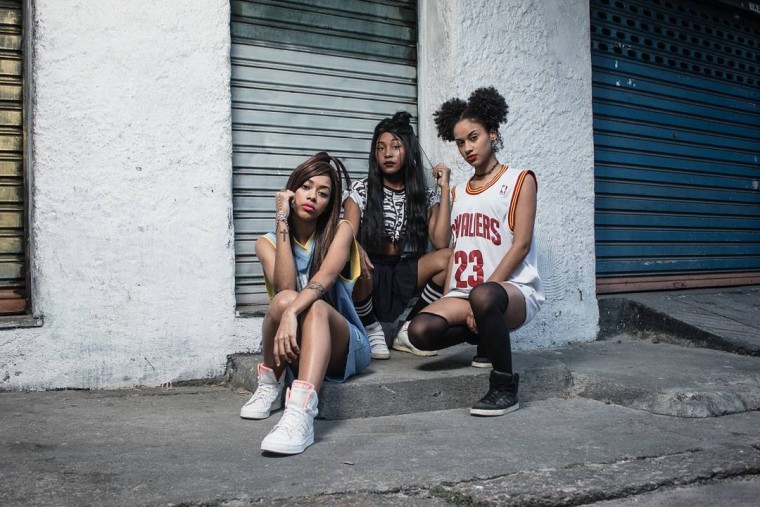 Today, August 5, the Olympics will kick off in Rio de Janeiro, making Brazil the first South American nation to host the event. As we explored earlier this week, the cariocas of the city have been divided in feelings towards the Games, with many protesting against the government's policies, law-enforcement and building demolitions. Just this week, clashes continued as police used stun grenades and tear gas on protestors to clear a path for the Olympic torch.
In the midst of the sociopolitical turmoil, fiery rap trio Diamond shine bright. Formerly known as Pearls Negras, the crew of 18-year-olds are from Vidigal, a favela in Rio, and since the release of their 2014 mixtapes Biggie Apple and Nossa Gang they've spit tough verses about love, dance, and the streets where they grew up. They're just as upfront about calling out government policy as vocalizing their experience growing up in a shanty-town, too. As group member Mariana Alves told Dazed about Brazil hosting the World Cup in 2014: "The government spent billions...we lost in the semi-final and nothing improved for us, for our daily lives."
Diamond's new release "Bad Girls" harnesses their kinetic energy and channels it into a thumping dance track which warps funk carioca with Brazilian bass and the three-piece's tough bars. Listen below, and read more about the artists leading Brazil's new generation of funkeiros here.