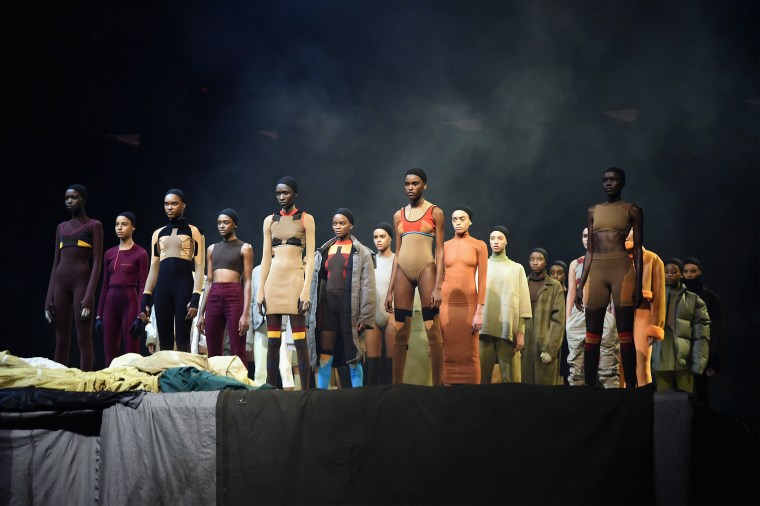 In a recent New York Magazine profile, artist Vanessa Beecroft went deep on her personal and collaborative relationships with Kanye West. Beecroft has been involved with all of Kanye's Yeezy Season fashion shows and even his wedding to Kim Kardashian. "I have divided my personality," she says to NY Mag. "There is Vanessa Beecroft as a European white female, and then there is Vanessa Beecroft as Kanye, an African-American male." The pair met in 2008, which Beecroft described to the magazine:
"When Kanye approached me, his studio to mine, my assistants said you have to meet him, he's important. I had just come from several trips to Africa where a Sicilian intellectual academic man who I had consulted for the documentary said, 'You will find your Orestes in the U.S., and it will be an African-American man.' So when Kanye contacted me, I said, 'Here he is!'"
Their work evolved into the artist being placed on Kanye's full-time payroll, until he began tweeting about his personal debt in February 2016. Then she was given work on a project-by-project basis. According to Beecroft, this change was brought about by Kim Kardashian.
"It was Kim Kardashian," she says. "She cut everything out."
I write this to you my brothers while still 53 million dollars in personal debt... Please pray we overcome... This is my true heart...

— KANYE WEST (@kanyewest) February 14, 2016
Her work over the past eight years with Kanye even began an inward questioning of just who she was, as an artist and exactly as a person. Down to the actual color of her skin.
"I even did a DNA test thinking maybe I am black? I actually wasn't. I was kind of disappointed, and I don't want to believe it. I want to do it again, because when I work with Africans or African-Americans, I feel that I am autobiographical. If I don't call myself white, maybe I am not."
A representative for Kanye West was not immediately available for comment. Read the entire article here.