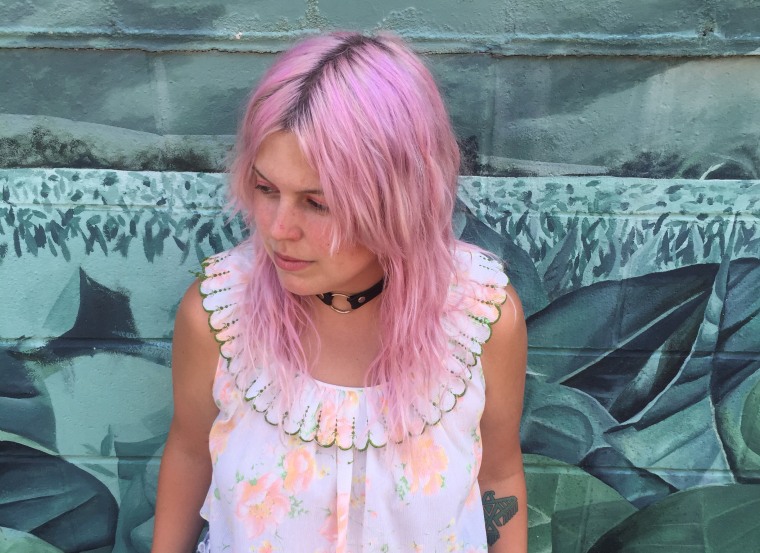 "Bleaching is the process of getting rid of color," wrote Toronto band Twist's singer Laura Hermiston in an email to The FADER. "Stripping down to the lightest shade, leaving hair porous and fragile. If you want, you can put any color back in and it can be as vibrant as you want, there is no other pigment affecting the outcome." Hermiston described the bleaching process, because Twist's newest single, "Bleached," premiering today, is about embracing changes and fresh starts.
"Bleached," a fuzzy jam with hues of Garbage, is the second single off Twist's forthcoming LP, Spectral, which will be out on Canada's Buzz Records (home to Dilly Dally and Weaves) August 26, and spot on for late summer, the ideal time for reinvention. "'Bleached' is about intentionally letting your attachments to people and ideas fade away," Hermiston's note to The FADER continued. "It's about starting fresh, even if you're not ready to get rid of things that don't bring you joy anymore, and allowing yourself to change. To do and be anything you want because nothing else has a hold on you anymore."
Twist is heading out on a U.S. tour next week, for which you can find dates below. Preorder Spectral here.
Twist Tour Dates:
08/17 - Peterborough, ON - The Garnet
08/18 - Ottawa, ON - Arboretum Music Festival w/ Dilly Dally
08/19 - Montreal, QC - La Grandè Terasse Rouge
08/20 - Brooklyn, NY - Shea Stadium
08/21 - Manhattan, NY - Mercury Lounge
08/24 - Cincinnati, OH - Northside Yacht Club
08/25 - Nashville, TN - Glass Menage
08/28 - Austin, TX - Sidewinder
09/31 - San Francisco, CA - TBA
09/03 - Seattle, WA - Werewolf Vacation
09/04 - Victoria, BC - Copper Owl
09/05 - Vancouver, BC - TBA Trash City productions
09/08 - Calgary, AB - Broken City
09/09 - Regina - Vangellis
09/10 - Winnipeg, MA - Sherbrooke Street Festival
09/11 - Minneapolis, MN - Kitty Cat Klub
09/12 - Chicago, IL - Subterranean
09/16 - Toronto, ON - Baby G