Charli XCX used to be afraid of making straight-up pop music, even though that's what she always loved. She's not scared anymore.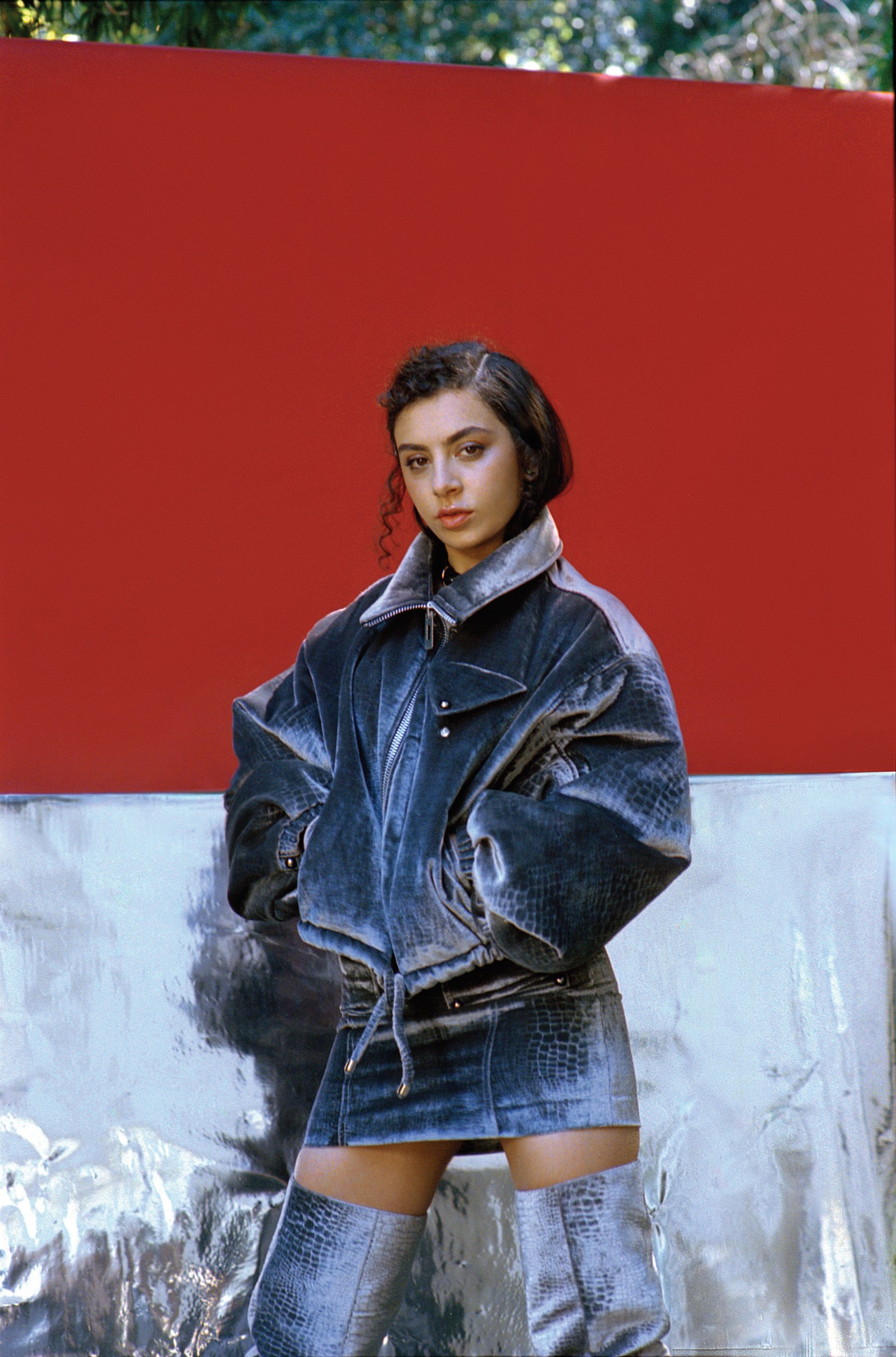 "I don't think being healthy is really fun," Charli XCX says, as she cracks into her third vegetable juice in three days. "I don't think not partying is really fun, either." But here she is, 23 years old at an upscale café in Los Angeles, the city where she now lives part of the time, powering through the final day of a month dedicated to trying something new: avoiding alcohol, exercising regularly, and eating sugar-free. "Very un-XCX," she says.
The occasion of our meeting is Charli's third studio album, which, though still untitled, she says she's finished recording and is planning for a 2017 release. For her first LP, 2013's True Romance, she took a writer from Grantland bar-hopping and, the next night, kicked off a sweaty concert by announcing, "God, I'm so hungover." Her second album, Sucker, released the following year, was commemorated by a Complex story that ended with her drunk-dialing the reporter. And so it is with what seems like genuine semi-embarrassment that she realizes that this story is going to involve juice.
"I'm really bummed that you're hanging out with me this week because literally until the beginning of June I'd never done that shit," she says. "But when you start getting asked to go to more events and award shows, and you're on display as an object — I just began to think about it more. For some reason the Daily Mail likes to write about me, and I got sucked into reading it. No matter who you are, sometimes it hurts when people are like, 'You're a fat bitch.' It just made something click in my brain, and I'm not really quite sure what it is. I don't think to own my pop star-ness or whatever means I have to go to the fucking gym, but now I'm having juice so that's just cool."
Wellness never made anybody a pop star, but a pop star, more than ever, is what Charli is trying to be. "I want to make the best pop album of 2017," she says. If she can pull it off, it'll actualize a childhood dream: "I really just wanted to be Britney Spears when I was younger." You'd be forgiven for missing that reference point on her first two albums, though. Charli has always written big, catchy, emotional hooks, but she's often backtracked on their boldness with dense, clunky production. Alt-pop with an emphasis on alt, her sound until now has seemed practically designed to protect her from accusations of making what some might call the wrong kind of pop: party-obsessed, super-slick, and blithely commercial.
Maybe it's just getting older and becoming more comfortable in her own skin. But with a combination of the confidence won by critical acclaim, and the self-awareness of someone who's used to being criticized, this master of saying fuck it has finally said fuck it about her music, too. For the first time, Charli XCX has recorded an album that's as fun to listen to as she's always wanted her life to seem fun to live. Making it has taken some hard work — she's just not sure she wants you to know that.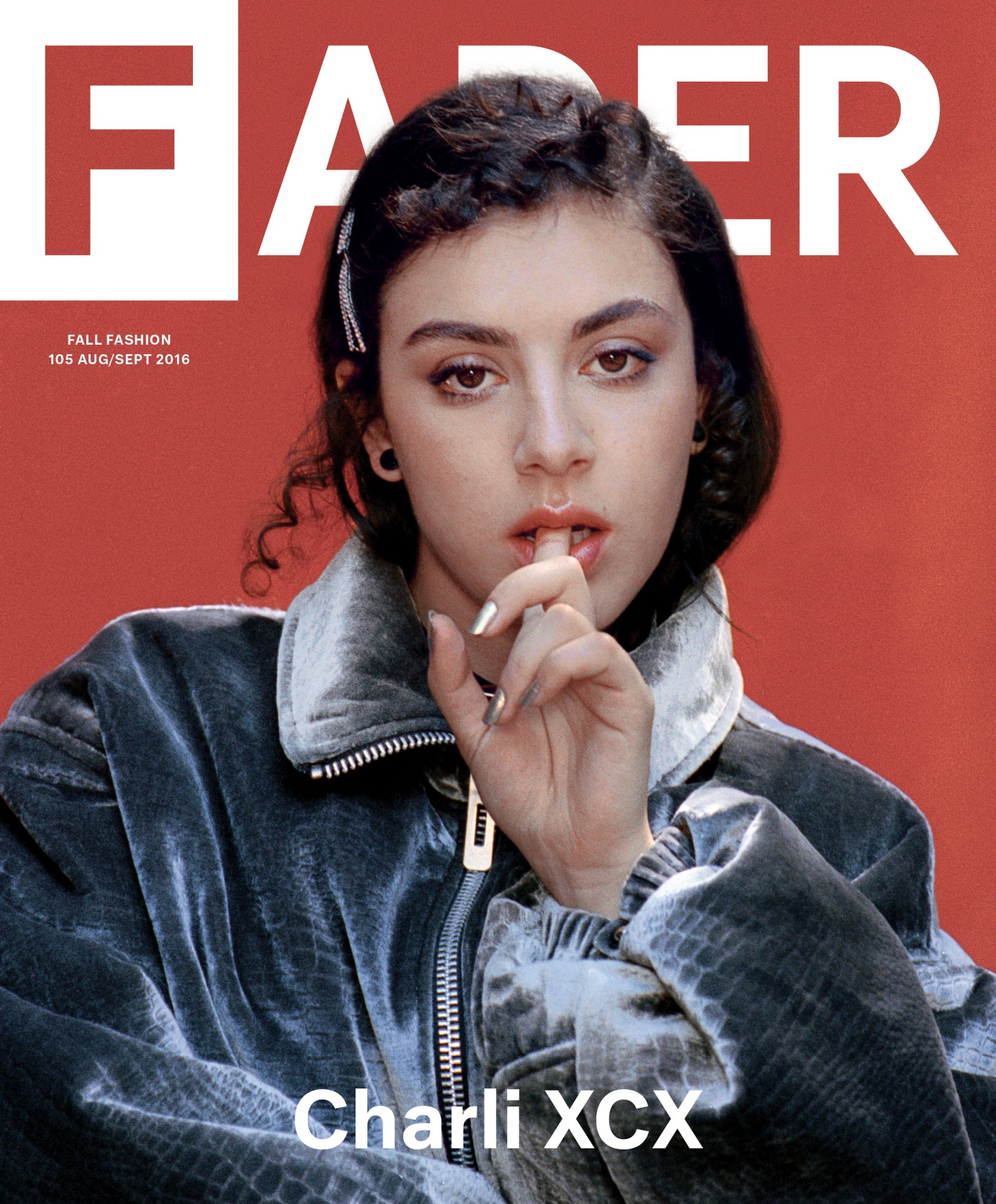 Charli was born Charlotte Aitchison, in 1992, to a Scottish father and Indian mother. Back in the '70s, her dad had been a party promoter with a disco club in Bishop's Stortford, the town where Charli grew up an hour north of London. Her parents actually met at his club, she says, at a New Year's Eve party while he, dressed like John Travolta from Saturday Night Fever, was changing a keg at midnight. For Charli, though, home was a quiet place. Her attempts to lead friends in playground versions of Spice Girls songs were a bust, and the only band at her school played Guns N' Roses covers. She dated their young lead singer for a while, but as a teen she began to focus her musical interests far elsewhere: on a trashy, neon party-world she was discovering online through artists like Uffie and the French label Ed Banger.
At 14, Charli started making beats on a Yamaha keyboard and posted her first songs to Myspace. "I was rapping about dinosaurs and teddy bears and that whole world of, like, cuteness, you know?" she says now. "Some of it was fucking terrible." Some of it was pretty compelling, too, like her song "Art Bitch," with tricky lyrics that consist entirely of backhanded compliments to a popular artsy teen; the song is an eternal puzzle, because as a listener you can never quite tell if Charli is meant to seem justified in her condescension or pathetically jealous. In any case, before long her music caught the attention of a local party guy named Chaz Cool, of the band The Coolness, who invited her to play some raves of her own. "My first one and the best one I ever did was when I was 15," she says, "in a peanut factory in Hackney. I went with my parents and we stayed until 6 a.m. My dad was real into it. There was loads of people dressed up as zebras. It was like a real drug scene, party scene, and I'd only seen that on Skins. I played at two in the morning, then three weeks later I turned 16 and signed a deal."
One of the reasons Charli says she decided to go with Asylum Records, a subsidiary of Atlantic, was because she got along so well with the man who signed her, Ed Howard, and his wife, Miranda Cooper, who was part of the songwriting team behind tracks for Girls Aloud and Sugababes. Though those titan British girl groups of the 2000s were very much a product of the pop music machine, Charli was initially uncomfortable with being a part of that world. "When you're 16 and you sign and you go through rounds with producers, that kind of factory way where you go in and you meet someone and you do a song and you leave — you don't really know who you are," she says. "Even though I think I wrote some really fucking good songs in that time, it sounded like everybody else. I didn't know what I sounded like yet." It took a few years of detours — including an abandoned stint at the Slade School of Fine Art, which hit either its high or low point when Charli did a performance art piece where she danced with a bunch of hamburgers stuffed in her bikini — before she recorded her first album.
In 2012, Charli started working with the producer Ariel Rechsthaid, feeling much appreciation for the comfortingly anti-factory studio he had in his backyard in L.A. Together they developed the busy sound of True Romance, which gestured equally to left-field EDM and '80s gothic rock, and frequently buried her vocals in tricky effects. "I definitely felt like I was afraid when I wrote that record, and you can hear it," Charli told Pitchfork a year after it was released. "I wanted to make a pop record, but I wanted to make it 'cool.'" While True Romance was self-conscious to a fault, its sound was very of-the-time. Reviews compared Charli favorably to Grimes, and remixes connected her to a well-curated group of popular-yet-indie artists, including Blood Orange, Odd Future, and Jai Paul.
The album wasn't a blockbuster — in its first year, it sold just 12,000 copies in the U.S., according to Soundscan — but by then Charli had already proven her ability to write a hit. "I Love It," a sneery track she'd off-handedly penned in a hotel room around the same time, far out-performed anything on her album when her demo was re-recorded by the group Icona Pop. There were memorable lyrics, like the generation-rallying You're from the '70s, but I'm a '90s bitch, and it was the first song to feature what's become a Charli XCX signature: a subtly catchy melody paired with the sort of easy hook that anyone can scream-sing along. I don't care! I love it! But Charli initially distanced herself from the track, telling people that she'd given it away because it didn't fit the vibe of her debut, or that the words didn't mean anything, or that it just didn't feel like her.
Which made it all the more frustrating when, more than her album, it was the thing that people in the music business wanted her to recreate. "That song set me up in this factory of songwriting, which, at the time, I hated," she says, "but now I love. Going into the studio and being asked to write over and over again for other artists, and kind of recapture that energy — that's definitely how I enjoy working now, and what I enjoy about making music: that I can just go and do it really quickly. Now I just want to write songs like that all the time. I just want to work, like, top line, top line, top line, top line," she says, referring to a song's punchiest combo of melody and lyrics.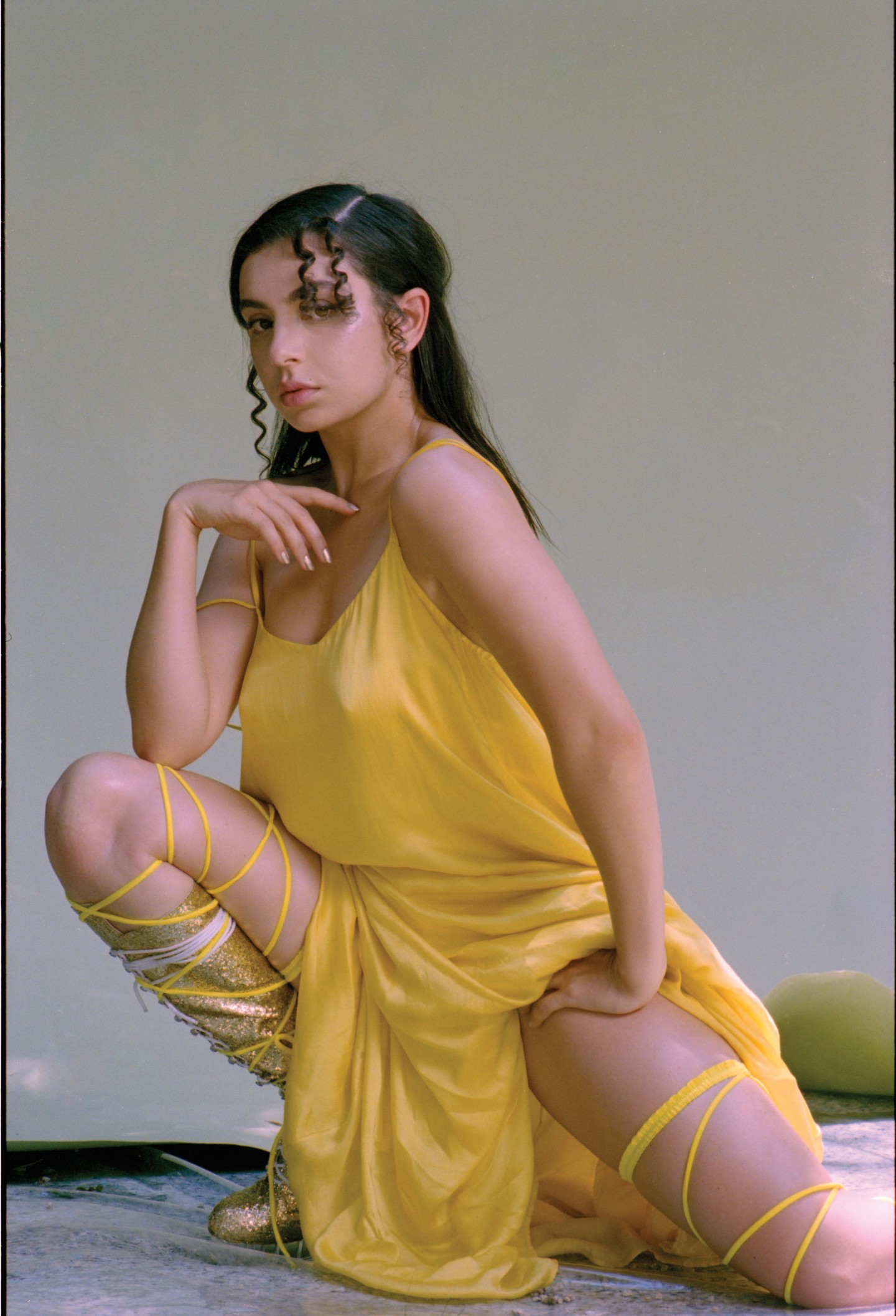 "I want to make the best pop album of 2017."
In retrospect, Sucker was largely about working toward this realization. Shortly before she started making it, Charli once again landed a hit for someone else: Iggy Azalea's "Fancy," on which she wrote and sang the chorus. "Fancy" became the first single to go No. 1 on Billboard with Charli's name attached, and the first big music video with her face in it, too, but its success, and more requests to reproduce it, triggered for her a minor crisis. "I wanted to get some energy and some aggression out," she told the L.A. Times, so she fled to Sweden to record unfiltered punk songs with Patrik Berger, the producer of "I Love It." In the end, those demos and their scuzzy guitars would morph into parts of Sucker, which turned out sounding far more like Blur than Britney.
In interviews, she said she had no intention of getting Sucker on pop radio. You joined my club/ Luke loves your stuff, she sang on the title track, a sarcastic reference to Dr. Luke and the industry's embrace of her hits above her other music. At the same time, she worked on the album with a broader range of established pop producers and co-writers than she ever had before, including Steve Mac, a songwriter for Shakira and One Direction, and Stargate, a go-to production duo for Rihanna throughout her career. Intentional or not, it seemed almost inevitable when "Break the Rules" and "Boom Clap," two songs from Sucker that kept up the sneery vocal style of "I Love It" and "Fancy," became Charli's first solo singles on Billboard's Hot 100. The album sold twice as many copies in its first week as her debut did in its first year, and its music videos have earned combined YouTube plays of over 400 million.
Thanks in part to the song's placement in the schmalzy teen romance The Fault in Our Stars — a fitting home for a track about first kisses and fluttering hearts — "Boom Clap" became Charli's first solo Top 10, but it was a turning point in her catalog long before then. After Charli wrote it, the song had initially been offered to the former Disney Channel star Hilary Duff, she told Popjustice in 2014. "And her people were like, 'This is NOT cool enough for Hilary.'" Charli took that uncoolness, so anathema to her earlier and weaker music, and this time she owned it. She's even come around on "I Love It," now. "It's easy to say that the songs you feel are the most you are your most successful songs," she says, "but, like, I do feel like 'Boom Clap' and 'I Love It,' especially in terms of top line, are just the most me." Once Charli felt she could engage the music business on her own terms, she stopped worrying and learned to love the pop machine.
A big focus for Charli lately has been building out that business side. Last year, she hosted a BBC Three documentary called The F Word And Me, about the relationship between feminism and pop music, and was invited to Simon Cowell's house to audition to be a judge on the U.K. version of The X Factor, though she thinks she freaked everyone out by talking too much about behind-the-scenes details. "I was really into the lighting, and how much say I would get over the stage show, and whether I could bring my own stylists in for the artists that I would be mentoring." It was an inspiring experience nonetheless. "I just fucking like Simon Cowell," she says. "He's very talented at creating celebrity culture and TV shows, and he has an ear as well. I like his vibe and his ambition, and I think I have that. I like the idea of being like a female Simon Cowell."
Earlier this year, Charli started a record label under Atlantic, Vroom Vroom Recordings, and signed her former bassist's solo project, CuckooLander, which she also manages. Now that she's all about speed-jamming top lines, songwriting has become an even bigger focus, alternatingly fun and dead serious. She recently recorded a jokey demo with Rostam Batmanglij, formerly of Vampire Weekend, that they're calling "My Pussy Is the Freshest," and says they're not-so-jokingly thinking about sending it to Nicki Minaj.
"When it comes to songwriting for other people, I've become quite ruthless," Charli says. "I see it as a creative outlet whilst I'm creating it, but after the song has been made, I wanna make money. I want the biggest artists to cut these songs, and I want them to be No. 1. When it comes to my own record, that shit doesn't happen, so that's where I think about what I believe to be artistic, what I believe to be beautiful."
Since 2013, her songwriting has been published by an imprint started by Stargate, but she says she just finished the process of switching to a publishing company of her own. She has set an ambitious goal of placing 20 songs with other artists this year, and says she's got maybe 5 so far — it's hard to say until they actually come out. Last year, she was asked into the studio with Rihanna to write songs for Anti, and then for the new album by Gwen Stefani, who is probably the closest pop ancestor to Charli's vocal style and attitude, though her contributions didn't make the cut for either. She has had other recent successes, though, like "Same Old Love" for Selena Gomez and will.i.am's "Boys & Girls."
Charli actually learned an interesting lesson from will.i.am, something she'd failed to appreciate back when she was talking down on "I Love It." "He was like, 'It doesn't matter what the verses say, just say anything in the verses and make the chorus really good,'" Charli remembers. "His verses are a vehicle to get to the chorus, and then he just says cool words. I listened to all of his songs, and I was like, Wow. he really sticks by this theory. This guy is a fucking genius!"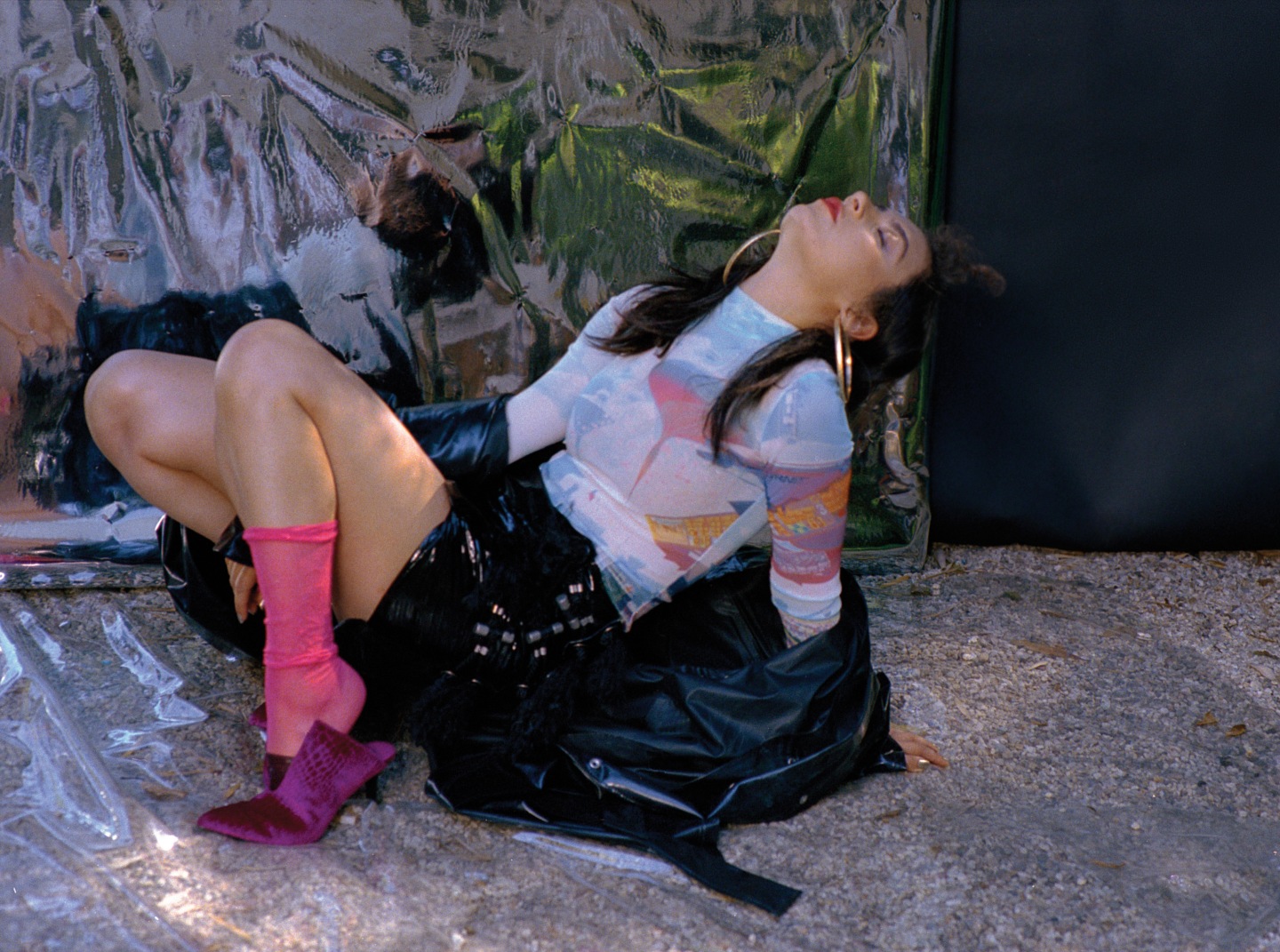 Charli is hoping to shoot the first music video for her upcoming album in a few weeks, so we head to Beverly Hills, to the home of Diane Martel, the director behind Mariah Carey's "All I Want for Christmas Is You" and Robin Thicke's controversial "Blurred Lines." Martel insists on privacy, so while she and Charli make plans, I float in her pool. When Charli's done, she comes in the water, which is surrounded by succulents and tropical trees. She says she wishes she hadn't spent so much money on exotic plants when she moved into her house — she hadn't realized you could just get ferns at IKEA. Beside the pool are a few inflatables that look like the donuts on The Simpsons, and Charli says that on her last tour Martel helped with set design. They created an inflatable zebra-print guitar that cost $10,000 — and another $10,000 to replace after Charli accidentally popped it.
That tour ended abruptly, at Charli's behest. "As an artist I need to move quickly and write a lot to not feel restless," she wrote in a summer 2015 Facebook post, canceling half the dates midway through their run. "I am struggling to create whilst I'm on the road, and that is making me unhappy."
Six months earlier, she'd kicked off the album process by convening a recording session with "the whole like left-of-center pop gang in Sweden," including Patrik Berger, Andrew Wyatt and Pontus Winnberg of the group Miike Snow, and the songwriter Noonie Bao. That crew was a bit familiar, so Charli cold-called someone she admired but had never met: SOPHIE, the British producer born Samuel Long who, along with his sometime collaborators at the PC Music label, was making a name by twisting bubblegum pop sounds into hyperactive, grotesquely sweet club music.
In just two days, Charli and SOPHIE recorded three of the four songs that would make up her Vroom Vroom EP, released via her imprint in February 2016. The EP sounded like something SOPHIE would make: synth drops like guillotines, breakneck tempos, voices like Crazy Frog. "Vroom was like an assault," Charli says. "Vroom was not us trying to appease anyone. I think my label got afraid, and I think a lot of people were confused. But I just felt that I wanted to — I just wanted to do that. That's the scene I came from when I was younger, that club scene. That's originally what I saw in SOPHIE, and I'd never actually made music that was representative of that."
Having successfully plumbed her antiestablishment teenage years — Vroom Vroom was the first Charli project to sound as captivatingly off-putting as Uffie — she swung the pendulum of her career in the opposite direction. "I'm not going to sit here and say that I'm a good producer," she says, "because I'm not, but I am a really good curator, and I know when that shit is gonna work." Almost every track on her new album, she decided, would feature both SOPHIE and Stargate on production, like two sides of one super-brain.
"I didn't want to make just an album with SOPHIE, and I didn't want to make just an album with Stargate," Charli says. "I wanted to make an album with SOPHIE and Stargate. Sure, some of SOPHIE's records are a little harsh and off-the-wall, but the goal is to be making progressive pop music. Stargate obviously come from a totally different world, but at the same time that's also their aim, you know? That xylophone on their old Ne-Yo R&B shit, the way the handclaps were programmed? I know people are going to be like, 'She wanted to make the album with SOPHIE, and her label said, You need to put it with Stargate to make this work.' But it was never about putting SOPHIE in a pop environment and flattening him out. It was knowing they could bounce really well, in a room together, working to each other's strengths."
And they were all in one room — frequently alongside Noonie Bao and BloodPop, the experimental beatmaker turned producer for Justin Bieber — for about five weeks. It was in Los Angeles, at Westlake's Studio A, the same place Michael Jackson made Thriller. (Currently the only song on the album produced elsewhere was made by the Brian Eno collaborator FRED with contributions from SOPHIE added after the fact.)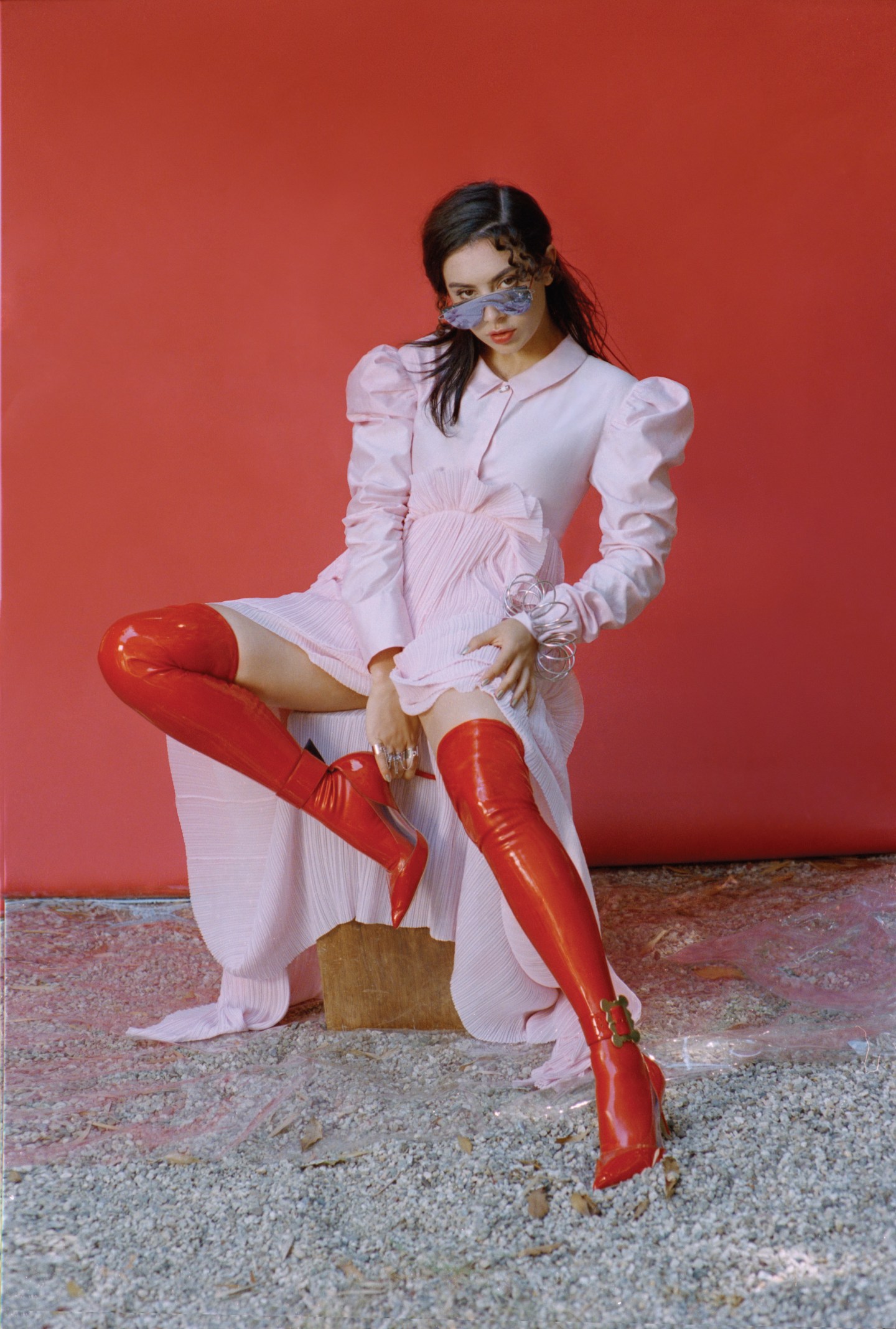 "I was like, Uh, what am I doing? If I make a party record, I can go on tour and party every night."
"I think I make my best music with Stargate," Charli says, "just because they know how to edit my ideas in the quickest way. You could be the shittiest songwriter in the world and go in and do a scratch take with Stargate and they could cut it up and make a fucking hit. Which makes me sound kinda shitty, but I am good. I'm pretty good," she laughs.
Perhaps owing to how fast the album was recorded, the new songs are easily the most straightforward she's ever made, and the most joyful-sounding too. One with the working title "Come to My Party" is exemplary: its name isn't some play on words, it's just a song where Charli invites you to a party. At least a half-dozen hooks and micro-hooks are stacked over the song's three twinkling minutes, her words memorable if not especially deep. There's the cheery, chanty part about how we're all young and full of love; a pseudo-rap bit about working like a young Kardashian; and tag-team climaxes about self-reliance — I do what I wanna do, and I do it my way! — and unity, with an open invitation for all the boys and the barbies to come hang with Charli.
SOPHIE and Stargate serve up clever chord changes to match every section, with flourishes peppered throughout: a chopped-up intro and a robot saying "XCX," pitched-up background vocals like supportive Tweety birds, and an almost dubsteppy bassline that stretches out at the end. But never is anything but Charli's voice on top. And what that voice is telling you, more clearly than ever before, is not that complicated. It's telling you that it's time to have fun.
"I definitely think that this is the most pop-commercial album I've made, which I love because I've always loved pop-commercial," Charli says. "I've just never committed, I suppose. Instead I've always made breakup songs or really emo love songs. But I've never been fucked over by a guy, never been cheated on. That just comes from, like, romantic-style movies. I've always been very much the opposite of what I write about. Because I do like to party, and when I go out, I don't like listening to love songs. Like, I skip them. I like watching DJs, I don't want to watch bands. I realized that at the end of Sucker. I was like, Uh, what am I doing? If I make a party record, I can go on tour and party every night."
She still finds seriousness in that, though. "I think it's harder to write really respected party music than it is to write a love song," Charli says, "but I think I've done it. And if anybody ever is going to fucking say that SOPHIE's party production is throwaway, they're a fucking idiot. Because he's someone who spends years creating sounds." On the other hand, she says: "It's also this whole thing of: it's fun for people to think it's dumb. And people who want to read into it more can get really deep in it."
In a phone call, A. G. Cook, the head of PC Music and also currently Charli's creative director, expresses the same thing. "If the track's really, really good, then it can be fun and stupid and progressive and interesting all at the same time," he says. "I think Charli is probably the best proof that you can bring something to radio but also make it a little bit more… not even edgy, just sort of appreciating the fun, weird stupidity as well as the real craft."
SOPHIE emphasizes that craft, too, by way of rejecting the idea that his attraction to pop music is disingenuous, or ironic. "The kind of music that we get excited about needs to feel contemporary, and it needs to feel like an accelerated and personal version of our favorite music of the time," he says, in a different phone call. "But there's zero irony. Why would you bother to make something along that perspective? You've put so much time and effort and basically your whole life into creating something and standing by it. It's from a place of wanting to make something we feel, and hope other people will feel, too."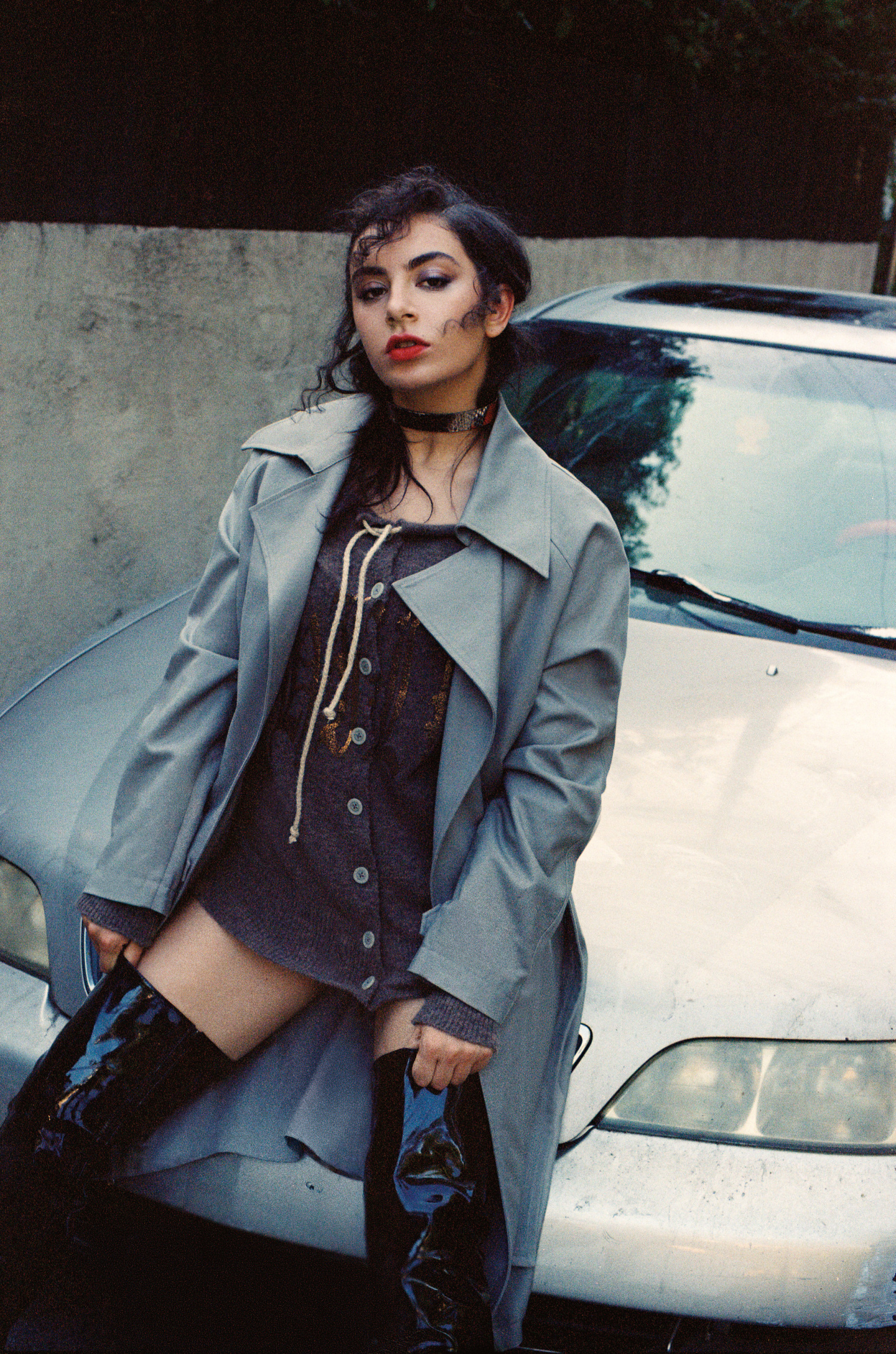 "I think it's harder to write really respected party music than it is to write a love song, but I think I've done it."
Back in the days of Charli's early idols, pop music and specifically female pop singers were often derided by critics as artificial and shallow. And whether it was predatory contracts or invasive paparazzi, these women were treated as disposable as their music was said to be. Almost 20 years later, few people are better equipped to debunk pop music's supposed disposability than Charli. Which makes it all the more surprising that, in just another breath, she's happy to hide the hard work of it.
"I used to really care about my validity as a writer or as someone who's going to be received well," Charli says. "And now I don't. The more I've grown up and the more I've become secure with myself, I've become comfortable with being questioned. I don't mind if people think I'm a fake. I kind of like that more. It's like, 'Oh she doesn't do anything, she's vapid, she's a projection of other people's ideas.' I'm playing with that now more than ever. Sometimes it's like, I would rather talk about my boobs and the outfits that I just bought."
This is something Charli has always expressed in her carefree persona: it's not her problem to prove she's respectable. By going full fun-loving in her lyrics and production, and by embracing being called vapid for it, she is renewing that commitment. Charli doesn't subscribe to the idea that some work is good and other work — like looking good or always seeming cheery, however unfairly demanded — is bad. "My one hope for 2017 is that Kylie Jenner becomes a pop star," she says at one point. "Kylie and Paris Hilton would be my top people to write music for." They didn't put in Charli's kind of time with music, grinding it out over hundreds of songwriting sessions, but they worked their asses of in other, less celebrated ways, and Charli wants her pop world to honor women like them. Got my good grades, now I wanna go dumb, she sings on one track on the album. Good girls don't do that type of stuff, she sings on another. She might be describing a nice Friday night, or she might be signing a new lease on her career.
The month of healthy living is set to end with a house party, and booze will be officially back in play. Earlier in the afternoon, Charli heads to a vintage clothing store to pick out an outfit for the night with Max Hershenow, a member of the electro-pop duo MS MR and, for the past few months, Charli's roommate. Max asks an employee if they have any dog collars, but they can't find one. She picks out a black mesh crop top that says "sex symbol" in silver stitch.
That evening, Pringles and red cups and bottles cover a hardwood table in Charli's house, a multimillion-dollar, maze-like Tudor deep in the Hollywood Hills, built in the 1920s with a steeply pitched roof and exposed timber frame. The sounds of Beyoncé and SOPHIE's "Bipp" pour from her sanctuary-like home studio, which has arched windows on three sides and musical instruments hanging between them. On a central brick patio, string lights illuminate a small group of musicians and models and other good-looking people. Max strides in wearing a black dog collar; he borrowed it from Charli, who already owned one.
Charli talks to a woman in a zombie T-shirt about the night they met Marilyn Manson, and to an older guy about a song she once tried making that sounded kind of like Def Leppard. If she ever revisits it, she wants to change one lyric, though, which is also the title: "Victimless Crime." She's not sure 14-year-old fans will know what that means. Every hour the party seems to double in size, spreading throughout the ground floor, into nook-and-cranny rooms lit by candles and around brick fireplaces that sprawl wide.
The whole place is glamorous but homey — Charli says having Max around has really helped. When she first moved in by herself, in early 2015, weird things kept happening. Once, after she went away for a few weeks, she returned to find all the windows open, though the security system hadn't been triggered. And people kept calling in the middle of the night, at one point threatening to send a cake with "Kill Yourself" written on top. Charli now admits there's a certain charm in that image, so campy and odd, but she was nevertheless startled the day a big box showed up at her doorstep, unexpected.
But the delivery, upon inspection, wasn't a menacing dessert — it was a bunch of Taylor Swift merch. Charli had recently appeared onstage at one of Taylor's concerts, where they duetted to "Boom Clap," and the surprise was a thank you sent by the artist herself, a pop giant reaching out to someone figuring out how she might be one.
Hair Dylan Chavles, makeup Jeffrey Baum @ Jed Root using MAKE UP FOREVER, nails Pilar Noire at Nailing Hollywood.