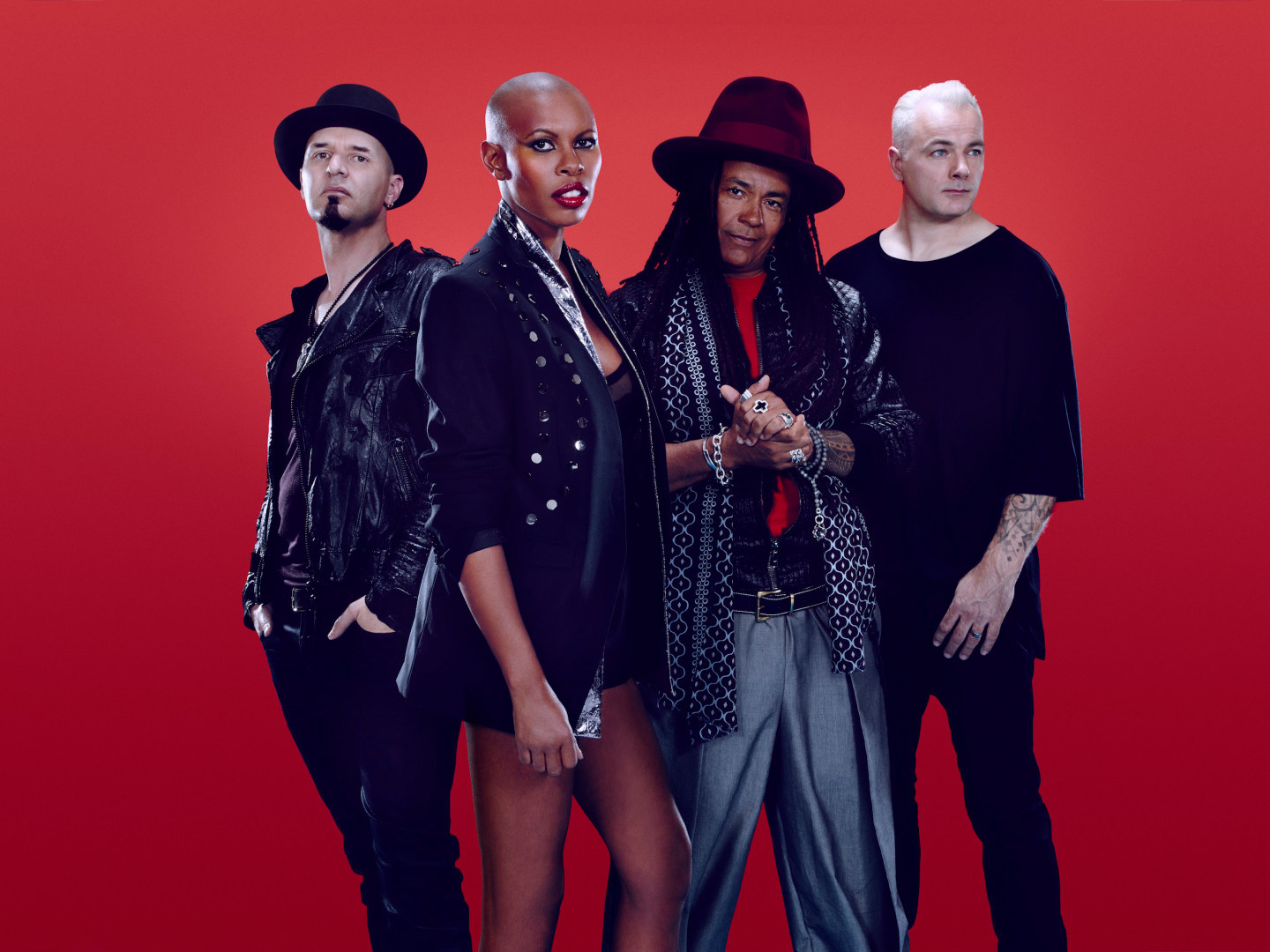 Skunk Anansie has been defying mainstream expectations about what legitimate rock music looks like for over 20 years. The U.K. foursome is fronted by Skin, the British Jamaican singer with a powerful voice that can be as demure as it is commanding. The band is as known for their mix of futuristic and industrialized aggro punk and groove-laden heavy metal, as it is Skin's pointed commentary on race, sexuality, and politics. In the U.K., they've enjoyed both chart success (at their peak in 2004, they spent a combined total of 141 weeks on the U.K. single and album charts), as well as a cult following since the release of their 1995 debut, Paranoid and Sunburnt. Now, 15 years on from their first gig in the States, they're set to play the main stage at Afropunk in Brooklyn later this month.
It's a smart booking. The significance of Skunk Anansie's presence at a festival that's faced criticism for watering down its lineup is twofold. First off, featuring a raw, aggressive band on the main stage symbolizes the origins of Afropunk; in the early days, indie artists like Game Rebellion and Sophia Ramos were able to enrapture an audience that was more interested in fresh sounds and perspectives than user-friendly tunes. Secondly, the inclusion of an established band whose message of liberation through anger, activism, and love coincides with America's current social, racial, and political climate — one that is struggling to acknowledge the injustices within modern black life.
For their part, Skunk Anansie is still going strong. In January, they released their sixth studio album, Anarchytecture, and from the sound of it the quartet of Skin, drummer Martin "Ace" Kent, bassist Richard "Cass" Lewis, and guitarist Mark Richardson are feeling refreshed and reinvigorated. This new energy, as Skin suggests when The FADER catches up with her over the phone from her London home, will be the key in introducing their music to a new generation. "In Europe it's easy," she says about creating set lists that satiate longtime fans. "We know what the hits are in each country; we know we want to play a bunch of new music, so we just find the right healthy balance. But in America, I have no idea." Something tells me they're up for the challenge.
Skunk Anansie has cultivated a successful career outside of the rigid parameters of mainstream popular music. Do you see yourself as outsiders?
I think that my band is underground and we're a bunch of outsiders, yes. I think that we're like this weird Radiohead type of thing in England where people really love us, but the press have always been snooty towards us. Our longtime fans love the fact that we are putting out records that people are buying and we tour as much as we can — tens of thousands of people are coming to our shows — that, to me, is the definition of success. We can just be in a band and don't have to do the horrible shitty stuff that other's have to do. We're definitely not in the mainstream; we are more like the band that the press loves to hate.
Which is good because the more people are publicly critical about you shows that they care enough to critique your continuing relevance as a band.
Well, I think that our fans are very passionate about us. We are not a nostalgic band, in the sense that we do not try and repeat ourselves — we can't do the same album again and again, and so every album sounds like our first. We're coming up with different expressions, being very experimental, and sometimes we think, "Oh, we didn't get that quite right," but you never have a wonderful life without making mistakes. I think that we are always trying to push ourselves and that is what Anarchytexture is.
The video for the recent single, "Death to the Lovers" is glorious. It was obvious that there is a lot of love and affection between you and your band. What are the challenges in maintaining a unified front, and keeping the original members, for over 22 years?
You can't fake that. It is the essence of Skunk Anansie. We've had pure luck from when we first met each other, and pure chemistry. 30 seconds after we did our third rehearsal, we just looked at each other and laughed. We knew we had something special, and now our relationship is more profound and much, much deeper than when we started. That song is about the end of my marriage [Skin separated from Christina Wyly in 2015] and that dress in the video was my actual wedding dress. I think theme of that video was, "when everything else fails, I still have my band." It's the one constant thing I've had in my life.
There was a look of resignation on your face at the beginning of the video, and then you blossomed when Ace, Mark, and Cass entered the scene.
Yeah, because they are home. More home, in some ways, than the marriage was. The marriage was quite homeless; we were moving around and stuff like that. In the video I rip my wedding dress into pieces. That wasn't my initial idea; it was actually suggested by the designer, Liborio Capizzi. When he suggested that I thought, that's really bad, but you know what? That's how I feel. I got into a lot of trouble for that, but it was a risk I chose to take, which comes from choosing to live as an artist. You have to take the risk sometimes — sometimes things work out and sometimes things will be horrible.
"A true artist is not a chickenshit. If you hold back, you are not going to do your best work. "
You've always been fearless in how you present sex, love, politics, and race in your lyrics. As you get older, have you ever reconsidered your stance?
I've definitely thought twice but I always come back to, that is the definition of being an artist. A true artist is not a chickenshit. It's not like you don't care — it's just that you have to have balls. Be strong. For me, the definition of an artist is how they translate how they feel to the public; how they choose to translate that into a painting, or graffiti or a into a song, or the way how they use their voice, is that person's interpretation, and the level of their interpretation of the art form is what they want to give to the public. If you hold back on that, you are not going to do your best work.
But I've gotten into trouble for that. I learned a very long time ago not to tell people what songs are about them. Never, ever, ever. But in "Death to the Lovers," it was fucking obvious. And because I'd already gotten into trouble for it, there is no point in trying to pretend that it is about something else.
The single "We Are The Flames" seems to correlate with the current political and social climate.
Today I've been looking at all of the memes about Melania Trump's [Republican Convention] speech [regarding accusations of plagiarism.] I consider that a flame. These are the ways in which we hide the frustrations we have. We'll put something on our Facebook or Twitter to ignite a bunch of people into it. We [the band] had this discussion as to whether this song should be a personal song, as in "I Am The Flame," or something as in "We," which is about me talking about the whole band. I guess it is, in a sense. It's one of those things where you put the feeling out there and people interpret it how they want. So I guess it was that kind of feeling.
What's your view on the current social and political issues in England?
I'm seriously depressed and worried about my country right now. This whole Brexit nonsense has just been fuel for all those closet racists — all of those closet, ignorant, suburban people who just think that they rule the country. Do you know these are the same people who will get an Indian curry faster than Superman? These are the same people who worship the Royal Family. And I'm like, "Do you realize that Prince Philip is Greek, so he is an immigrant, and other members are German?" And then they marry each other, and that's the way it's been for hundreds of years. So this idea that the Royal Family, who are held up to this notion of being the best of British life, and worshiped by these suburban, ignorant people who don't want any immigrants in the country, is ridiculous. They don't realize that the number one immigrant is Prince Philip. And I think that it was a lot of political game playing that backfired. I don't think that [U.K. Foreign Secretary] Boris Johnson wanted to be out of Europe, I think he wanted a percentage of votes so he could go on to be Prime Minister. And it all backfired. All of those guys who did all of that fucking shit are all gone. They all just walked away without finishing their job, and not concerned with the aftermath. It's like going to Mount Everest, sticking a flag on top of the mountain and then saying, "I don't feel like climbing down now. Can I just get a helicopter? I'm done it with it now."
I'm incandescent with rage right now with all the things that are happening right now. And the sad thing is, is that in Britain, we have been at the forefront of social issues, such as gay marriage. And with this one move, we've turned into what the Americans were like during the Bush era.
"If you were white, you can sing like Sam Smith and everyone would think that you are fucking amazing. But if you are black, and you play guitar like Jimi Hendrix, it would be, 'Yeah, that's cool but that's not really black, is it?'"
Are U.K. artists starting to address these political changes in their music? I guess it is a bit too early for that.
Yes, it is, but a lot of early music from Skunk Anansie could address what is happening now. In America it is different, though. I think that despite what is happening here, the racism in America is five times worse. The only time I've felt "black" is when I've travelled to America. When I'm in Europe, I'm like a European, or I'm considered Jamaican, but when I go to America I'm just a black person with all the racism that comes with that. So I can really feel that the issues that are coming up right now — I can really identify with that shit. In America I feel like I'm a second-class citizen. Until I open my mouth and they say, "Oh you're English — that's alright. You're a different kind of black, you're not one of our kind of blacks."
'
A number of black women metal and punk artists have cited you as being a motivating factor in them pursuing careers in historically white and male-dominated musical genres. Do you consider yourself a role model?
I think it's a nice, extra thing that happens, yes. When I first started singing, I used to get a lot of Grace Jones comparisons —who's a friend of mine — just because there wasn't any other black women who they could compare me to. But at the end of the day, Grace Jones is reggae — she's a pop singer but she's Jamaican. I'm English and kinda punk and metal. So it was quite irritating to be compared to someone so different. It would be like if Grace was compared to [blues singer] Josephine Baker, if she were alive. There are no comparisons, but people always need something to compare. The role model thing I'm not that into — I think if you are an athlete and into perfection, that is okay. But I think I'm too naughty to be one.
Well, I think they like the fact that you are living your life on your terms. In America it seems as though as a black woman we are inundated with respectability politics — you have to be the right type of "black."
I used to get that a lot in the beginning of my career. If you were white you can sing like Sam Smith and everyone would think that you are fucking amazing. But if you are black, and you play guitar like Jimi Hendrix, it would be, "Yeah, that's cool but that's not really black, is it?" I've been called a "coconut" so many times you wouldn't believe. You know what? I think these kind of things are just to stop you doing from what you are doing, and if you listen to it too much, than you will stop. I just don't worry about it, really. It's not my problem. It's someone else's problem.
Skunk Anansie will perform at the Afropunk Festival in Brooklyn's Commodore Barry Park on Sunday August 28.