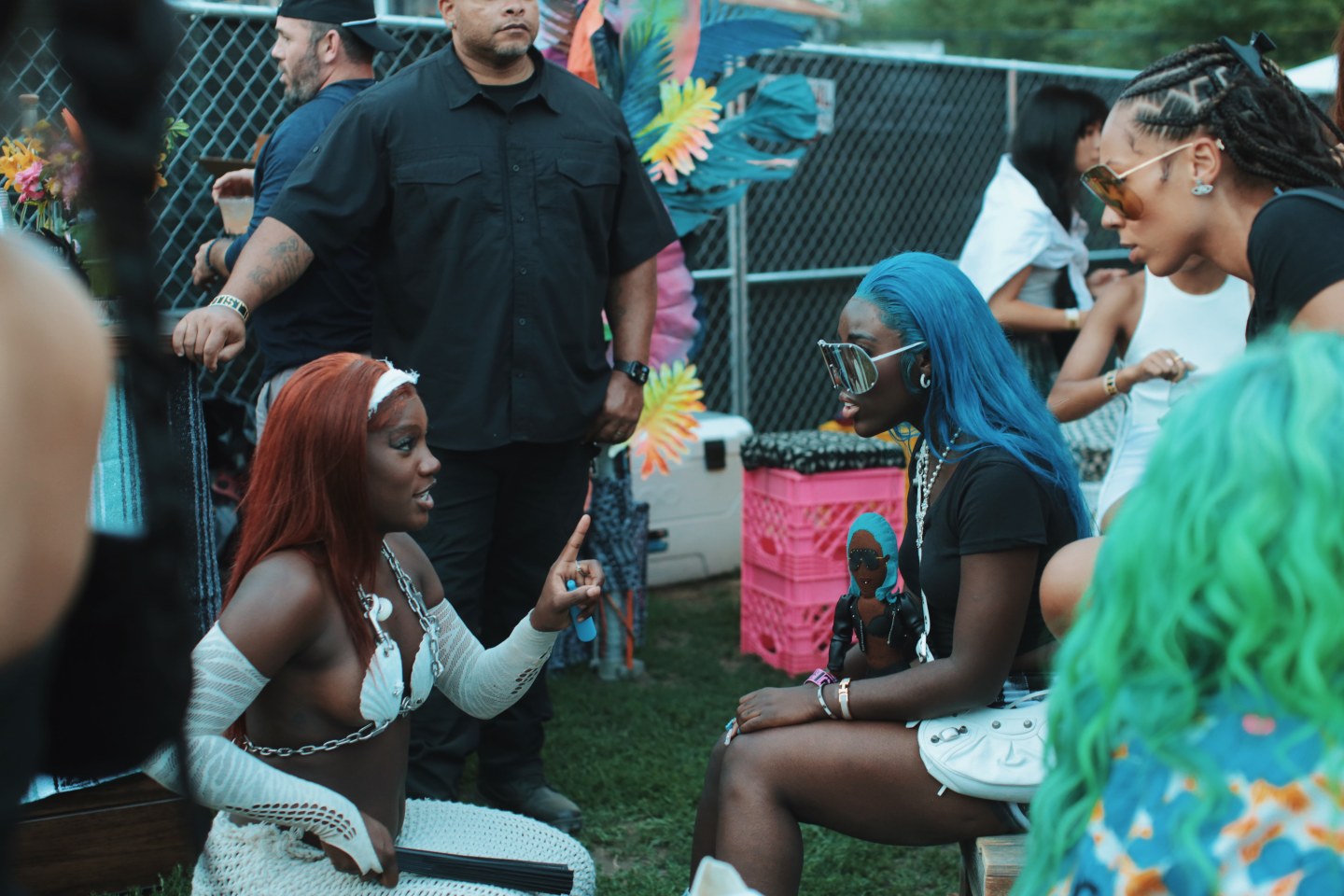 Afropunk was back in its birthplace for the first time since 2019 this past weekend. The two-day celebration of Black music, food, and fashion played out in Downtown Brooklyn's Commodore Barry Park under sunny skies Saturday and near-constant rain Sunday, but attendance barely wavered — a testament to a strong lineup across the bill.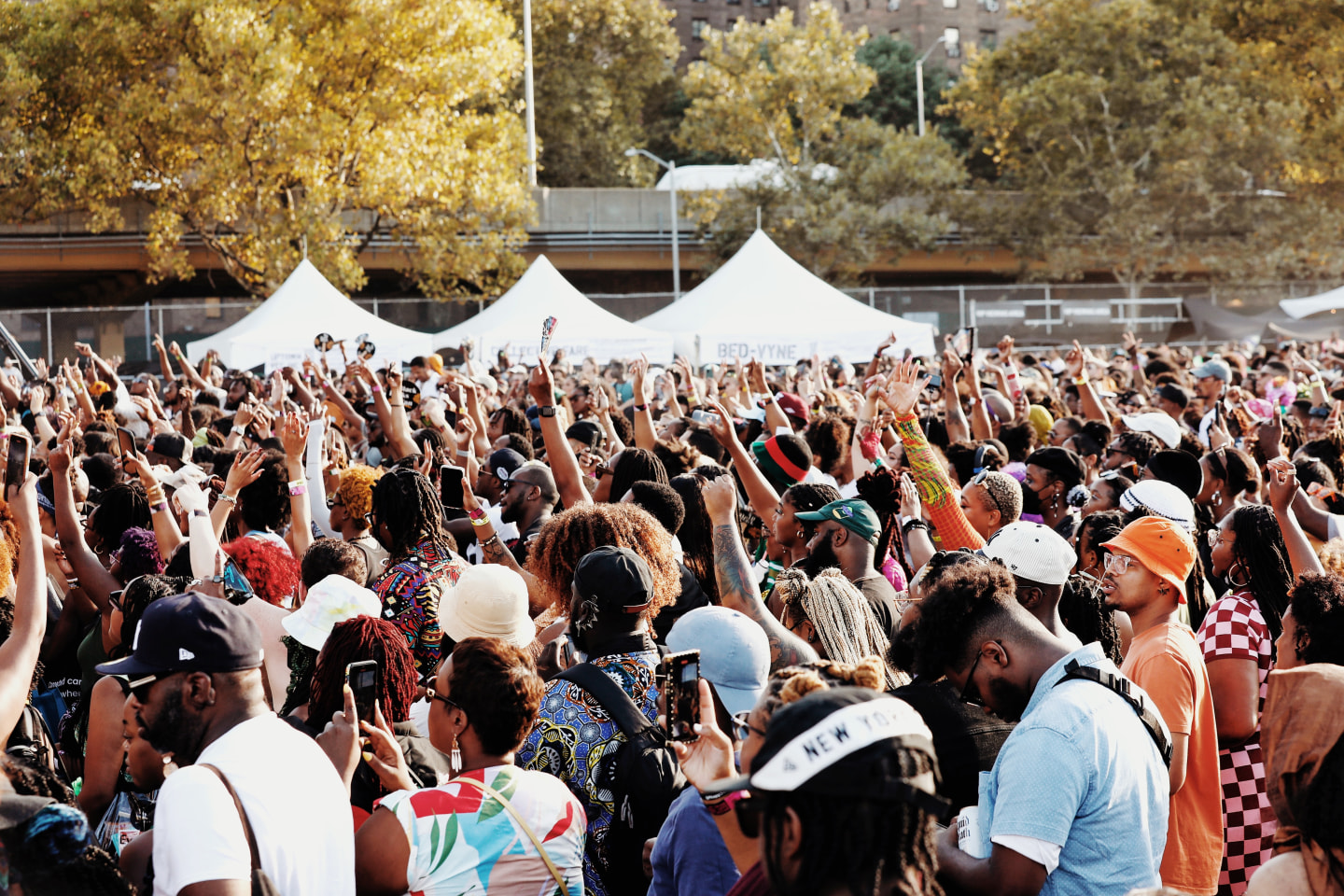 Fans filtered in throughout the festival's sunny opening day to watch an undercard dominated by forceful female emcees. Chattanooga underground icon BbyMutha set a high bar on the main stage with a ferocious early set, followed in direct succession by Tampa swamp princess Doechii and Philadelphia indie rap queen Tierra Whack. Of the three performances, Doechii's unsurprisingly involved the most pageantry, with her white-clad background singers joining her in highly choreographed dances but never distracting the crowd from her magnetic energy. And Whack strolled joyfully through hits from her 2018 debut album — a 15-song, 15-minute visual concept project titled Whack World — and her three 2021 mini EPs, Rap?, Pop?, and R&B?. She maintained a playful energy throughout her set, bringing her mom out early on and descending from the stage later to sing "Hungry Hippo" alongside her audience.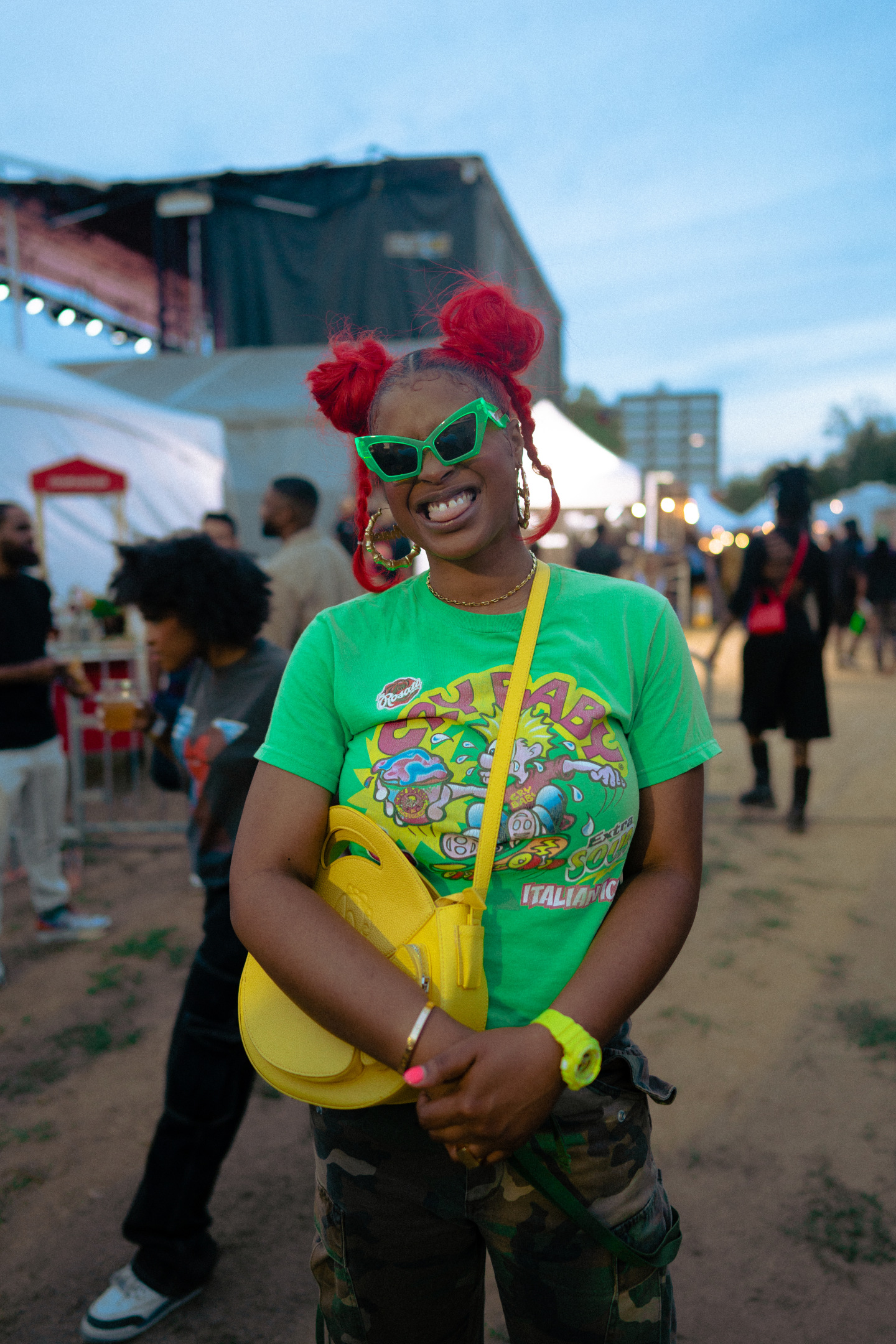 In the evening, Chattanooga's returning rap king Isaiah Rashad stood front and center, delivering a largely uninterrupted run through his catalog. His characteristically raspy flow grew raspier and raspier as his set went on, but his presence remained commanding throughout, emphasizing his ability to get his meaning across even when he's at his most mumbly. A highlight came when he brought out Doechii for their joint track "Wat U Sed" (which also features and is produced by Dallas DJ Kal Banx). She could have easily stolen the scene if the duo didn't have such great chemistry.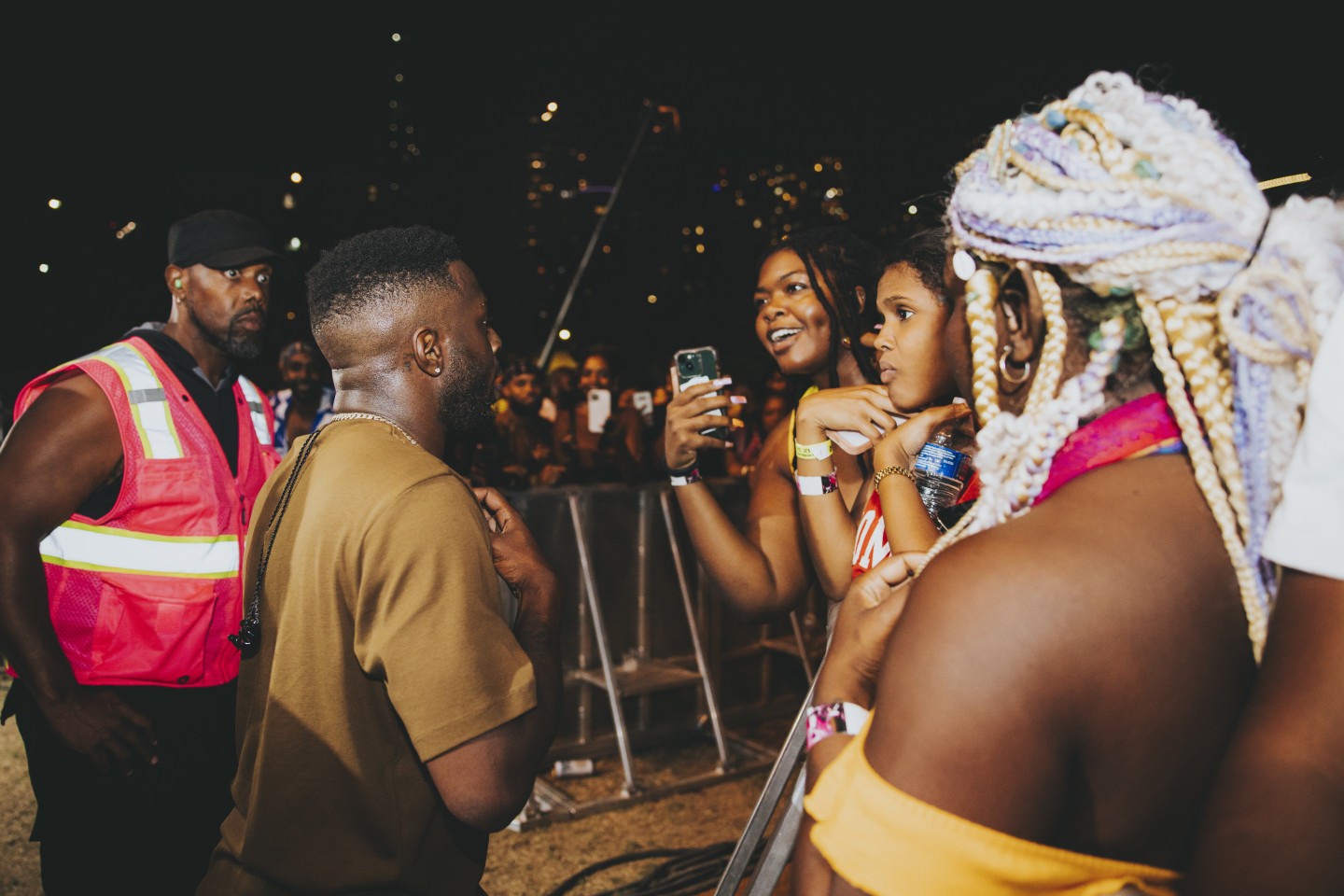 Saturday night saw The Roots headlining Afropunk Brooklyn's main stage, with Black Thought leading a rapt audience through a seamless medley of the group's own hits, covers, and extended instrumental interludes including an impressive MPC solo from Stro Elliot.
Meanwhile, due to delays on the smaller stage, Freddie Gibbs was forced to compete with the legendary Philadelphia crew for eyes and ears. He drew a much bigger audience than Butcher Brown — who led his band in a killer set for a scattered crowd while Isaiah Rashad commanded the main stage — but the sonic smorgasbord occurring just a football field away from Gibbs was a noticeable presence throughout his show. He handled it well, for the most part, flexing his razor-sharp flow both a cappella and accompanied by a backing track. Still, he couldn't resist pausing his ScHoolboy Q collab "Gang Signs" twice to make the crowd shout "Fuck 12, suck a dick" loudly enough (ostensibly) to be heard from the other side of the park over the sound of the band, and taking a light-hearted jab at Questlove's weight in the process.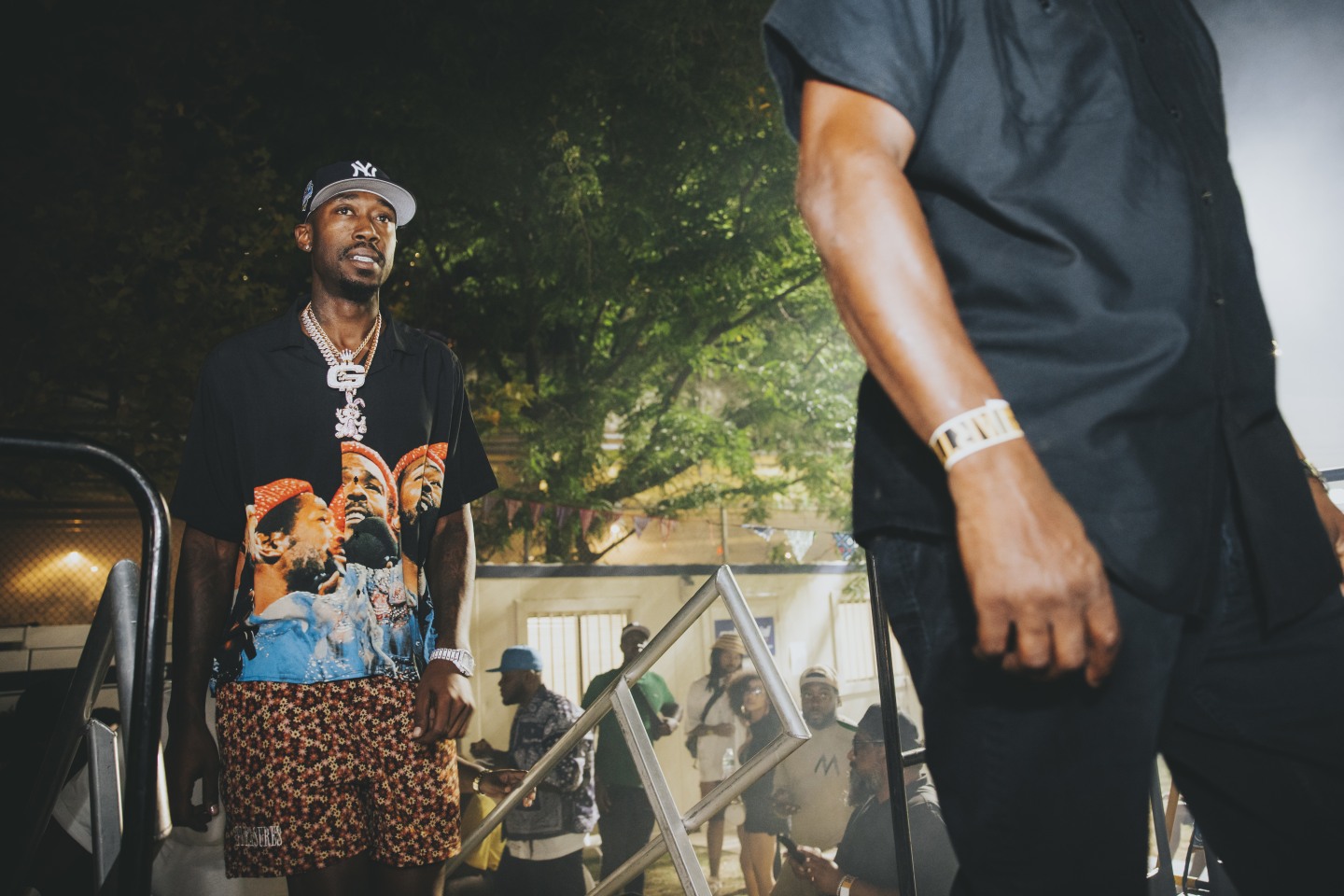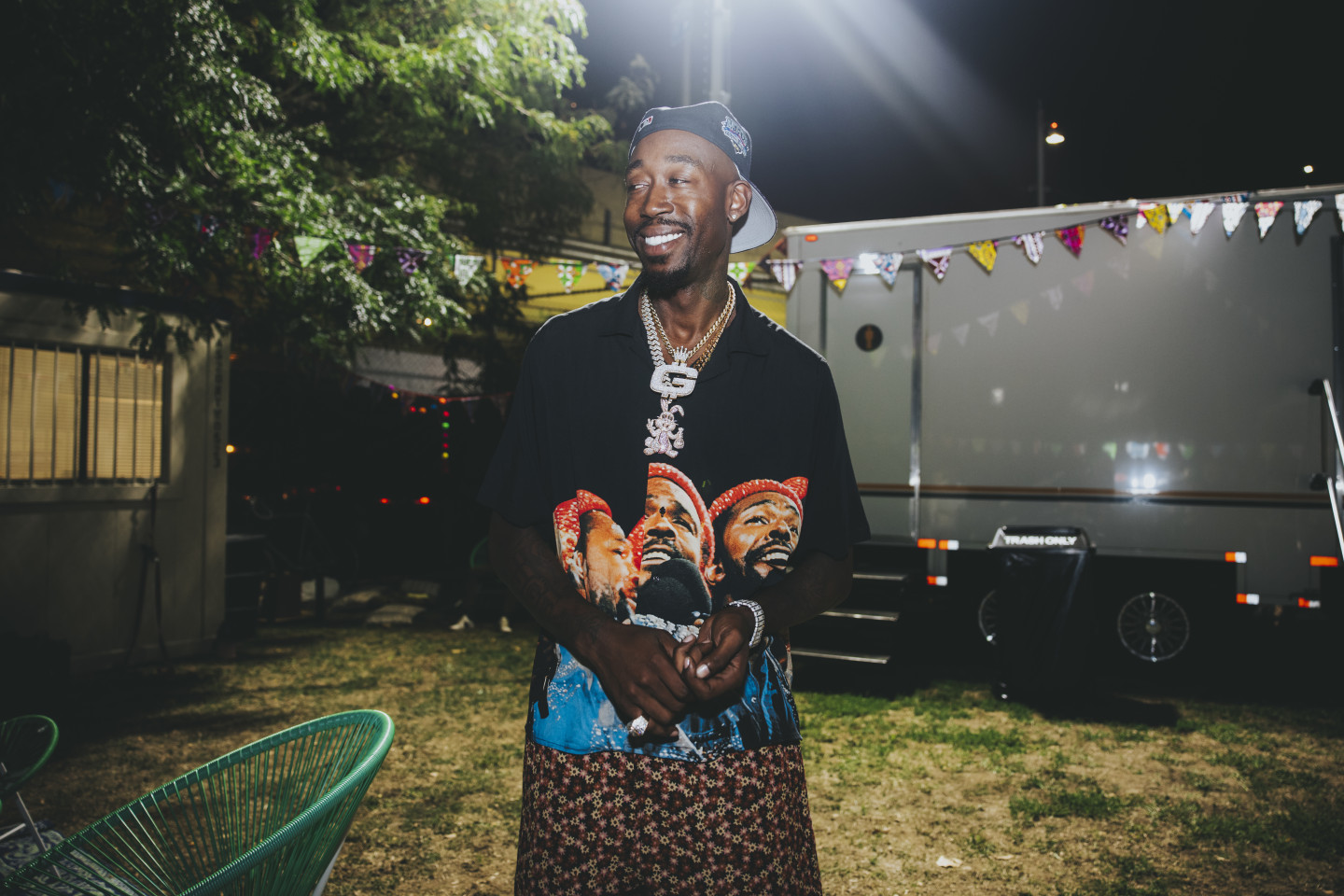 Rain fell softly and consistently throughout the festival's second day. But despite the much worse weather, attendance felt virtually the same. A solid portion of the crowd arrived late and stuck closely to the main stage, where the evening promised several marquee Afrobeats acts. But Sunday also offered a vast variety of artists from across the musical spectrum, and an impressive number of fans came early and stayed. Pink Siifu's 4 p.m. main stage set was a universe in and of itself, ranging from a hellaciously fun free jazz intro — made somewhat more hellacious and less fun by a mic malfunction that left Siifu seething at the sound staff — to the unbridled punk aggression of NEGRO to the pixelated funk of GUMBO!. Though chaotic and rife with glitches, the raw intensity of his performance transcended the distractions and demanded a powerful audience experience.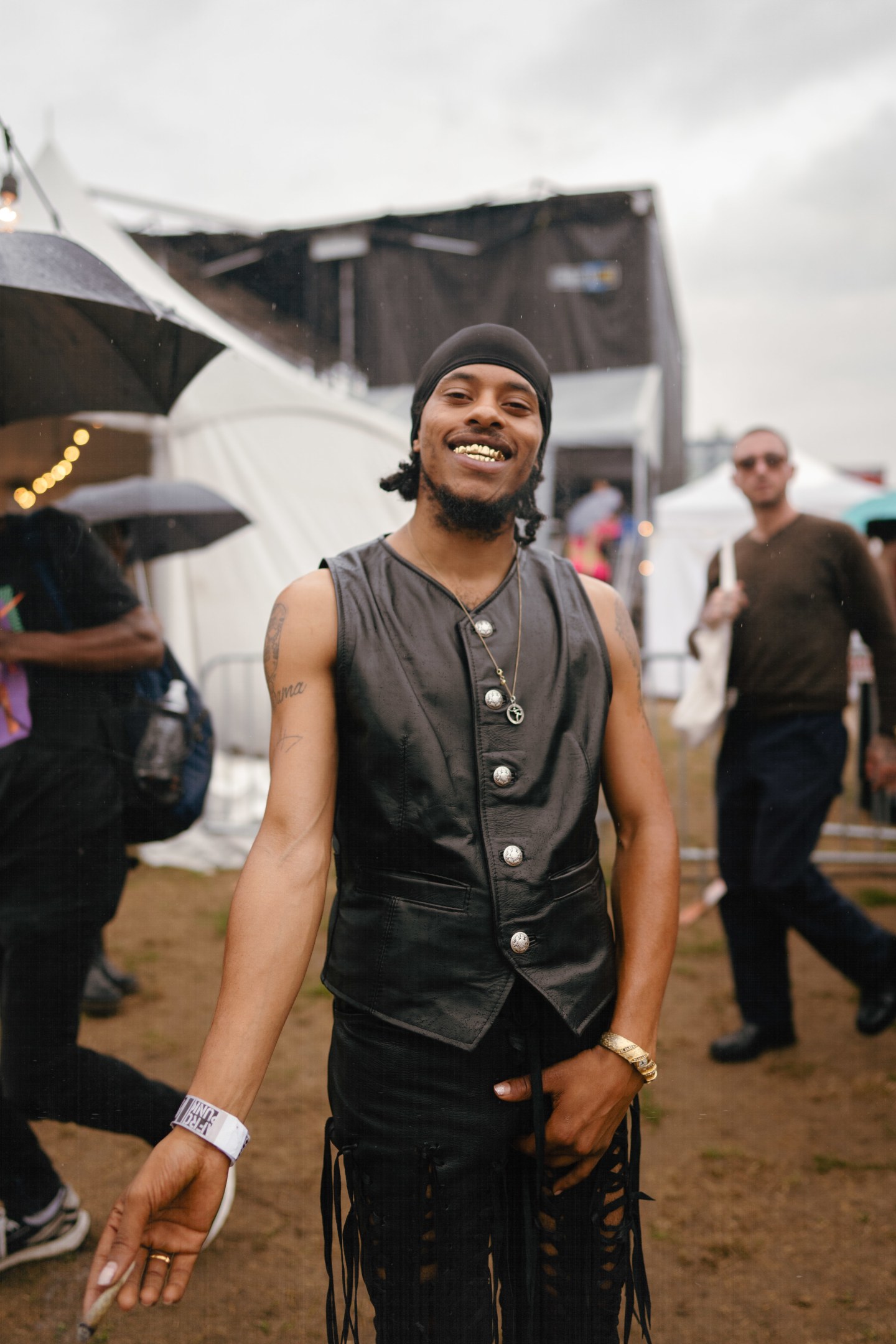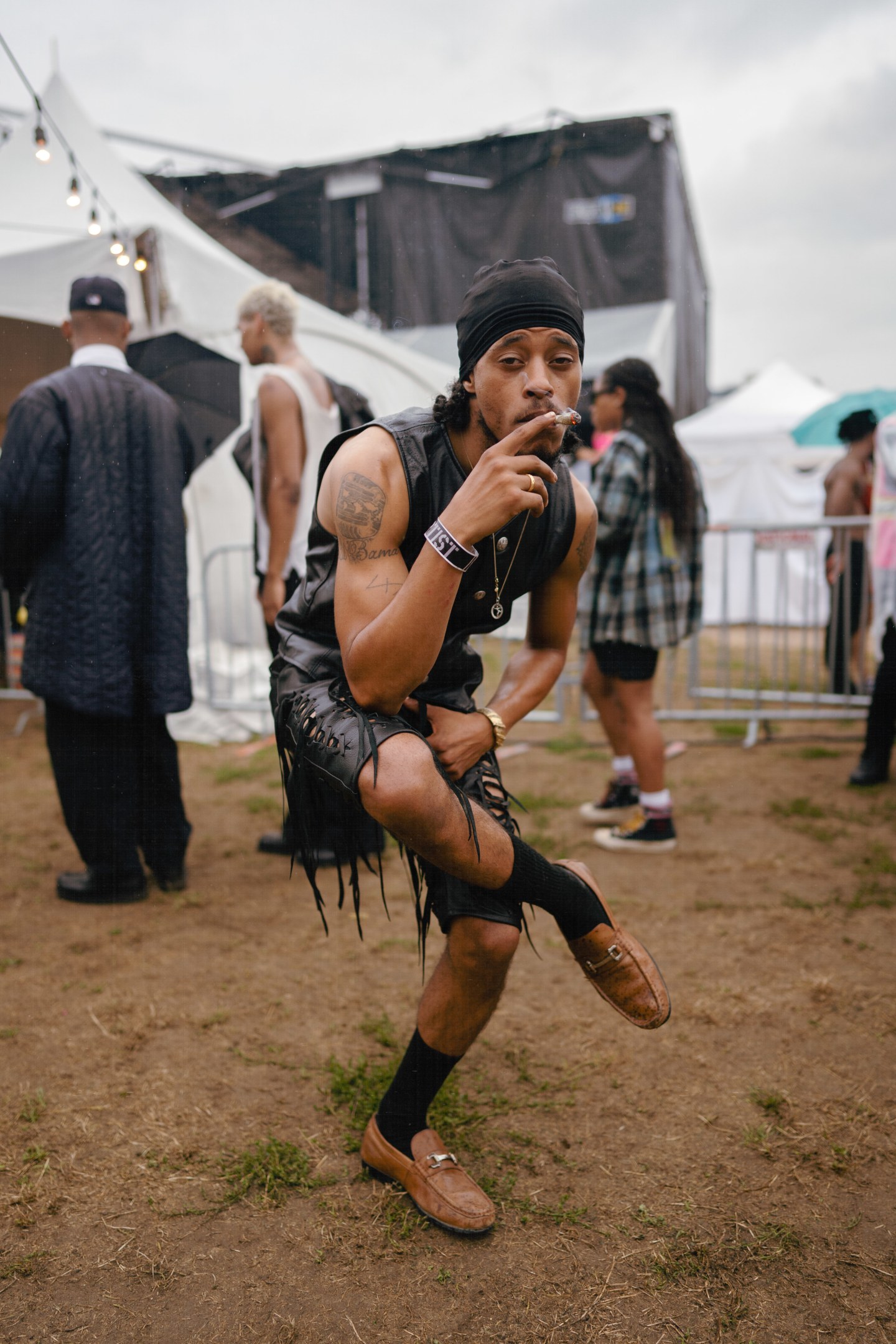 Bartees Strange, who took the main stage after Siifu, was far from stiff, but the Oklahoma-via-Ipswich singer-songwriter's workmanlike approach contrasted sharply with the Alabama artist's wild energy. He's been touring since September 2021 — pausing only briefly to release his sophomore album, Farm To Table, in June — but the effects of this constant performance showed less as wear on his tires than as effortless showmanship.
Like many of the artists who played Afropunk Brooklyn this year, Strange seemed genuinely touched by its majority-Black fan base. Since being brought into the fold of long-running indie label 4AD, he's toured with Lucy Dacus, Courtney Barnett, and Carseat Headrest, undoubtedly playing for more than his fair share of lily-white crowds, and he expressed relief at the change of scenery. Saving the best for last, he ended with "Heavy Heart," a gorgeous rock ballad that should replace whatever song currently plays in the city of Toronto's tourism ads, lingering — though not a second too long — on the song's explosive, guitar-driven outro.
The small stage saw more than its fair share of talent Sunday too, with New Orleans' Ambré playing a similarly axe-forward, rock-tinged R&B set that had the whole crowd swaying in the rain. Mick Jenkins followed two acts later and put on a clinic in vibe, commanding the crowd completely with his deep, steady voice — and some help from the world-class guitar-bass-drum-DJ quartet behind him. There were some corny moments sprinkled throughout the show that — for this writer, at least — detracted from the immediacy of the moment. (The man did drop a song called "Consensual Seduction," after all, and one of his most popular tracks does contain the line "We was at Starbucks gettin' lost in these caramel apple spices.") Mostly, though, he made his striking sincerity — which, as Brandon Callender pointed out in a November 2021 essay, is part of a more tectonic shift in hip-hop's zeitgeist — work in his favor; so much so that when he asked such curiously worded questions as "Are y'all having a good time to the sound of my voice?," the response was always a resounding yes.
Back at the main stage, Afrobeats arrived in the form of Adekunle Gold — who rocked a smooth, stylish set in the early evening to a rapturous audience — and Spinall, who spun slick beats side stage after New Orleans pop sensation Lucky Daye had his way with the whole park. With a mind-boggling vocal range, pinpoint precision, and a strong setlist of lovemaking tunes, the early American Idol contestant is stepping confidently into his Usher era.
Sunday night's headliners were experimental rap hero Earl Sweatshirt on the small stage and Afrobeats megastar Burna Boy under the big lights. Backed by Black Noi$e on the decks, Earl's set was a strong contender for the festival's best — intentionally slow and meandering without ever losing its center. He opened with the 2013 cut "Molasses," faking the audience out by stopping before its incendiary refrain ("I'll fuck the freckles off your face, bitch") and musing that he might have to cancel those of us who continued rapping along nonetheless. Of all the acts at Afropunk 2022, Earl had the most powerful backstage cheering section — a veritable underground A-list from whence legendary weirdo ZelooperZ emerged, his wiry 6'7'' frame towering over the 5'9" Earl, to mutilate and murder his opening verse on their joint track "Vision" from Earl's most recent record, SICK!. Other highlights from his set included an ongoing testimonial for Ruffles© chips and an insane bit where he got everyone to put their hands up, claiming the cops were on their way, before Noi$e abruptly dropped the beat to "EAST," a fundamentally un-danceable track to which everyone on stage danced enthusiastically.
Despite the natural elements working against it, Afropunk 2022 prevailed and — from an audience perspective, at least — ran more smoothly than could be expected. Three years after its last visit to Brooklyn and two years after the historic protests of summer 2020, the festival's return was an urgent, triumphant affair.