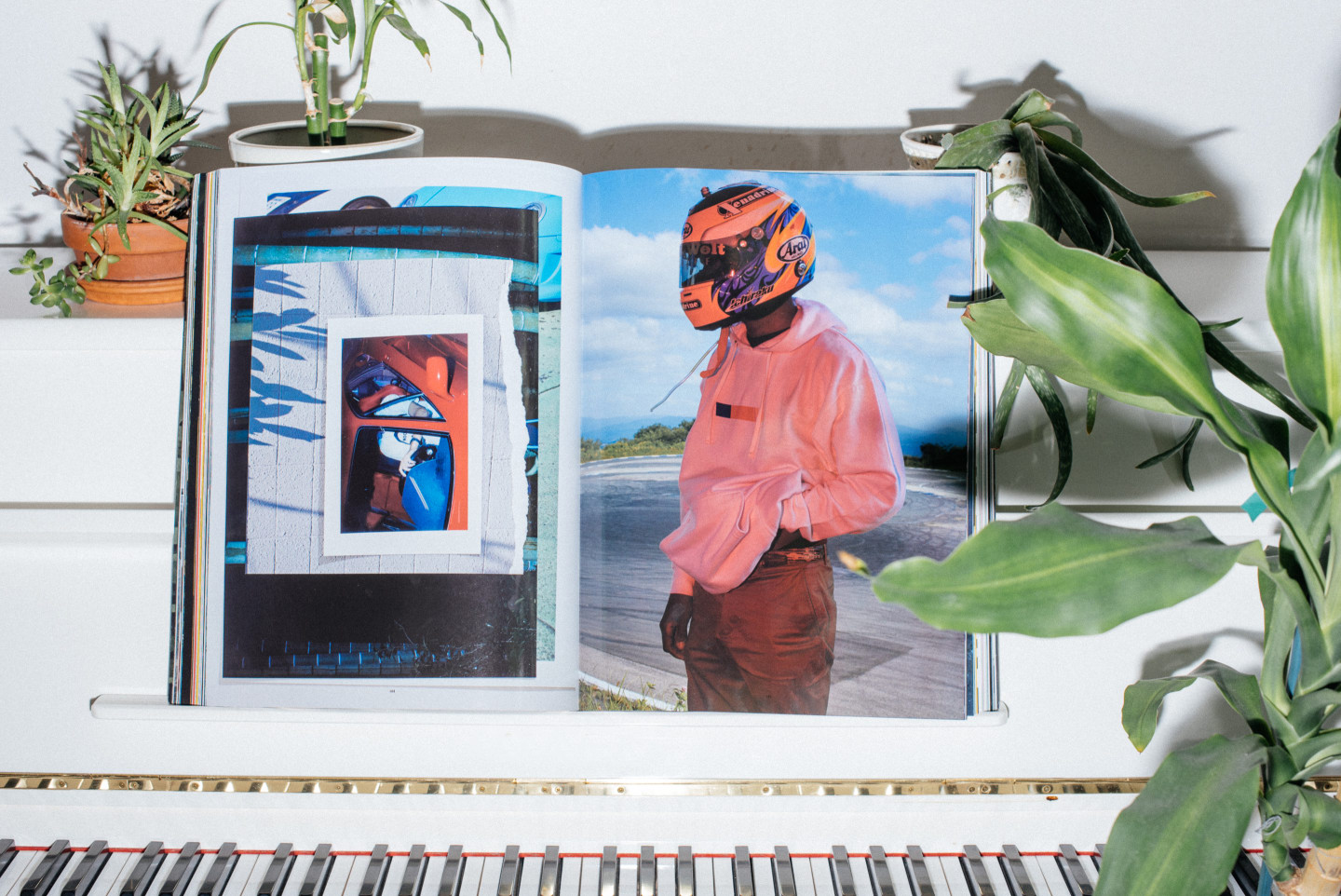 A funny thing about Frank Ocean having amassed a cult following so rabid that fans held torches at the door of his Tumblr for a whole year is that the artist himself is absent from much of Channel Orange, the somnolent 2012 album that turned him into some new version of a superstar. Ocean spends much of that record either in character or observing them: there's the disaffected brats of "Sweet Life" and "Super Rich Kids," the junkie of "Crack Rock," the pimp of "Pyramids." Even "Bad Religion," the consensus showstopper and song that reads as the album's most personal, is rendered in a way that positions Ocean less as a tangible human in the world we inhabit and more like the lead protagonist in a film. On "Forrest Gump," for my money the album's most affecting song, he literally sings to one.
If you count yourself as a member of said cult — which, full disclosure, I do, though I leave my torch at home — it was not because you connected with Frank Ocean so much as he connected with you. If you didn't see yourself in his stories, exactly, you at least shared desires (usually of the longing variety) with his characters. Gleaning anything about the real Frank Ocean from Channel Orange was essentially a practice in breaking code — hence, for instance, the ongoing debate about the exact nature of his sexuality, or the mostly wild-ass interpretations of his songs on Genius. This all seemed to fit an artist who reacted to being discussed in the same terms as pop stars like Rihanna and Beyoncé by retreating from the spotlight.
What makes Blond, the centerpiece of the mixed-media campaign that is his long-awaited follow-up, a bewitching record in its own right are the ways in which it both deconstructs and bolsters the walls Ocean has built around himself. He spends much of the entire album speaking in terms that seem, or are, strictly autobiographical. The second part of "Nights," for instance, retells a slice of his post-Katrina, pre-fame gestation period, and on "Futura Free" he sings of the transition from making minimum wage to making millions. The album is also peppered with references to familiar names, and real people who touched Ocean's life: Tyler, the Creator, Syd tha Kyd, A$AP Yams, Pimp C, and Trayvon Martin. Later on "Futura Free," he addresses his mother before turning to the listener and breaking the fourth wall, saying "I should be paying y'all, honest to god." He raps twice, and quite vividly, about his balls.

Like Channel Orange, Blond has a gaping maw at its center — an unfulfilled yearning for comfort, a desire to be soothed, though still not a fatalistic one, as "Nights" elucidates ("Wanna see nirvana but don't wanna die"). Yet this time Ocean does not use characters as a vector to wail into that maw, though there are hints that Ocean may have adopted the name Glitterboy, which appears in his magazine and is his handle on Snapchat, as a new sort of persona. Nonetheless, on these songs — like "Ivy," which opens with Ocean singing, I thought I was dreaming when you said you love me — his "I"s more often feel like they refer to specifically to him and the "you"s specifically to, well, someone. Obscured from us, sure, but there, somewhere, nonetheless. The muffled interlude "Good Guy" — Here's to the gay bar you took me to/ It's when I realized you talk so much more than I do — feels like his most intimate song ever.
Still, Blond is also distanced. Its main themes are isolation and escape, which it makes clear both overtly and not. "Solo," the album's catchiest song, ruminates on a depressive sort of mondegreen (when does "solo" become "so low"?), and "Self Control" contains its most striking imagery: Keep a place for me/ I'll sleep between y'all, it's nothing. Perhaps as a reaction, the album returns to drug use frequently. A hilarious voicemail interlude from Ocean's mother calling stoners "sluggish, lazy, stupid, and unconcerned" is juxtaposed against weed's therapeutic qualities: "a cheap vacation" on "Nights," and on "Solo" as a kind of companion.
The subtle nods towards disappearing make for a richer listening experience. The album is heavy on guitar strumming and features very little percussion, as if Ocean recorded it off somewhere by himself. We know, looking at the long list of collaborators, that he didn't, but even that roster is used as a sort of weapon. It can sometimes be difficult to tell if you're hearing Ocean's voice or that of one of his friends. Several of the album's songs utilize pitch-shifted vocals, a tool that in this context feels like a cloak. With this album Ocean brings us closer to him, but also constructs it in a way that allows him to disappear into the crowd.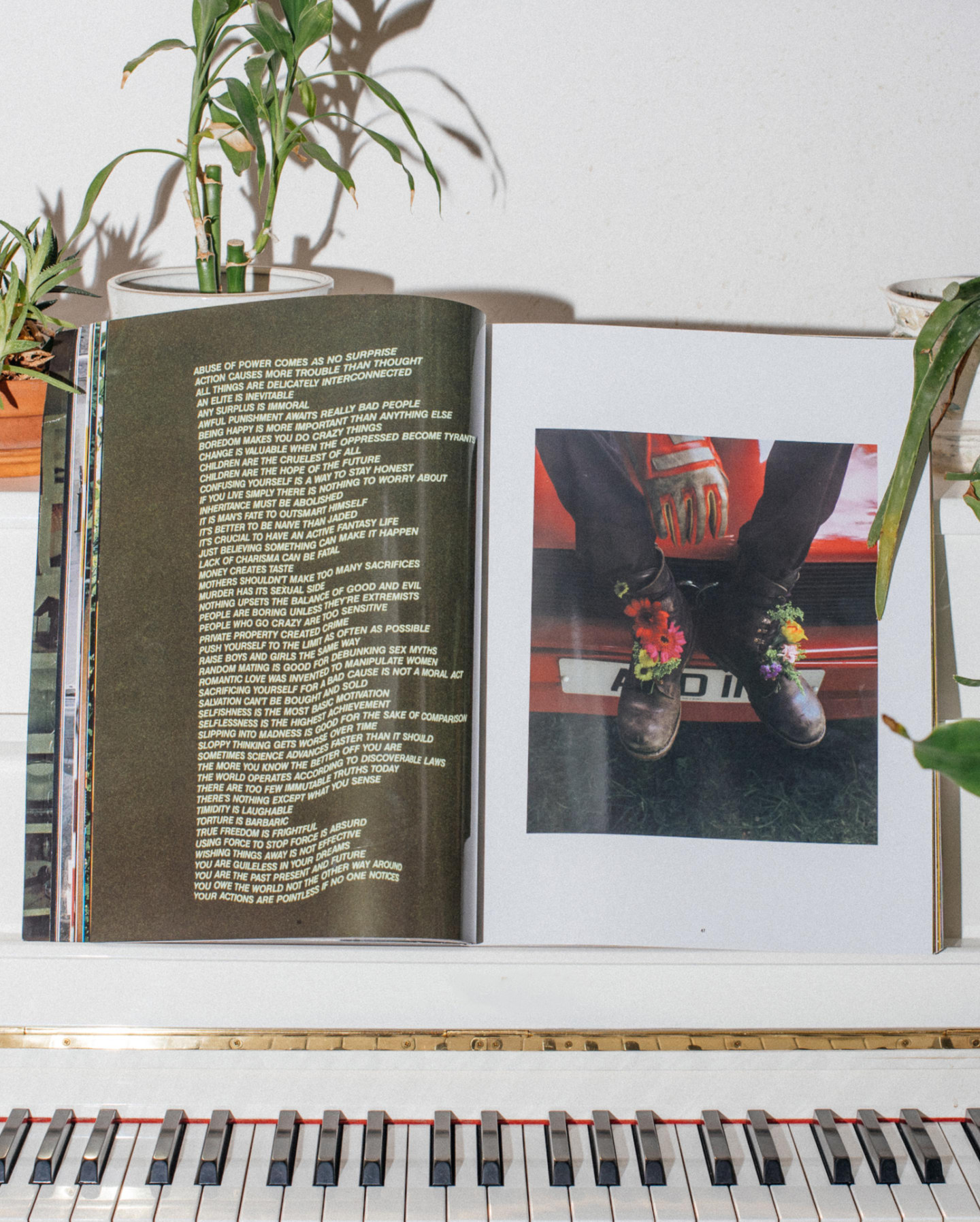 Blond's companions — Endless, the visual album, and Boys Don't Cry, the 300-something page magazine that weighs as much as a newborn — heighten this paradox. One is purposefully inscrutable, with a resounding question — "Why a staircase?" — that feels like part of a zen koan. The other takes Ocean's life and his obsessions and places them in your lap to be sifted through. Boys Don't Cry is just about as personal a work as an artist of his stature could produce, down to the (curated) screenshots of his desktop and internet history.
We can each make of this all what we like. Blond is the meatiest part of the overall project, but its intimacy with the listener does not make its flow coherent. If Channel Orange felt pleasantly dreamlike, then Blond is more like the foggy feeling you get upon waking back up to reality. Still, it feels uniquely revealing. Ocean speaking more specifically about his own life across the album means that, for one, his sexuality feels less slippery here, and in turn, even more representative.
To the extent that I do think about that actual man behind the music, I remain most struck by a photo essay shot by Ocean that appears at the beginning of the magazine. It's called "Glitterboy Down" and it depicts Ocean and some boys in various states of undress messing around with vintage hatchbacks. They are in Munich, in what appears to be a forest, among the trees. The sky is a misty grey color, and they are alone. It is subtitled "Best Day Ever."