How To Win Every Sound Clash You Enter
According to Brooklyn sound system champions King Addies.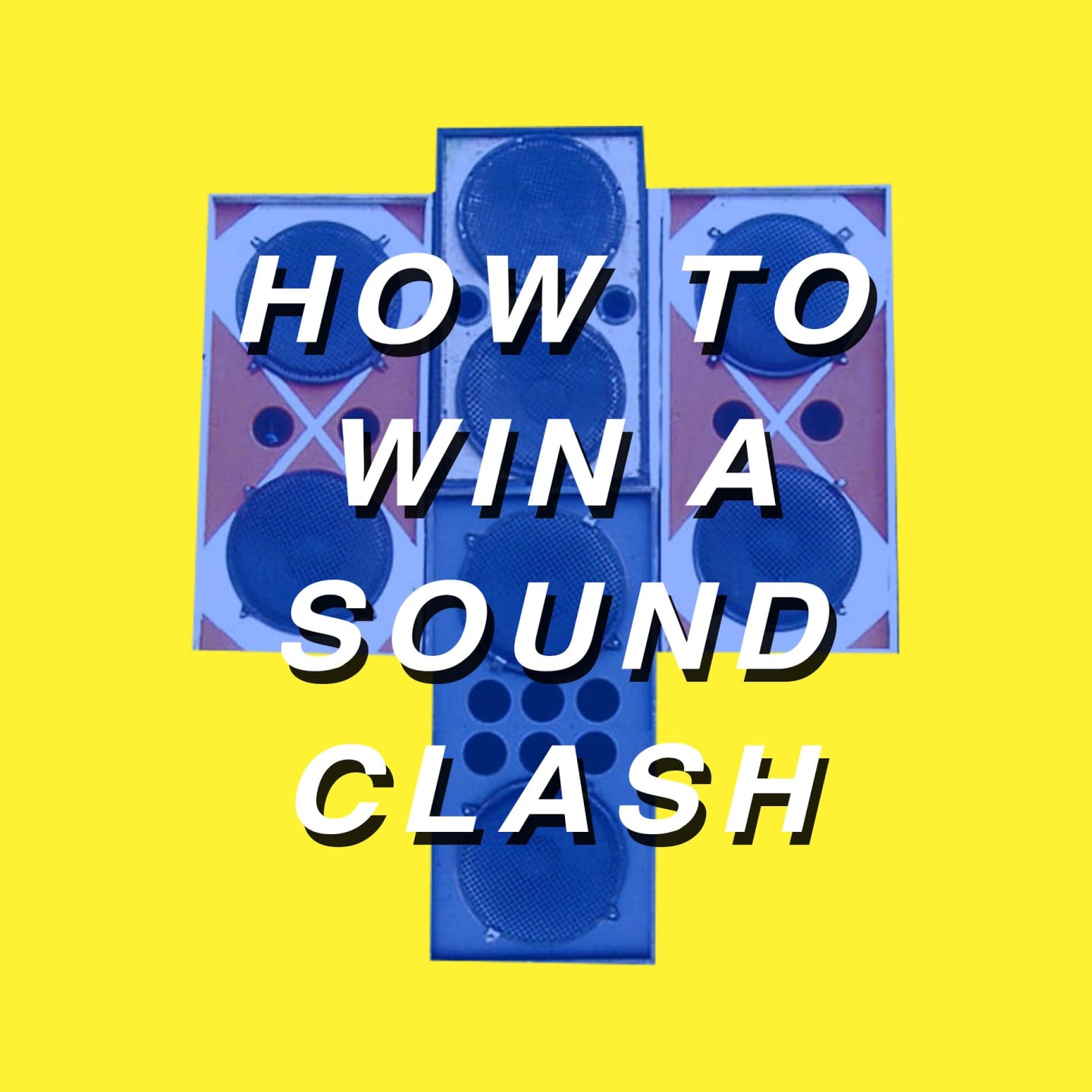 What if I told you that there's an exclusive remix to your favorite song but only one DJ had it? That's one of the many joys of sound system culture. Originating in Jamaica in the 1950s, a sound system is the proto DJ collective: a crew of music selectors, engineers, and MCs who, through smart curation and live vocals, create reworks of reggae and dancehall records on giant, homemade rigs of speakers and turntables. Go to the root of a lot of contemporary music, including hip-hop and grime, and you'll find the sound system. Today, sound system culture is still going strong in Caribbean communities around the world — and performing at parties is just the tip of the iceberg. Sound systems gain notoriety from doing sound clashes, which provide the opportunity for different crews to go head-to-head against one another to see who has the best mixes, dubplates, and overall control of the crowd. The winner leaves with the title of best system and bragging rights.
One of the greatest sound systems in the States is Brooklyn's own King Addies. It was founded in 1983 by Adolf Addies and his friend Baby Face on the corner of Sterling Place and Schenectady Avenue in Crown Heights. While building the sound system started out as a pastime for two music lovers, they soon started stacking up sound clash wins. By the 1990s, they were the only American sound system to hold their own at the top and take on the Jamaican sound systems that had held the crown for so long, beating them all at one time or another. True to their name, King Addies cemented their reputation at sound clashes overseas, winning acclaim everywhere from Switzerland to Japan.
Over the years, King Addies has evolved, adding new young selectors and engineers to the team. The current line-up features A1, Swugee Don, Danny Dred, Killa B, Viper, and King Pin. Overseeing everything is Father Ethan, a cousin of Adolf Addies's, who came on-board back in the early '90s. He manages the crew and selects team members for each clash. While the squad may have gone through a few reincarnations, one thing has yet to change: King Addies's domination as one of the best competitive sound systems to step up to the turntables. To find out how they do it, The FADER caught up with A1 and Swugee Don. So whether you're thinking of stepping into the sound system scene, or simply want to up your aux cord game, read their top tips on how to win a sound clash.
Draw on your connection to the music
Swugee Don: "For me, growing up in Brooklyn, my grandparents on my father's side had a brownstone on Eastern Parkway, which is in Crown Heights, and the area sound was [King] Addies. I witnessed that and since [I was a] kid I admired that sound like that was my sound. Just how somebody will have a football team that they like, I was fortunate enough to end up on my sound. It was always my sound."
Be dedicated to your craft and practice — a lot
A1: "King Addies has always seemed to get people that were dedicated to the task, that had a real never-give-up spirit. It's one of the things that Father Ethan talks about: 'Yo, you guys just never give up.' We put in a lot of work behind the scenes."
Swugee Don: "You just gotta put in your work. You just gotta work, work, work, work because here's the thing — sound system is very generational. You have to [practice]. Whether it be once a week. Whether it be two times a week. Whether it be three, if we're available we do it. No ifs, ands, or butts. It's a standard pretty much."
Know your history, so you can create your own sound
Swugee Don: "We didn't build Addies, [so] we need to study what the previous fans of Addies really like about Addies, and then create our own identity in doing that. So we can get the crowd amped up and just creating that identity to keep Addies fans but also to get other fans."
Study your opponent
Swugee Don: "The thrill about sound clashes is really getting to where you gotta study your opponent. It's like literally listening and watching videos. You kind of study their moves. You study how they act."
But don't practice right before the show
Swugee Don: "You try to get as free minded as possible and not listen to dubs anymore because we're going to go into battle and you just wanna...it's like going to take an exam. Before the exam you try not to study anymore, right? I'm gonna free my mind. I'm going to do everything else besides study. And it's basically the same thing, you know."
Balance your team's strengths
A1: "We all have different personalities. I can be an asshole to some people but I've also learned that [in] the game today you should be more friendly. But then Kingpin isn't really that friendly when it comes to competition. It's kind of good because you get the good cop, bad cop type of thing."
Swugee Don: "There's a lot of time when there's different events, different dances, different clashes, different opponents. When management [chooses] how they're going to approach it, 'Alright A1, this sounds like your style, you're going here. Kingpin, you're perfect for this dance, you're going here.' If they mention soca, I know soca, but I'm not great at playing it. King Pin's wonderful at it. A1's great at it, you know what I'm saying. So it balances."
And stay humble
A1: "Seriously, I do not celebrate. I don't think there's ever been a clash [that I've celebrated], no matter how big. I just kind of want to know what's next. Not saying that members on the team don't celebrate. But for me, I'm just a what's next type of person. No accomplishment is too big to celebrate until we're at some type of DJ Khaled level. Even then it's still going to be, 'Yo, what's the next key to success here?'"
Take the good with the bad
A1: "I don't got a favorite part [of being part of King Addies]. [I love] everything about it — even the bad. Someone once told me you don't love something for the pros, even in a relationship. It's the bad — once you can like the bad, that's when you love someone or something. When you acknowledge the bad and say, 'Yeah, I'm still rocking with this.' So it's literally everything about it, from the needle to the speaker wire — everything."
Remember, it's never over 'til it's over
Swugee Don: "A clash can change at the very last second. You can never let your guard down because it can just be that one thing that you say at the end that makes the crowd just switch and go to the other person's side — it can be so critical. Like when it's done, it's done but until then you should be at 100 like the entire time."
And above all, be confident
A1: "The truth is King Addies are badman. That's just what it is, right."