How Three Caribbean Restaurants Help Keep Brooklyn's Island Pride Strong
The people behind Gloria's, Veggies, and Peppa's on how they've made the borough a home away from home.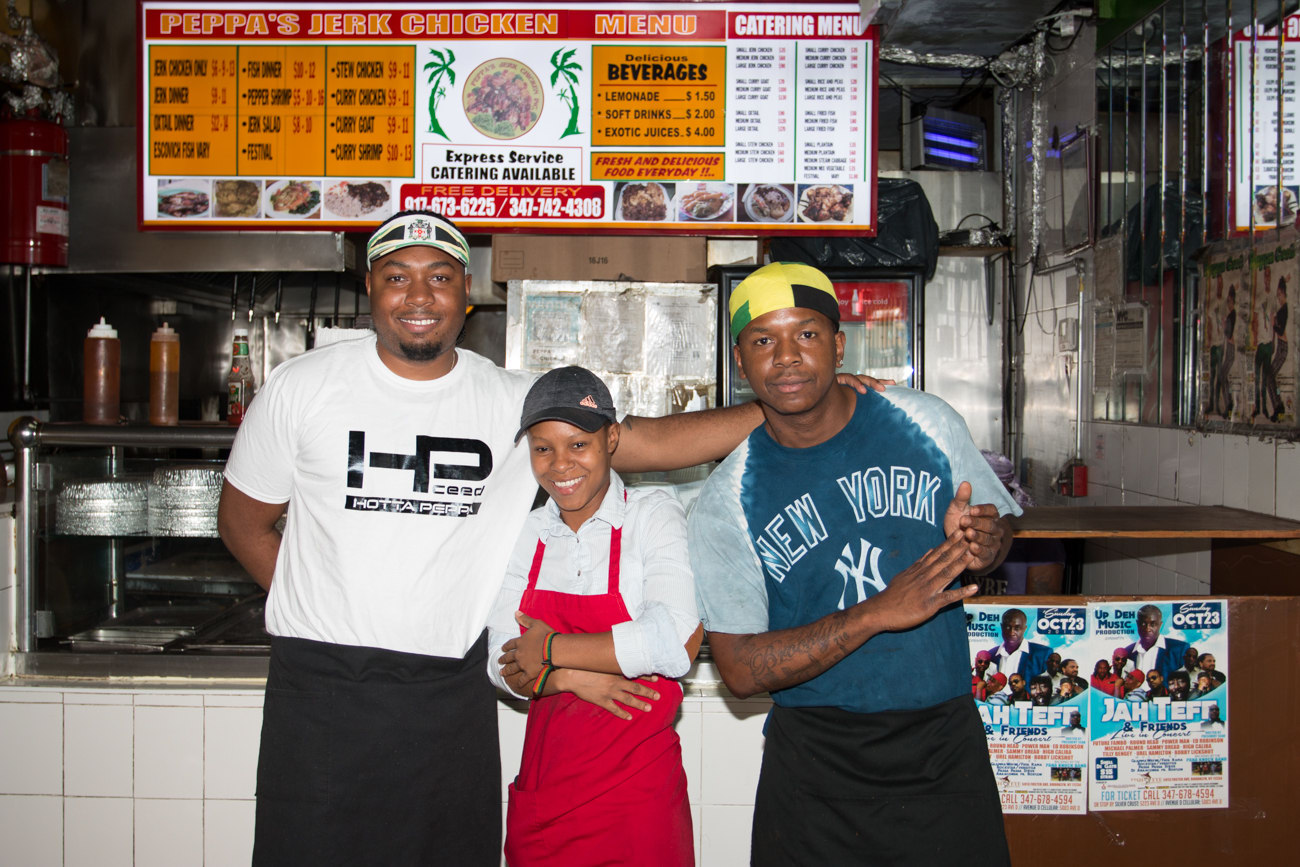 Brooklyn is filled to capacity with hundreds of places to eat. Sometimes, finding a unique place to dine here can be a scavenger hunt in itself. But what sets Brooklyn apart from neighboring boroughs is the prevalent, interdependent Caribbean culture that exists in areas such as Crown Heights and East Flatbush. In fact, the heavy Caribbean presence that has existed here since the late '60s solidifies Brooklyn's reputation as a cultural — and culinary — force. Anyone who's visited Flatbush or Crown Heights knows what I'm talking about: thick smoke floating from jerk chicken being barbecued on a grill, constant horn-squeaks from dollar cab drivers hounding for a fare, Beres Hammond and Sanchez tracks playing outside of tiny, closet-sized storefronts year round.
But if you've been to Brooklyn and never tasted Caribbean cuisine from some of its landmark spots, then you've already played yourself. Still, the hometown heroes who run restaurants, new and old, contribute more than just a plate a food to Brooklyn — they are a part of its past, present, and future. As neighborhoods throughout the borough undergo various phases of gentrification, The FADER spoke to the people behind Gloria's, Veggies, and Peppa's about their work and how they preserve their culture and embrace Caribbean pride.
Read their stories below.
1. Gloria's Caribbean Cuisine
764 Nostrand Ave, Crown Heights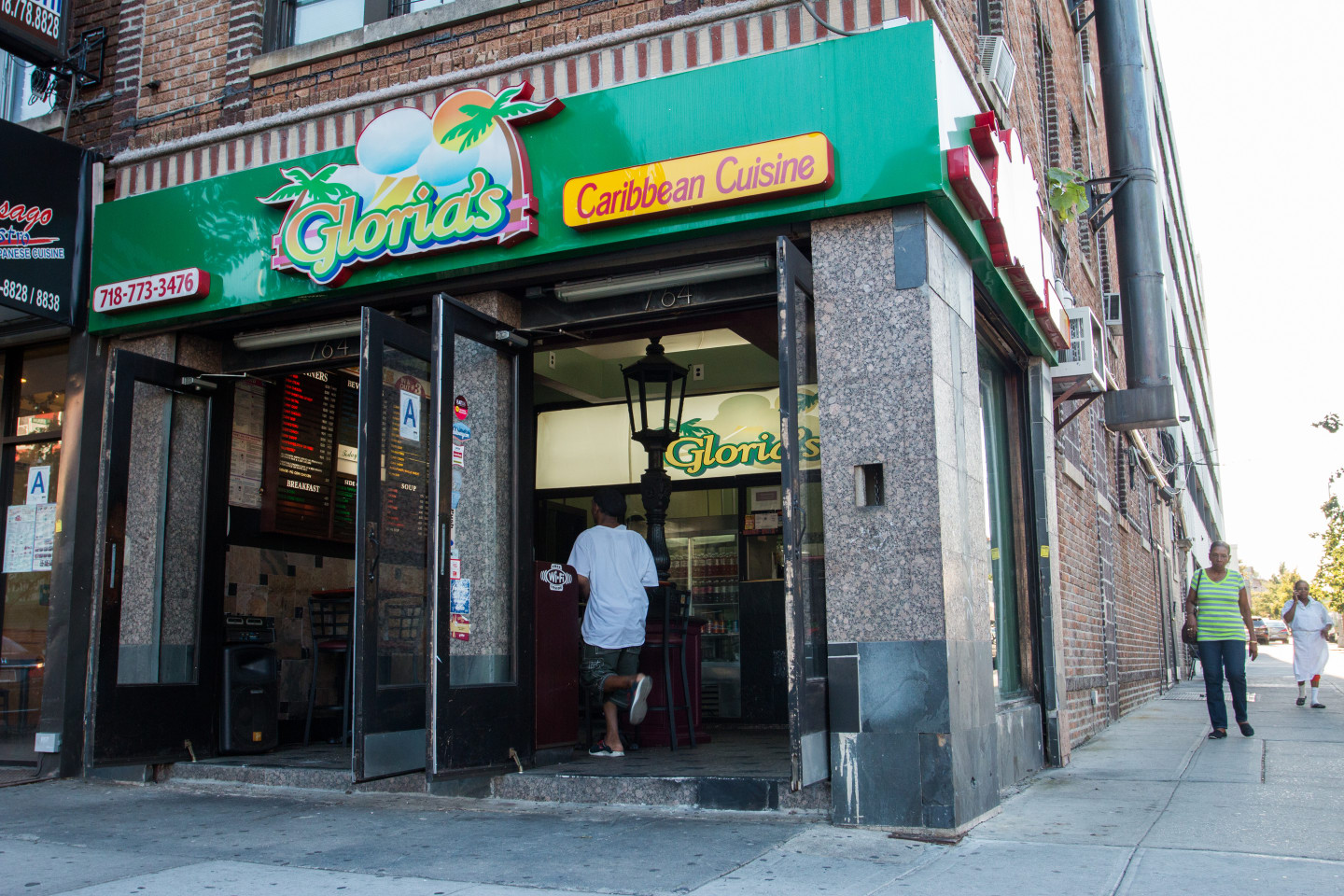 BRYAN CUMBERBATCH: Gloria's is a family business —I was actually born into it. My grandmother, she is Gloria. She came here from Trinidad in '73. The business has been up since 1974. When Gloria's was first opened, she wanted to start a legacy — which she did — and since I'm the new generation, I have to keep that up. Growing up, I'd see her work real hard; on her feet for 15, 16, 17 hours a day, at sixty-something years old. She was still going hard; she's my biggest role model. I can't see this place go down — no way. When I get older, I already intend to pass this down to my kids, show them how it's done. I already had them start [cooking], to know what it is to "work." Everything in life, you gotta work for — to get where you gotta go. And nothing comes easy, that's how I was raised. Hard work pays off.
There is no average day here. As soon as lunch, 12 p.m., 1 o'clock hits, it's a mad house. It's like you're working out in the gym for, like, ten hours. Sometimes, I have to run away from here to catch a little breath. But doing it for all this time, I love it, I'm used to it. I love what I do. Some people who are in it might say, "It's hard work, long hours." If you're your own boss, you gotta make your own time, you have to set your own standards. I'm a family man, married for fourteen years, four kids. I hear it from my wife all the time, "Babe, you not coming with us?" But she knows, my family knows, we have a goal to accomplish, That's what I love about my family — they always back me up, especially my wife and my aunt. We got a job to do, and we just do it.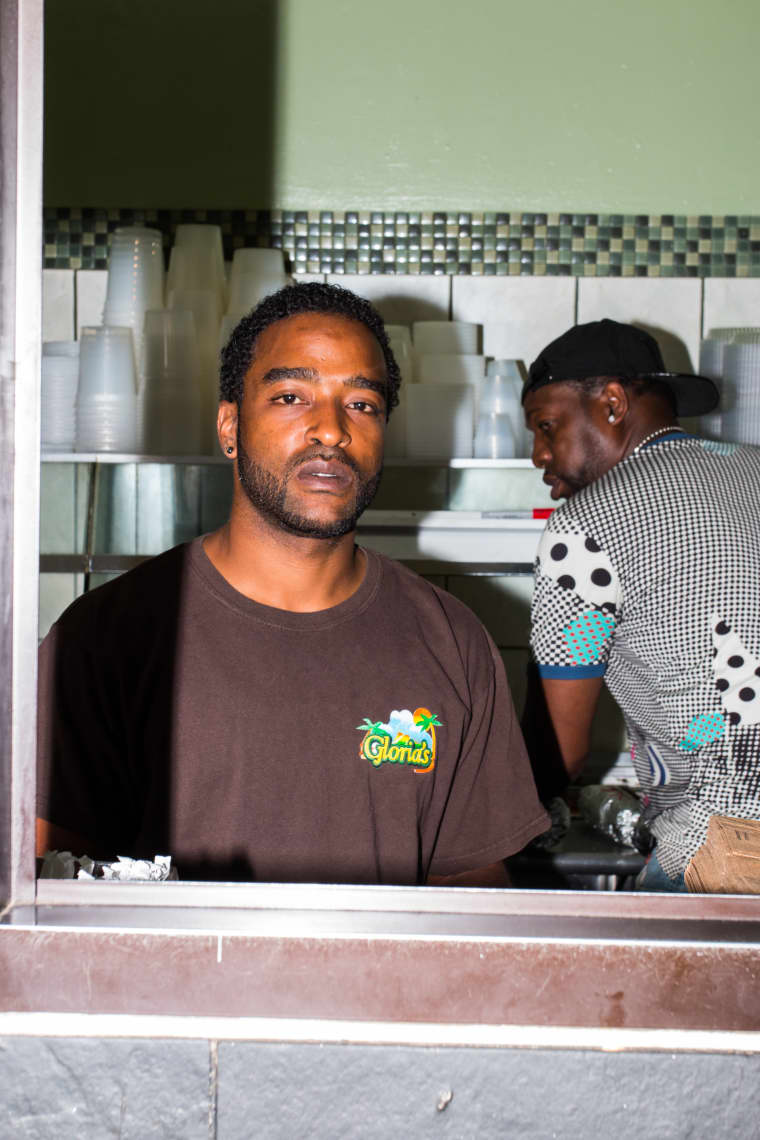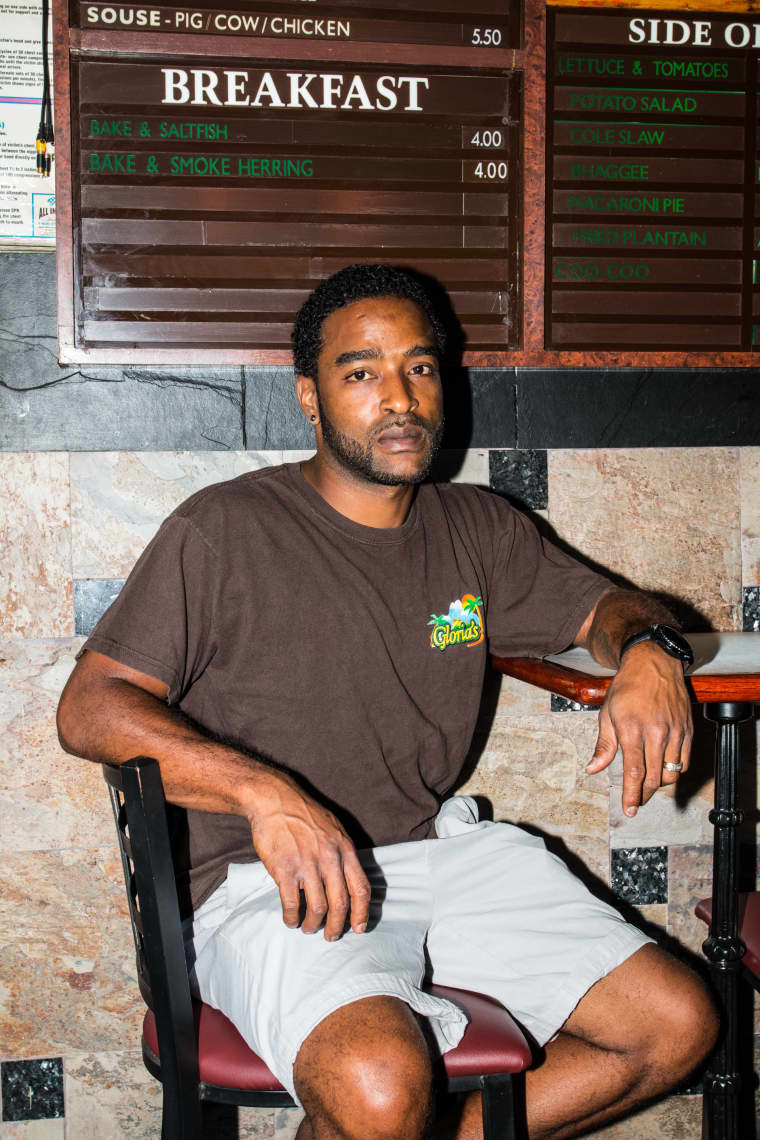 One thing we don't worry about is competition. For us being here for so many years, we don't even think about that. "Caribbean Brooklyn" — we try to keep it strong on this side, to have the culture remain in the neighborhood, because we see many restaurants: they open, and they close, and they don't last too long. It's how you do your business. The amount of years we've been here, and the kind of feedback we get from people, it makes us feel like we're doing something right. It's not, "If we like it, the people like it." It's not about what we think, it's about what the people think. There's not just "one kind" of people out here. We show everybody love, everybody comes and eats. We attend to them, we make them feel comfortable when they come here. Whatever they want, we go out and try to satisfy.
We have plenty of regulars that come in and spend hundreds of dollars — especially on the catering orders. We have a few celebs that we've dealt with. One is Beyoncé, she loves our oxtails. Anytime she comes to New York, she always sends someone to get it. I am family with Inga [Foxy Brown], that's my second blood. She's a big client here. Me and her practically grew up in the same house together. Anthony Bourdain, we did a show with him, No Reservations. Michael K. Williams, he's another very good customer of ours. He's local, he's always around here. I know when he's in New York, I know this is where he comes to grab something to eat. There's a few other [celebs], but you know, they always stay disguised. But we know it's them, they say hi and keep it moving.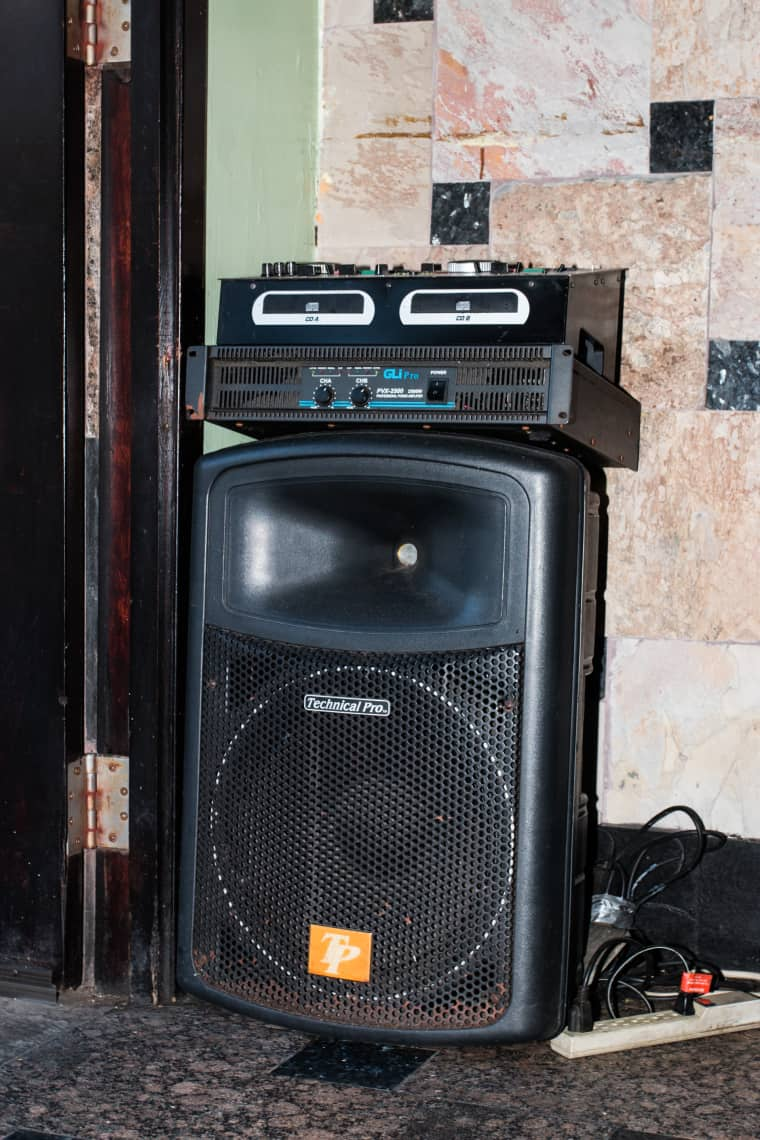 When customers come in, they're like, "Oh, you guys have Apple Pay?" Yeah, because you gotta keep up or you'll get left behind. I plan to do an internet cooking show. That's coming out around Christmas time. But a main goal for myself is to open up a culinary school for kids — because even my daughters, they like to get up and cook. Every time I'm cooking, they're like, "Daddy, what's this?" or "Daddy, what's that?" I know that there are kids out there that want to learn, but sometimes the environment they're in, they're trapped. When I do open that culinary school one day and, say, the parents don't have enough money to afford it, trust me, I'll find a way for that kid to get in there. He or she can learn something. It wouldn't be just one kind of food, I'll have a variety of foods to learn. I'll call an African chef, a West Indian chef, an Italian chef, and it would be the foods you like to learn. But that's my goal — to open a Gloria's Cooking School.
2. Veggies Natural Juice Bar
785 Franklin Ave, Crown Heights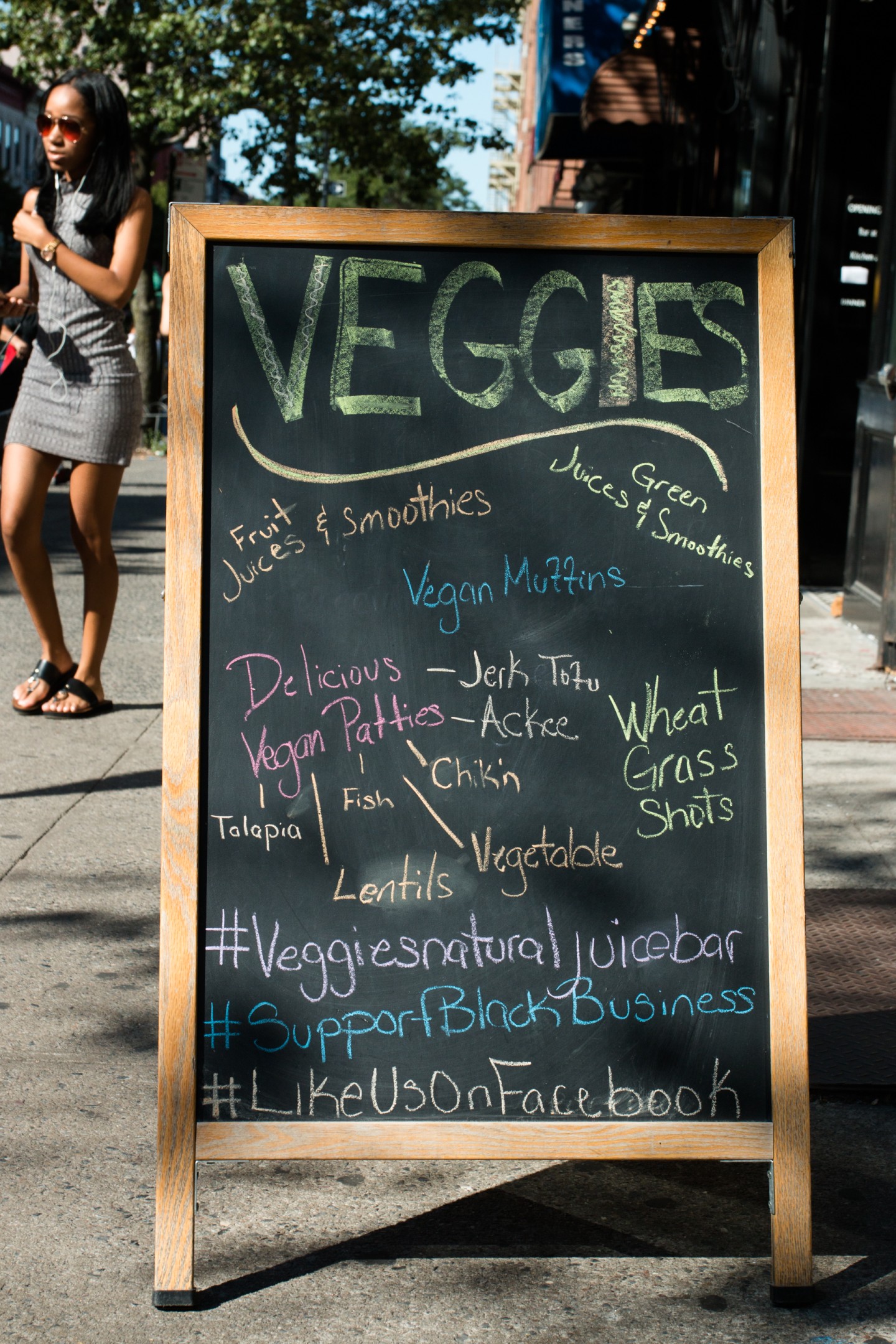 JAHMAN MCKENZIE: My mother and I opened this place up six years ago. She had a dream. She wanted to do a sit-in cafe type of place you could be comfortable to drink your tea. My uncle had a juice bar up in the Bronx, and so that's what sprung her to do this. Juicing is like a way of life; all of this is natural eating and drinking. My mom used to always make smoothies with us on Sunday dinner. She always had the ingredients. The healthy eating and vegan lifestyle, that still is my father. What is called "vegan" eating, we called "Ital" since the '60s. Now we see vegan becoming popular, when Ital always was part of our culture for years.
We get over a hundred transactions a day. You got your customers, then you got your loyal customers, and then you have the customers that love you, and then you got the customers that come when they can, when they can afford to because you know this is an expensive habit if you're doing it daily. And then you always have your visitors, your guests. It's a lifestyle, it's an investment, but an investment on your health. You'd go out and buy breakfast somewhere else, why not just buy a healthy smoothie? But a good customer, you become friends with that person. I have customers that have their own drinks on the [menu] wall. They were just "in it" with us. They spent their bread, daily, weekly. They would come and get their own recipes or try out new things, and getting it over and over again, I'm like, "You know what,throw this on the wall, throw that on the wall." They stick with us, they recommend us to people, talk highly of us. They're definitely up in it, with us. They're a part of the family, so to speak.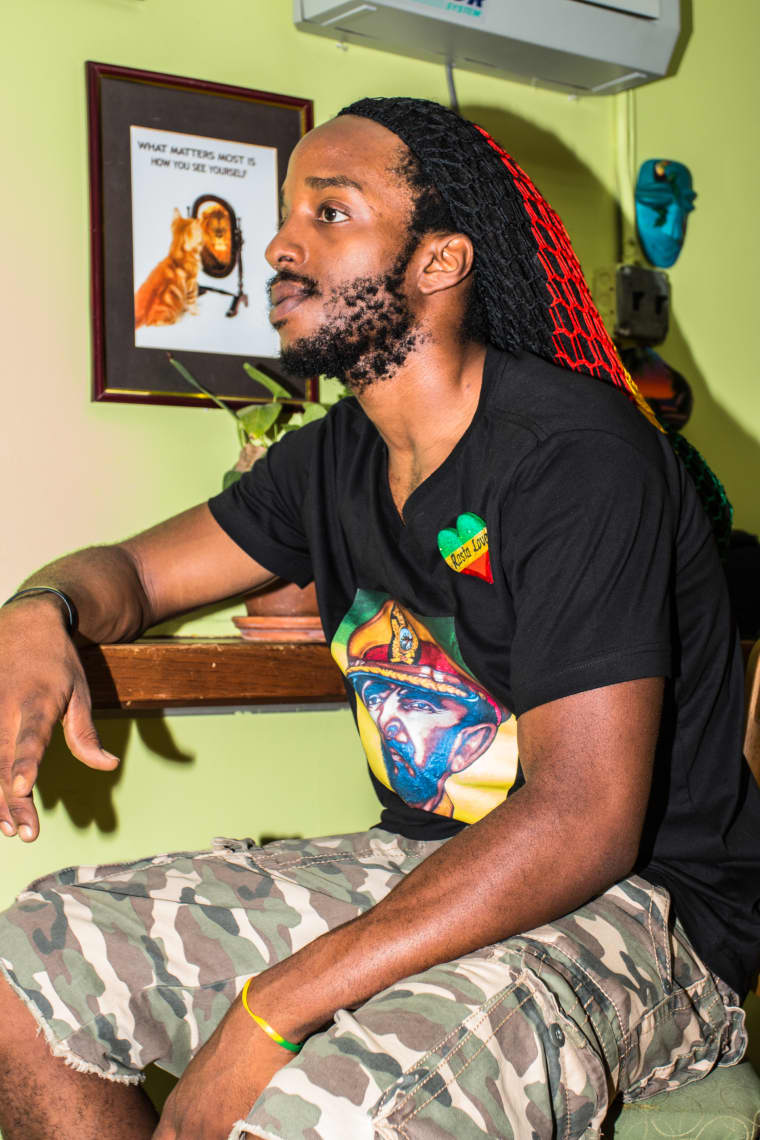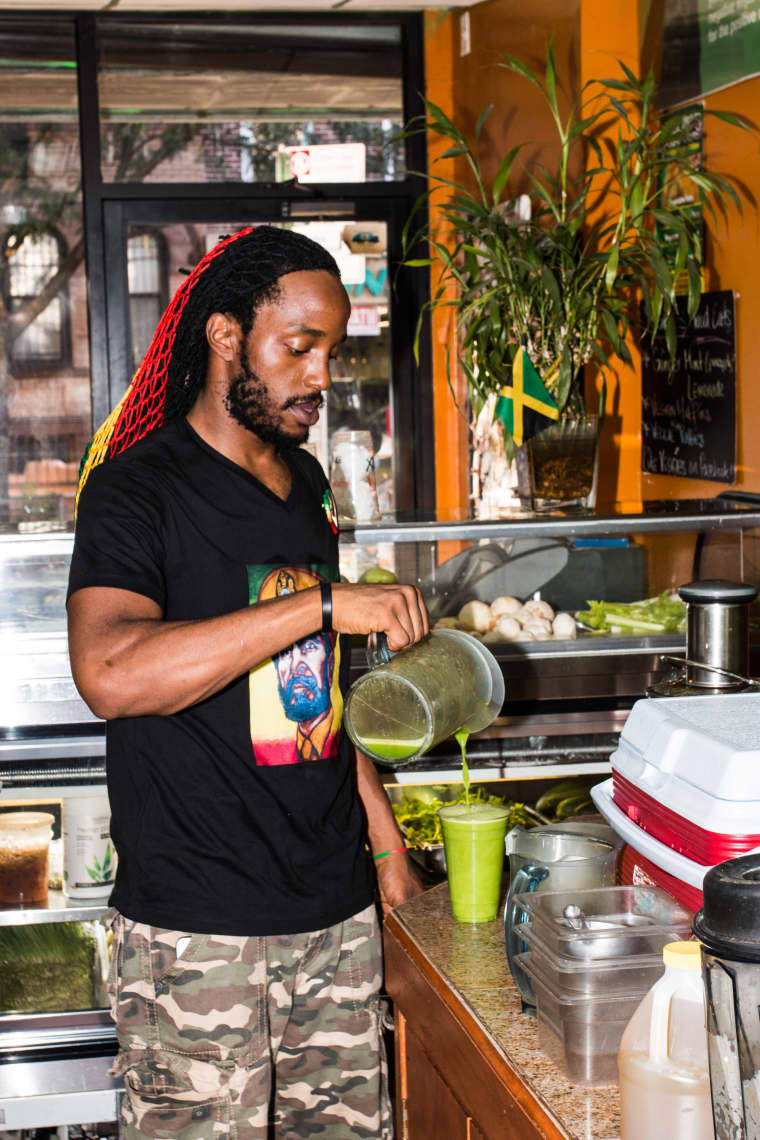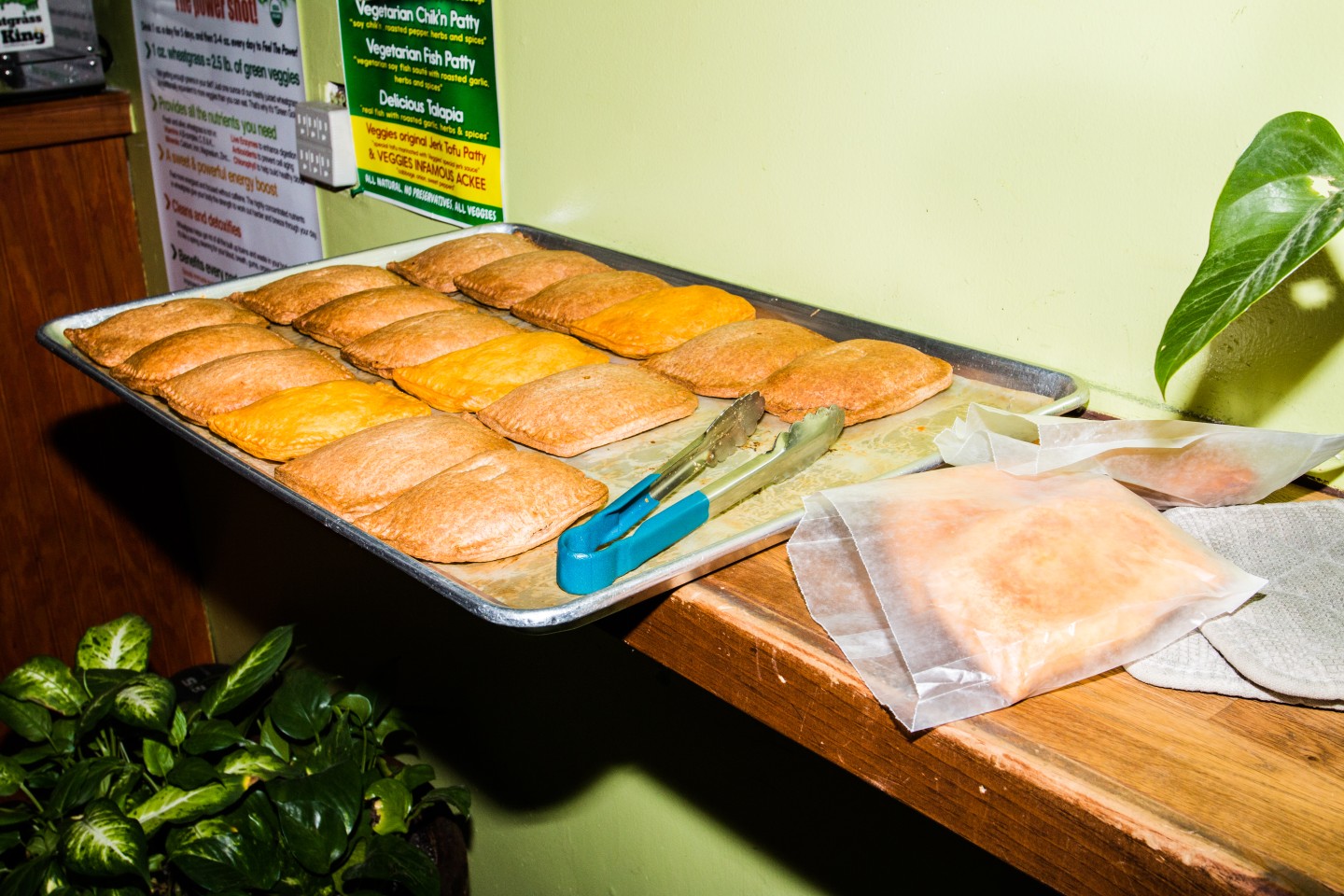 The neighborhood itself is cool. You meet a lot of cool people that come through here; they move here from wherever they were from and add their culture. But it's definitely changed and gentrified. And I don't think that's a one-hundred percent 'bad' thing — there's pluses and negatives to everything. My roots are in the Caribbean and in Africa, more so than they are here, so I got to represent that. I embrace it, I love it. I'm always playing reggae. I have to force the employees to mix it up whenever I'm in the shop. If I don't, they'll just stick to hip-hop, but when I'm working, reggae is playing, since day one. [Customers] come in and get to feel that. It puts them in a Caribbean atmosphere, even for a few minutes.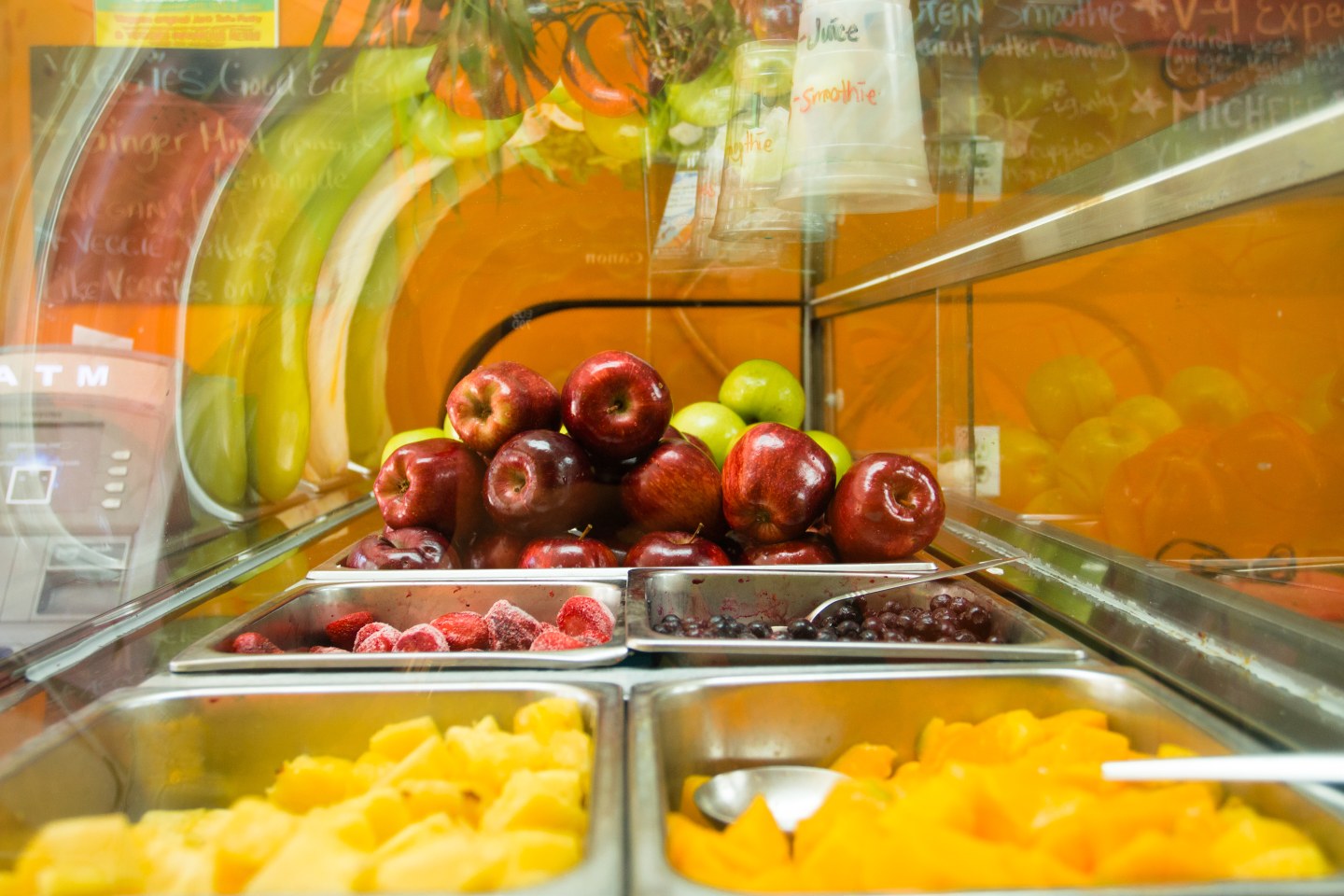 People think, "How do you do this stuff?" With a calm head, you can do anything and this is no different. I'm a mental chemist, I guess. Fruits and everything is just trial-and-error, and then after that, it's movement, then you get the feel. Also because I drink the shit everyday, I want to make it the way I would want to drink it myself. Nothing satisfies me more than making a drink for someone not used to this and just watching them enjoy it. If I can help someone enjoy something that's good for you and tastes good at the same time — that's my goal.
We're on pace with social media. There's always room for improvement: more advertising, more products, branding and building. The health consciousness in the world, the fact that people are going to want this, as opposed to the garbage they sell out there. Since I've been here, I've really noticed what I eat. I'm definitely not going to be here forever. I wouldn't mind opening up one of these wherever I go. And wherever I go, this is in my back pocket. I can do this anywhere because it's the same vibe I'm bringing to wherever it's at.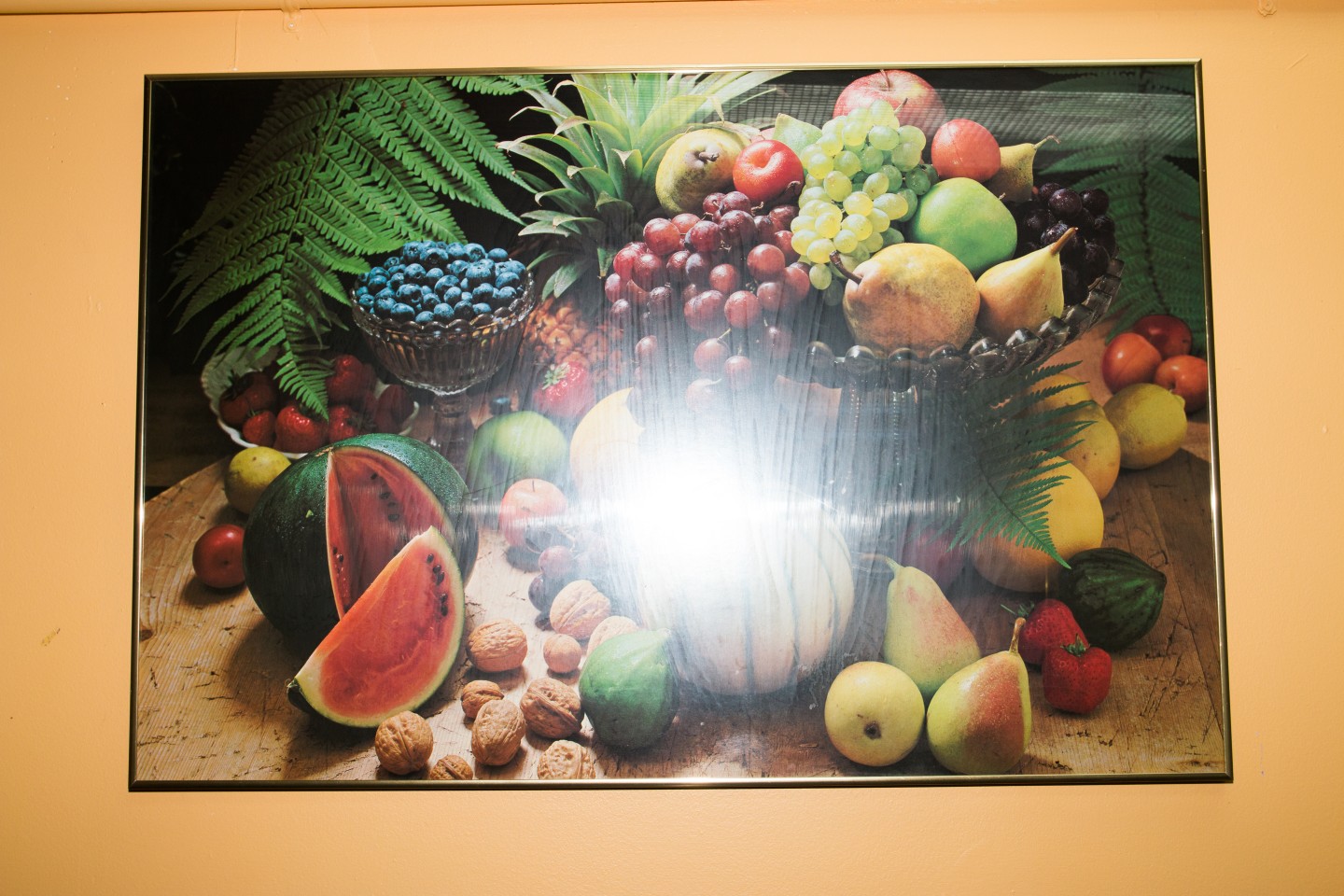 3. Peppa's Jerk Chicken
738 Flatbush Avenue, East Flatbush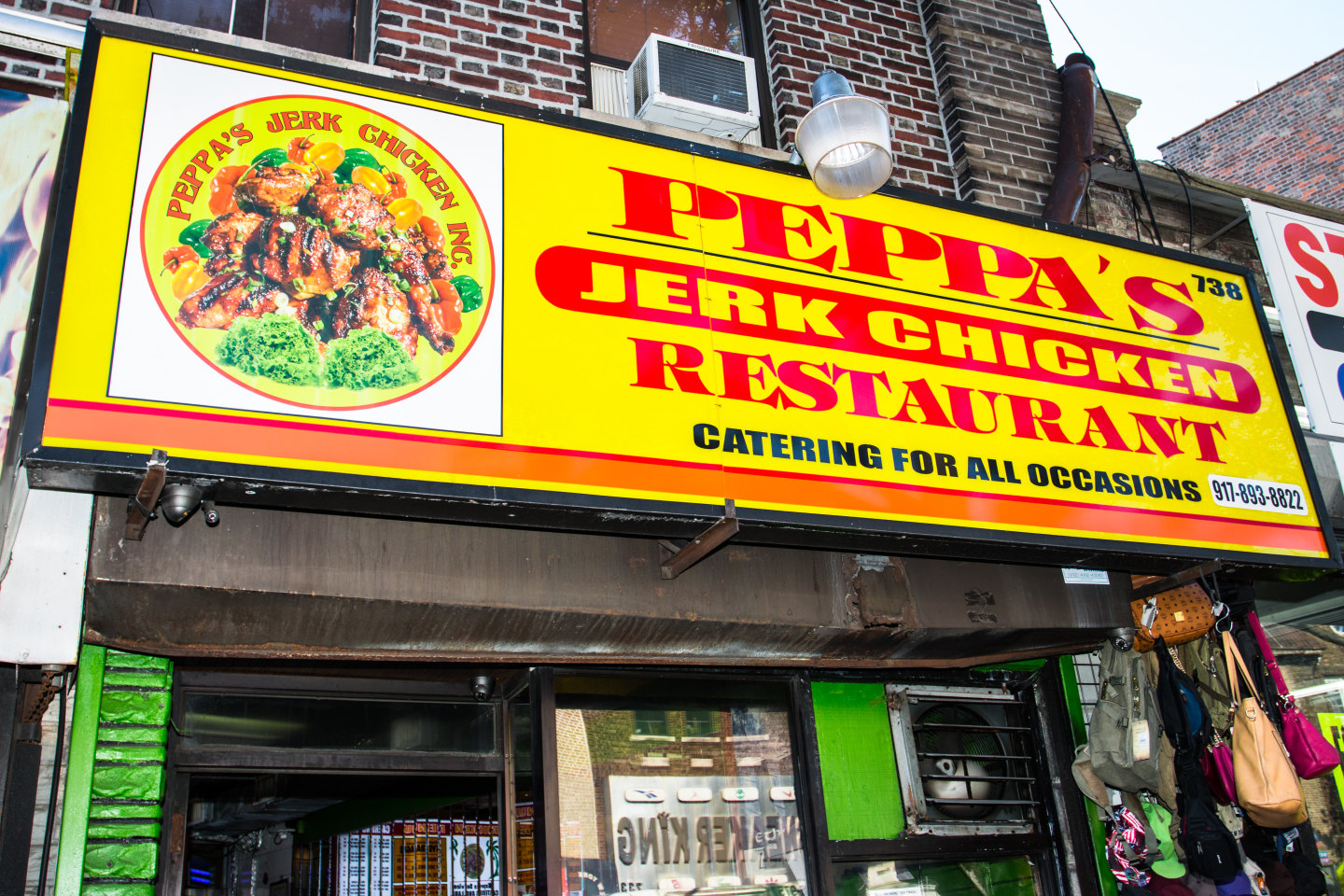 JASON HUSSEY: Peppa's is a family business. When you're young, you start coming around. After a while, you start to work — that's if you want to work, it's totally your choice. And we just started to work, then started to work every other day, and then it became our job. The restaurant was opened in '94; it was called Danny & Peppa's at first. My uncle and his friend started it, and then they parted ways early 2004, then we moved down here and opened this one. I learned different things from different people. [My uncle] Garvin taught me the business, the groundwork; he taught you to be family. Everybody teaches you something different. Peppa himself laid the groundwork, but we always learn from each other.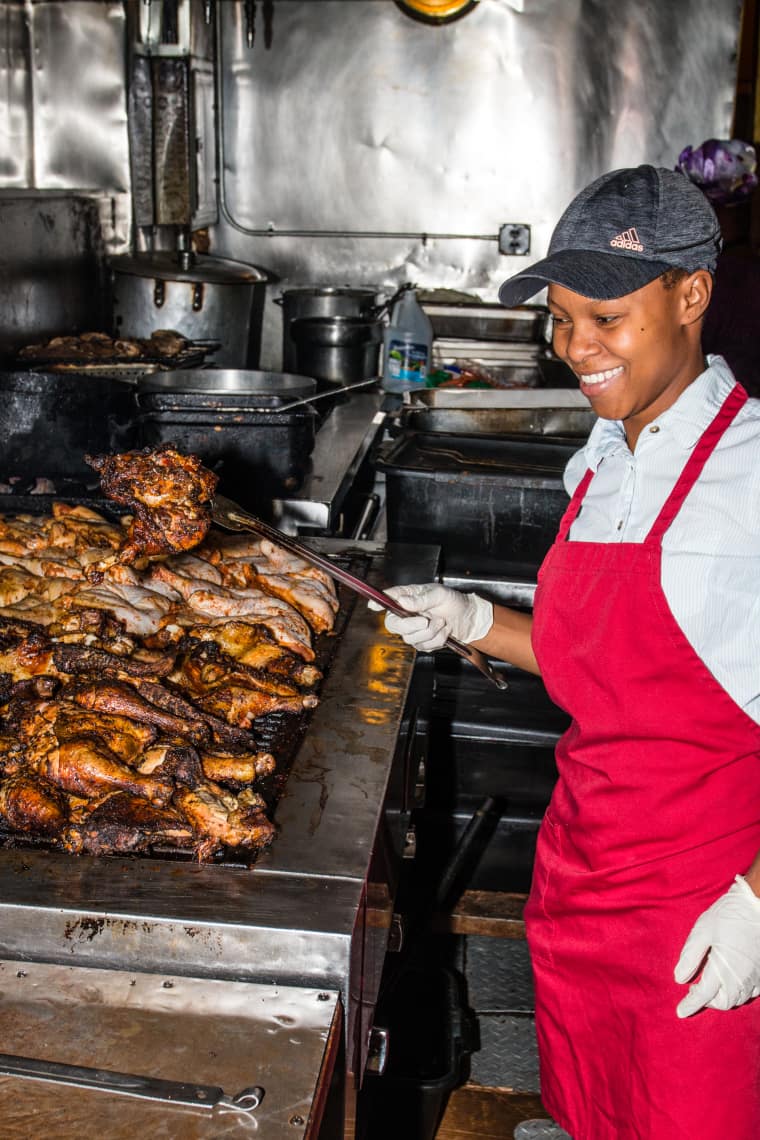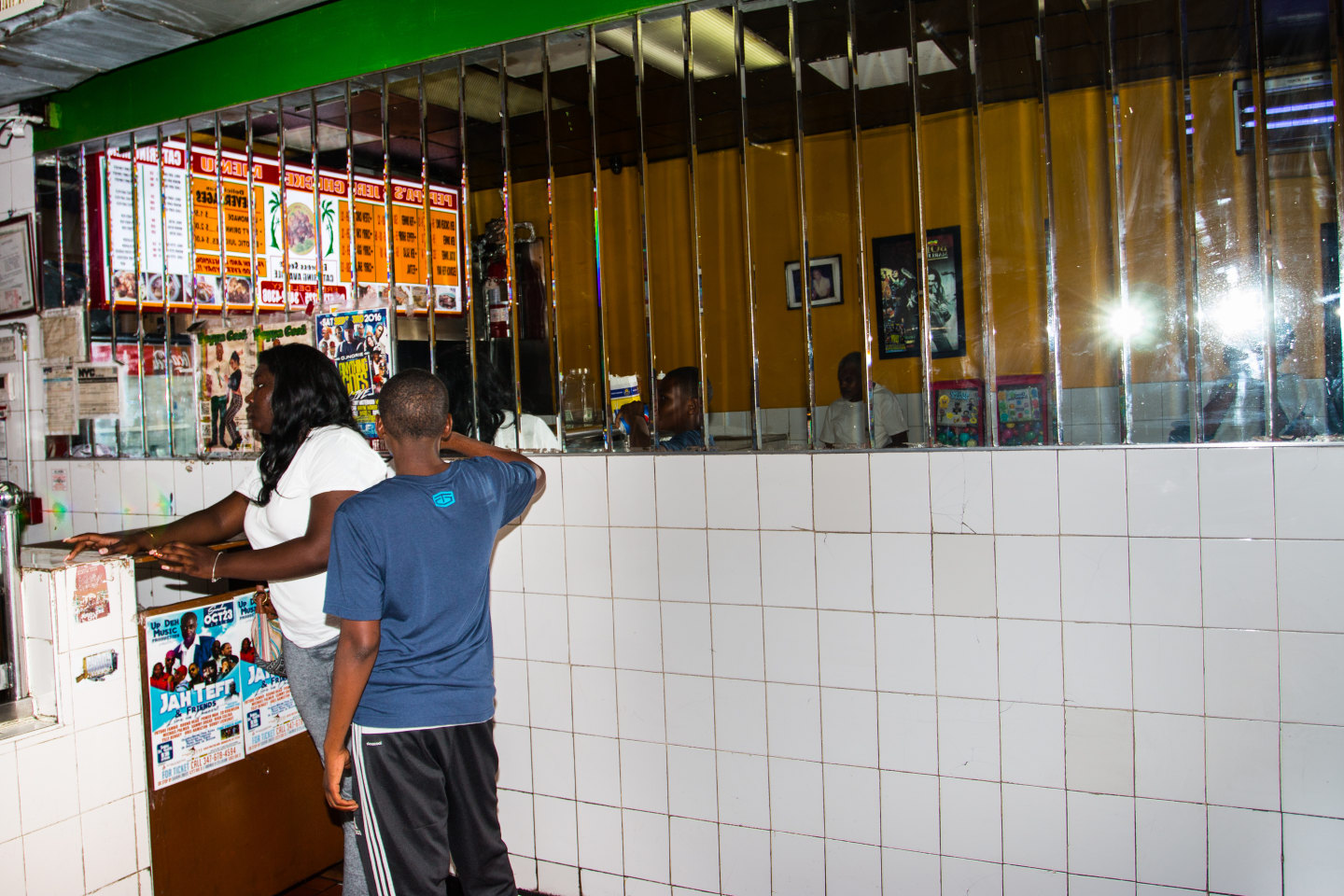 JESSICA HUSSEY: The majority of Brooklyn has a Caribbean culture, from East Flatbush to Crown Heights to Canarsie. Caribbean culture is all over Brooklyn. Brooklyn is probably the capital of Caribbean culture. It makes you feel like you're a part of the community. That's who we associate with. We are Caribbean people. Our cultures are very similar, whether you're Jamaican, Bajan, Guyanese — we all came from an island with a sense of a better life. The area is predominantly Caribbean but now it's changing. It's okay, it's just a different variety of people living here, but they all coming here for food.
JASON:When people come here and eat a piece of our jerk chicken they get a piece of our culture, our upbringing, where we come from — St. Andrews, Jamaica. I want them to understand that we didn't grow up rich — we wasn't poor, but we're a strong group of people. That's still home for us. The community we came from, we still know the people. Some of our family is still there.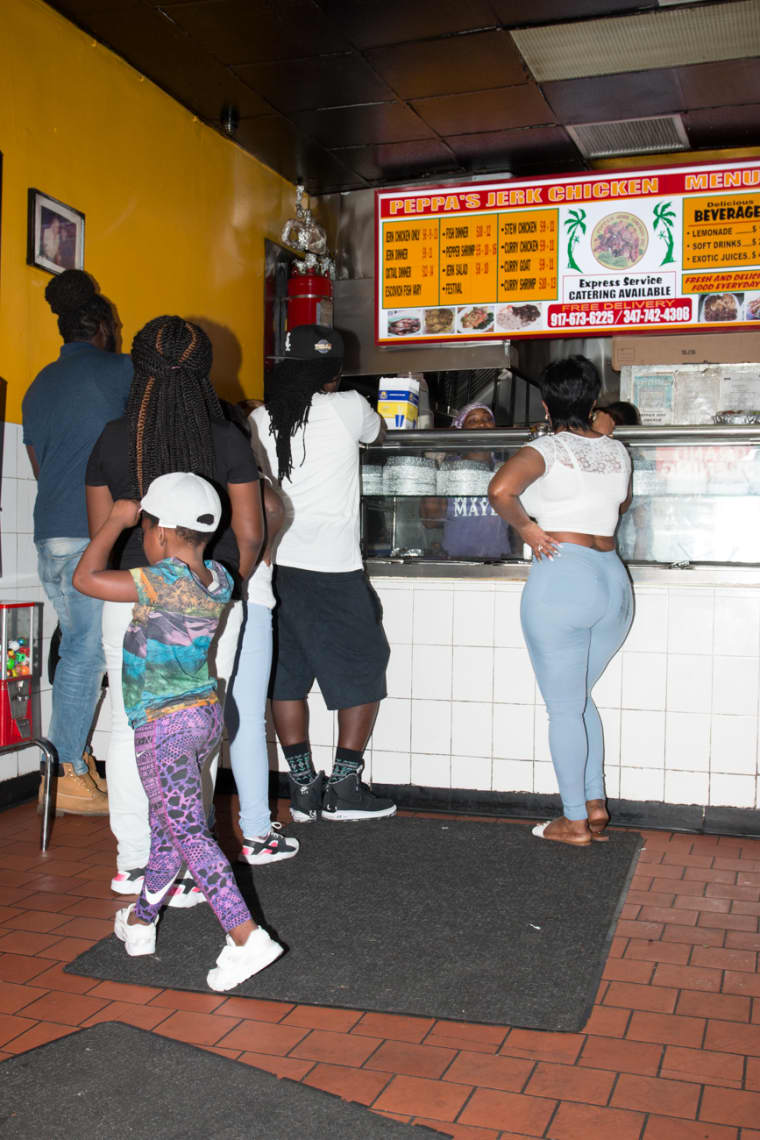 We appreciate all of Brooklyn and everyone who comes to our restaurant. Sometimes we have people who say they're coming from Pennsylvania, from Jersey, Connecticut, just to try our foods. I love all the customers, the customers is what keeps us open. We have some familiar faces. After years and years, it's like, Wow.
We have a new restaurant opening on Prospect Avenue and Nostrand. That's the second location in New York. We're just trying to grow. We're trying to expand the media advertising and social media. We'll be delivering on Grubhub and Seamless soon. It's different time that we live in. Before, you had to have a restaurant on the front page. Now you can have a restaurant in a corner, in a hole that nobody knows, but because of social media people will find you.