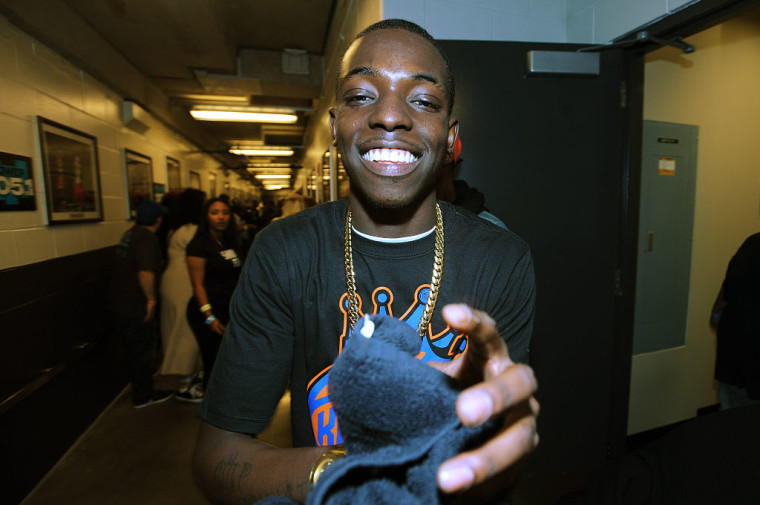 On September 9, Brooklyn rapper Bobby Shmurda plead guilty to murder conspiracy charges, accepting a 7-year deal that included time served. Shmurda's childhood friend and fellow rapper Rowdy Rebel also entered a guilty plea as part of a deal that was contingent on each defendant pleading guilty to the charges. Both Bobby Shmurda and Rowdy Rebel will face a maximum of five additional years in jail with the possibility of an earlier release for good behavior. Both men recently spoke to Complex in their first interview since pleading guilty to the charges.
Neither Bobby Shmurda nor Rowdy Rebel blamed their label, Sony, for refusing to front the $2 million bail, although Shmurda did say the outcome of the trial may have been different if he was fighting the case from the outside. "If we made bail I would've beat the case," Shmurda told Complex. "We look guilty in these orange jumpsuits. If you put Al Sharpton in a orange jumpsuit and accuse him of having a gun, he's going to be found guilty."
Shmurda also discussed the failings of the criminal justice system: "They got these kids running around with rape charges getting six months and they wanna give me seven years for a gun charge." Ultimately, he took the plea deal for Rowdy Rebel because, as he explained, "They offered me five and offered Rowdy 12. They said the only way they'll give him seven is if I took seven too. So, you know, I had to take one for the dawgs."
Shmurda mentioned that he had plans to get his G.E.D. and possibly a college degree while serving time, and also hinted at plans to write a book that could be turned into a movie. " I got love for 50 Cent, I got love for DMX, but my movie's gonna be better than Get Rich or Die Tryin' and Belly put together, and it's gonna be a true story," he said.
Both Bobby Shmurda and Rowdy Rebel said that they had been listening to up-and-coming New York rappers Desiigner, Dave East, A Boogie, and Young M.A, as well as Kodak Black and Lil Uzi Vert, while serving time. Responding to a question about the similarities between "Hot Nigga" and Young M.A's "OOOUUU," Shmurda replied, "I feel like it sounds like Brooklyn. It sounds like it's supposed to sound like."
Read Complex's full interview with Bobby Shmurda and Rowdy Rebel here.