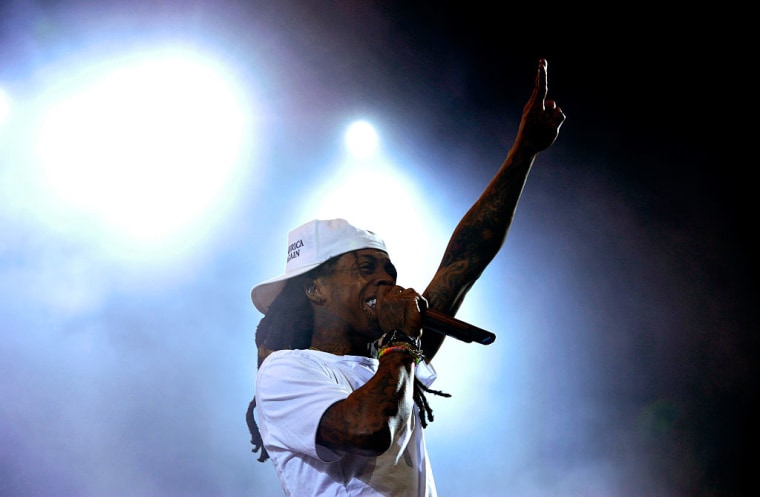 On October 11, Lil Wayne will release Gone 'Til November: A Journal of Rikers Island, a memoir written by the rapper during his 8-month jail sentence in the New York complex in 2010. In an excerpt from the journal, published on Monday via Vulture, the New Orleans native discusses his first days in jail, his daily routines in the facility, and visits from Drake, Diddy, and Kanye West.
"As soon as I heard the cell door lock behind me, I just sat on the back wall and the tears began to flow as I took my first glimpse at my new digs: three buckets, one bed, one toilet that was surprisingly kind of clean (emphasis on kind of)," Wayne writes of his arrival at the jail.
As time went on, Wayne says he became more comfortable with some of his fellow inmates and even rapped for them. "I rapped for the first time on the yard for Charlie and Jamaica. It's crazy that I've performed in front of millions of people since I was 8 years old, but for some reason I was nervous as hell," he remembers.
Wayne also received a few high-profile visitors during his sentence, including Diddy, which he says was "total chaos," Kanye West, and Drake. During his visit, Drake admitted to Wayne that he had slept with his girlfriend. "As a man, honestly, that shit hurt, and not because it was Drake. It could've been any man and it would've hurt the same," Wayne writes about hearing the news.
Read the full excerpt from Lil Wayne's Gone 'Til November: A Journal of Rikers Island here.