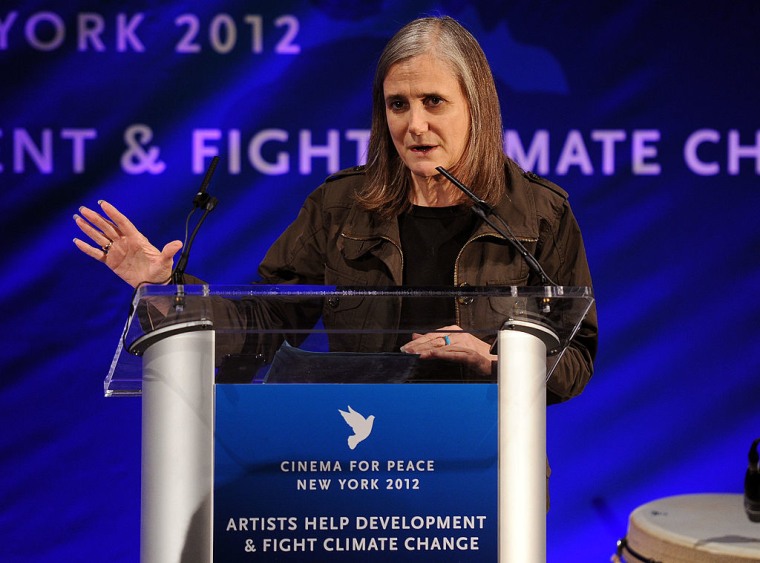 The rioting charges brought against veteran journalist Amy Goodman have been thrown out by a North Dakota judge, The Independent reports. The charges were filed after Goodman and Democracy Now! began covering the resistance to the pipeline from the Standing Rock Sioux tribe and thousands of other Native Americans who had gathered to oppose the construction of the pipeline. Democracy Now!'s report from the protest, which aired in early September, showed guards pepper spraying protesters and attacked them with dogs. The State's Attorney initially sought a trespassing charge against Goodman, but dropped the count due to lack of evidence.
At the courthouse on Monday, Goodman reported live outside the courthouse before appearing in front of a judge at 1:30 p.m. CST. "This is a vindication of freedom of speech, of the First Amendment, of the public's right to know," Goodman told reporters, referring to the media as the "underground railroad of information."
"I came back to North Dakota to fight a trespass charge. They saw that they could never make that charge sick, so now they want to charge me with rioting," Goodman said in a statement earlier this week. "I wasn't trespassing, I wasn't engaging in a riot, I was doing my job as a journalist by covering a violent attack on Native American protesters."
In September, President Obama and the Justice Department recommended a temporary ban on Dakota Access pipeline construction.
This post has been updated with new information at 3:23 p.m. to include the result of the court hearing.