NxWorries Just Want The Music To Speak For Them
The duo's debut is a considerate and candid exchange between fan and artist. This interview is not.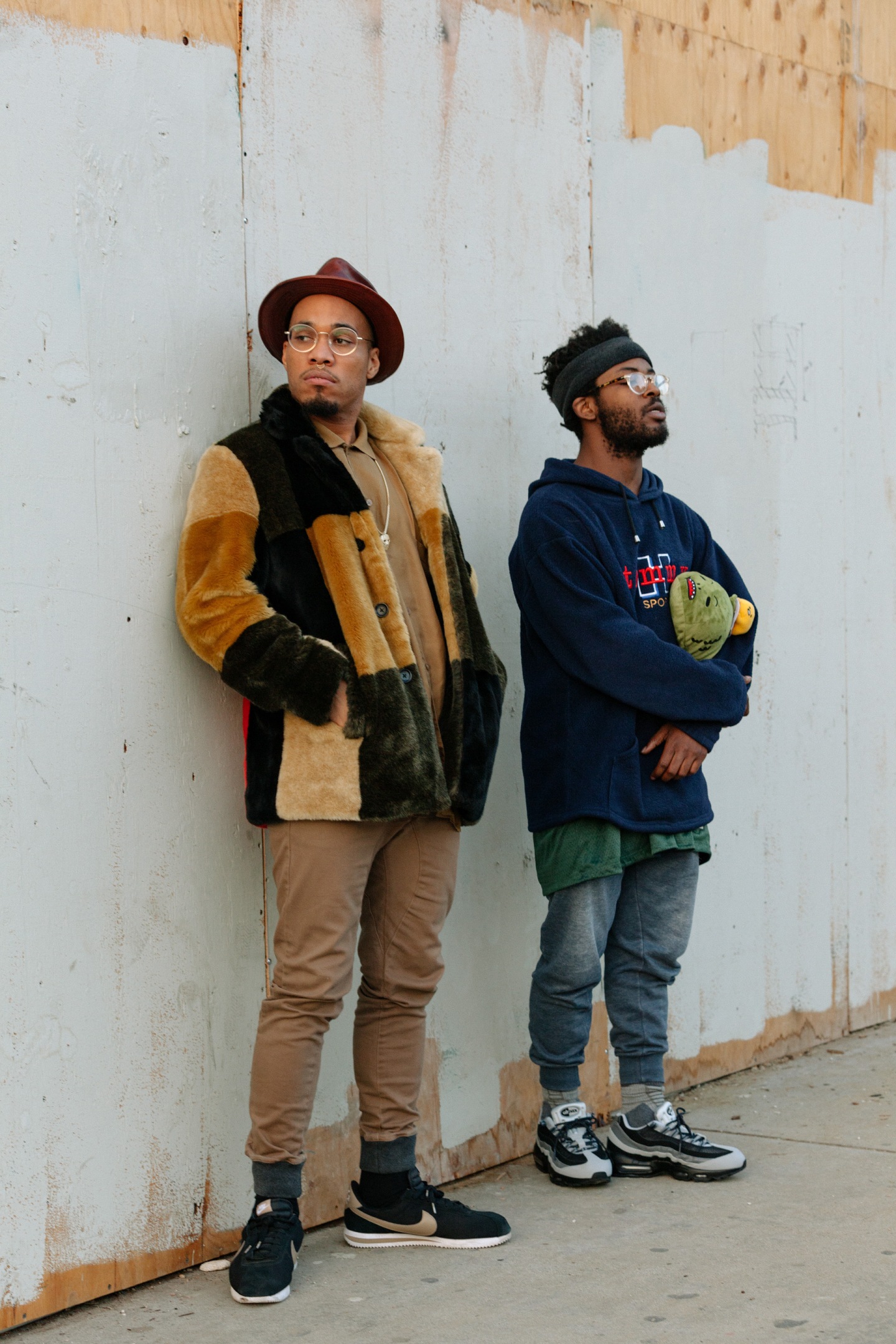 Knxwledge needs cantaloupe. So we're waiting. Well, to be clear: I'm waiting. I've been waiting for over an hour to speak with Anderson .Paak and Knxwledge, the singer-producer duo who comprise NxWorries and make the kind of tongue-slick soul music that conjures 1970s-era Blaxploitation filcks like Super Fly and Cleopatra Jones. Our interview got pushed back due to "technical difficulties" with the audio setup at the Los Angeles office for Stones Throw, the label that is releasing the pair's anticipated debut, Yes Lawd!, on October 21. So what's a few more minutes. Knxwledge needs his fruit.
Here's what we know so far: .Paak has been on a steep ascent since the summer of 2015, when he contributed heavily to Dr. Dre's forever-awaited Compton. After years of toiling away in L.A.'s independent music scene, he released the funk-drenched solo record Malibu in January — with a carousel of features from ScHoolBoy Q, BJ The Chicago Kid, Rapsody, and The Game. What would follow would be just as impressive: a James Brown-caliber performance on The Late Show, collaborative work on Kaytranada's fantastic 99.9% and Chance the Rapper's equally-fantastic Coloring Book, and packed-out shows across the festival circuit.
Publicly, less is known about Knxwledge, the meticulous beatmaker who was born Glen Boothe. Though he's dropped some 70 tapes and produced the contemplative "Momma" from Kendrick Lamar's To Pimp a Butterfly, this album is for him a kind of coming out. There's something holy about the whole of Yes Lawd!: it's grounded in the tradition of gospel music and inspired by the sounds of Curtis Mayfield, D'Angelo, and "rap from Philadelphia street corners." The music swoops, and finds .Paak coming face-to-face with personal hardship, one-time loves, and past demons. (A long way to get out here, but there's a drought here, and I'm winning, he croons on "Livvin.") Elsewhere, singing about women, .Paak toes the line between benevolence and braggadocio: "I fucked the sense up out your bank," he proudly confesses on "Lyk Dis."
Yes Lawd! is an album that feels alive, a living and breathing object that nods to the past while staying in the present (J Dilla's Donuts is a sure blueprint). The music doesn't necessarily take up the space around you so much as it moves through you. I believe in it completely.
But maybe that didn't come through clear in our conversation, which I had over the phone with .Paak and Knxwledge earlier this week. Artists can be fickle, and often, there is a reluctance in their candor. The pair have spent almost two years on something that, one would hope, gets across the experiences and emotions they've endured during that time. They're onto something bigger than big. And if this interview really isn't that important to them, I get it. Because it's about the music. First and always.
Minutes after I hang up our call, which is peppered with awkward silence, my phone buzzes again. It's NxWorries's PR team. Numbers got mixed-up. They were trying to get in contact with another journalist. "We just couldn't get enough of you, J," Knxwledge says to me before the phone cuts out. I want to believe him, but I don't.
---
I'd like to talk about home. I was born in Los Angeles, and raised between Ladera Heights, Culver City, and Inglewood. What does home mean to you?
Anderson .Paak: [sings lyric from Frank Ocean's "Sweet Life"] Livin' in Ladera Heights, the black Beverly Hills/ Domesticated paradise, palm trees and pools.
Knxwledge: What he said.
But how does home, or the idea of home, inform your music?
Knxwledge: This is Knxwledge. First things first: I've been called cantankerous during interviews. There's that. But home for me is just church. If I go home, I gotta go to church. I grew up in church. Good ol' 18 years of Pentecostal, wild church. I'm from New Jersey. Central. I moved out to L.A. several years ago.
Paak: I grew up out in Ventura County, by Howard North. I've been in L.A. for 10 years plus. I bounced around. I was also in Inglewood, around Centinela and La Brea. I used to live over there. And in Hollywood. Home is also church for me, too. I grew up playing in the church. Like, 12 years old. I started playing in the church [choir]. I was Baptist.
Hints of that upbringing come out in your performances, and in your music making. The title of the album, Yes Lawd!, functions as a sort of benediction. What does that phrase represent to you?
Knxwledge: That means let's get it.
Paak: [sings] Let's get it! In the city of flawless women, my God, look at all these —
Knxwledge: You feel me? It's church bro.
In writing Yes Lawd!, were there songs that were particularly difficult?
Paak: Probably "Another Time." I wanted to get that done before the EP came out, and that's one of my favorite tracks, one of my favorite beats. The loops! We were in the studio, and we tried at one point, and I couldn't make it happen.
Knxwledge: That was one of the last ones we did. Pretty much didn't force it. We just went to the studio again after the fact [Anderson bursts into laughter] liiiiike, "Is there another one? Should there be 19 tracks?"
Initially, had you envisioned the project to be this long?
Knxwledge: Yeah. I did. But I'm not in charge. Just a grown-ass man right here. I like to do full projects. EPs are kinda trash to me. Don't do EPs and send them to me, because I'm probably going to tell you to do more work. I dunno, man.
Paak: [laughs] One-hundred percent.
Knxwledge: Don't waste time putting out EPs. C'mon. You know what I'm saying.
Do you think artists should be focusing exclusively on full-length projects?
Knxwledge: Not even. Just put out music. If you make music, just put out music. Period. Just do that. Because that's what people who make music generally do. And that's how they get recognized. And how they get loved. And how they make a lot of money. And are able to treat their families very good.
Speaking of putting out music, Knxwledge, how do you approach the beat making process?
Knxwledge: Just waking up still, to be honest with you. Being able and healthy to make beats all day.You gotta get a good stretch in periodically.
Paak: And being in your right mind.
Knxwledge: Yo, I'm very athletic. I don't even say this.
Paak: I see.
Knxwledge: But, it doesn't stop. There's an empty place when I haven't made any beats in a day. Like right now, you guys got me up early, doing an interview. I haven't made any beats yet. So, I'm that word that I told you before.
Do you feel the album speaks to the current moment at all — with what's going on with Black Lives Matter, the election, and the social panic happening across the country — or does it speak past that? Is it supposed to be a sort of healing in a way?
Paak: Wow. Yeah. I would hope it is to heal. But what we're talking about on this record is going on regardless of any election, regardless of who's in office. It's everyday things. I'm going to be going through these things every day, regardless of what else is happening.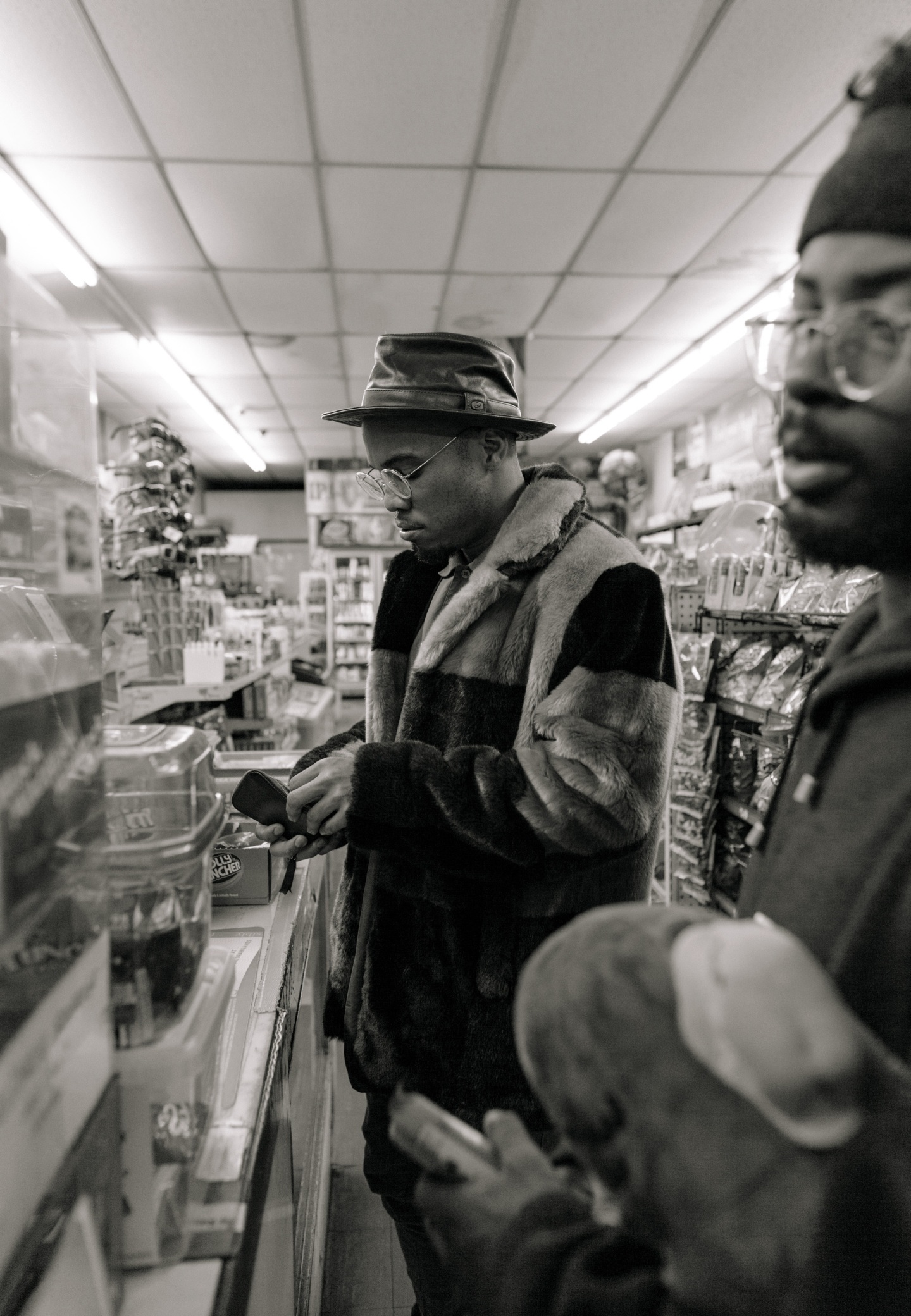 How would you describe your relationship as a duo or as a brotherhood, or however you label it?
Paak: Polar opposites. Opposites connect, you know. You need what you lack. So you work off of each other. This was the first project I've done with just one producer, so it's important that we have a sense of mutual respect. I want to get the best out of it. That's what I felt when I first heard his music. And then we met later, and we went on tour. We got to deal with each other, and really figured out who we were.
Knxwledge: I've probably made more remixes than recorded with actual artists. So this was different in that aspect. And ProTools, that I haven't bought yet. It's a whole new world beside making beats. If you make beats, you eventually gotta DJ, which is just what happens. You just gotta do it, even though you're not for real. It's like one of these things. Like I said, it's probably my third time: Church, bro. I didn't just didn't search "Church" on Google and Anderson popped up, but it's just some things in the world that happen to come together. I been drinking a lot of Hennessey.
Anderson, how does fatherhood affect your approach to music?
Paak: Having a kid tripled my grind, what I do, and the moves I'm making. When I had a kid, it was like: if you're around and you're going to build a family, there's only but so much selfishness you can have. When you start to see the bigger picture, you realize you have a family to support. I care about them. And I want them to elevate as I elevate. That's really important to me. That's my number one importance. I want to devote as much time to this music so it can be as true as possible and incredible. So I need time and I don't need turmoil. Yeah. And [my son], he's on one. I always speak with him. I want to put time into his artistic start too. It can't just be about me.
You titled your last two albums Venice and Malibu. In part, they mapped a kind of musical landscape of Los Angeles and Southern California. How do you see Yes Lawd! fitting into that landscape, or adding to it?
Paak: Yes Lawd! is not Malibu, it's not Venice. It's NxWorries.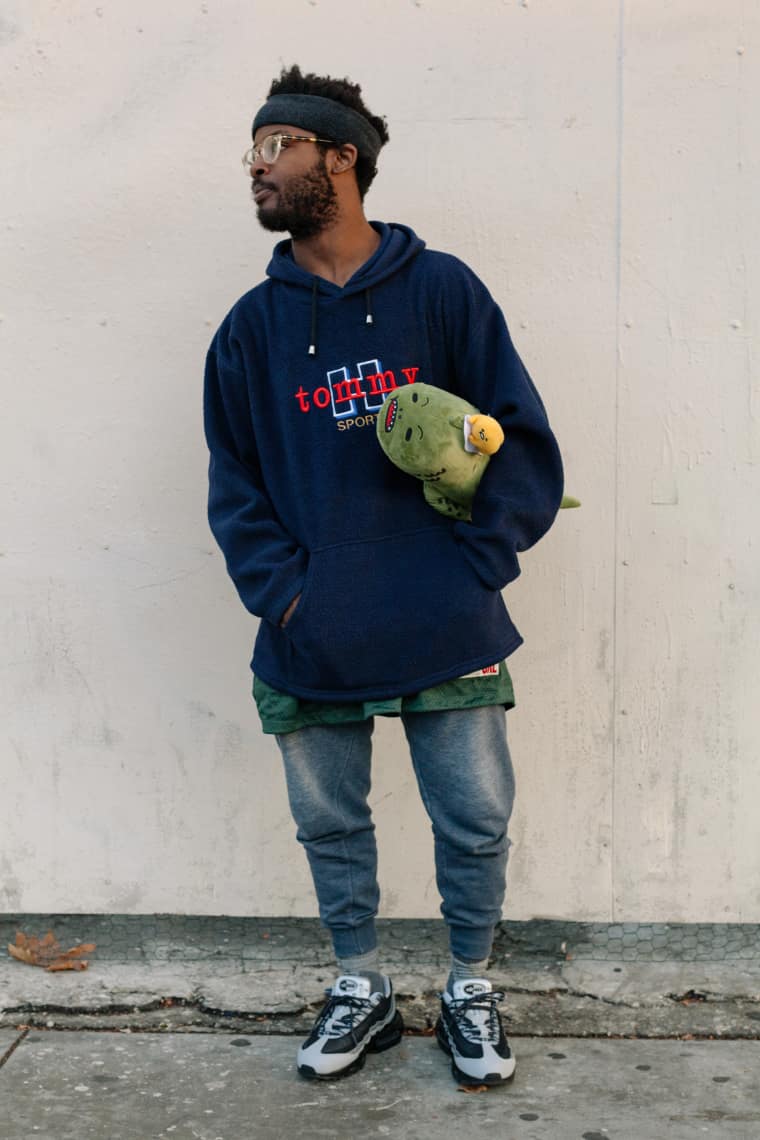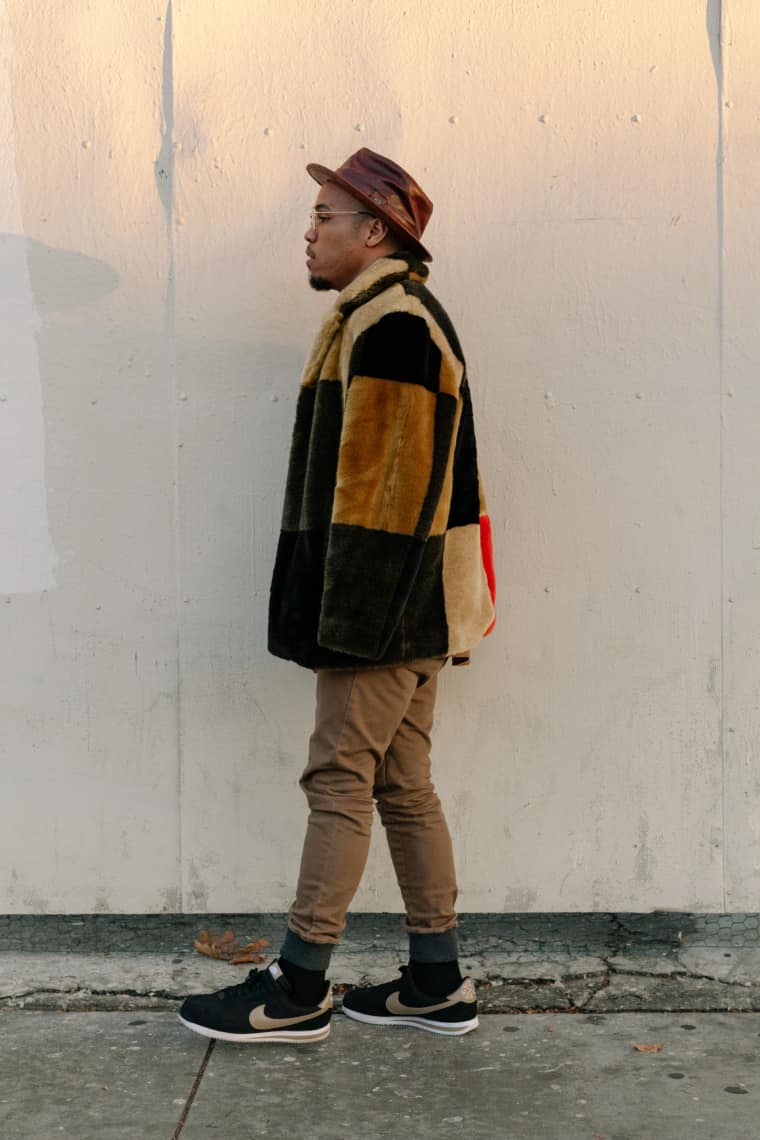 So what do you hope listeners take away from the album?
Knxwledge: I hope they learn the words.
Paak: Learn all the words so we can drop the beat out — that's the best thing.
Knxwledge: That's the best thing.
Paak: They gotta sing "H.A.N." We hope they leave with all the lyrics.
Knxwledge: We gotta fix them though, because Rap Genius got us fucked up.
Where does NxWorries go next?
Paak: I mean, we just put out something right now, though. And that took forever to get done. So just enjoying that, and that it's out.
Knxwledge: Yo, this is what we doing. This is Knxwledge. We going to all exotic islands.
Paak: That's the next mission.
Knxwledge: That's it. Get crazy cars. Stupid trinkets, bro.
Paak: And gadgets!
Knxwledge: I'mma have my own show, bro. With mad gadgets.
I'm excited for this gadget show. I want to hear more about that, actually.
Knxwledge: Yo, don't fucking tell my secrets, man. I wasn't even supposed to say that. It's gonna happen though. Tell everybody, actually. Last words to everyone in the office, everyone around you, and everyone reading this: Just brush your teeth. Like two to three times a day. Three is OD. But brush your teeth, because they hurt when you don't brush.