Dizzee Rascal Explains Why Boy In Da Corner Has Stood The Test Of Time
In a rare interview, the legendary MC opens up about his classic first album, new music, and the new generation of grime artists.
Backstage at east London's Copper Box Arena on Saturday evening, Dizzee Rascal was contemplating his forthcoming evening with an air of slight bemusement. "I'm looking forward to tonight," he said, "but I've not been able to get any real proper gauge on how it's going to be…" The grime artist was sitting with his ever-present manager Cage in a calm, plainly decorated dressing room. It was quiet while we spoke, with no music and little small talk. In four hours the doors would open for 6000 fans coming to this Red Bull Music Academy show to hear Boy in da Corner — an album that he recorded as a teenager 13 years ago — performed from start to finish.
It turns out that Dizzee needn't have been uncertain about the reaction; other than a fluffed bar on "Jezebel" 40 minutes in, the show was one long victory lap — and the crowd spat back every word of the 2003 album that's long since passed into classic status. Whilst veteran rock acts have been performing classic albums in full for years, the night felt like something of a new milestone for grime, and a mark of the genre's continuing evolution.
Despite shows like this being built on nostalgia, Boy in da Corner didn't sound dated: Dizzee's harsh beats and ferociously spat bars still sounded as innovative as the day they were written. Duly, in the audience, there were as many 20 year olds clamoring to see Dizzee spit as there were 30+ year olds reliving a record that defined their youth. For Dizzee this was a chance to remind a world that has rediscovered its taste for grime just how much of the template he laid out in 2003. In our conversation, it was clear that he was relishing the opportunity.
---
How do you feel about being back in east London?
I picked this venue myself — I don't think anywhere else [in east London] would have worked. But this ain't the area I grew up in. It's Stratford, it's where I'm from, but this ain't the area I grew up in, with. There's microbreweries and fucking new builds everywhere. It's been gentrified like most of east London. There ain't really nothing there like the shops I used to sit outside of. You have to go deep in to find the hood in those areas now.
Having performed the album already in New York, how comfortable do you feel doing it tonight?
I still had to rehearse a lot. I still didn't feel like, Ah that's done so I'm cool. I still wanted to get in there and make whatever mistakes I needed to make. Earlier I was listening to most of the tunes at the back [of the venue] so I could hear how the crowd were going to hear it. It was loud! I've never heard the tunes that loud.
What's been the hardest track to get right?
"Sittin' Here." It's in the beginning of each verse, if you get that wrong you fuck up the whole verse.
And you've got to start with it tonight…
Yeah [laughs]. That's what happened last time as well. But I'm confident about it now. The crowd don't even notice 'cause they're singing to it, but I need to know I've got it right for myself.
Which of the album's bars have been your favorite to revisit?
It's not really like that. I see them in song form, I don't really see them in bar form — [but] because a lot of those bars I did on radio before they were on the album, people think of them as bars. My favourite songs are probably some of the ones I've never performed before. "Cut Em Off" and "Wot U On" — they feel new to me.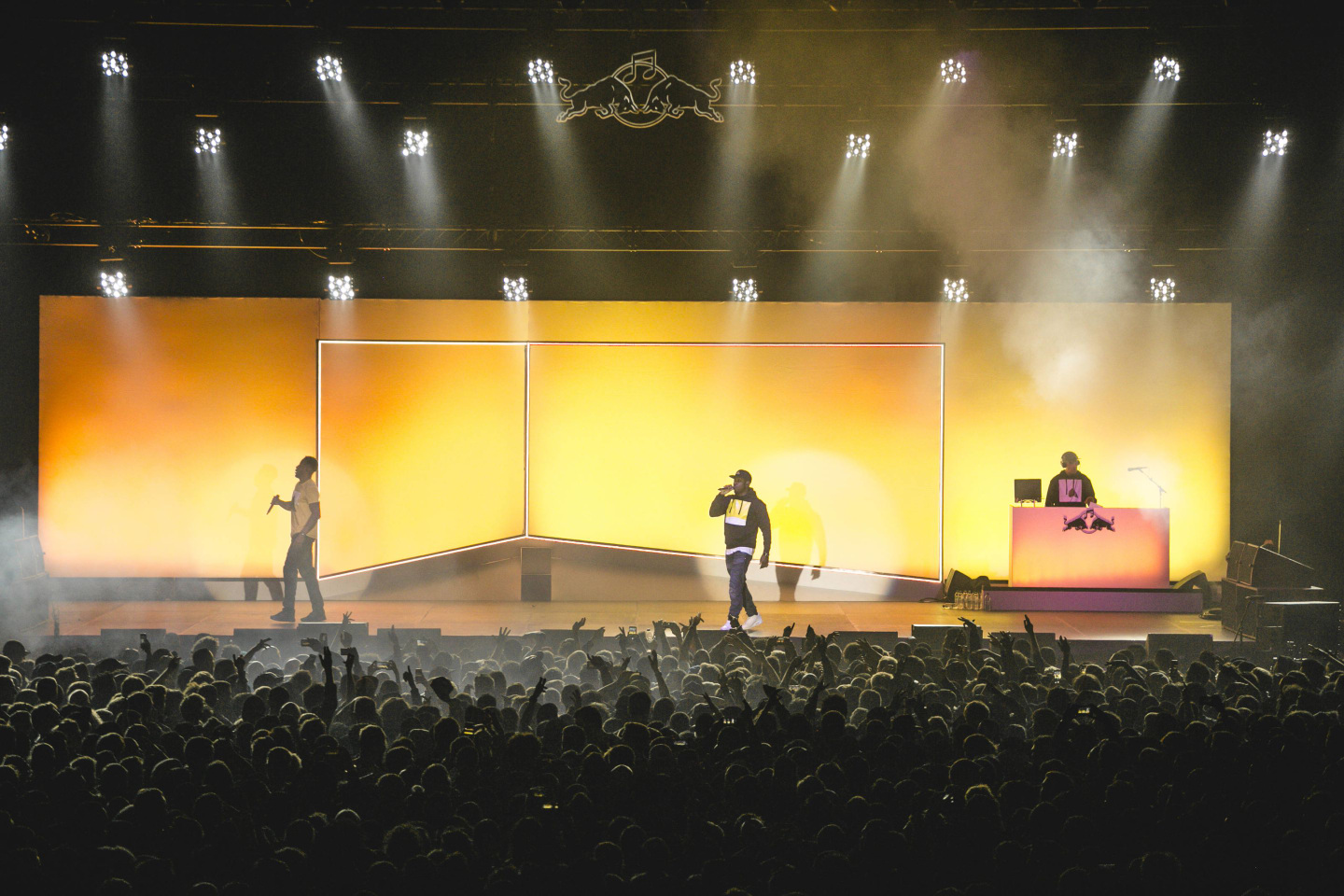 "Back in the day it was about the spitting, it wasn't really about the image, because you didn't get seen."
As the reaction to these shows has been so full on, does it make you want to go into producing your own beats again?
Every now and then I'll sit there and I'll make beats, but they don't always excite me. But when I get beats from other people I'm putting my input in there – it's still gotta suit me, unless it's something that's so different from what I normally do, maybe a "Bonkers" or some of them house tracks. With them I'll still have some input but it's not my comfort zone. I'm not that uptight about it — if I feel a beat, I'll spit on it. I'm not fussed if I produced it or not.
You're working on a new album. How would you describe the sound of it?
It's big and it's hard so far. I'm trying to make the hardest, livest shit. I understand that people wanna hear me spit, and they want some hard shit, so that's what I'm going for. But I'm not trying to recreate my first album. I'm listening to a lot of rap from the '90s, to get that essence, not necessarily to sound like it, but to get that organic feel.
Is it possible to get the hardness when you yourself aren't in the same place — can you still access that hunger and that energy that went into Boy in da Corner?
It's different. Big slapping hard beats, that's easy, you can get them from anywhere, but what you're gonna put on top of it, that's harder, because a lot of the early stuff came from me writing bars to go and spray on radio or at raves, that's what a lot of Boy in da Corner is, I added the extra stuff after — the more thoughtful stuff like "Do It" and "Brand New Day," they weren't songs for radio. The writing process is different now. I've got some hard shit though. People are gonna be surprised. I don't wanna neglect the fucking massive fanbase of all the other stuff I've put out, but I'm not trying to force pop songs right now.
Is it hard to balance your pop fans with your grime fans?
Yeah, there ain't been no one like me in this country. You've either had people who've done really well in pop, or really well on the underground...

You mentioned how your more introspective tunes like "Brand New Day" get a lot of love. How do you feel about those ones becoming fan favorites?
Those are the tunes that get people through things. That's part of the reason the album's a classic. I've always tried to put two sides of the coin on every album. At the time most MCs were trying to be hard or party, but those introspective tunes weren't being too preachy — there was always rappers that were saying deep shit, people who would have been called the backpack rappers — Blak Twang and Skinnyman, they were saying shit, but I guess I was a bit different.
Do you pay attention to the current crop of grime artists?
Yeah, you can't not pay attention to it. But as for what I like, I like 67. The thing now is that everyone's plonked into the same basket now — everything that's urban and got some rap in it is being called grime, where before grime was a separate thing from U.K. rap. I like some of Section Boyz, but I haven't heard anyone that's crazy lyrical coming up. I'd still say [putting on old geezer voice] back in my day...the amount of characters was crazy. Back in the day it was about the spitting, it wasn't really about the image, because you didn't get seen. See Skibadee? I didn't know what Skibadee looked like, or what Shabba looked like.
If no one really saw what you looked like, did you have to do something more distinctive with your mic style so people recognized you?
Yeah, even to get on the mic you had to stand out! You had to fight harder to get on the mic, so you had to have something to say. Look at More Fire Crew — everyone in More Fire sounded different. Look at N.A.S.T.Y., everyone in N.A.S.T.Y. sounded different.
It's hard to imagine an MC like Bruza coming through today.
He stood out on the mic, same as Flirta D. You could probably name 20 people who sounded different.
So finally, what would you say to the Boy in da Corner era Dizzee?
Nothing, he's doing alright! It's 2016 and I'm still here, sitting doing shit with Red Bull in the Copper Box stadium. I've reached a new generation, and this is one of those albums that's been stamped in history around the world, everyone recognizes it. It's amazing. We worked on this album — there were mornings when we were there 'til six, seven in the morning. We didn't know it'd be all this; we were just grinding. We just put everything into it.
---