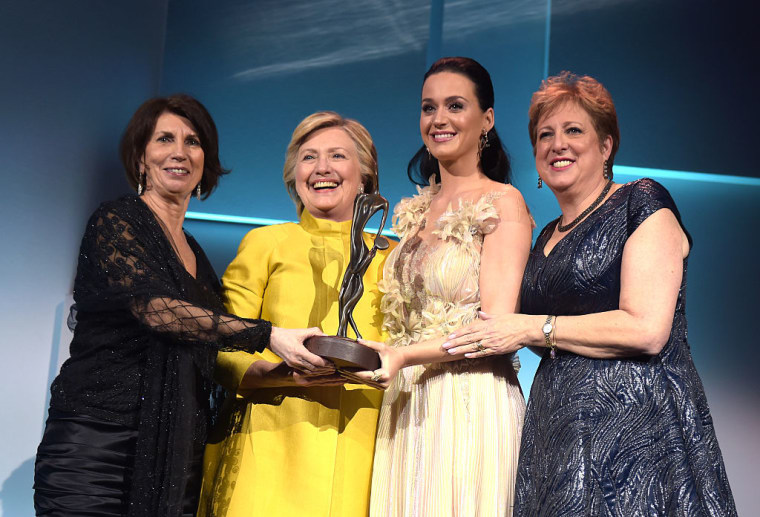 Hillary Clinton appeared alongside Katy Perry at a charity event in New York last night, November 29. Clinton was on hand to introduce Perry to the stage as she collected a prize at the Unicef Snowflake Ball. Perry was a vocal supporter or Clinton on the presidential campaign trail and appeared at a rally in Philadelphia with her just three weeks ago.
Clinton told the Snowflake Ball audience at Cipriani on Wall Street, "We need champions like Katy" when introducing Perry, who was receiving the Audrey Hepburn Humanitarian Award.
Congrats UNICEF Goodwill Ambassador @katyperry on Audrey Hepburn Humanitarian Award at #UNICEFSnowflake! pic.twitter.com/dk5EOvd3qa @UNICEFUSA

— UNICEF (@UNICEF) November 30, 2016
.@KatyPerry's Trump dig: via #UnicefSnowflake, "I've helped highlight the effects of climate change, which is real." https://t.co/iJ3y5vWCF1 pic.twitter.com/f9IqHk4Ld3

— Ashley Lee (@cashleelee) November 30, 2016
According to The Daily Beast, Clinton added, "On a personal level, I cannot tell you how delighted I am to be here to help celebrate a global megastar, a social media queen with the most Twitter followers in the world —although she's getting some competition— and someone whose powerful voice and creative lyrics remind us when you get knocked down to get back up."
Meanwhile, Clinton has also declared her support for Jill Stein's attempt to force Wisconsin authorities to review the state's 3m votes by hand. As The Guardian reports, an attorney for Clinton said in a court filing that Clinton believes that hand recounts are superior to ballot recounts by optical scanners.