Inside Chip's Decade-Long Journey To Become One Of Grime's Most Honest Voices
At 15, the MC declared himself the grime scene savior. At 25, he's delivering on his promise.
On a warm early summer evening, a 50-strong crowd pressed itself into an east London basement club for an unruly music video shoot. Liquor spilled from plastic cups, lighters flashed, and circles formed around women showing off hip-thrusting dance moves. Walking through the melee in a powder-blue tracksuit, grime MC Chip was focused, directing the videographer and dancers into position. Then, when the camera was rolling once again, he'd find a dance partner to get cozy with, and flash grins into the lens. The video concept was Chip's vision for his Power Up mixtape track "Style Dat," a string-led collaboration with Jamaican artist Kranium. "We need a big Jamaican flag for this scene to stick on the ceiling," he shouted above the bashment-leaning beat, a West Indian inflection breaking into his north London accent. "Can somebody run to the market and get one?"
Chip's been an established name in grime since 2006, but over the past two years his work rate has had the pace of a rookie with everything to prove. In a way, he has. After an early run of underground acclaim in the mid-'00s, he inked a major label deal at 18 years old and began releasing pop-leaning material. He was a U.K. Top 40 mainstay from 2009-12, but in the process lost some of the love from the grime scene that had first given him a platform. But in 2015, after a detour to America and a contemplative retreat from the public eye, he released a breathlessly prolific run of independent EPs, singles, and diss tracks that showcased his re-galvanized energy and sharpened lyricism. Then in 2016, his prodigal return was capped off with a motivational feature on Skepta's Konnichiwa, his own accomplished mixtape Power Up, and a MOBO for Best Grime Act.
For Chip, it's been a path of his own making. In step with grime's DIY ethos, he takes his message direct to his supporters: Twitter is his main marketing tool; brutal honesty his selling point. "Why [would I be] just sitting on my arse waiting for radio to give me a play?" he said with assurance, speaking a few days after the shoot. "I can go from here with my big mouth directly to the people."
Chip, born Jahmaal Fyffe in 1990, was raised on a housing estate in Tottenham, around five miles north of the club he was shooting his video in. The son of Jamaican immigrants, he grew up hearing U.K. garage and grime on pirate radio, and seeing east London MCs Wiley and Dizzee Rascal break new ground in the British mainstream. Inspired by them, from the age of 14 he spent his evenings and weekends clashing — battling with other MCs — in local youth clubs. With the nickname "Chipmunk" bestowed on him by a neighborhood kid because of his youthful looks, he began releasing mixtapes (his first, Wot Eva The Weather Vol. 1, came in 2005) and low-budget DVDs (a format MCs commonly used to distribute their freestyles at the time).
His first big street hit "Who Are You" came in 2006, on which Chip declared himself the "grime scene savior" and dropped rapidfire bars that packed in references to Street Fighter, Boy Better Know MC Frisco, local nightclubs, and P Diddy. In an apparent passing of the torch, the track's video included cameos from scene frontrunners such as Skepta and Wretch 32. Then in 2007, he further solidified his rise when he joined Wiley for a blistering freestyle on BBC Radio 1.
By this point, grime was poised for its second commercial breakthrough of the decade — Dizzee Rascal was about to release his third album Maths + English; Wiley would release his Top 10 single "Wearing My Rolex" the following year. But when Chip came out, the scene had hit a glass ceiling of sorts, following the initial success of Dizzee, Wiley, and Lethal Bizzle in the early '00s, and the sound had retreated from mainstream speakers. Against this backdrop, he was hailed by both supporters and MCs as the scene's golden child, destined to lead the DIY sound back to the forefront of U.K. music.
For a while, they seemed to be right. At 17, Chip snagged a MOBO Award for Best Newcomer, and later inked a deal with Sony Music off the back of his early promise. But, on subsequent singles like the comedic high school-set "Chip Diddy Chip," there was little of the rawness that had characterized his early material. Both his debut album I Am Chipmunk (2009) and its followup Transition (2011) hit the U.K. Top 10. Packed with accessible tunes with easily digestible hooks, they repositioned him as a teenage British pop star. The applause from the grime scene thinned. Undeterred, he recorded songs with Elton John and Emeli Sandé, and by the age of 20 he was able to buy a house with his earnings, a secluded dwelling in Essex where he still lives today.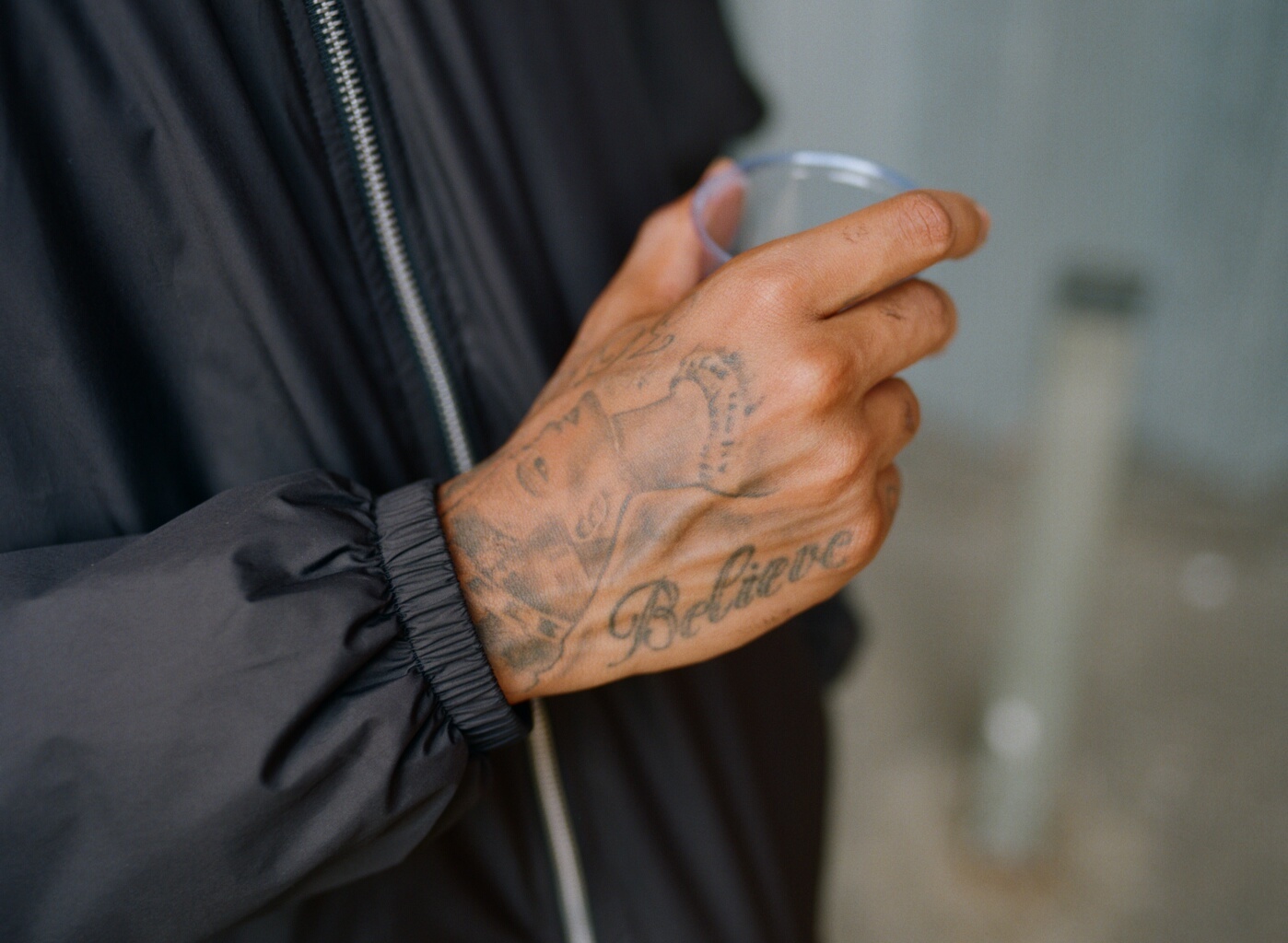 "I'm the first MC who has conquered the charts and can confidently step in the field. Not many would have predicted this for me at 25."
Chip spent his teenage years under the kind of scrutiny that isn't forgiving of growing pains, nor learning curves. His exasperation with the media was evident throughout our conversation, particularly when asked about his pop phase. "Bruv, no one put a gun to my head and told me to make anything," he said, a sight irritation seeping into his voice. "Every song I've done, I wanted to do." His bashment songs, like Transition single "Every Gyal" with dancehall artist Mavado, are still played at black British christenings to this day. Although he was raised in London, Chip's Jamaican roots maintain a strong influence over his life and his music — something his harshest critics, aggrieved with his chart-friendly singles, failed to see.
Yet one person who recognized Chip's flair for diverse sounds was Atlanta rapper T.I. In 2012, he reached out, offering the British artist a deal with his imprint, Grand Hustle. Chip moved to Atlanta, and dropped the "Chipmunk" moniker for the shortened form he uses today. Suddenly labelmates with rappers like B.o.B. and Iggy Azalea, he set out to school himself in hip-hop. Initially, he thrived, adapting his rhymes to the slower, more melodic tones of southern rap, holding his own in the studio with Jeezy and Meek Mill, and releasing a mixtape to general acclaim. But, as the months passed and he sank more money into his life overseas, he felt that something was not quite right.

"I was jogging with T.I. one time and something just hit me," he explained. "I said to myself, Bruv, I need to go home, man. From there I knew that my course was going to be tough. It just felt like the end of a beginning. The first thing I did was practice spitting again, in the mirror and shit."
So in 2013, Chip returned home to the U.K. and his musical origins. He was approaching his mid-20s and, after years under the guidance of others, decided to free himself from record labels and step out independently. T.I. let him out his Grand Hustle contract early, and soon he began releasing grime under his own new label, Cash Motto. On eerie cuts like "Bookey" and "Sonic Boom" he spoke plainly about personal experiences with trust issues and fake friends, with his signature breakneck bars spiked with a rare vulnerability. ("Looking around like who can I trust? will make man halve their circle," he reflected in "Bookey.") It was by putting his demons on display that he reasserted his dominance as one of the scene's most fearless MCs.
"If I ever pass away and you didn't know how I feel, then what was I doing music for?"
But his honesty also got him into trouble. In spring 2015, he made his return to the genre as he had his arrival back in 2006: with a freestyle on Radio 1. This time, though, he came with some things to get off his chest. He told DJ Charlie Sloth that his old friend Tinie Tempah's Fire In The Booth freestyle (in 2014) "broke my heart," and went on to call the rapper out for what Chip perceived as an attack on unsigned artists. Tinie never directly responded to the session, but it lit a fire underneath the scene, and soon it was all anyone could talk about. Chip quickly found himself batting away diss tracks from those who responded to his first Fire In The Booth freestyle (Bugzy Malone, Saskilla) and those who he found himself in secondary beefs with (Devilman, Yungen). All the drama fueled a furious pace of writing, recording, and responding — adding weight to his new mantra, "Chip can't run out of bars." With social media whipped up into a frenzy around each new diss, the whole episode eventually gained the attention of national news. "I'm the first MC who has conquered the charts and can confidently step in the field," he said emphatically. "Not many would have predicted this for me at 25."
Did he anticipate his return being so difficult? "No," he continued, a serious tone now in his voice. "But I needed it [in order] to truly unlock my powers, so God even made people turn on me that I thought never would. That's what brought out the best of me." Now, he's forged a close, impenetrable circle (his manager is his cousin, his sound engineer a close friend), and an unshakeable sense of positivity has become his creed. "There's a battle out there that's deeper than artists — like good energy vs evil energy — and I'm just radically standing by this good energy," he said. "I don't mind being out there and honest, with what's really happening, because I feel like if I ever pass away and you didn't know how I feel, then what was I doing music for?"
On a still, golden afternoon the Saturday after he filmed "Style Dat," Chip shuffled through the parking lot of a north London industrial estate. He had just finished yet another video shoot for a skippy grime track called "Mad With It," with a setting that swapped a sweaty basement club scene for an empty green room. The song was a more introspective offering, and took root in his deep skepticism of the music industry ("You see a music business/ I see a corrupted system"). The shoot had overrun by hours, and the night before he'd performed at Red Bull Culture Clash with Wiley's Eskimo Dance crew. Now he was roaming the lot in search for a drink to soothe his throat. Settling for Cognac and coke poured into a plastic cup, he lifted himself into the rear of a silver-plated passenger van and, for the first time in days, embraced a moment of rare stillness.
Sinking deep into his seat, he seemed assured, just like the fiercely honest character his music puts forward. "You just have to try and listen to the world rather than the radio," he said, as the sun set beyond his car's tinted windows. "We want to find our own answers, our own truth, spread our own energy, and the first thing you have to do is to remove the concept of fear from your head. A positive message sometimes takes a bit longer to spread, so you've got to remove fear and go forward with the truth."