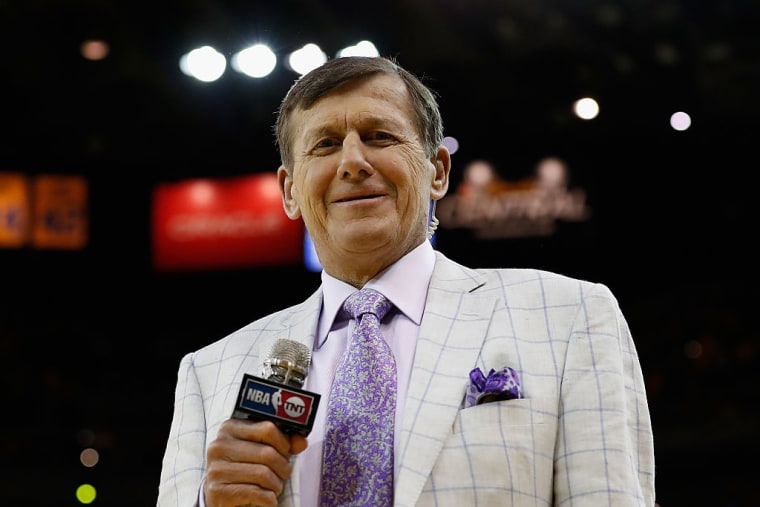 Longtime NBA sideline reporter Craig Sager has passed away at age 65, following a battle with leukemia, Turner Sports announced on Thursday. Over the course of his decades-long career in sports broadcasting, Sager became known for his in-game interviews with players and coaches as well as his colorful wardrobe.
"Craig Sager was a beloved member of the Turner family for more than three decades and he has been a true inspiration to all of us," Turner president David Levy said in a statement. "There will never be another Craig Sager. His incredible talent, tireless work ethic and commitment to his craft took him all over the world covering sports."
Sager first made a name for himself in sports broadcasting as a 22-year-old, when he interviewed Hank Aaron on his way to home plate, moments after Aaron broke Babe Ruth's home run record. He worked for CNN, where he anchored CNN Sports Tonight and College Football, before joining Turner Sports.
After being diagnosed with leukemia in 2014, Sager missed the 2014 and 2015 NBA Playoffs. Sager worked his first NBA Finals earlier this year through a deal with Turner Sports and ESPN. At the ESPYs in July, Sager was honored with the Jimmy V Perseverance Award.
"Whatever I might've imagined a terminal diagnosis would do to my spirit, it's summoned quite the opposite - the greatest appreciation for life itself," Sager said during his acceptance speech. "So I will never give up. And I will never give in. I will continue to keep fighting, sucking the marrow out of life, as life sucks the marrow out of me. I will live my life full of love and full of fun. It's the only way I know how."
Sager is survived by his wife, Stacy, and his children Craig Sager Jr., Kacy, Krista, Riley and Ryan.