Listen To A Mix From SHYBOI And Rizzla That's Full Of Frantic Positivity
The #KUNQ collective members will perform at the MORPH 5 party in Atlanta on December 23.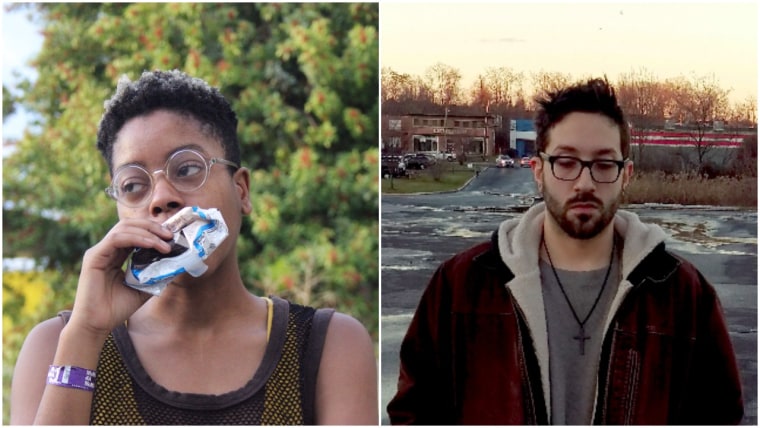 Since early this year, Atlanta organizers Jordan Levy and Leonce have been running a queer-friendly club night called MORPH. Their final party for 2016 will be on December 23 at Space 2, and will feature special guest Rizzla of queer art and music collective #KUNQ, alongside crew member SHYBOI, Stefan Ringer, Leonce, and more. See flyer below for details.
To give a taste of what the night will be like, Rizzla and SHYBOI have shared a high-octane mix titled Community Praise and Worship Night. The mix features original production from both artists, as well as collaborations with fellow #KUNQ members. It's a bubbly, genre-juggling listen, featuring harmonizing church soul vocals, U.K. garage beats, and abrasive synths alike.
The mix "tap[s] into the often contradictory internal voices developed in Evangelical upbringings, caught between the secularism of the nightclub and the spirituality of the church," they explained in an email to The FADER. "Though the understanding of the present is bleak, the visions of the future are divinely delivered victory and [can be] a complete reformation. Community Praise and Worship Night is seeped in the Biblical tradition of good versus evil, but [it's also] open to the cleansing power of the chaos within."
Listen to the mix along with the track list below, and buy tickets to MORPH 5 on December 23.
Tracklist
Girl Gets Filled with Holy Spirit intro
Rough Times Acapella - The Sunburst Band
Rough Times Remix - Lebzin Da Warrior
I Trust You (Psalms 143) (Spen's B-more Stomp Mix) - Assurance & Fanatix
Waka Punished (Kingdom + Rizzla Edit) - Kingdom
Shackles (Interlude) - Mary Mary
Ruined - Rizzla + Stud1nt
I Get Lifted (Go to Church) - Barbara Tucker
QBT X Narstie (Rizzla Edit) - MM
Ananasem - SHYBØI
I'm Not Gay No More - DJ AL
Inquisition - Rizzla
Strega Titania - Rizzla + Kilbourne
Dembow 2 Brexit - False Witness x Visionist
Top Five (Rizzla Edit) - Bugz Tha Producer
Space Hulk - Rizzla
Miracle Praise Break - Prophetess Christina Glenn Weeks
Get Ready Interlude - Dr B.L Gregory
Messenger of God - Angerfist and Radical Redemption
Airlock (Estoc Bruiser) - Rizzla
Chainsaw Soca - Rizzla
Pain Till I Die - Dj Dione