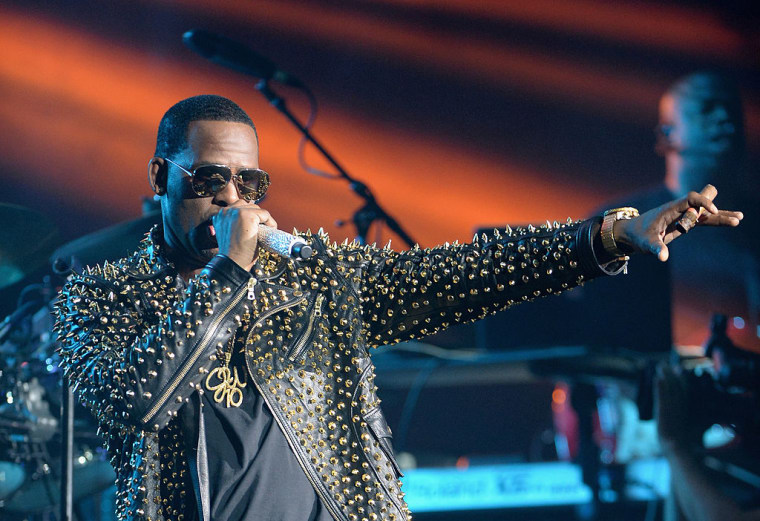 When the lineup was announced for the Soulquarius R&B festival last week, many were excited at the stacked list of artists on the bill, which includes The Internet, Erykah Badu, DMX, and more. The era-spanning lineup went viral, but many were displeased at the inclusion of R. Kelly, who has been accused numerous times of sexual assault over the course of his career.
The protest against R. Kelly's spot on the bill has been taken to Change.org, where, as Teen Vogue points out, Jamie Thompson started a petition to remove the singer from the lineup. "Despite an endless flood of abuse allegations and widespread knowledge of his notorious "romance" with the late singer Aaliyah, who was age 15 to his 27 years, Kelly has maintained a relatively successful career," Thompson wrote in the petition's description. "It's this sort of nonchalance and casual embrace of abusers that rests at the fulcrum of rape culture, violence against women, and in this case, misogynoir."
The many accusations of sexual assault made against R. Kelly most recently came back to the fore surrounding the singer's headlining spot at the 2013 Pitchfork Music Festival in Chicago. The Village Voice published a piece that same year, outlining in detail some of the accusations levied against R. Kelly.
In 2008, R. Kelly was tried and acquitted on 14 felony counts, including child pornography, in Chicago. In the Village Voice piece, former Chicago Sun-Times reporter Jim DeRogatis, who covered the accusations extensively, said that he interviewed almost two dozen women who claimed that the R&B singer sexually abused them.
"2017 is around the corner and many of us still have to look on in disgust as a proven predator, rapist, and serial abuser of young Black girls and women remains embraced in the world of music," Thompson concluded the petition. "Stop booking this man. Stop supporting this man. There's great power in having a voice. Let's send a message that the music is not 'separate" and the abuse of girls and women is never okay, no matter who you are or how many timeless ballads you've contributed to the world.'"
Representatives for The Observatory and R. Kelly were not immediately available for comment.